YOU never know with footballers.
I once waited for six hours in a Cheshire hotel while a former speedy Liverpool goal scorer finished his "extra training", which just so happened to coincide with a big horse race.
A former Everton defender and Croatian manager got very moody when I made him wait for 10 minutes – it turned out he was in the wrong part of the hotel reception while I was waiting in the agreed spot.
All that meant that when I met up with Glen Johnson at the beginning of summer, I didn't know what to expect. Would he be one of those big-headed former players – all bravado and boast? Or maybe he'd be like the Croat – angry and unapologetic? (Very scary too, actually – that chat in Zagreb was not fun.)
As it turns out, Glen Johnson is a top man. For a start he turned up an hour early, made sure we had teas and coffees, remembered the names of myself and the cameraman and proceeded to answer everything I asked.
Glen started out at West Ham, was part of two Premier League title-winning squads with Chelsea before a move to Portsmouth. But when Rafa needed a right back and despite Chelsea also making an offer to bring him back, Anfield was his chosen destination.
"Liverpool came in and, and showed how desperately they wanted me. So I thought you know what, it might be nice to try somewhere different and go a bit outside your comfort zone. It was brilliant."
He notched on his debut against Stoke City and although it was an injury-hit season for Johnson, he could see he was surrounded by a decent squad and led by a man who knew how to get the best out of his players.
"I got on with Rafa really well and the team we had there, they were brilliant. Rafa knew how to beat an opposing team and, more so with the big teams, he was very, very clever and smart at how to dissect their weaknesses and also give us the confidence that you need to beat certain teams."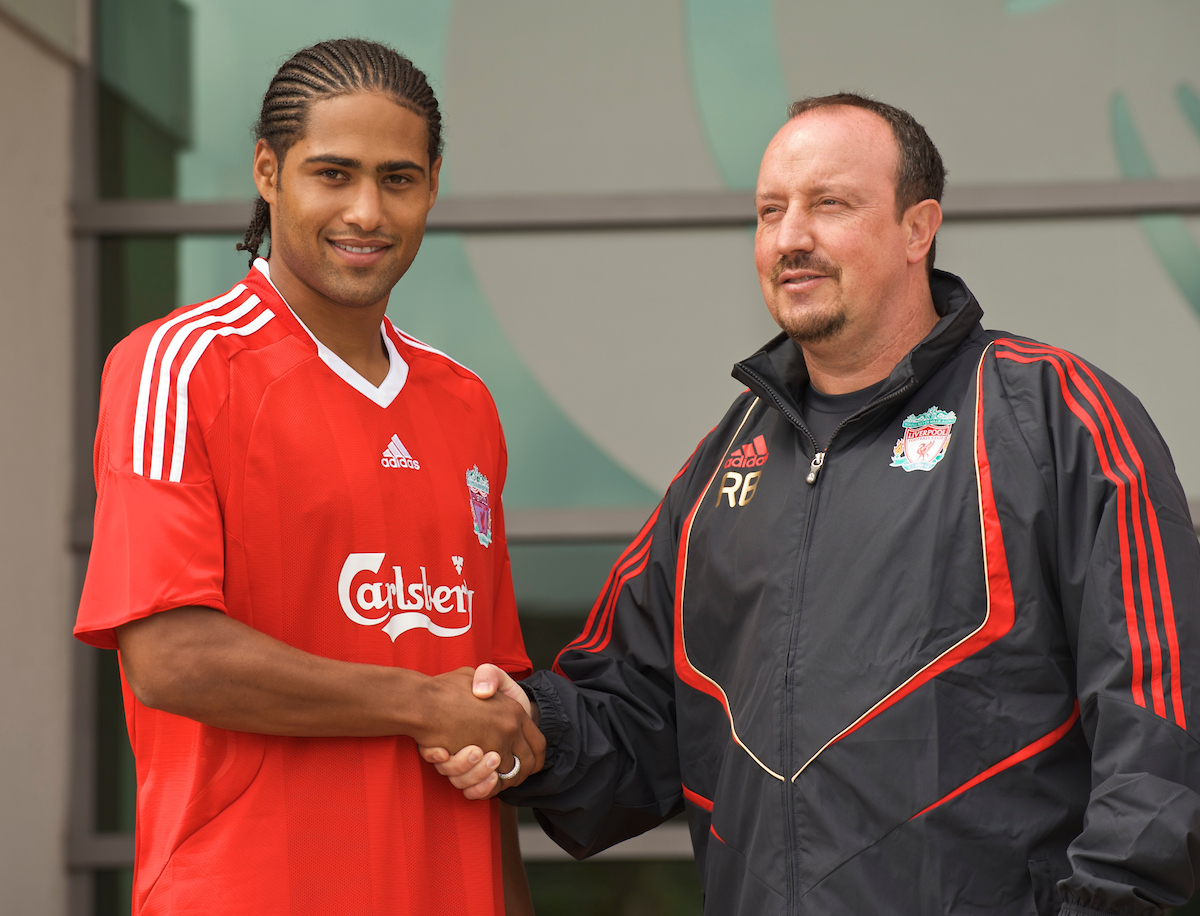 Things couldn't have been more different when Benitez left. It was the man we no longer talk about who took the reins. Johnson seemed to be on the same wavelength as Reds when reflecting on *that* time at Liverpool Football Club.
"Well Roy, no disrespect, had come from smaller clubs and I don't think he was ready to manage Liverpool. We had players like Xabi Alonso, Fernando Torres and Javier Mascherano, players like that and we'd be worried about playing a smaller team at Anfield.
"No disrespect to the smaller teams but you have to grab the bull by the horns and just go and put them to bed, and he just didn't have that sort of mentality, it was all a bit straight line and defensive."
But he did get to play for The King. It was a different Liverpool when Kenny came back as the supporters were all on side straightaway, and although the campaign ended with Dalglish leaving there were some great moments.
"Obviously Kenny's a brilliant man and a legend at the club. I think he gave the fans a lift and he just wanted the boys to go and express themselves. We had some great players so they're capable of doing that, they just need to be sort of taken off the leash every now and then."
After the 2012 season, Kenny gave way to Brendan Rodgers. A man who had learnt much from Johnson's former boss at Chelsea…
"A few ideas Brendan had were mirror images of Mourinho's so he's pretty much schooled by the best and it showed. With training it was the same, very efficient, similar small-sided games and he tried to instill the charisma and confidence that Mourinho had."
One of the early bones of contention of Rodgers' reign came was the airing of fly-on-the-wall documentary Being Liverpool, which most Reds will remember for Brendan and his envelopes.
"It's just one of them psychology games. Brendan said there's three envelopes here with three names in, one of these guys in these envelopes is going to let us down this season, just make sure it's not you.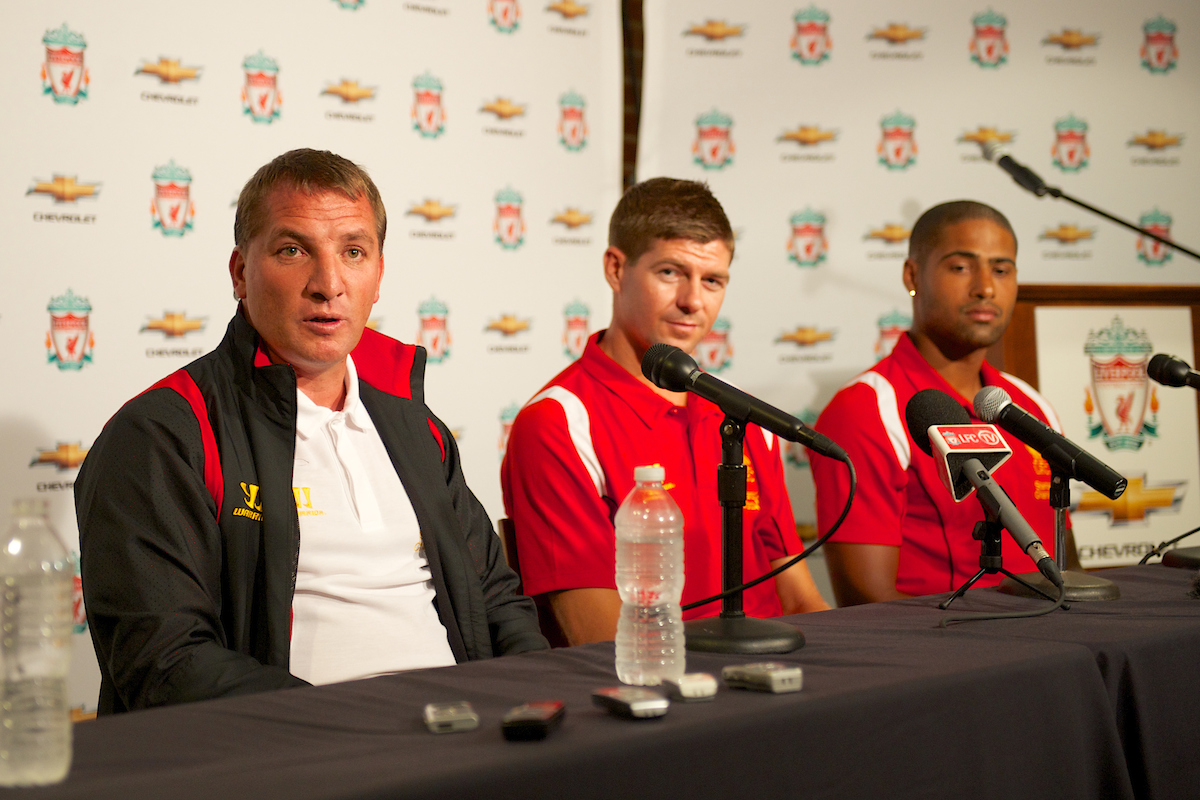 "Of course we never saw the envelopes again and it was never mentioned again, so I think it was just to give everyone that extra edge as no one wanted to be the name in the envelope. There was probably never any names in there anyway, but it seemed to work alright."
It certainly did work out OK and a ruthless and relentless Liverpool strived for greatness in 2013-14, but there were a few performances which will live particularly long in the memory.
"The one I'd say that stood out as most fun was the performance at Old Trafford because we absolutely battered them, and that never happened to United at Old Trafford.
"They literally couldn't even get the ball off of us and the crowd was going crazy, the players were trying to boot lumps out of us and couldn't get anywhere near. I think that was one of the best performances we put in that year."
There are some who still say that season was all down to a certain Uruguayan striker, but there was so much more to that team. Remember the goals, remember Daniel Sturridge, remember Martin Skrtel, remember a reinvented Steven Gerrard. And of course Brendan, the man who set it all up.
"Obviously Luis was sensational don't get me wrong, but everyone played their part and as we all know one player can't win the league on their own. Rodgers played a big part."
The performances that year captured the imagination of supporters in a way that hadn't been seen at Anfield since the Benitez days, and possibly even before that.
"The fans were brilliant that year. The last four home games flares were in the street and scarves were everywhere. It's good because they really love the football club, get behind it, and really wanted to push on and win the league.
"We felt like we could beat anyone and it instills more confidence when you do beat teams like City and United because if you can beat them, and perform like that, then you can pretty much beat anyone."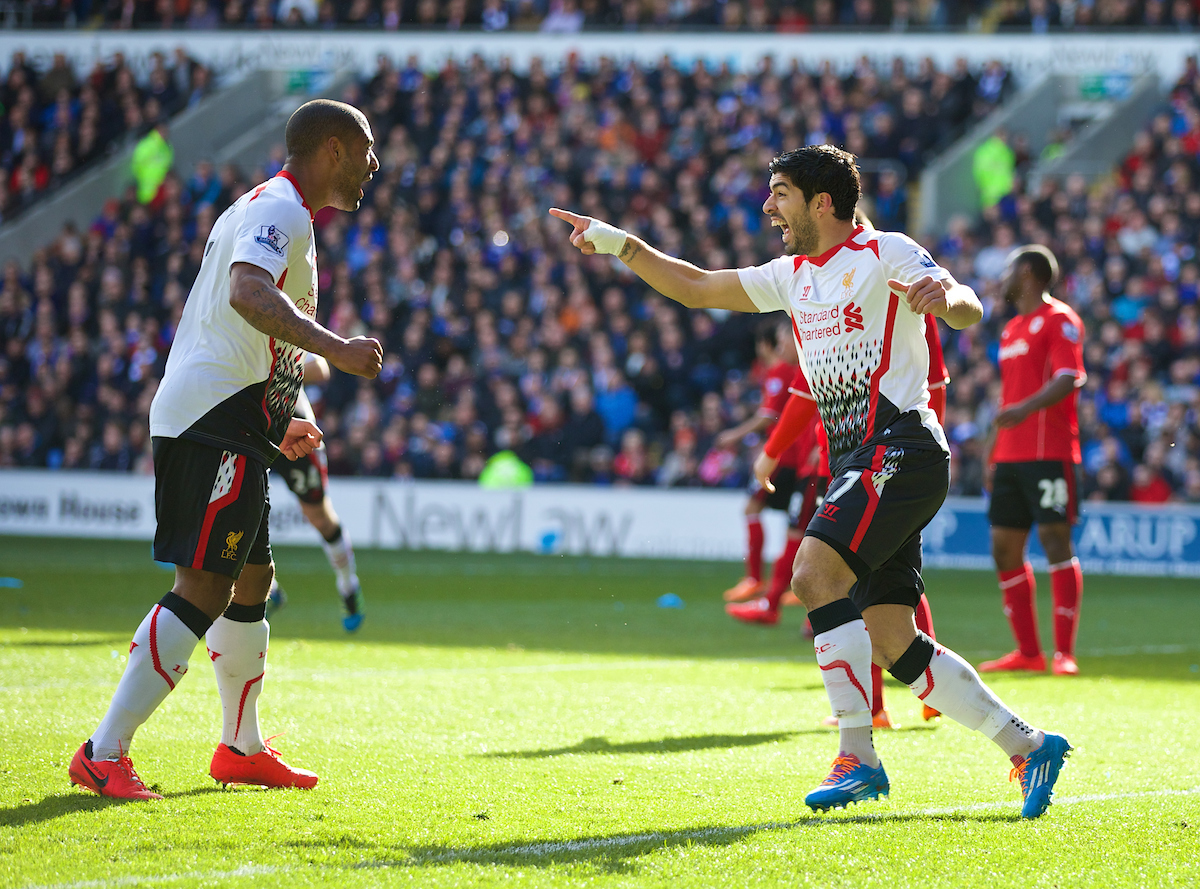 We all know what happened shortly after that seismic win over City and there are questions still asked to this day about whether the game against Mourinho's Chelsea could have been approached any differently.
"We'll never know but the reason we were where we were in the league was because we took teams and attacked them, and we scored so many early goals that way. That's your philosophy and your mentality and it's been working so well.
"Imagine if we sat back and then lost, we'd be killing ourselves to think we should have just gone for it and beat them the way we beat everybody else. It's one of those things you can only answer in hindsight I guess."
That result was then quickly followed by the final nail in the coffin, and another game which has been revisited over and over with the benefit of hindsight.
"When I mentioned about the confidence going through the roof it was like we lost all of that in 90 minutes. Afterwards it was crazy because we killed them in the game, it should have been 5-0 at one point.
"Delaney hit like a strike that, no disrespect to him but he's never struck a ball like that in his life, and it flies into the top corner and then you're thinking oh here we go, but it's only 3-1 you know, don't need to panic.
"Then the crowd get going and then the players start getting a bit more belief and then they got another goal and then you're thinking oh god. It just seemed like a wave of emotion that we couldn't stop, we just couldn't get the game back again."
That summer Suarez got his move to Spain and was replaced by Mario Balotelli and Rickie Lambert and a season that started with so much hope ended with one of our greatest ever players leaving the club after a 6-1 defeat to Stoke City.
"To win a Premier League takes so much, and there's so many ups and downs throughout the season that it's draining, mentally and physically.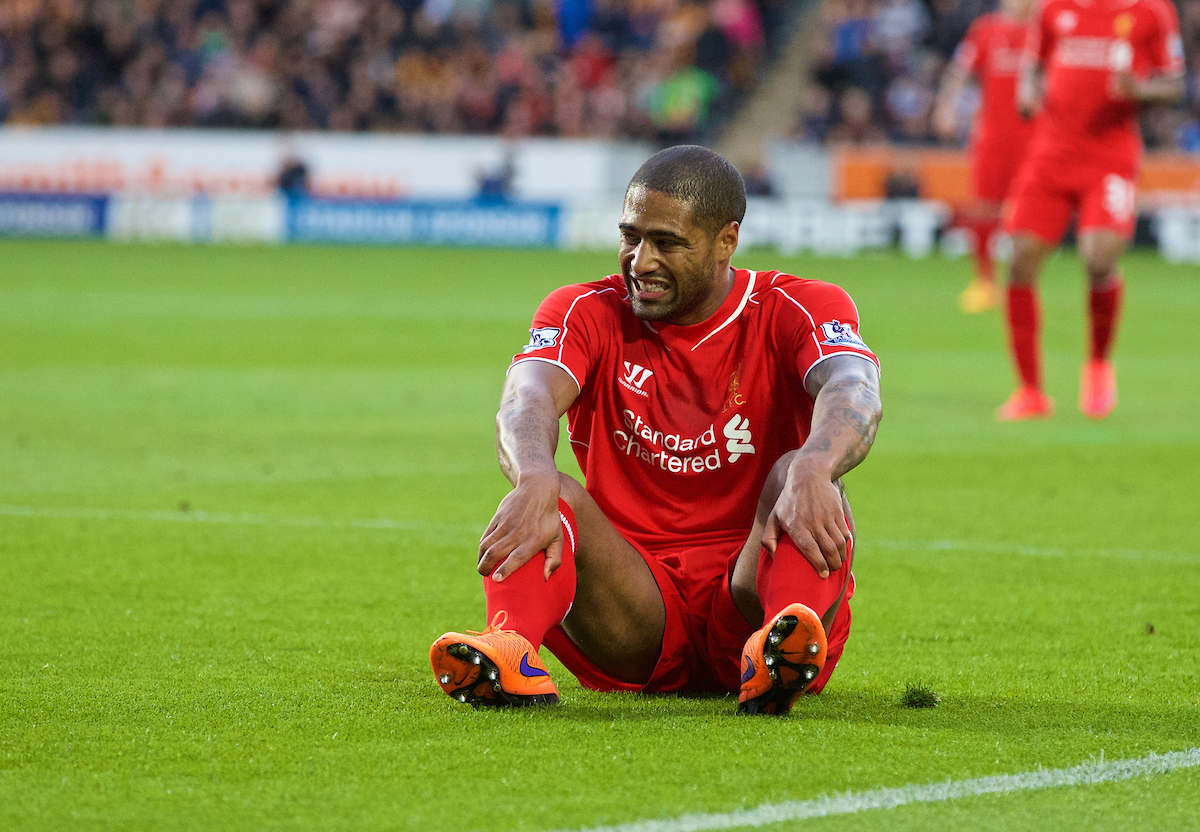 "To go so close you then think 'well, what can we really do next year to better our season?' There's not much you can do other than get maybe that tiny bit more luck here and there, and obviously maintain that level of hunger.
"It's tough when some players leave and you're getting loads of new players in. It was never really going to be exactly the same."
But looking back at his time at Anfield, Glen Johnson can be proud and rightly so. He certainly looks back on his time on Merseyside fondly…
"I loved all of the Liverpool days, you know. I think that's probably where I stamped my authority on the game a bit more."
"I don't live with regrets. I achieved pretty much everything I set out to achieve so I certainly don't have any regrets. Even the bad times, or what felt negative at the time, looking back I enjoyed them."
I wouldn't say Glen Johnson and me are going to write each other Christmas cards or holiday together, but I was pleasantly surprised with our encounter.
You never know with footballers, but Glen Johnson's alright.
"The Barcelona game was the most special football game that's ever been played…" ❤️

Four years ago today Jürgen Klopp became Liverpool manager…

📱 Subscribe and listen to our exclusive interview with the boss 👉 https://t.co/TEMh9r97WH pic.twitter.com/JP6NCfscrc

— The Anfield Wrap (@TheAnfieldWrap) October 8, 2019
Recent Posts:
[rpfc_recent_posts_from_category meta="true"]
Pics: David Rawcliffe-Propaganda Photo
Like The Anfield Wrap on Facebook