THERE'S something a bit 'fish in a barrel' about writing an article on a player immediately after he's put in an excellent performance.
That's why this is likely to be at least the fifth or sixth piece you will have read on Fabinho since his colossal showing against Tottenham at Anfield on Sunday.
However, when you write primarily about a team that excels and wins almost every single week, it's difficult to do anything else, particularly when it comes to Liverpool's number three, who has been putting in article-worthy performances on a regular basis for a while now.
Fabinho was so outstanding in the 2-1 victory against Mauricio Pochettino's struggling side, that Jürgen Klopp even coined a new nickname for the Brazilian, calling him his "Dyson in the centre".
It wasn't just hoovering up every loose ball, but Fabinho's passing was as big an asset to his team on the day. The ball he played over the top for Jordan Henderson's equaliser caused enough panic for Danny Rose to allow it to caress his face, before the skipper slammed in at The Kop end.
During the second half, he was almost Xabi Alonso-like as he rained chipped ball after chipped ball in behind the Spurs defence.
You could see how much winning the game meant to Fabinho too as Mohamed Salah scored his penalty to put The Reds ahead. He turned and let out a raw burst of elation, as if he was supposed to be stood in the middle of The Kop rather than the middle of the pitch.
According to a tweet from ESPN's Melissa Reddy after the game, Fabinho made two key passes, as well as the most passes in the opposition half, four tackles, three interceptions and 11 ball recoveries.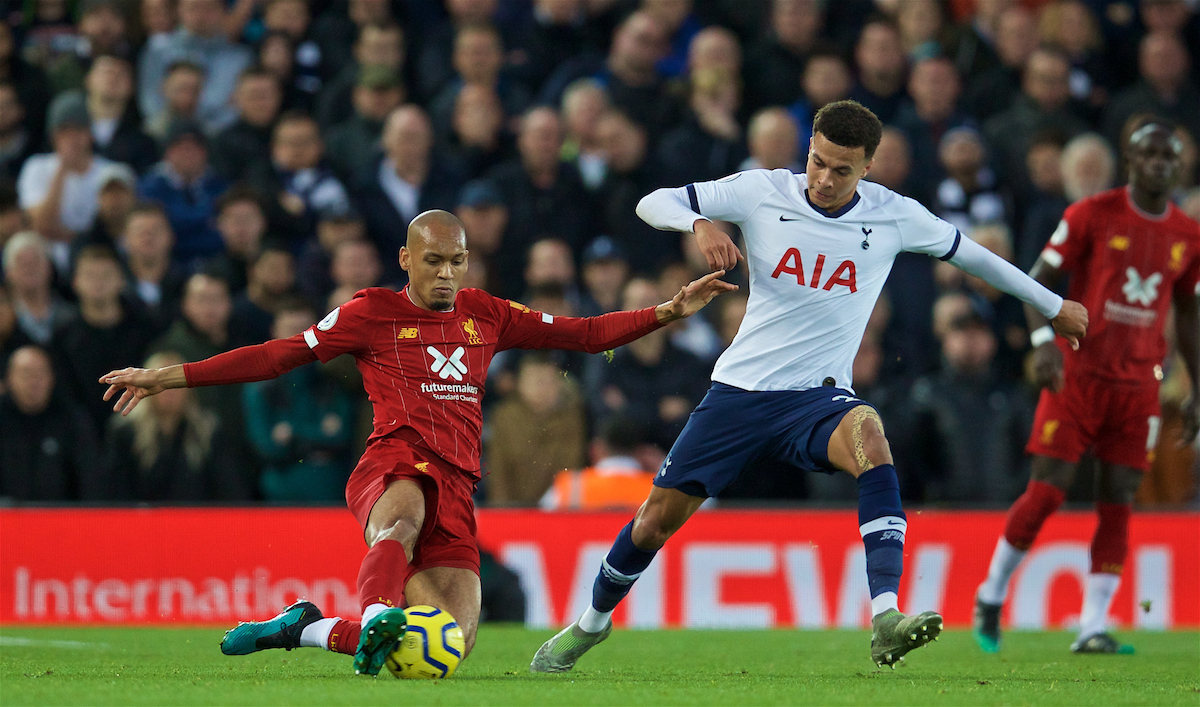 It was a classic all-round midfield performance, particularly notable for the fact that you rarely get such things these days – as most midfielders are sculpted to specialise in the attacking bit, or the defensive bit.
While Fabinho is definitely a more "defensive bit" kind of guy, his ability to start attacks and create opportunities himself is also adding to the team's arsenal.
Funnily enough, Fabinho actually made a relatively poor start to the Spurs game. He was one of the principal error-makers in the move that led to Harry Kane scoring in the first minute.
He failed to stop Moussa Sissoko's run, which eventually led to Son Heung Min's deflected shot hitting the crossbar and allowed Kane – who later complained about Liverpool getting all the luck – to luckily head the ball in on the rebound.
However, for the remaining 89 minutes, he was near faultless.
Fabinho, like all others, is not an entirely faultless player, though. He allowed N'Golo Kante to get away from him too easily before the Frenchman scored at Stamford Bridge last month, while a pass from Enock Mwepu and run from Takumi Minamino caught him off guard in the buildup to Erling Haaland's equaliser in the seven-goal Champions League thriller against Salzburg at Anfield.
They are very rare occasions though, and he has shown excellent powers of recovery. He never seems to slip into actual bad form, just the odd moment here or there, which are inevitable when you play in a defensive midfield position. Especially in a team like Liverpool, where playing in centre midfield is harder than building Meccano.
It wasn't always this way, of course. When Fabinho first arrived from AS Monaco, it took several months for him to show his true class. He was gently eased into the team while he learned the ropes at Melwood, then had 'that' performance at Arsenal that had the knee jerkers reaching for their keyboards.
By the end of his first season, he was a bona fide European champion.
When Fabinho arrived for a £40m price tag just days after the unsuccessful 2018 Champions League final, there were raised eyebrows. Not just because the player hadn't been previously linked to the club, but there had been very little indication that Klopp was interested in having a player of his style.
Lucas Leiva had proved useful in 2015-16 but was ultimately not what the boss was looking for long term in his midfield.
Jordan Henderson ably and selflessly took on the reins in the 'holding role', and it seemed to broadly be the sort of thing that Klopp was after. Then, all of a sudden, in came Fabinho. Henderson pushed further forward into his more favoured role, and Liverpool became a truly top-class team.
The additions of Alisson Becker and Virgil van Dijk are rightly cited for being game changing for Liverpool in progressing from a 75-point team to a 97-point team. However, Sunday's game was further proof, if needed, that Fabinho's acquisition deserves to be mentioned in the same bracket.
Pep Lijnders famously referenced his importance to the way the team wants to play last season, describing him as Liverpool's "Lighthouse", which I think was because he is a beacon that directs everything else, rather than there being a small lonely man who lives in his head. "No more loneliness for Fabinho and Earl!"
Another sign of how crucial Fabinho's presence is in this relentless Liverpool team is how many people are advocating him being "rested" against Aston Villa next week to ensure he avoids a fifth yellow card of the season, and subsequent suspension for the Anfield clash with Manchester City.
You can understand why. Liverpool are yet to lose a league game in which he's started. Not all that surprising given they have only lost once since he signed for the club 17 months ago, but a remarkable statistic nonetheless.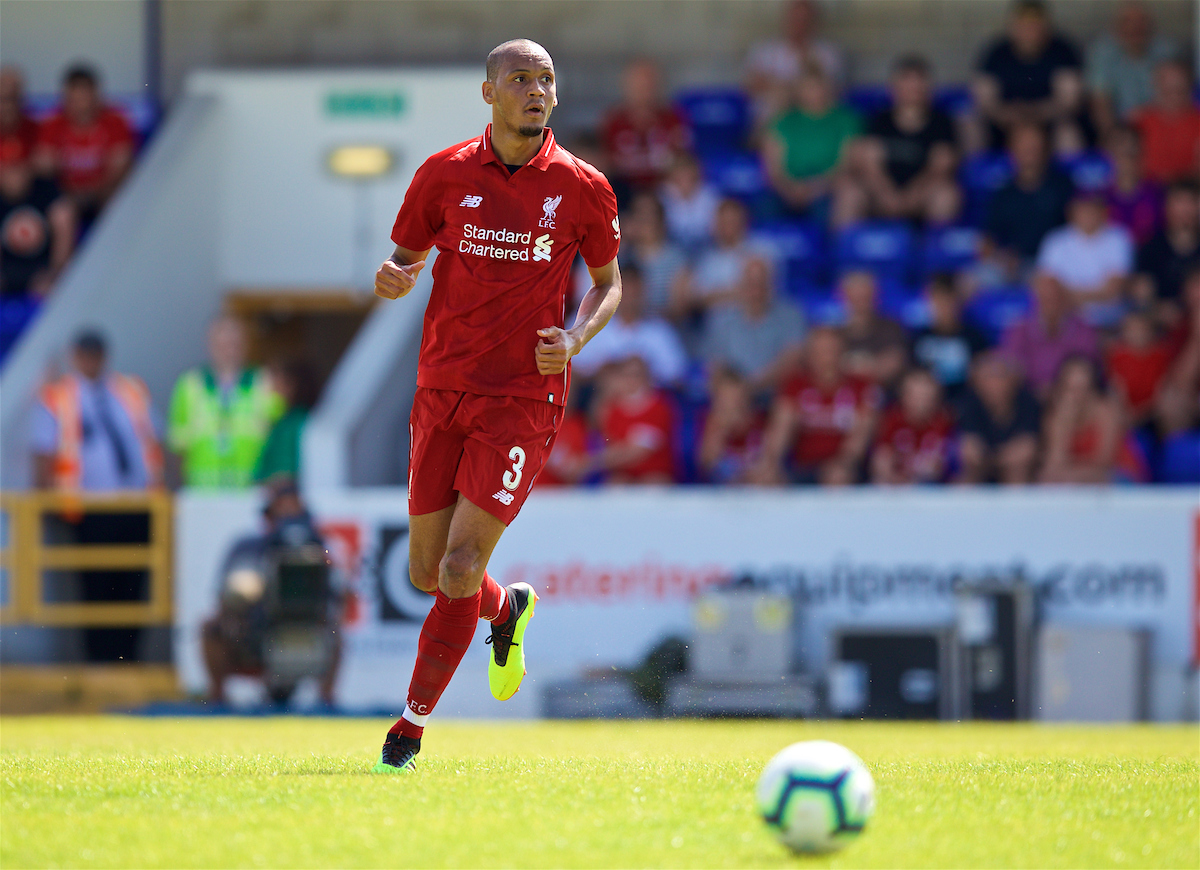 There is quality throughout this Liverpool side, but having a strong spine is an absolute necessity for any team that wishes to sustain success. The 26-year-old is fully established as an integral part of that spine now, and for the foreseeable future.
He was one of the very few regular Liverpool starters who didn't get nominated for the Ballon d'Or shortlist, probably due to his quiet start to last season. If he maintains anywhere near the form he has shown since January though, and he'll comfortably make the list in 2020.
At Monaco, Fabinho evolved from a promising right back into a top-class defensive midfielder that plays in a partnership.
At Liverpool, he has evolved again, into a defensive midfielder who can play there on his own, as explained recently by his manager after his performance in Genk.
"In the beginning, I thought we had to change the system to a double six midfield that he was used to at Monaco.
"But in the game [against Genk] he played pretty much as the only midfielder in some moments. He just needed time."
Fabinho did need time. Time that has allowed him to develop into one of the best players in his position in world football.
He may be a "Dyson", but Fabinho certainly doesn't suck.
"Fabinho is the best midfielder in the world right now." ✊

📱 Subscribe for all of our immediate reaction to Liverpool's 2-1 win over Tottenham 👉 https://t.co/XZAK9veWt7 pic.twitter.com/5MrTsWIkzp

— The Anfield Wrap (@TheAnfieldWrap) October 28, 2019
Recent Posts:
[rpfc_recent_posts_from_category meta="true"]
Pics: David Rawcliffe-Propaganda Photo
Like The Anfield Wrap on Facebook