THERE'S a certain bias towards Scousers playing for Liverpool and, I'm bound to say, I'm all for it.
We can point at Steven Gerrard, Jamie Carragher, Terry McDermott, Ian Callaghan, Jimmy Case, Tommy Smith, David Fairclough, Sammy Lee and now Trent Alexander-Arnold as Liverpool European Cup winners who were also born in the city.
Sometimes this bias is misplaced, though. Jon Flanagan was treated like a local hero in 2013-14 though his was just the briefest of flames. We all wanted Rickie Lambert to do well after he secured his dream move — the one we all want regardless of age or ability, but he never quite passed muster. Stephens Warnock and Wright always had the crowd behind them too.
I'll never forget the reaction to Wright — the son of a former Anfield kit man — and his goal against Borussia Dortmund. It was like we'd all scored.
Even better players were not always adored. Steve McManaman, though ridiculously brilliant, still divides opinion thanks to the way he chose to leave The Reds. Some call him "legend", others "moaning Blueshite".
Of course, there is only one first team Scouse lad in the side and, before his star truly rose, there was the odd mumbling that he was lauded only because of his postcode rather than aptitude. The idea being that us Scouse Reds would applaud a mule on the pitch as long as it wore the right shirt and knew its way around Slater Street.
That's a tough criticism to accept as it's not as though former Scouse players have been viewed through red-tinted glasses. Sammy Lee took dog's abuse for ages and the aforementioned Flanagan became persona non grata with Reds once his private life took centre stage.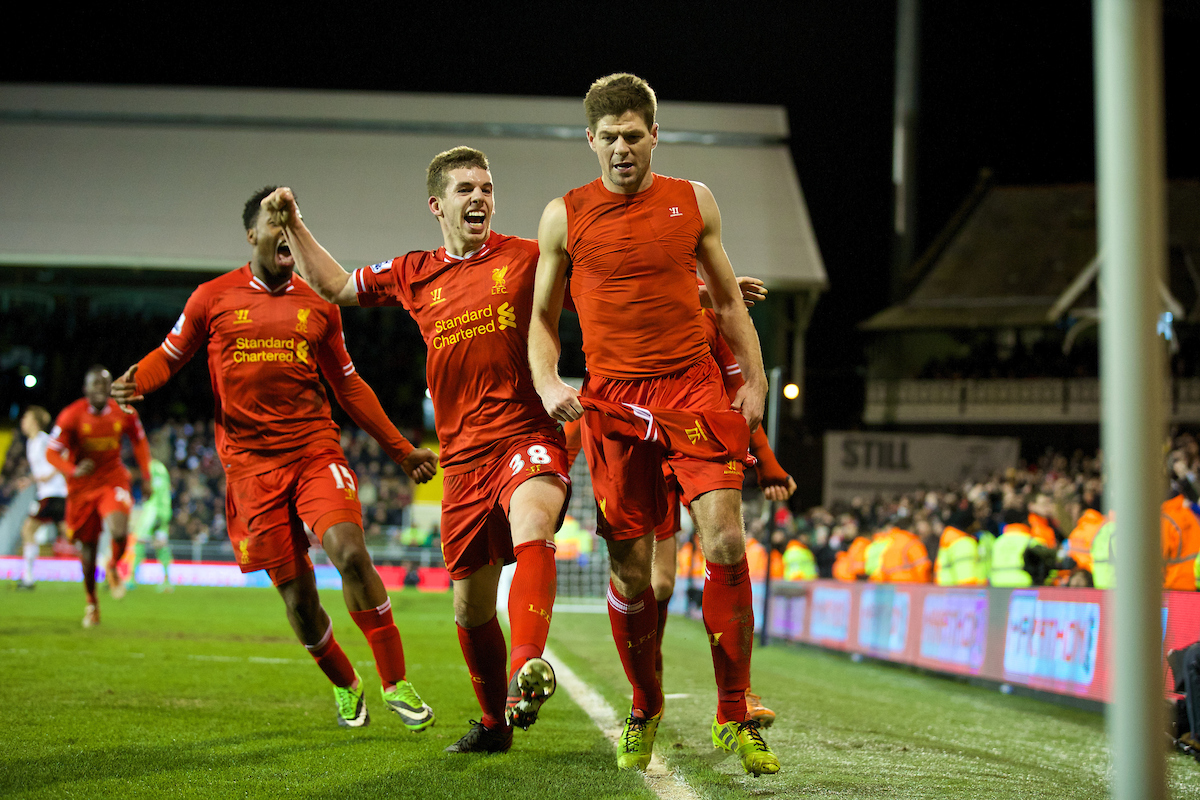 Maybe it's a case of the fan getting behind the younger lads regardless of where they're from. Look at the reaction to Ben Woodburn's first goal for the club in a League Cup tie. Imagine what Brewster's will be like if he can get on the scoresheet tonight. Woodburn is from Chester, Brewster from Dagenham. The local thing is just a bonus.
Luckily, there's no such worry for Trent. Not only is he a local lad (from West Derby) and a level-headed human being, he's also a world-class player. Absolutely world class.
His goal at the weekend — one of six Liverpool goals if you count his Burnley strike — was less of a surprise that it once might have been. It's his third goal from freekicks following those at Hoffenheim and Vicarage Road. This is just what he does now.
The lad who was hidden by Liverpool scouts while playing for Croxteth's "Country Park FC" to keep other clubs away before he was old enough to sign a deal, has moved on considerably since his debut in 2016.
And the best thing? We've been here before.
There was a fascinating debate on this week's Anfield Wrap free podcast where Trent was compared to Steven Gerrard's early career. Gerrard was played at right back too until Gerard Houllier took him out of defence and gave him the centre of the pitch to work his magic.
Many have speculated that Trent will also push into midfield and he's certainly been played on the right of midfield, notably at Goodison two seasons ago when Jürgen Klopp wanted to rest as many players as possible before that week's Champions League encounter with Manchester City. Whether he'll find his way centrally is a matter for conjecture.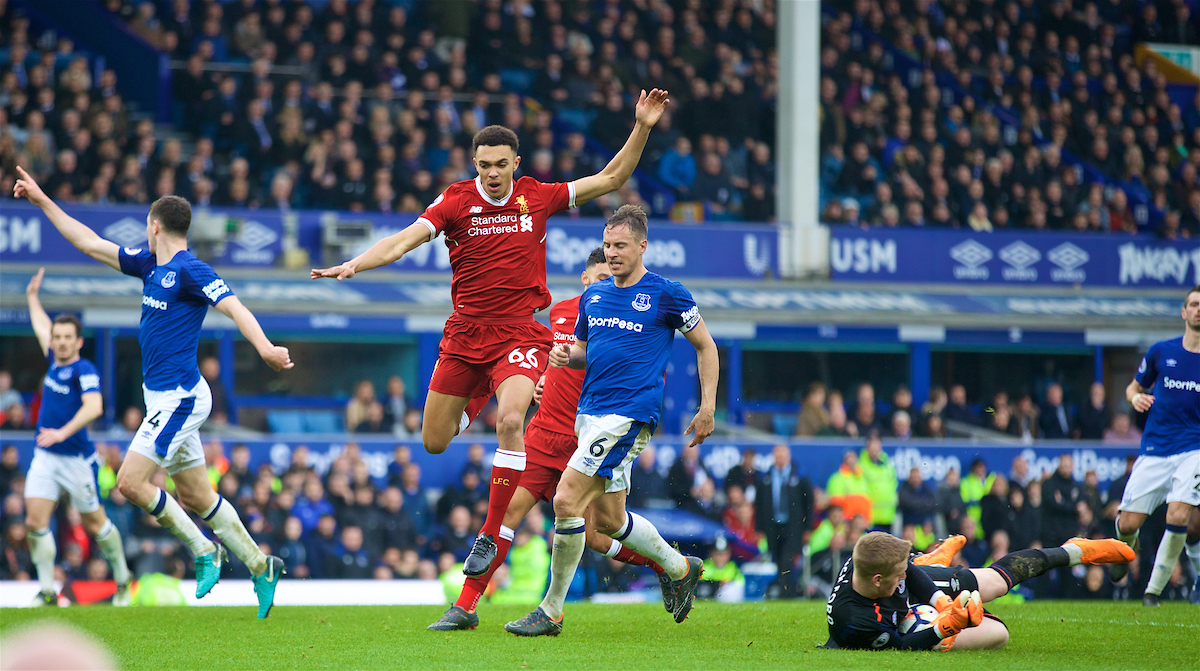 There's certainly a history of players playing at full back or at least filling in. Jamie Carragher won a treble at left back while Raheem Sterling did a brief stint there while the world worked out what his best position was — or at least waited for his talents to mature until he was worthy of a place in the front three.
Whether Trent is a right back or not is a moot point anyway, as his average position is such that he's more a less a wing back than a standard full back in a flat back four.
Martin Tyler, who delivered orgasmic declarations of love for the Champions of Europe, noted on Sunday that it's the width that provides the creativity for this side rather than the somewhat workmanlike three or "Brexit" midfield as some tryhards have termed them.
That's not entirely true as Liverpool have more than one way of winning than basic wing play, but it would be something to see Trent pull the strings there one day.
The comparisons with Gerrard are interesting. Trent is 21 next month and has already played in a World Cup and two European Cup finals. Gerrard, of course, had won a treble at the same age, but was yet to conquer the European stage.
We knew even then that the midfielder with the world's greatest withering stare would go on to captain his home side and, eventually, country and it's difficult not to see the same path for Trent. He'd certainly have the support of his manager as he sees the link between the city and club.
Speaking specifically about Curtis Jones, Klopp told goal.com: "I love it, I love it! It's important for this club. If you have the chance, then you should do it. How many people live in Liverpool? 500,000? Iceland has 330,000, I think, so Liverpool should have enough people to create our own team!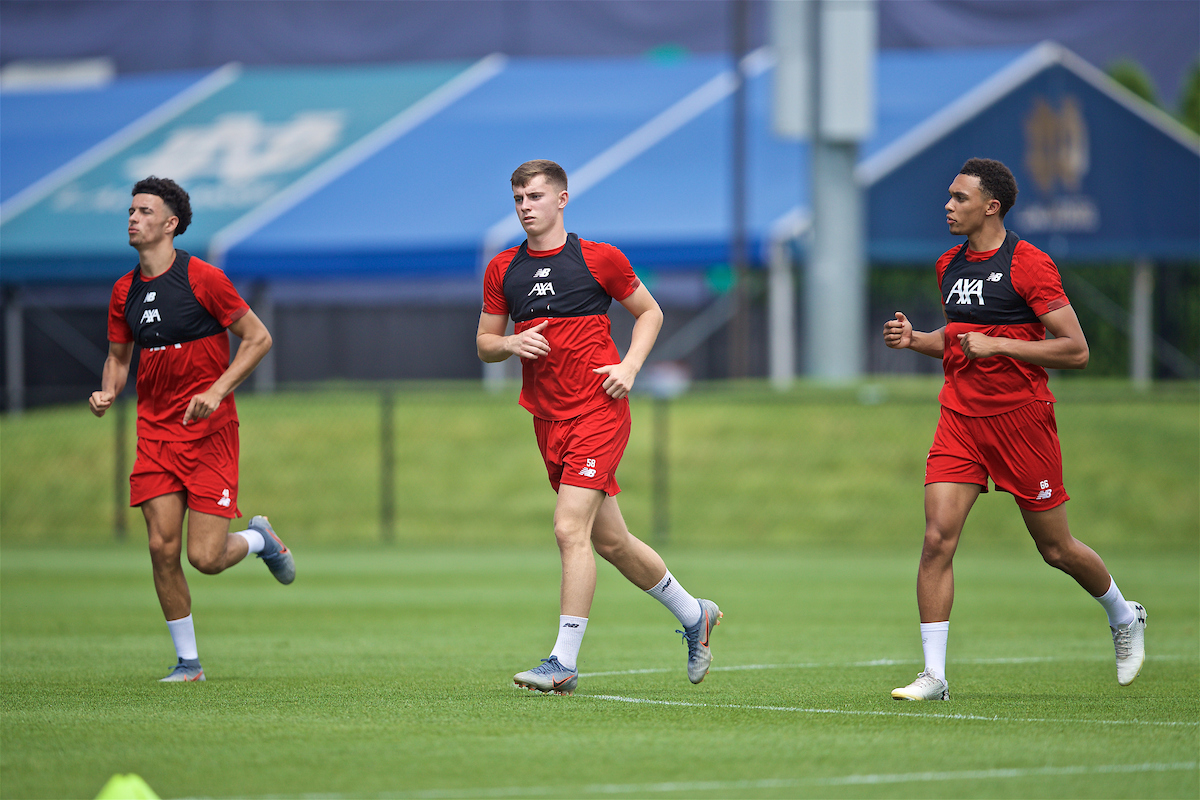 "It's always this little plus if they come from Liverpool. If I have two players, same quality, but one speaks proper English and the other one speaks Scouse, the Scouser is in! That's why we are Liverpool."
Hopefully, Trent will have the biggest domestic prize of all in May – the one which eluded Gerrard.
Trent may well be "the Scouser in our team" but he's so much more than that. He has an old head for such young shoulders and The Academy trainees can look up to both him and what he's already achieved. What's most exciting, though, is the sense that this is just the tip of the iceberg and that there's so much more to come.
That said, he's still young despite all that so there will still be blips. It's just fantastic that we'll get to see him at the peak of his career in six or seven years' time. He might have a whole street mural dedicated to him by then.
Does it mean more that he's Scouse? I'd say so, but only because he kicked balls against the same garage doors as local Reds did. He got the same buses to the same games and was fascinated with the same players who went through the mill at Melwood every day.
He's doing it for us as much as himself.
"We were sat in a row saying 'just shift and slot it like Gerrard, it's dead easy' – three dickheads, like we could all step up and do it."

"He just fucking top bins it." 😂

📱 Subscribe for our post match podcasts & videos after The Reds beat Chelsea 👉 https://t.co/XZAK9uXl4x pic.twitter.com/osMJBtr2Pw

— The Anfield Wrap (@TheAnfieldWrap) September 23, 2019
Recent Posts:
[rpfc_recent_posts_from_category meta="true"]
Pics: David Rawcliffe-Propaganda Photo
Like The Anfield Wrap on Facebook