WINNING while playing poorly. Sign of champions, they say.
There is a rush to say it from them, on both counts. Any tight frustrating victory which doesn't purr becomes poor, especially when you are a 97-point and six-from-six outfit. And there is such a long way to go.
Liverpool struggled at times. Liverpool weren't fluent. But they created three or four excellent chances.
I was at Bramall Lane in 2006, opening day. Liverpool drew 1-1. And they were rubbish that day, bar a highly contentious penalty, converted by Robbie Fowler, won by Steven Gerrard. That was playing poorly.
I've seen what rubbish looks like. Not so long ago either.
The truth of the matter is that this was always going to be a difficult game, different to Stamford Bridge but no less intense, no less difficult.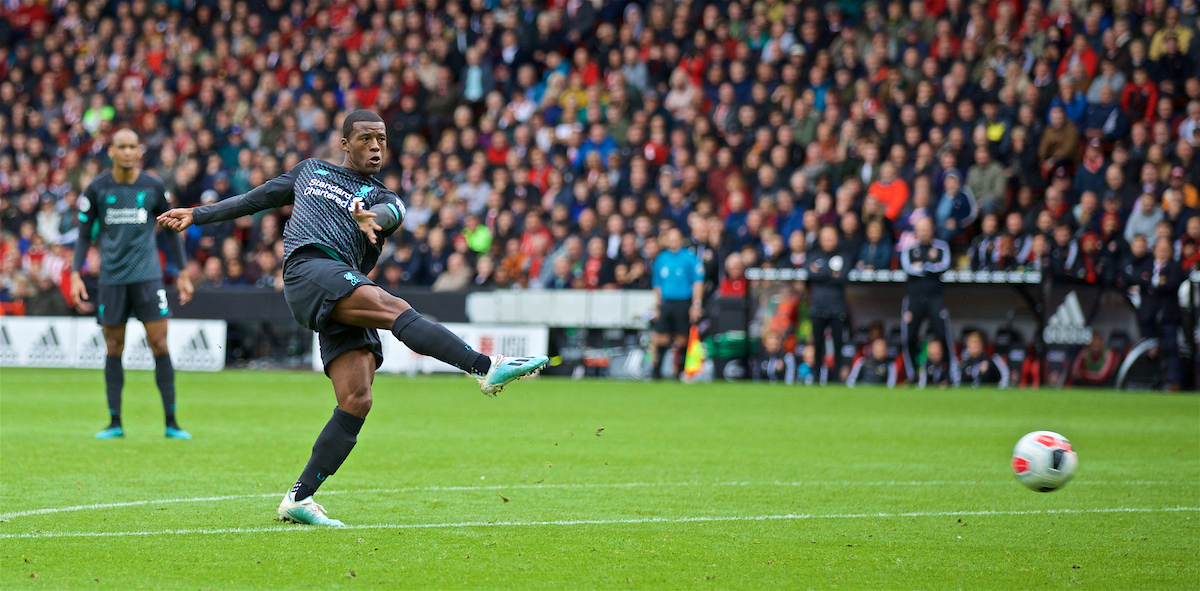 Playing newly promoted sides early in the season at their place (as Sheffield United were in the August of 2006) is no barrel of laughs. It's a more intense variant of a fifth round FA Cup game, especially given what rides on every kick for Liverpool these days. It is something to be borne, not celebrated.
Ask Manchester City.
Prior to the match, Jürgen Klopp gave an interview to the nice people at BT where he said that when he was at Mainz these games were Christmas Day, Easter, a birthday all wrapped into one. That for Sheffield United this is a seasonal high point, that he wanted his players to view it the same way.
But his players get three of these every year, go to all 10 of the bottom 10 every year, live the slog that this is every year. Sheffield United are facing the Champions Of Europe. Liverpool are facing a side that finishes between 12th and 18th.
This isn't wholly becoming; Liverpool are on a journey and they also ended up with one of the most interesting problems they could have to solve this season. Because given the relative budgets, given the gulf there should be between the two sides, it is fair to say that Sheffield United's shape is tremendous.
Yes, they need to sit deep. This is true of a minimum of 14 sides Liverpool face this season. But when they can play they move the ball quickly, when they can risk men they do so with gusto. They were as tidy as it gets, all things considered. Better than many in this league, better than their Neil Warnock incarnation in 2006.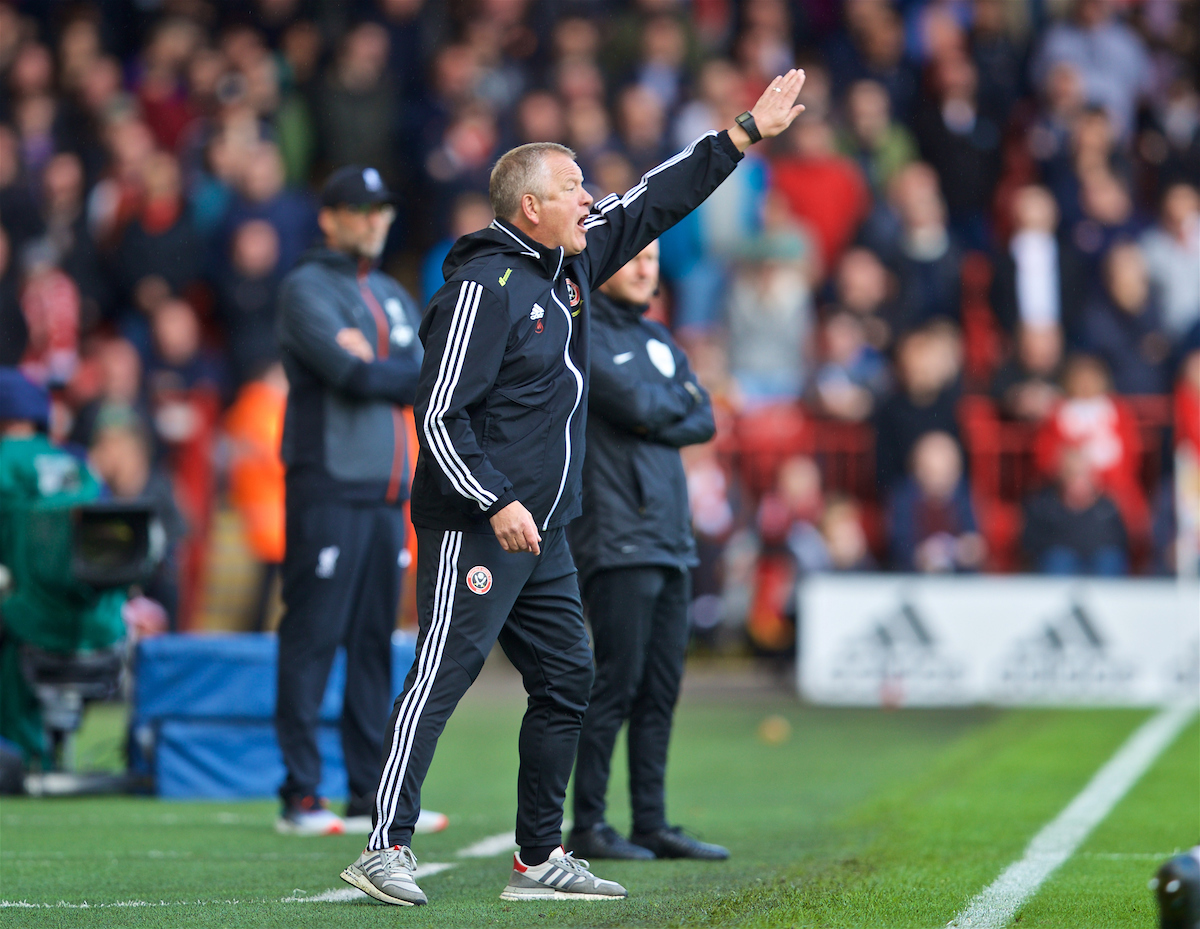 This is a side which knows its jobs and its runs brilliantly; you could see it from John Fleck's early balls across the box, from Enda Stevens being the outball. And yes, from overlapping centre backs.
Overlapping centre backs have become a form of short hand for the idea that what Chris Wilder is doing is interesting; frankly it is clear thinking, innovative management across the pitch.
Forget a centre back bombing on, look at how they played two on two against Liverpool's two or how the wingbacks made Jordan Henderson and Gini Wijnaldum's lives so very difficult. These are switched-on footballers playing for a switched-on manager.
But Liverpool both won the game and should have found themselves two up by the break. The not playing well of 10, 15 years ago rarely saw players missing from six yards having cut a side open on the counter.
Liverpool beat Watford 5-0 last season without truly purring but by playing well in 20-second chunks. It's what this Liverpool side often does. But it needs someone to kick it in the goal.
Mo Salah has oddly played his way into a bit of a funk as he seems uniquely able to. He always walks a tightrope in the way he plays but today never mind falling off, he just couldn't get on.
Sadio Mane has now – gasp – missed a few chances in games. It wasn't happening that way a few weeks back.
Any hope that Roberto Firmino was going to keep being given the freedom of the pitch has surely ebbed away now as well. That's fine, it's football.
At the back, the keeper keeps belying the notion that at some point in the run between these two international breaks he is going to cost us. Late in the game he charged out in very similar circumstances to Arsenal at home when he and van Dijk got into a pickle. Not this time; the ball was emphatically Adrian's and Virgil knew it too. This is a back triangle which is working.
Joel Matip has to do a load of horrible defending. Spends games wrestling with grocks because grocks hate wrestling with van Dijks. Pop him next to Sokratis and he would glide through games. But Virgil just Virgils.
He was loose today with the ball but then who wasn't? Van Dijk's reading of the game was something special and it left Sheffield United drawing a blank. Andy Robertson covered anything van Dijk couldn't.
Liverpool stood tall. They didn't concede in this game as they had in 2006 when actually playing poorly.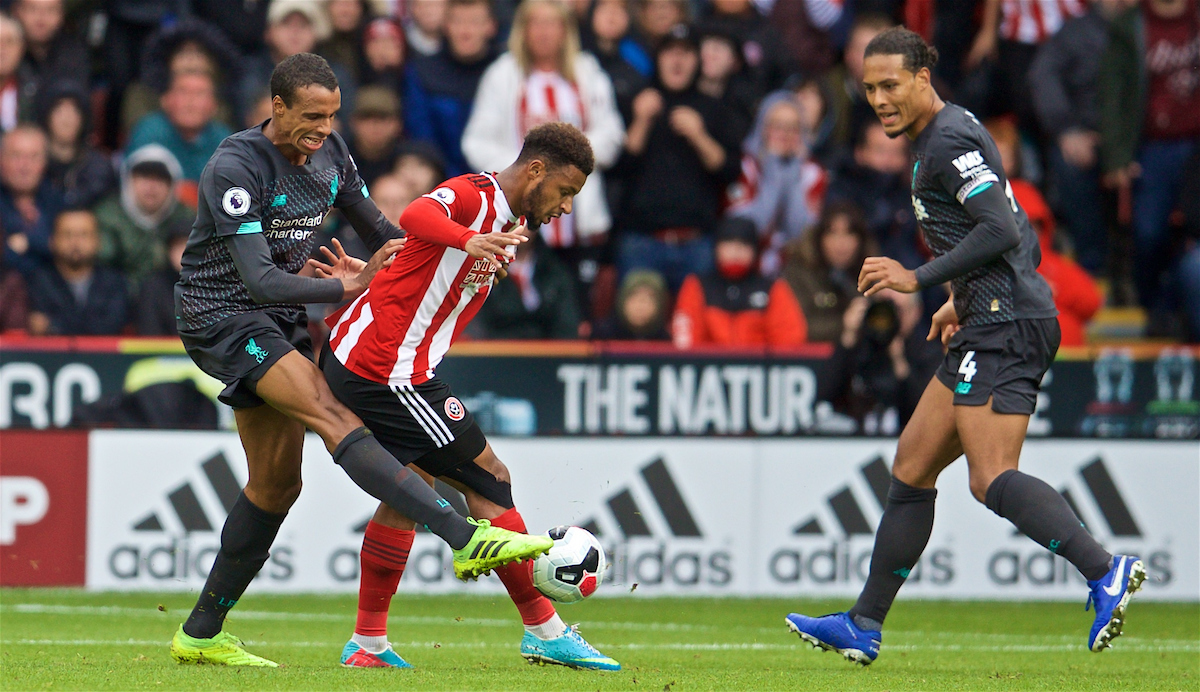 They may well need to think about what they do better at one goal ahead and 15 left on the clock in some of these games, but right now if Mainz alumni Jürgen Klopp is sitting here with me he is pointing and laughing – if you want to try and take Christmas, Easter and birthdays away you have to be prepared to suffer.
Liverpool will play better. They will play in their own festival games, lifetime games this season. They have 16 on the bounce and – more importantly – seven on the bounce. They scare the life out of me, god knows what they are doing to the rest of the league.
This is what the march looks like. Liverpool will do it better this season, for certain. But right now they are marching and in doing so they are making the league table look a mountain to climb.
Thirty-one to go. Seven down and seven downed. Few will be harder. Huge credit to them. Some credit to us, thank you very much.
"It's a spawny goal but who's arsed!"

"The reds are now 8 points clear at the top" ✊️

📱 Subscribe to listen to our Post Match podcast and Post Match Pint video after Liverpool beat Sheffield United 👉 https://t.co/XZAK9veWt7 pic.twitter.com/iq3riQHL1F

— The Anfield Wrap (@TheAnfieldWrap) September 28, 2019
Recent Posts:
[rpfc_recent_posts_from_category meta="true"]
Pics: David Rawcliffe-Propaganda Photo
Like The Anfield Wrap on Facebook