WE don't get beat enough.
We should never get beat at all.
It's been a while since that feeling was there in the pit of your stomach, been an age since you have felt it. To watch Liverpool get beat doesn't feel right and when it feels unjust it feels worse.
And yet…
Park that for now.
One of the key things to take from the game is the first hour – two great sides going toe to toe for 60 minutes. Two sides well matched probing and finding and left wondering.
Napoli make the best chance but Liverpool make the best chances to create the best chances. The front three do not quite click not once, not twice but what feels like a thousand times. Repeatedly something is just off and Liverpool spurn opportunities.
Napoli deserve some credit for that. They keep Liverpool just off balance, keep Liverpool unsure and ask good questions but Liverpool's front three just never quite hit their straps. For the first time this season none of them play well, not for five minutes, not for 15 seconds.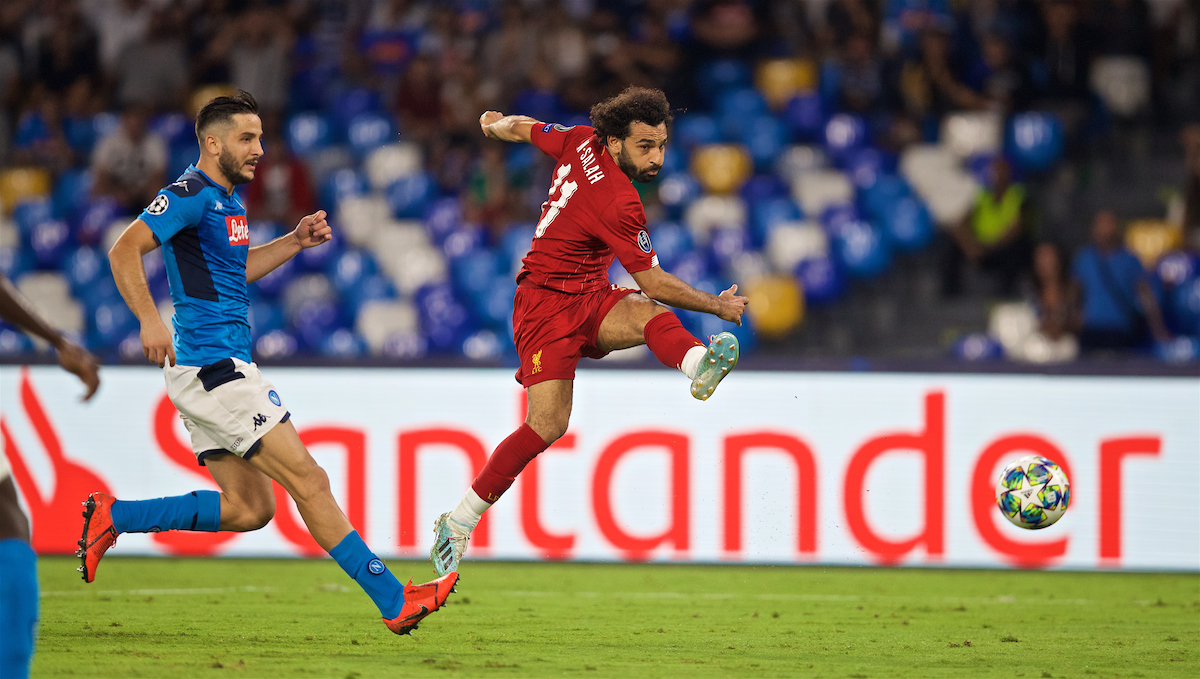 No spats, no nonsense, just three 6/10 performances at best. Six out 10 being kind. Six out of 10 because they are our chaps and that sort of thing matters.
Yet behind them Jordan Henderson and Fabinho are marvellous for most of the contest. They are constantly doing what their manager would want in a back and forth game. They are determined to get Mo Salah in, determined in every 50-50 or even 30-70. They are a credit to themselves.
It's a little different for James Milner who is reinforcing the Gini Wijnaldum ghost centre-midfielder role. He could be excellent in there but it escapes my eyes through the televisual lens but I love his tackle before his yellow card, I adore his acceleration, his signal that it is time for two things – Liverpool to be on top and him to come off – as one.
That happens, the game becomes Liverpool's after the hour mark, the opposition who have matched Liverpool stride for stride fall off a cliff physically.
Their most reliable central midfielder goes down with cramp on 71. He has been completely cooked by a Liverpool side who move you left to right, who constantly demand. Liverpool for the first time in the game are in the absolute ascendancy and the winning goal for the away team is just on the verge.
And yet…
It's fascinating in comparison to last season. The two results may look similar but they are not. Last season, Liverpool are a wreck by 70. This season, Liverpool are dominant at 70. Last season, Liverpool's midfield crumbles. This season, they are standing firm. Last season, Napoli earn their goal. This season they get it handed to them.
There is something honest and acceptable about conning a referee. It is part of the rough and tumble of professional sport. There is a professional official and you have to play him while playing your opponent. That's fine and dandy.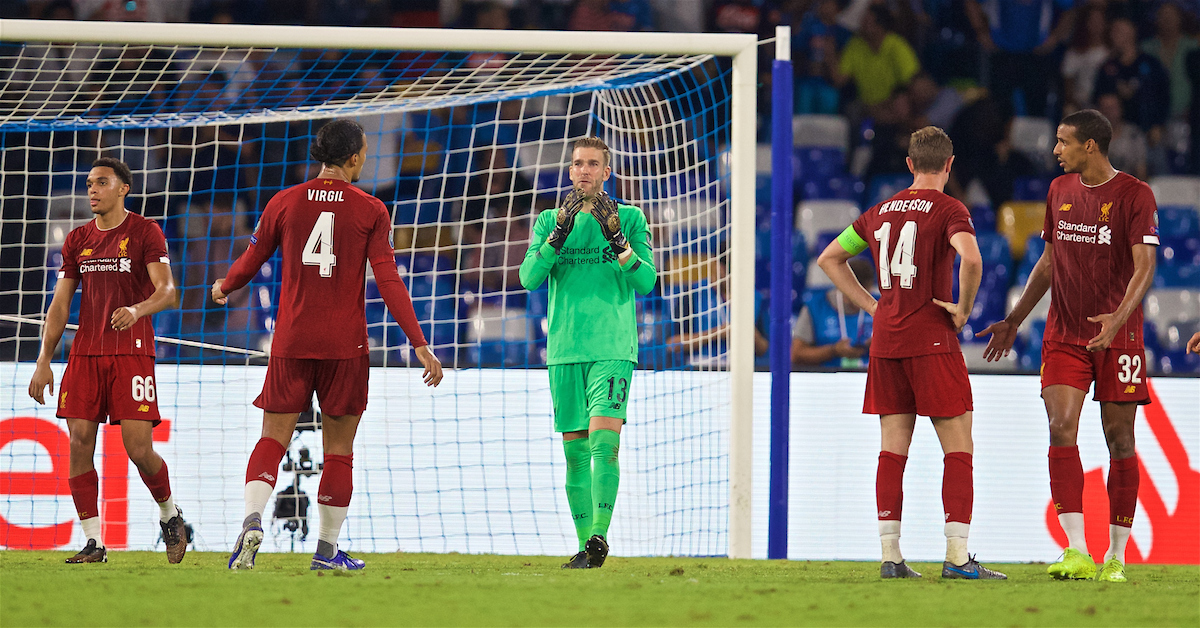 It is something else when that playing of him is caught out on camera but those watching the footage choose to do nothing about it. It makes a mockery of the enterprise. It makes an absolute mockery of about three enterprises.
Why are we putting up with this if the decision is wrong? Why are these officials wasting their time if they can't put right what is wrong? And why don't referees therefore do what linesmen do? Give nothing and let play continue and be brought back rather than make dramatic, incorrect calls that stop play?
There is no room to introduce the video referee and then allow what is emphatically incorrect to stand upon review. Hiding behind clear and obvious in this instance (and with Joel Matip at the weekend) means that we are left utterly bemused.
Where is the line actually drawn? How badly does a referee need to be conned? Do we need the passage of play to be left with the attacker in the referee's house, smoking his cigars, wearing his slippers?
I have some sympathy with the idea that Liverpool should be putting more of a hammer down before the penalty opener, but this doesn't allow for the idea they are draining Napoli and breaking them. They are walking a tightrope towards an 85th minute winner where we praise their sheer professionalism on an awkward night.
Carlo Ancelotti has already gestured to just go long to Llorente. He has given up the football ghost. But he snatches something.
Liverpool should spend a bit of time on the video showing the time between the two goals. This is more valuable than looking at the second goal itself. The manager makes an understandable move but it doesn't help. Liverpool are done on 89 and then doubly done come the mix up.
They deserved better, deserved a point.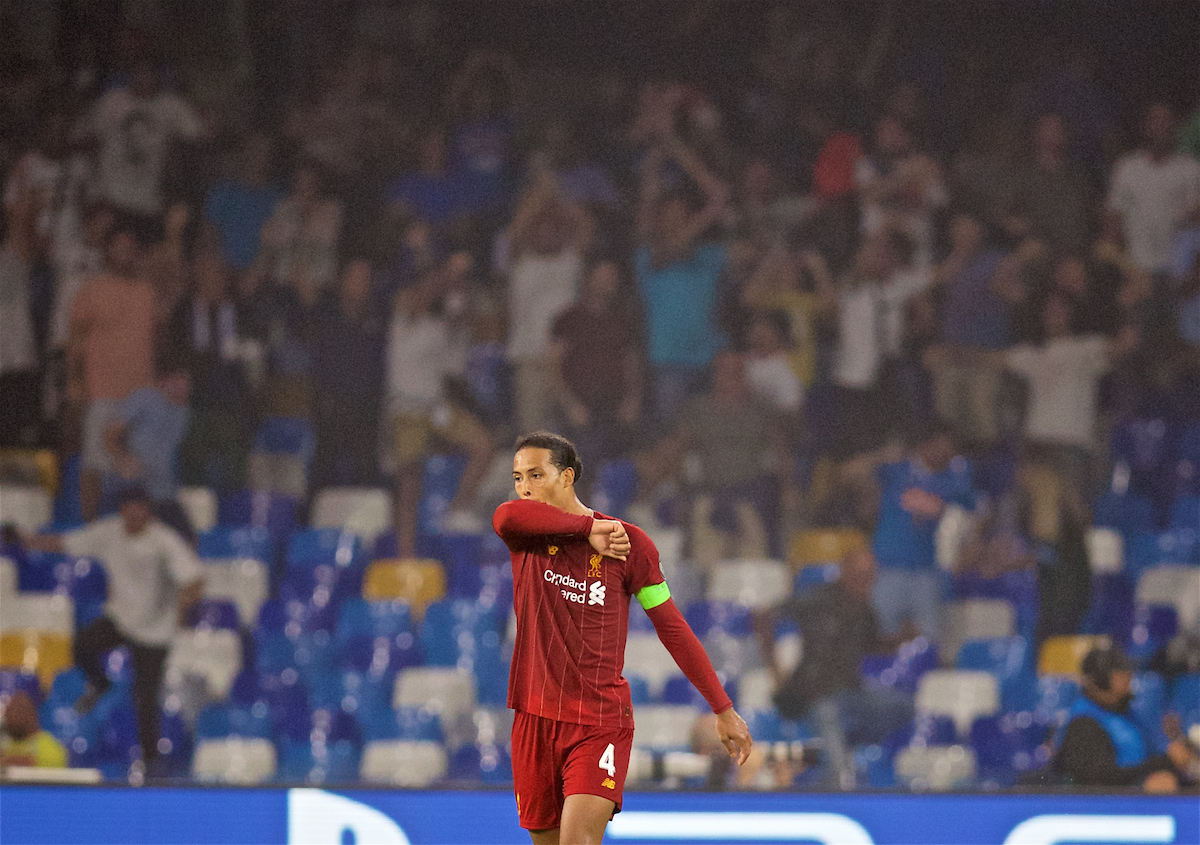 And yet…
In the grand scheme it may not matter, though tonight should let everyone know that Salzburg are a real thing and Liverpool will have to be at their best. They've had hard lines, The Reds, and yet they may well use this to remember taking it out of the hands of hard lines where possible.
They could do with taking Napoli to school end of November. Absolutely pummelling these. They are a tidy side. Time they were messed up a bit.
The European Champions have been beaten.
And yet…
See you in April. See you in May.
"This will be one of our hardest games of the season.

"We know better than to doubt this Liverpool team after one game." 👏

📱 Subscribe for all of our reaction after Liverpool's first defeat of the season 👉 https://t.co/XZAK9veWt7 pic.twitter.com/pgkS5HhS6l

— The Anfield Wrap (@TheAnfieldWrap) September 17, 2019
Recent Posts:
[rpfc_recent_posts_from_category meta="true"]
Pics: David Rawcliffe-Propaganda Photo
Like The Anfield Wrap on Facebook