AND so the records fall.
Liverpool's dismantling of Burnley saw Jürgen Klopp's men record their 13th successive league win and thus surpass Kenny Dalglish's record of 12 from 1990.
Afterwards, the manager claimed that he had no idea that the record so much as existed, and it's true that it didn't warrant much coverage before the late Saturday kick off, but it provides an interesting barometer of where the current team stands.
Comparisons with past sides are always difficult. Not only is there a world of difference between this side and that of, say, the great 1988 team, but there was even a gulf between that and the best Liverpool I've ever seen – the 1979 league winners.
That 11 were already double European Cup winners and had liberally took the piss out of most domestic opponents before Brian Clough's Nottingham Forest had the temerity to stand against them.
Things were a little difficult for Kenny Dalglish's 1988 side. Heysel took its toll but, such was the quality of the manager and infrastructure, the double came a year later.
The side which unleashed Barnes, Beardsley, Aldridge and Houghton on an unsuspecting league became the icing on the cake. The gild on the 1986 lily. Liverpool had to begin anew to create that side, while Paisley's team nine years earlier had been the product of an established setup.
It may surprise some that the record of 12 straight league wins came two years after 1988 as, though it was merely whispered at the time, there was a sense that things might just have been fading.
While it looked like The Reds had begun to reassert their dominance since Michael Thomas's late championship victory at Anfield in May 1989, the club was still living under the cloud of Hillsborough. Kenny seemed even more distant in the press and there was understandably less swagger about the place.
The final defeat of the 1989-90 season came in the FA Cup semi final against a Crystal Palace side who had already been gazumped 9-0 in the league the previous September.
That game will live long in the memory as, for the first time in my life, I saw Liverpool panic. The pressure and atmosphere got under the skin as we leaked silly goal after silly goal. Suddenly, the lads who went 29 games unbeaten looked mortal. Even scared.
Not that we were losing to everyone. Quite the opposite. We beat Charlton with a Ronnie Rosenthal hat trick before drawing at home to Forest despite leading 2-0 after 15 minutes and then away to Arsenal thanks to a late equaliser from that season's hero, John Barnes. That point at Highbury came on April 18. Liverpool next dropped a league point on October 20.
Four straight wins to clinch the league title followed by eight more at the start of the new season, including a 4-0 win at home to Man United (to shouts of "Fergie must stay") and a derby win put Liverpool six points clear at the top of the league, ahead of George Graham's Arsenal. Liverpool were rampant and yet it felt that we were somehow papering over the cracks.
The defence began to look shaky and the record finally went at Carrow Road in a 1-1 draw. I've never forgiven them for that.
Even then the champions simply got back on the horse, winning four of the next five, but there was still a feeling of weakness. The average age of the first team was 28 – very old for a Liverpool side even then. Something was coming.
The wheels fell off at Highbury in December when Kenny went ultra defensive and packed the midfielders with defenders — an act which led The Times to claim Arsenal's win came "with the full cooperation of Kenny Dalglish."
Crushing words, but true nonetheless.
The second half of the season fell away. Kenny left in February 1991 and those effortless wins which characterised the autumn became draws and avoidable defeats.
In April, we raced into a 4-0 lead at Elland Road in just 28 minutes. We won 5-4 as Leeds scored four in the second half and we held on. Liverpool had become that sort of side. Brilliant but gettable. The Gunners, however, went from strength to strength and lost only once in the league — away at Chelsea. They won the league by seven points.
So those old enough to remember those 12 games may well wince at what should be happy memories.
That contrasts with the tour de force that is today's European Champions. There's still the swagger and goal tally, but there's a quiet modesty coupled with self confidence that comes with it.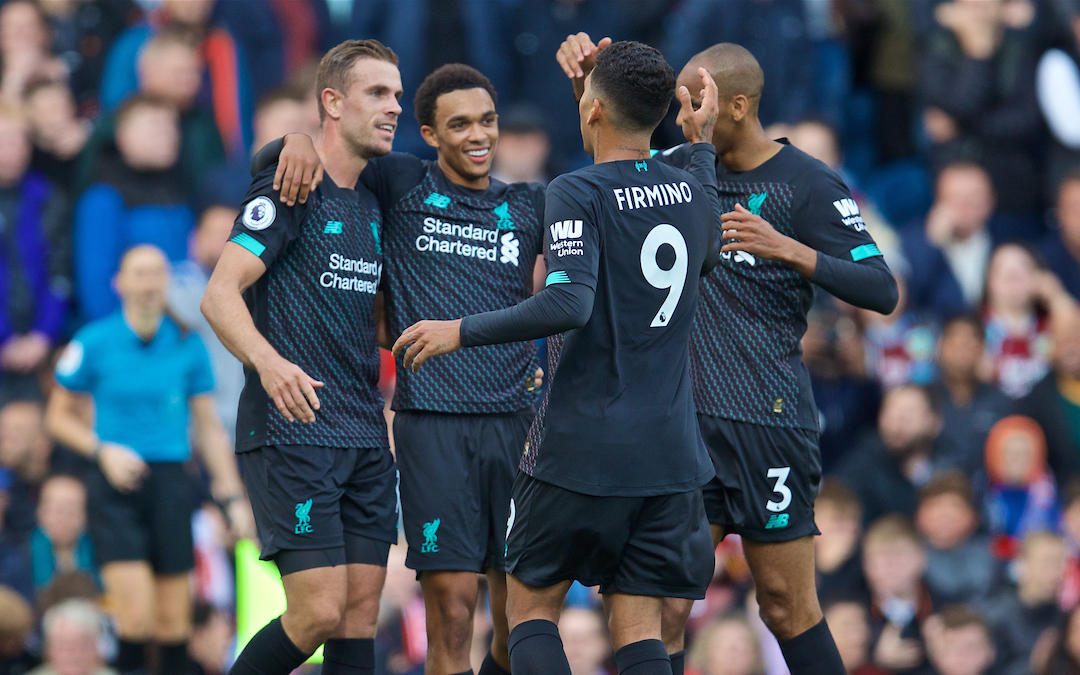 It was interesting to hear Klopp talk of his surprise at Arsenal playing with a diamond last weekend. He said he was not expecting it, but they worked it out. Equally, he knew full well that Burnley would play two up front and kick their way to an advantage, but he was ready for both.
He sees games as tactical problems now rather than an all-out fight for three points. This team has faith in its only ability and it's only a matter of "how" rather than "if" they overcome the opposition. They know they're good enough to beat anyone on the day. The 97 points and a European Cup are testament to that.
Liverpool went toe to toe with Barcelona in the Nou Camp and though we didn't get the breaks, we found a way to overturn the deficit. It's only Manchester City who can stand up to us now, much in the same way it was only a nascent Arsenal who could match us back in Kenny's time.
Thirteen straight wins is a hell of an achievement, but such is the competition in Manchester that we may need to double that to get a foothold in the title race and even that may not be enough. A points tally of 97 would have won the league by 14 points in 1991. As Slim Charles tells Cutty in The Wire "game's the same, just got more fierce".
These are the times we live in.
Records mean nothing, they're mere trinkets. Liverpool just have to remain focused and carry on. Either us or City will have to cough at some point so even with four games gone we will have to be patient.
It's going to be a long ride, but one we're all up for.
"Liverpool, Liverpool, top of the League." 🎶

WWWWWWWWWWWWW

📱 Download our app for all of our reaction to Liverpool's 3-0 win over Burnley:

IOS 👉 https://t.co/joSoJYKkeK  
Android 👉 https://t.co/5quoodLQyb pic.twitter.com/m5S96ifZLy

— The Anfield Wrap (@TheAnfieldWrap) September 2, 2019
Recent Posts:
[rpfc_recent_posts_from_category meta="true"]
Pics: David Rawcliffe-Propaganda Photo
Like The Anfield Wrap on Facebook