WHEN is an unbeaten run not an unbeaten run?
While Liverpool stand at 14 straight victories in the Premier League since the latter end of last season, the defeat in Naples brings with it a sense of a return to Earth. That's by no means a bad thing.
Two-nil flattered the hosts as the reigning Champions of Europe performed admirably for 80 minutes, so it's not as if we were taught a lesson. Had someone redrawn the definition of what is "a clear and obvious error" (such as not spotting a man jump over a knee from a distance of 10 yards) The Reds might have come away with a commendable draw.
However, there'll be time for a bit of navel gazing on the flight home and a need to redress the balance on Sunday at Stamford Bridge. After all, the best way to deodorise over the stench of defeat is to make the next team pay for it.
Long unbeaten runs come with their own problems. They can get into a team's head and simple victories thin out to stalemates just to keep the bloody things going.
Alex Ferguson knew this and was uncharacteristically sniffy of Arsenal's 2004 "invincibles" season as nearly a third of their unbeaten campaign came from draws. While Arsenal's impressive record sounds as if it were the result of unrelenting swashbuckling attacks there was more than the odd war of attrition thrown in for good measure.
The same can't be said of Liverpool's current league run. Those 14 straight wins come with 40 goals with just 11 conceded, but that can change. The longer the run continues the more pressure builds. That can easily morph into run-of-the-mill games becoming jittery encounters if scores are level late in the game.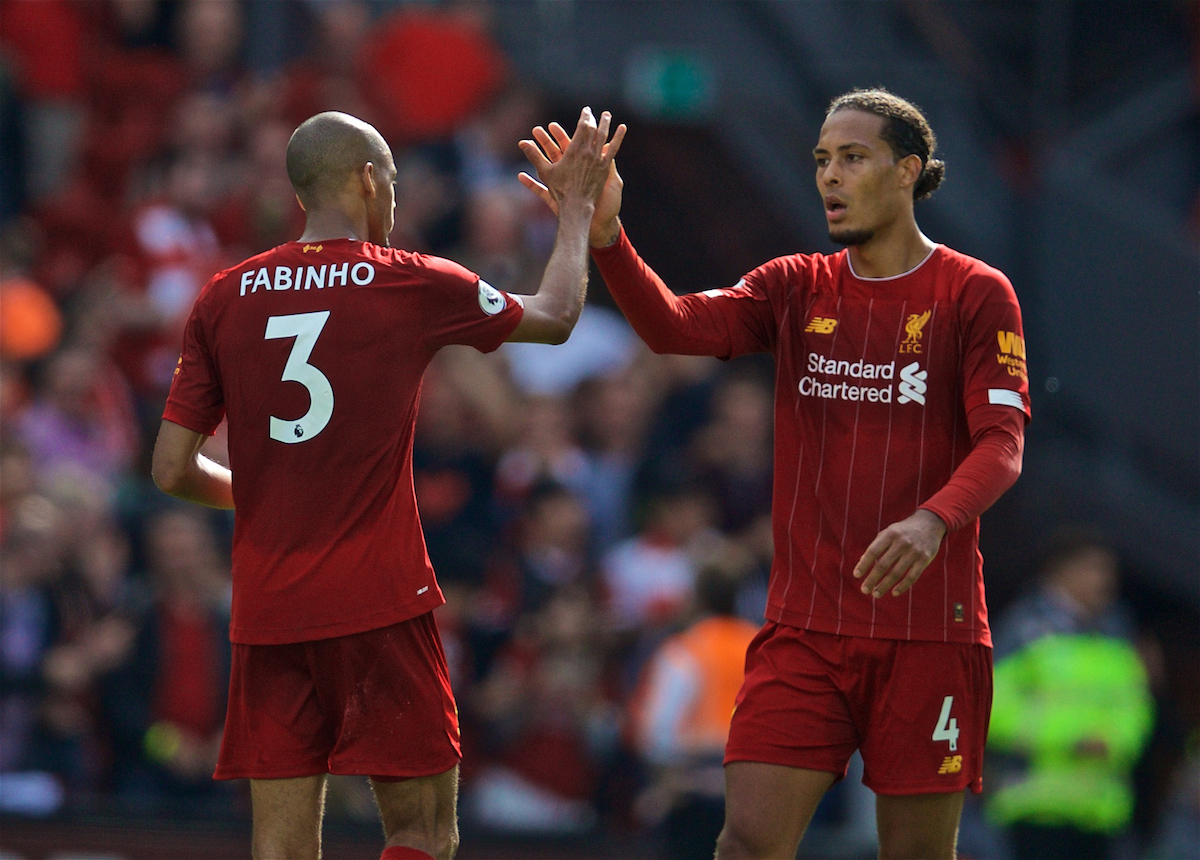 Even worse if we go a goal down.
But that too is yet to be the case at the moment. The feeling in the ground when Jetro Willems' wondrous strike fired Newcastle into an unlikely lead was not one of panic. It wasn't even accompanied with the usual shuffling of feet and mumbling towards the back four as would have been the case in the past.
Instead, the ground looked on, roared them from the kick off again and waited for Jürgen Klopp's men to put them to the sword. They duly obliged.
This Liverpool are no longer a side looking for a narrow victory. The last time we won 1-0 was back in January at the Amex Stadium. If Liverpool score first we tend to win handsomely. Only Sergio Aguero, Leroy Sane, Ashley Westwood, Shane Long and now Willems have put their side ahead in the league against Liverpool in 2019. Liverpool won all but one of those games.
That faith, that expectation, is perhaps the greatest gift Klopp has given to this club. The consistency has been staggering, but what happens if the lads start playing the record rather than the game? Well, you need a reset. A wake-up call to guard against beige pragmatism and, ideally one which doesn't impinge on the record.
Enter Napoli and that penalty.
For those unfamiliar with the rules of VAR, let me explain how that decision was given…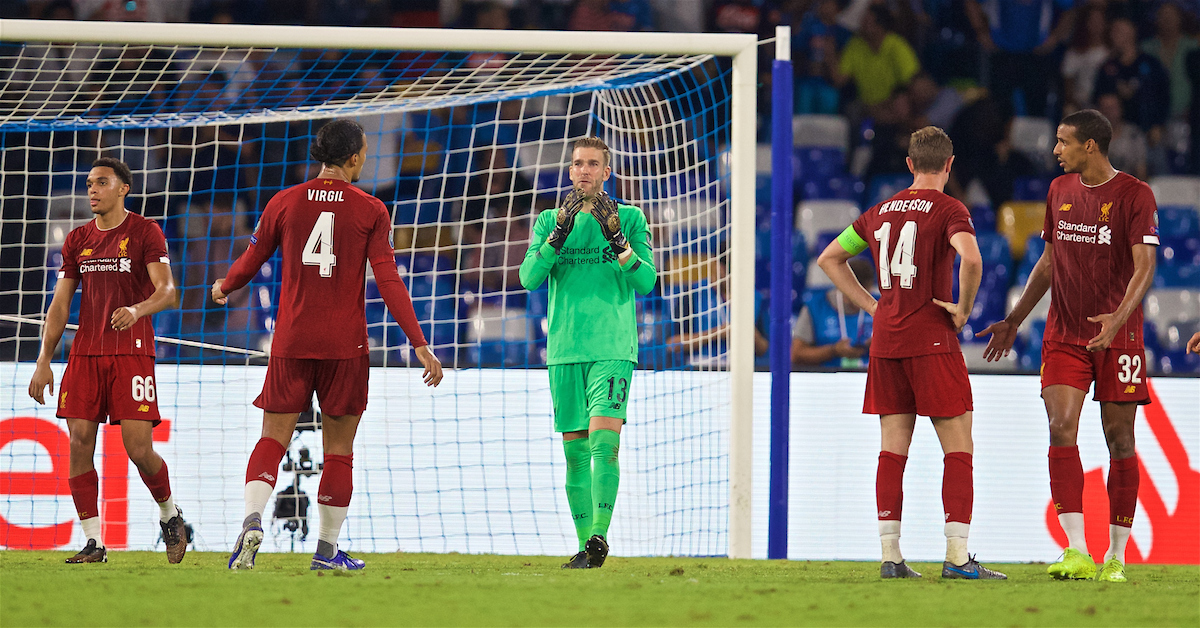 The referee made a mistake in not seeing Jose Callejon's dive over Andy Robertson's knee, but his error was not deemed "clear and obvious" enough to overrule it/make him look stupid. So it was fine to award the penalty, even though it wasn't a penalty, because Callejon wasn't as obvious about his dive as he could have been. That seems fair, doesn't it?
Maybe the ref was just confused at the sight of the Spaniard in an upright position for once. I expect his official club photo is of him sat on the turf with his arms outstretched.
Frustrating then, but not the end of the world. Liverpool lost the same fixture last season and did alright.
In 2004-5, we also lost our first away game in Europe, this time to an early Ieroklis Stoltidis goal in Athens as Olympiacos ran out 1-0 winners against Rafa Benitez's eventual European champions. Coincidentally, that side also went to Stamford Bridge the following Sunday, but let's not draw too many comparisons there.
No one likes a defeat, but this one is a little more bearable as the entire competition is set up to afford the bigger clubs the luxury of the odd hiccough and still give them plenty of time to get through. I'd much rather lose to a ropey referee in Naples than the Chelsea game.
As for VAR, it seems a good idea in theory, but there's still a long way to go if the decisions it awards are based on interpretation and human error just as much as they were before the new gods of technology came to improve the game. Ah well. It gives radio shows something to talk about.
An unbeaten run is not an unbeaten run when there's a defeat in there. And that might not be a bad thing.
"To beat Liverpool you either have to be brilliant, or have a moment of good fortune, and that's what Napoli got."

📱 Download our app and watch last night's 'Post-Match Pint' in full:

👉 https://t.co/joSoJYKkeK
👉 https://t.co/5quoodLQyb pic.twitter.com/m9VjRA4e4U

— The Anfield Wrap (@TheAnfieldWrap) September 18, 2019
Recent Posts:
[rpfc_recent_posts_from_category meta="true"]
Pics: David Rawcliffe-Propaganda Photo
Like The Anfield Wrap on Facebook