LIVERPOOL versus Newcastle United has in recent years been an emotional not battling fixture, if for our own nostalgic rather than footballing reasons.
A returning Rafa has caused The Kop to sing for the opposition, and our civility has been extended to a group of supporters you cannot help but feel for. A great city like Newcastle surely deserves a team worth shouting for.
I like Steve Bruce. Not as much as Rafa, but I like him. The atmosphere took a turn for the slightly bitter though, as Newcastle's away support progress from applauding You'll Never Walk Alone to chanting "your support is fucking shit". Oh really? Is it, yeah?
Maybe we don't get out the big guns for games like this? But what does that mean? Because trust me, the larger guns suddenly appeared second half. And there was a period of needing something.
It is this sort of arrogance, this sort of being unbearable, that nearly catches Liverpool out.
In the first five minutes, we pass across the back four as if we think this is a training session ahead of our actual games to come in Italy and London. It is a mistake to be so relaxed and we get punished for our arrogance. Out of nowhere Trent gets caught out. And Willems comes from the left to send one screaming past Adrian's right ear.
Newcastle set up to defend with five at the back to attempt to control Liverpool's fab forwards, but it is the front players in black and white that are doing well in the opening minutes.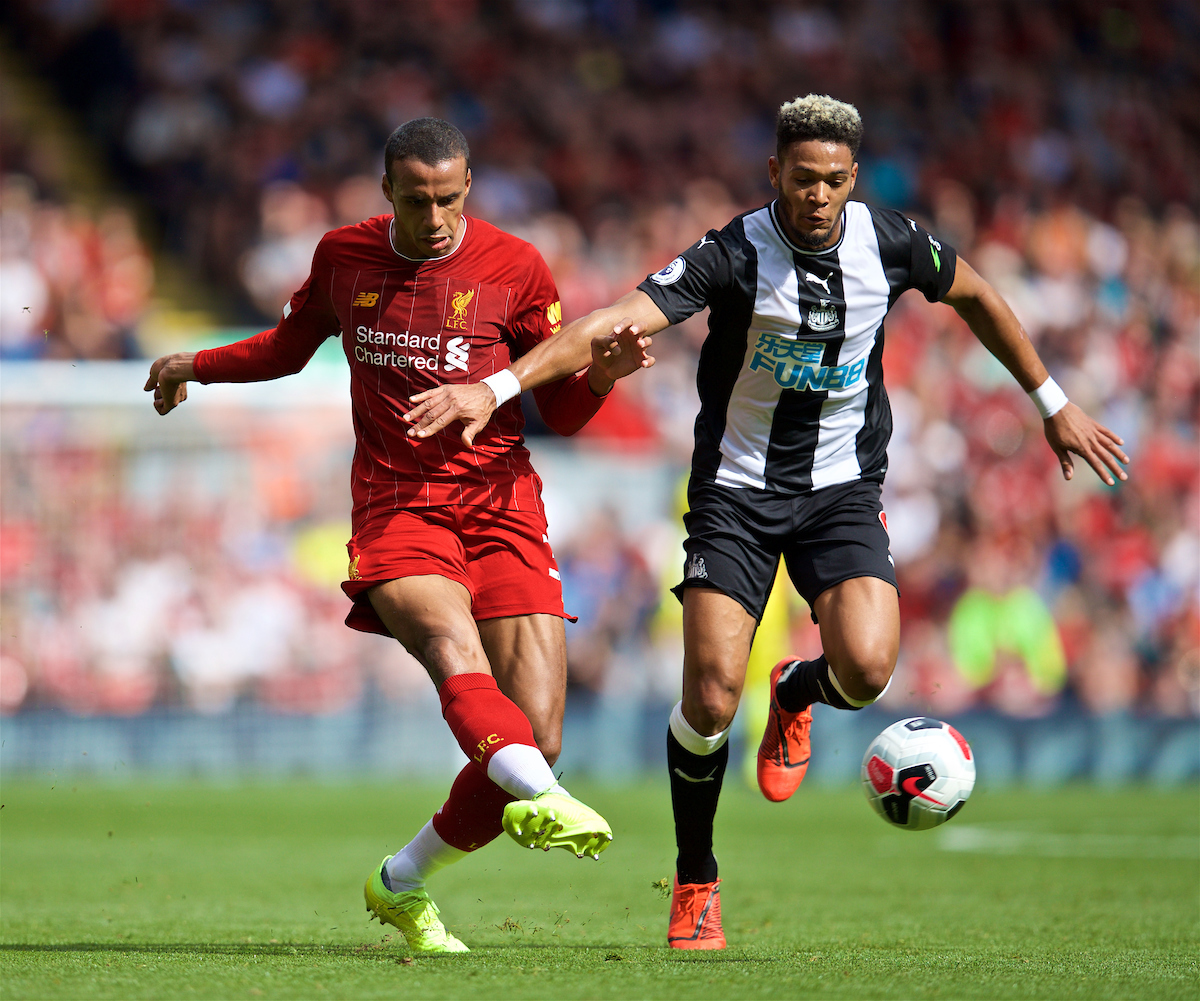 There are dodgy moments after the opening goal. Liverpool passes go awry and even Virgil mishits. There is a specific battle going on with our Joel versus Joelinton. Newcastle's forward is big and strong and not giving up, and for a second our trusty 4-3-3 looks a little light.
But this doesn't last long as Liverpool bit by bit get control again. Alexander Oxlade-Chamberlain is a key part of this as his tandem patrol of the midfield with Fabinho works well. He occasionally gets a pass wrong, but he is broadly on top of the job.
If anything, this proves that he needs to play. Time on the pitch will sharpen his game and it is good to have him back but we can't rush him and expect brilliance. Alright is alright for now.
Liverpool's equaliser is quality from Sadio Mane aided by Andy Robbo. What a player this man is. Speed, dexterity, and danger in front of goal. From his goal to the close he never gives up.
Newcastle are physical and agricultural, and don't hold back from getting amongst Liverpool. This is to their credit and will stand them in good stead in future games this season.
The hero Divock Origi gets sliced in the first half, and though he gets up, he can be seen slightly unsure of his left foot until he is replaced by Bobby Firmino in the 37th.
I worry for Divock a little. He is useful in the big picture but the picture sometimes gets zoomed in on. He could have left last summer the hero's hero. He could end this season the fifth of three. It's so, so hard to be Firmino but Origi needs to clarify what it is to be Origi.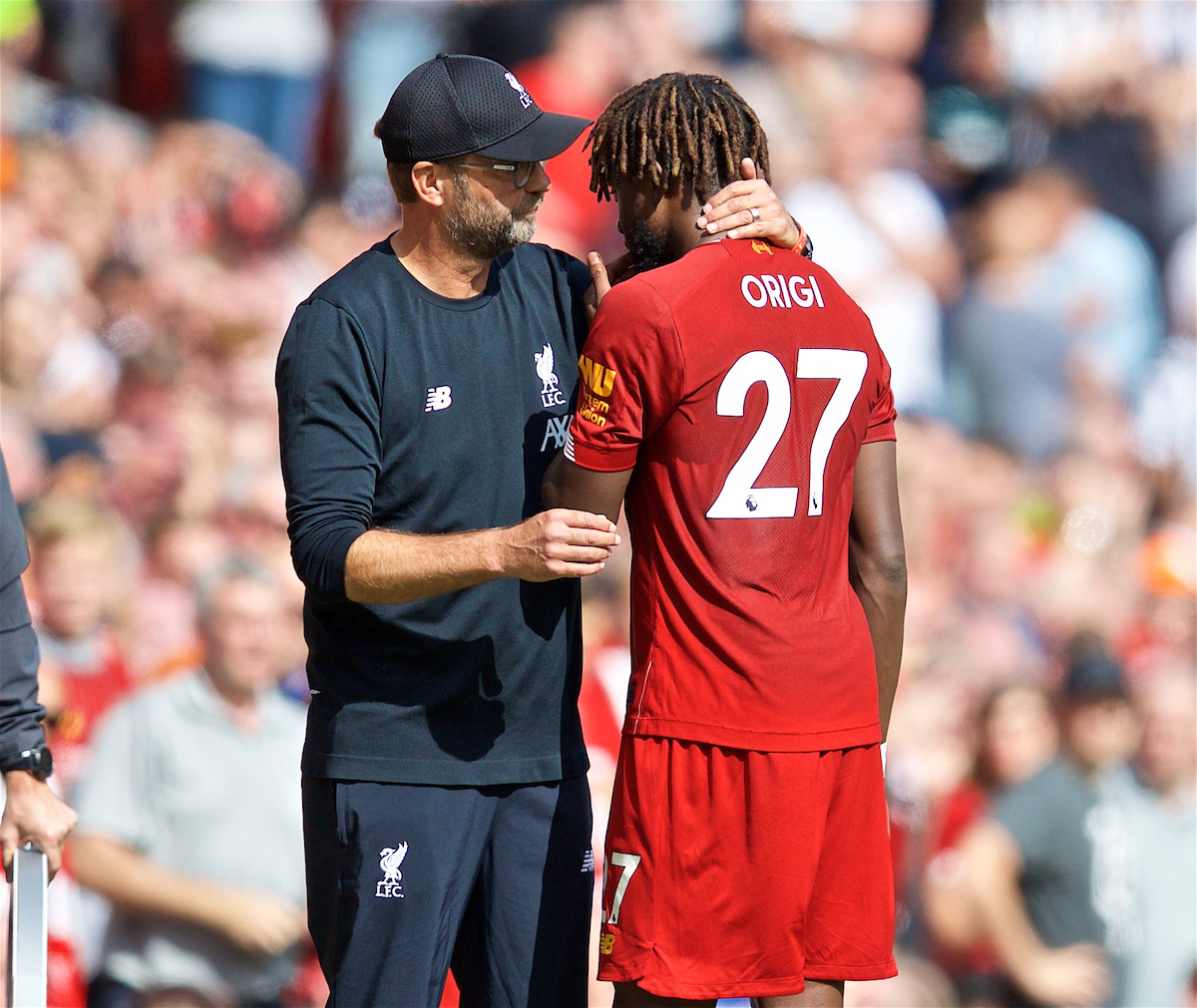 Shortly after comes Sadio's second goal coming perfectly as it does to send Newcastle in for half time without the lead they had claimed so early on. Liverpool fans shift from hoping Klopp can do the business in his half-time team talk, to hoping Sadio can do the business and get his hat trick.
Despite leaping headers and impossible runs, it is not to be and it is Salah who brings the final nail in the Newcastle coffin of hope in the 72nd, but it isn't Salah's lovely lift of a shot that everyone will recall, but rather Bobby Firmino signing his name with his toes to provide the assist.
What looks like an impossible pass for the player with his back to the goal and the defender blocking his way is made easy as he lifts the ball backwards with one foot and sends it to Mo Salah at right angles with the other.
This kind of talent is priceless. Like a work of art that the National Gallery will never sell, the art of Bobby Firmino is beyond any monetary value. But no doubt, if we were to choose, we would have all paid the gate money for that moment alone.
His whole performance is a masterpiece, his brushstrokes beautiful. He comes out of his second successive substitute performance with his reputation further advanced.
In the second half of the second half, a brace of substitutes show that Liverpool have a squad plan, and not just for rotating our three kings upfront.
Milner, Shaqiri, all good solid players who can offer something different as substitutes, but today are brought on for a run out and to save legs. This shows the manager's comfort, and while we might have had a nervy first 15, by the last 15 both Klopp and The Kop are relaxed once more.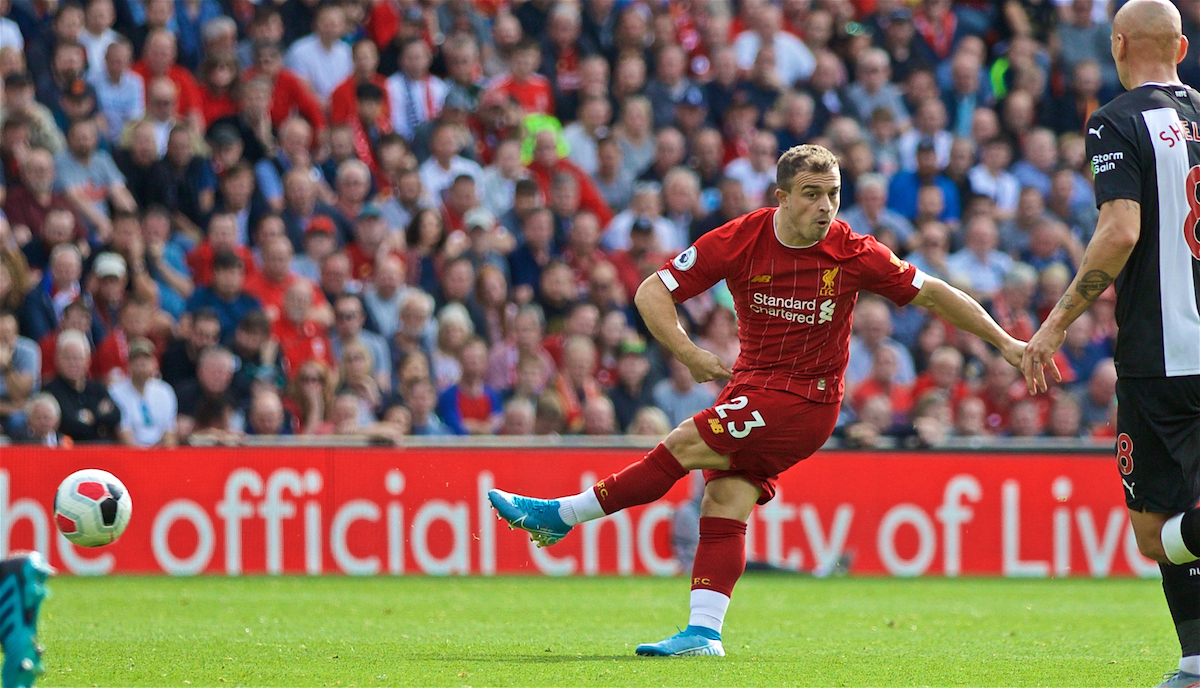 We return to training ground-style passing and game management. Newcastle's five at the back have provided a decent defence, but the reality is The Magpies haven't had a shot on target other than the goal. Yes, they are reminiscent of last season, it seems, and credit to he whose head will be remarked upon for that, but they are still no match for Jürgen's young magicians.
You can't help seeing the similarities between Liverpool and Newcastle as cities and as bodies of fans. As much as the Geordies have pushed back against the sheer grimness of Mike Ashley's mismanagement, today our lot are holding our owners to account and there is a show of unity in the ground against FSG and their trademark shenanigans.
You can't help seeing the similarities. Northern cities by a body of water often told what to think by men from a pompous south who have no idea about a different style of life.
Objectively, away from this game, a resurgent Newcastle would suit me. Their club culture is about passion and dignity. But in the confines of the 90 it is so good to see Liverpool put Newcastle to the sword.
Another skull on the drawbridge of the fortress. We are a house of hell, unbearable, unbeaten, pushing on and punishing all comers.
It's five from five. Thirty-three more to come. Three from three. Sixteen more to come.
Our ball, our game, our points. All the best.
"They're going to have to send a team from Mars to beat us at Anfield…"

📱 Subscribe and listen to our immediate post-match show after Liverpool's 3-1 win over Newcastle 👉 https://t.co/XZAK9veWt7 pic.twitter.com/tX1IffDAT2

— The Anfield Wrap (@TheAnfieldWrap) September 14, 2019
Recent Posts:
[rpfc_recent_posts_from_category meta="true"]
Pics: David Rawcliffe-Propaganda Photo
Like The Anfield Wrap on Facebook