SOME things can't be quantified in football.
Stats certainly have their place in football, but there are some things that stats can't prove.
VAR probably has its place in football – despite weekly evidence that can be used to the contrary – but there are certain aspects of football that will always be subjective.
For example, how do you prove with stats that somebody is a leader (without going all Sky Sports and using Football Manager stats)? How do you say that somebody is objectively a good leader?
The truth is you can't. There will always be somebody who argues with it.
When a manager of a football team appoints one of his players as club captain, they'll of course have attributes in mind that they will be looking out for – influence in the dressing room, as well as their ability to dictate and motivate you'd imagine would be among those.
As Liverpool supporters of this vintage, we've been spoilt to have seen a local lad become Liverpool's longest-serving captain, and it's unlikely we'll ever see another captain like Steven Gerrard.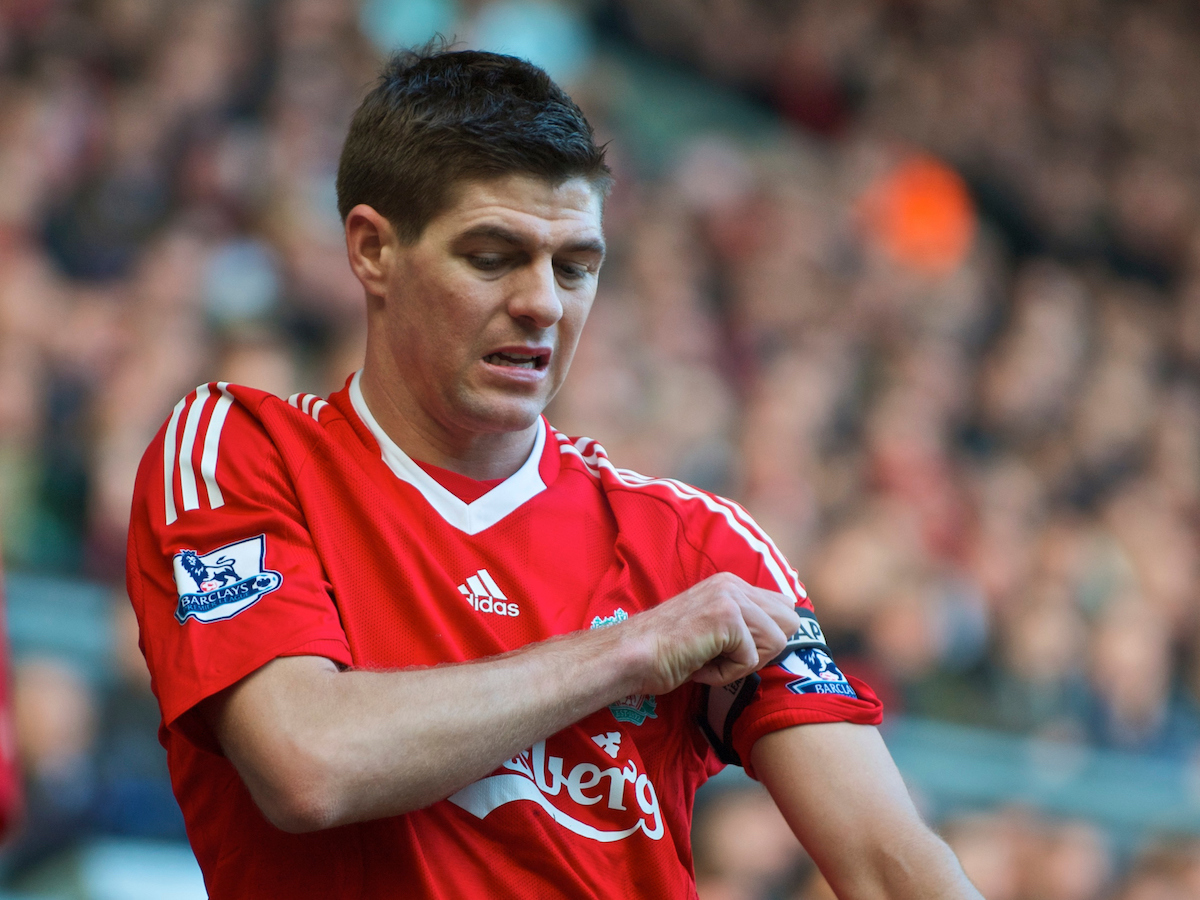 For years Jordan Henderson was a victim of that expectation. The phrase "he's no Steven Gerrard" was never far from the lips of his critics, as The Reds' new Sunderland-born skipper tried to adapt to life with the armband.
I'm sure Jordan would be the first to admit he's no Steven Gerrard. Because Stevie was one of a kind; a lad from Huyton who took the world by storm. He was one of our own and, as fans of every single London club will proudly tell you, you can't do better than that.
However, having finally got his hands on a trophy four years after being handed the armband by Brendan Rodgers, Jordan Henderson has finally started to make the captaincy his own.
At the time of his appointment, there would have been a vocal minority who asked what qualities made Henderson the ideal candidate to captain the club.
The reality is that the club was devoid of any true leaders after Gerrard's departure, but Rodgers clearly saw something in Henderson. The former boss deserves credit for that. It was a risk and the club are now reaping the rewards of that decision.
That's because the measure of a true captain is that they make the armband their own. They lead in their own way and don't live in the shadows or by the expectations of others.
Henderson arguably showed the burden of that expectation down the years and perhaps even lived in the shadow of Steven Gerrard at times.
When he was originally made vice captain by Rodgers back in 2014, the Northern Irishman cited Henderson's work rate and attitude as the reasons behind his decision. Few could argue that the former Sunderland man hasn't carried those two attributes with him throughout his time at Anfield.
He infamously recovered from being included in a failed swap deal for Fulham's Clint Dempsey, has always given his all for the badge and spoken highly of the club and its supporters.
The potential that Rodgers saw during the bad times has been harnessed by Klopp and now that the good times are back Henderson has been allowed to blossom.
When Gerrard was at his peak he had the likes of Jamie Carragher and Sami Hyypia around him to take some of the weight off in leading the team. The best teams need multiple leaders to assist the one who wears the armband, and the best captains will tell you that.
Liverpool are lucky that they now have several leaders in the dressing room. There will still be some that argue that Virgil van Dijk should be the one who wears the armband, but his influence is just as important without needing to hold the captaincy mantle.
And besides, he was voted third choice by his fellow teammates, with Gini Wijnaldum fourth choice, James Milner second and Henderson the one who The Reds' current crop believe should lead them out.
Against Chelsea on Sunday, Klopp's side needed to dig deep in order to take away a vital three points. As James Pearce stated in his latest piece for The Athletic, it also required some of the nous that previous Liverpool sides had been accused of not showing.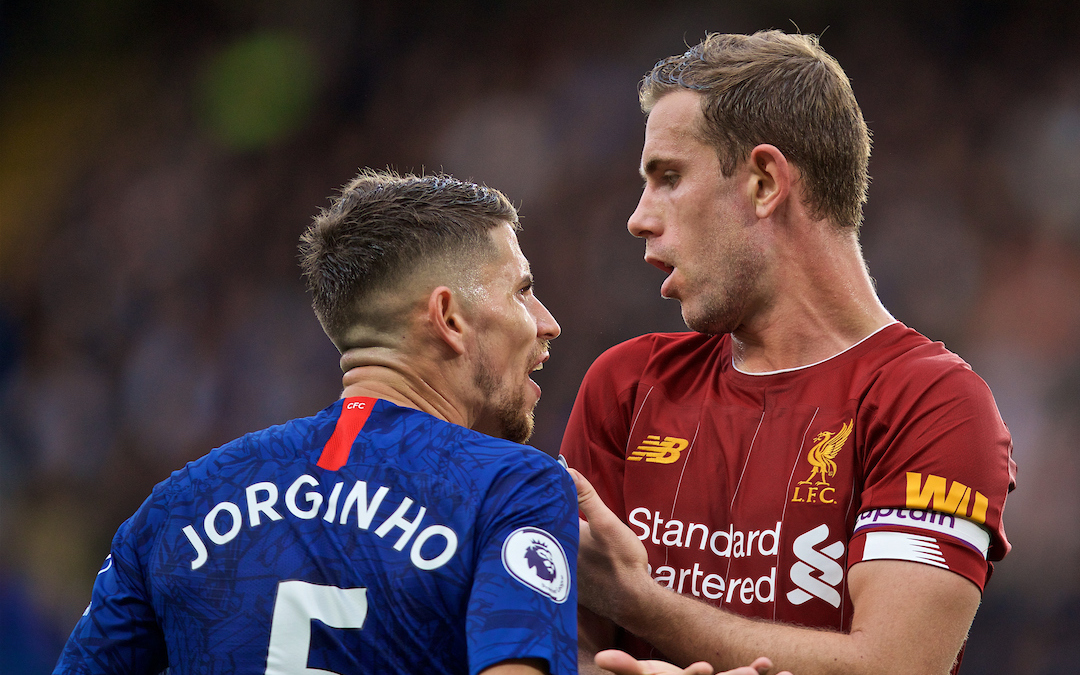 Henderson had to watch on as Chelsea all but ended Liverpool's title challenge back in 2014 having been sent off against Manchester City. That day Chelsea were all nous; wasting time over every goalkick and throw in, and maintaining a constant dialogue with the referee to ensure tight decisions went their way.
While Martin Tyler was busy wrongly accusing Henderson of manhandling Michael Oliver, it was interesting that Liverpool's captain was always the first over to the referee when there was a point of contention. Cesar Azpilicueta, by contrast, seemed to only amble over once called upon to clear away Chelsea's protesters.
In boxing, the mind games in the buildup to the fight are said to be the first chance for fighters to get an early edge over their opponents. If Henderson and Azpilicueta were boxers taking an active part in the mind games at Stamford Bridge, the former came out comfortably on top.
It was a peak captain's performance and showed exactly what Henderson brings to the table as captain.
He's broke the Steven Gerrard mould that we previously clung to so dearly.
But much, much more than this. He did it his way.
"Fabinho had loads to do in that midfield. He was brilliant."

"The lad cuts inside and he's like 'for fuck sake lads, i can't tackle everyone!" 😂

📱 Download our app and watch the 'Post-Match Pint' in full:

IOS 👉 https://t.co/joSoJYKkeK
Android 👉 https://t.co/5quoodLQyb pic.twitter.com/HPQqt6831m

— The Anfield Wrap (@TheAnfieldWrap) September 22, 2019
Recent Posts:
[rpfc_recent_posts_from_category meta="true"]
Pics: David Rawcliffe-Propaganda Photo
Like The Anfield Wrap on Facebook