XABI Alonso, a man who brought grace and elegance to the Anfield turf, once said: "I don't think tackling is a quality. Tackling is a last resort, and you will need it, but it isn't a quality to aspire to."
Who didn't enjoy the classy midfielder at his very best in Liverpool red? He was a joy to watch. On this point though, there was much respectful disagreement with the Spaniard at the time. Jamie Carragher definitely had something to say on the issue. A wider opposition to Xabi's stance likely still exists.
Despite shifts in the rules, significantly the crackdown on the tackle from behind from 1998 onwards, and changes in the demographics – in the stands and on the pitch – Anfield still loves tackles, too.
Protecting the creative geniuses is all well and good, and moments of magic at the top level can often take the breath away. But there's still a place for the old-fashioned shout of getting stuck in.
Take the victory over Newcastle United as an example. In the first half there was a real threat of the Anfield atmosphere being smothered by the stranglehold of an early kick off twinned with international break hangover.
It was all getting a bit sleepy in the stands, evidenced by Jürgen Klopp's attempts to cajole the crowd. And while that may have stirred some, Andy Robertson had a better idea. A tackle. A big, hard, full-blooded, committed, tackle.
After the Scot threw himself full pelt into a battle for the ball that seemed to favour his opponent, Liverpool were lifted when the left back emerged the other side the victor – on the pitch and in the stands. It was a cameo of commitment that shows supporters in a second that their passion for the club is matched by the players that are paid by it.
From that Robertson moment, levels increased – of noise and of performance; the tempo had risen, and Newcastle were back pedalling. The game was headed for its inevitable conclusion: another Liverpool victory.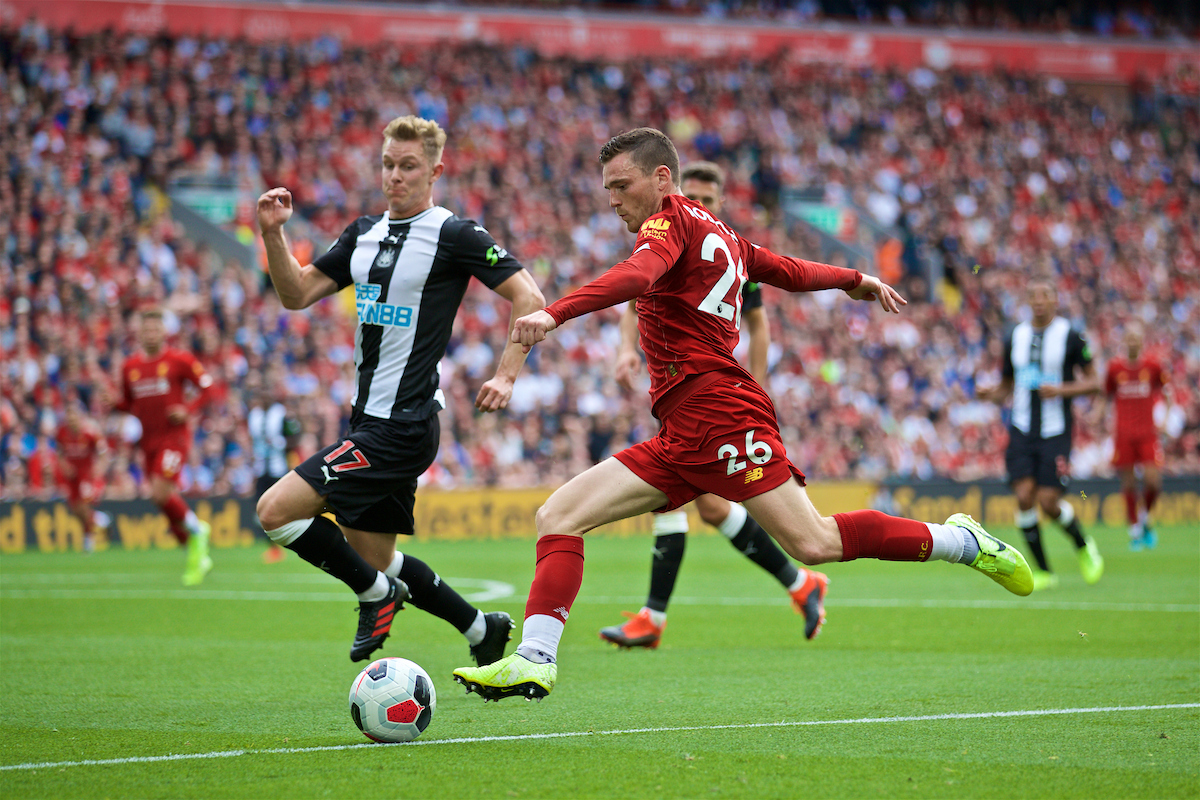 Robertson is much loved for that side of his game – chasing down Manchester City, sending an opponent flying at Roma, messing with Messi. And it's also one of the reasons Fabinho, with only 50 appearances to his name, has so quickly found his way into Liverpool hearts.
The rangy robber of opposition's midfield momentum is rightly perceived as so much more than the traditional destroyer, and Xabi Alonso would no doubt purr at the precision passing that so often springs a Liverpool raid on the opposition box.
But for the tackle connoisseur left to feed on scraps in the modern day, those raised on the juddering midfield challenges of Graeme Souness and Steve McMahon among others, he is also a joy to behold.
The Brazilian runs further and tackles more than all of his teammates. And while not every one of those chalked up in the challenge column is a bone-cruncher of McMahon v Peter Reid vintage (Luis Suarez may have something to say about that), there is still a boost to be had from his tidy knack of nicking possession from attackers, from his strength to outmuscle an opponent, and from his nous to shield the ball at the right times.
It probably reflects Alonso's wider point. The man-and-ball clear out of a slide tackle might pump the blood and fuel the fans, but a cerebral pickpocket of a toe poke can be just as effective. Fabinho is all about that. But there's an old school desire to win the ball and boss the park there, too.
In the modern game, that aggression has to be tempered and the 25-year-old is pretty good at that. In 34 appearances in the Premier League, he is yet to see red, and so far he has only been brandished a yellow on eight occasions (some would argue gloriously so in the instance of the caution he received for a tactical foul at Stamford Bridge last Sunday).
Given his job, the ground he covers, the number of games he plays and the fact he is rarely hooked, it's impressive focus and it's not just been the case at Liverpool. Another star for the scouts who, among everything else, spotted that while Fabinho has clocked up more than his fair share of yellow cards, he is yet to be sent off in his professional career.
The mask has slipped on occasion, recall how he stood over a prone Eden Hazard and screamed at the floored Belgian at Anfield, he did the same to Messi, too. But all in all he keeps the inner chimp in its cage and processes pressure situations like a computer.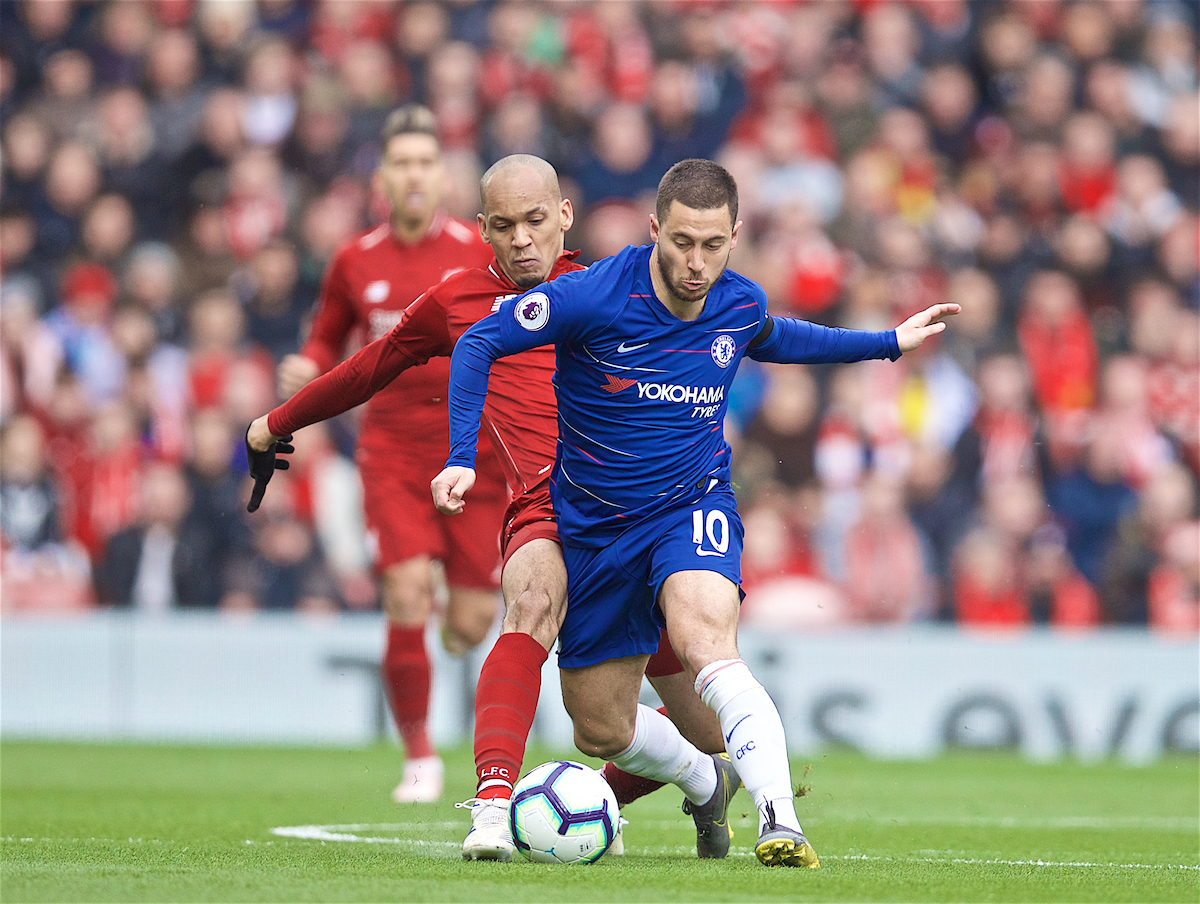 Javier Mascherano, by contrast, another master of the tackling trade and a favourite of those who rate fight alongside flair, was less successful at keeping the fire under control, as two red cards for Liverpool in matches against Manchester United demonstrates.
Fabinho has many of the Mascherano traits, yet it all looks so different from the stands. Mascherano, at 5ft9in, was a whirling dervish of a player, like a terrier tearing after a stick, hunting down possession with breathless endeavour.
The Brazilian, at 6ft2in, doesn't play like somebody has just pulled a cord on his back. But there is no less energy expended by his relentless approach to the game. He also arguably has a touch more finesse in his locker, although Mascherano was also more than a just a demolition man himself.
Gary Neville, no doubt through gritted teeth, has described Fabinho as the best defensive midfielder in the Premier League. And you wouldn't swap him, would you?
Once we talked of Liverpool's soft underbelly. Of a side that could be bullied. Of a team that lacked nous and failed to deploy the dark arts of the game when necessary.
No more. A £40million investment following disappointment in Kyiv in the summer of 2018 now looks like money well spent. Then, a welcome video shared by the club on Twitter showed an imposing figure staring down a lens before folding his arms without a flicker of emotion. It was the look the doorman gives you when it's time to walk away. And it's proved prophetic.
Fabinho, who is now a go-to choice for Jürgen Klopp in the same category as Mo Salah, Sadio Mane and Bobby Firmino, is the bouncer in front of the defence.
And if you want to argue, you might be on the end of a tackle or two. Whether Xabi likes it or not.
"Fabinho had loads to do in that midfield. He was brilliant."

"The lad cuts inside and he's like 'for fuck sake lads, i can't tackle everyone!" 😂

📱 Download our app and watch the 'Post-Match Pint' in full:

IOS 👉 https://t.co/joSoJYKkeK
Android 👉 https://t.co/5quoodLQyb pic.twitter.com/HPQqt6831m

— The Anfield Wrap (@TheAnfieldWrap) September 22, 2019
Recent Posts:
[rpfc_recent_posts_from_category meta="true"]
Pics: David Rawcliffe-Propaganda Photo
Like The Anfield Wrap on Facebook