A FOOTBALL club is, ultimately, the bricks, mortar and steel of the ground. The grass of the pitch. The seats in the stand.
And yet, of course, it's so much more than that.
The real beauty is what it all means to us. And different clubs and different grounds mean different things to different people – for a host of different reasons.
Take Chelsea. For years, I couldn't think Chelsea without thinking Kerry Dixon. Not because I have any love or affinity for the former Stamford Bridge striker, but more because he will always stand proud as punch in the shortest of shorts on the front cover of the Chelsea v Liverpool programme dated May 3, 1986.
That was the day The Reds went to London needing victory to clinch the title in Kenny Dalglish's first season as player-manager and put the Canon League Division One out of reach of the chasing West Ham United and Everton.
"We had a horrific away record at Chelsea," said then skipper Alan Hansen. "And when the fixtures came out at the start of that season everybody was saying 'imagine us having to go to Chelsea on the final day and win the championship', which of course is what happened."
That horrific record was in fact Liverpool going winless in the league for 12 years at Chelsea.
In fairytale fashion, Liverpool did win it – with Dalglish providing the moment of magic in the 23rd minute, and becoming the first player-boss to win the league.
It was a wonderful moment, one indelibly painted across the memory banks of any Red old enough to remember it. The King chests down Jim Beglin's cross and coolly and calmly volleys the winner with the outside of his right foot.
The celebration is trademark Dalglish, arms outstretched, smile as wide as the Mersey.
A neighbour knew of my Liverpool obsession and handed young me the programme from that momentous day. And after far too long poring over its contents, Dixon joined Dalglish in being synaptically linked to Chelsea.
In later life, slugging it out in a semi-final at Anfield in front of a rocking Kop obviously jumps out; a night that, emotionally, had the lot. From the Luis Garcia ghost goal to life slowed down and silenced as Eidur Gudjohnsen put *that* chance wide.
Sprinkle with Patrik Berger's hat-trick, Vladimir Smicer's late, great volley, Jordan Henderson's screamer, Bruno Cheyrou's winner and last season's point-saver from Daniel Sturridge and there are many great moments against Chelsea to savour.
Others will obviously have their own memories. Someone somewhere will perhaps not even flinch at the idea of a club 220 miles away being pitched as a genuine rival. For the record, I'll stick with Everton and Manchester United thanks.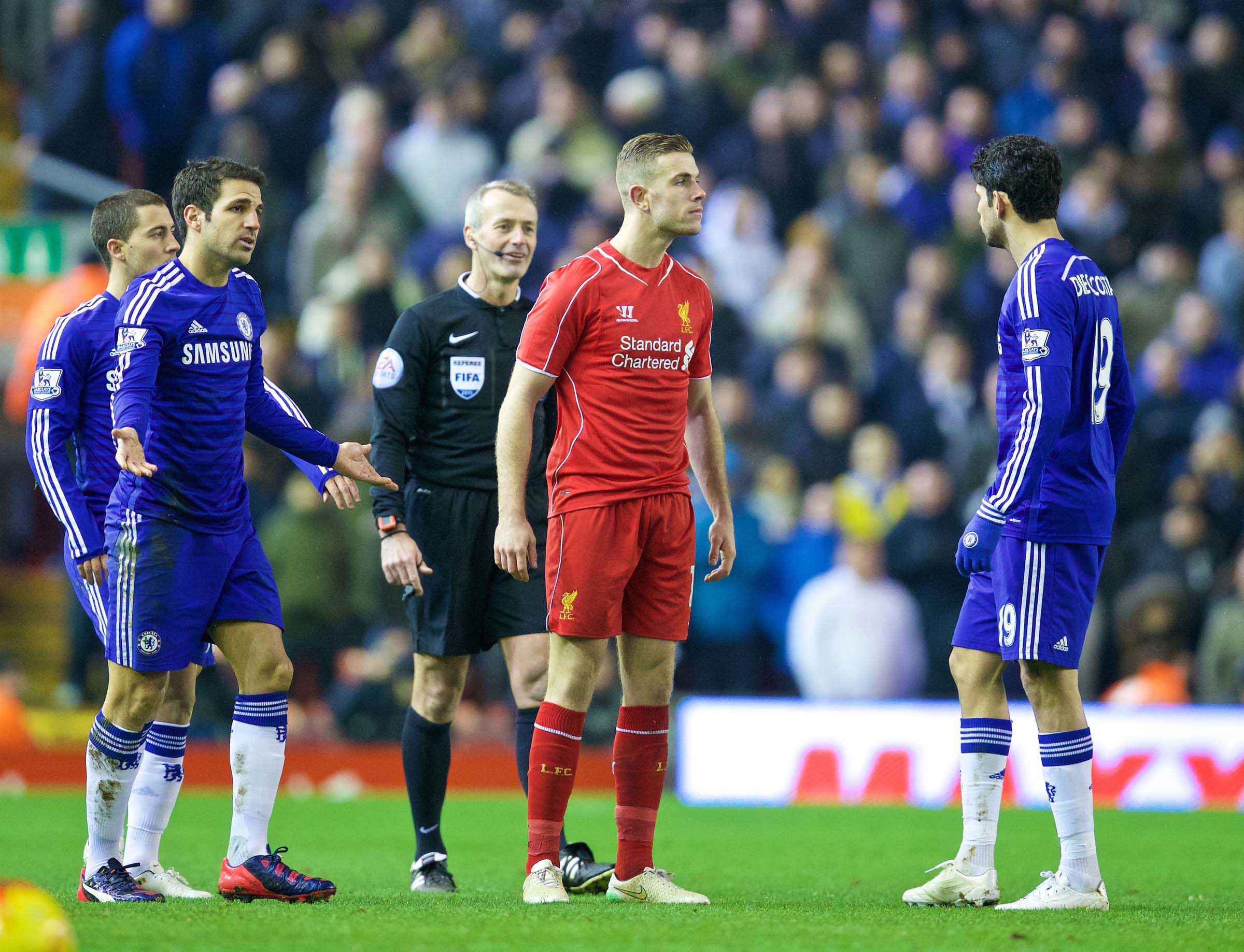 For all that that suggestion around Chelsea never sits right with some, it's easy to chase its roots, and it's similar perhaps to the thinking that ended with Nottingham Forest being sang about as a hate figure by The Kop to this day.
Again, for the record, Liverpool haven't faced Forest in a match for 20 years.
Prepping for TAW's Preview Show this week, I noticed that no Liverpool player in the 127-year history of the club has played more games against Chelsea than Jamie Carragher.
On the other side of the coin, no Chelsea player in their 16-year history has played more games against Liverpool than Frank Lampard.
Familiarity was definitely breeding contempt in the era of those players. Yet for all the reasons people referenced for the hate then – football, geography, politics, the general vibe of their fans and their way of living versus ours, Rafa, Mourinho, Torres, Gerrard's transfer that so nearly was – it still didn't catch light enough to lead to longevity.
Now, in 2019, the falseness of it, the ferocity of it (or lack of), is laid bare. Sure, a few songs will no doubt be exchanged on Sunday, some unsavoury. Tired talk of "rent boys" will no doubt resurface, too. But all in all, it's a bit of a reach as things stand to preach genuine hate. Who's really arsed about Chelsea?
Jürgen Klopp could become the first Anfield manager to win three times at Stamford Bridge should The Reds triumph on Sunday. Liverpool have won five of their last 11 there, drawing three and losing three. The edge, if it was ever there, has truly been sanded down to something approaching smooth.
Throw in Chelsea's current state – an inexperienced manager in charge, albeit a club legend in Lampard, a side lacking real star quality following Eden Hazard's departure, young players and a general sense of in-between times – and it's set up to be far tamer than the days when Daniel Agger was practising MMA moves on Fernando Torres.
Now, of course, we have Manchester City to contend with as the nouveaux rival. And that will mean more to some than others. Younger fans will see a nemesis, older supporters will recall Maine Road and smile wryly about the cash-bloated incarnation of the modern day.
We share the experiences, and the love of the sport and the club, but so often we see it all differently.
As John Power once put to paper: "It takes all sorts – don't you think life would be a little drab if we had the same thoughts."
"Liverpool are the only unbeaten team left in the Premier League… and I don't expect that to change on Sunday." ✊

📱 Subscribe for all of our buildup and reaction to The Reds' trip to Stamford Bridge 👉 https://t.co/TEMh9rqIOf pic.twitter.com/4VEawHBDRr

— The Anfield Wrap (@TheAnfieldWrap) September 20, 2019
Recent Posts:
[rpfc_recent_posts_from_category meta="true"]
Pics: David Rawcliffe-Propaganda Photo
Like The Anfield Wrap on Facebook