LUCKY Liverpool.
Chelsea the latest Premier League side to try to beat the house. Chelsea the latest to come up short. Hard lines? Perhaps. But tell your hard luck stories walking. Liverpool – top of the league.
For an hour:
The teams line up and Liverpool are enormous. Chelsea dwarved.
The game wears on and Chelsea players are dropping like flies. Two subbed first half, others limping.
The incidents see Chelsea come off second best, the calls going against them over and over. They need to steal yards, Liverpool don't.
Liverpool's central midfield is everything and they have more on the bench. Chelsea merely have N'Golo Kante.
Liverpool dominating set pieces. Liverpool giving away corners like throws because it just doesn't matter.
For an hour. For an hour I was reminded of that peak era Chelsea side under Mourinho the first time around, that side the league couldn't get near.
That side would feel like it was riding its luck against you but was actually always in control, that side was bigger, stronger, better, injured you and had bigger, stronger, better centre mids lined up on the bench. That gang of grocks could play.
I was reminded of that but for the lads in red. The gulf was clear, even when Chelsea were on top, Liverpool were in control. This, I was saying to myself, this is what it is to be the business.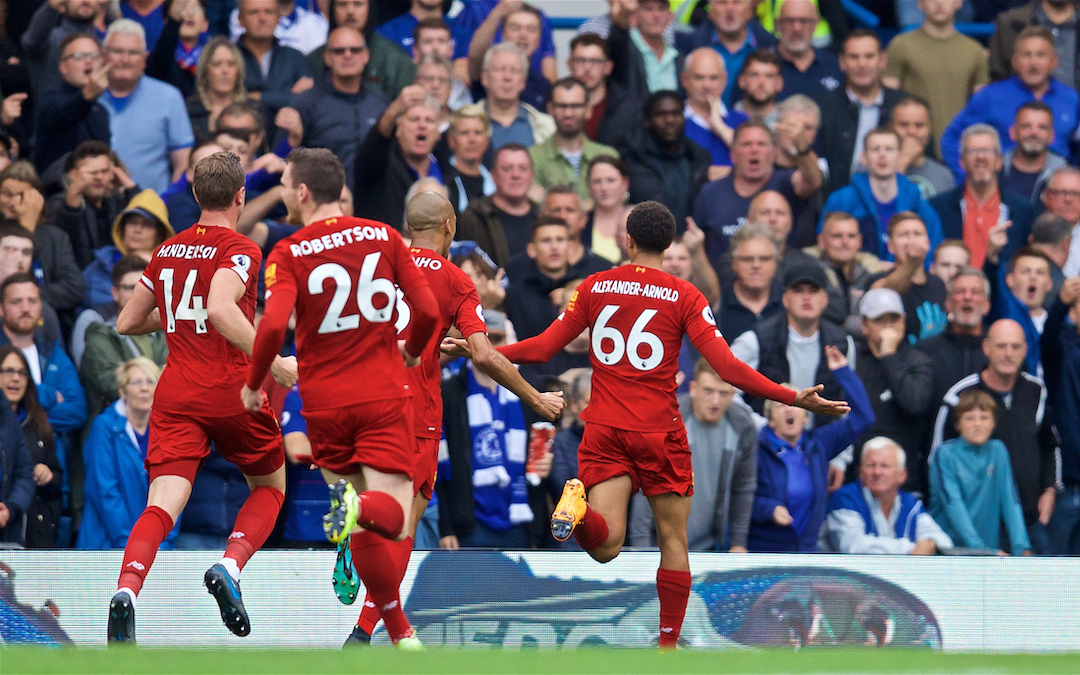 And then it changes. It changes deeply and profoundly as Liverpool's legs fall off. Somewhere around the 60th minute Liverpool dip physically and never really recover. There is no second wind and the shape gets ever more ragged and uncertain. Lads are just hanging on for dear life.
And God do they hang on. God do they deserve credit even for that, for being brilliant at being second best.
In the goal Liverpool concede we see Fabinho being soft and immobile, Jordan Henderson not digging him out. It's a sumptuous finish but those two and Liverpool's central defenders should all do better; should all do *something*. Instead they can do nothing and Kante wheels away.
Fabinho and Henderson put massive shifts in at Napoli in tough conditions. It's not about blaming them as such, more about remembering they are human and that the manager's policy around rotating his central midfielders has massive value, though he may need to have a plan around rotating Fabinho that tiny bit more.
He is so important to this Liverpool side that we need him to be as close to peak as possible for every big game. He may well personify the difference as 60 goes to 70. He personified the superiority between 0 and 60.
The freekick was tremendous, worked out on the pitch by some fine minds and executed with the finest feet. Trent Alexander-Arnold will score more this season but few will be as colossal. It stayed hit.
Jordan Henderson was targeted by Chelsea's midfield and dealt with it very well indeed. Sadio Mane was lively and Mo Salah looked after by the impressive Tomori. But Roberto Firmino did some more number nine-ing. Some more of the bit he isn't meant to be that good at. It's a lovely run and header.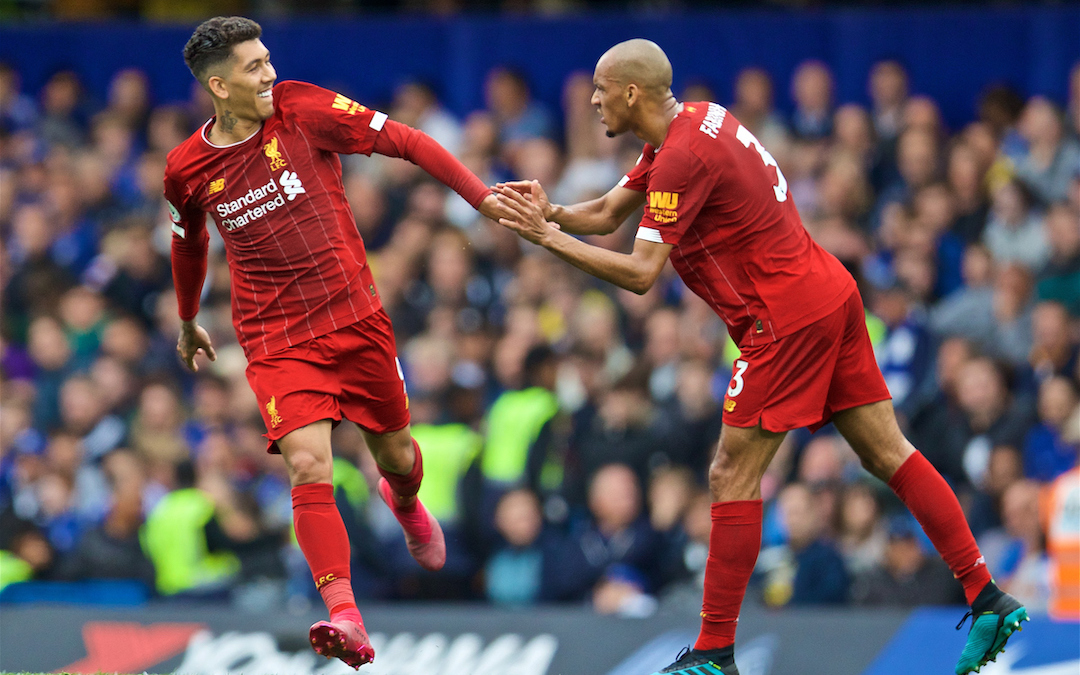 Joel Matip was tremendous throughout and always busy. Chelsea supporters have some season in store; every game will be live and lively. Much of this today fell onto Joel Matip to deal with. Him and the goalkeeper are very much playing their part in this league season. They can look at those 18 points and feel like they have been integral.
Adrian currently feels inspired, a fresh start for the idea of Liverpool's second best goalkeeper. His save from Tammy Abraham in the first half all about backing himself. The chalking off of the equaliser that followed was huge in the context of the game but possibly in the context of the season.
You want to beat Liverpool? Understand where the line is and then take half a yard off.
Liverpool hung on. They did so well but they do need to think about how they offer a tiny bit more threat against sides as good and rambunctious as this Chelsea one. They will need to think about how they deal with brains like Willian's.
They gave chances away but bar Mason Mount's late effort it was all very Burnley; the chances came from where Liverpool wanted Chelsea to take chances. Jorginho tried to dictate but he is ultimately a gobshite who has repeatedly realised where his level isn't. Kante the opposite.
I've seen Liverpool goals which have brought me less joy than Robertson's run out of defence in the 94th minute, a slalom acceleration away from his goal, away from teammates, away from danger. He burst down the pitch, a dog dodging legs, scamping towards ineffable glory.
He's a wonder, walks away with an assist and the greatest run since John Barnes was in his pomp. He's the very best of us. I wish I could be in his when he gets in with his slippers and some tea and toast.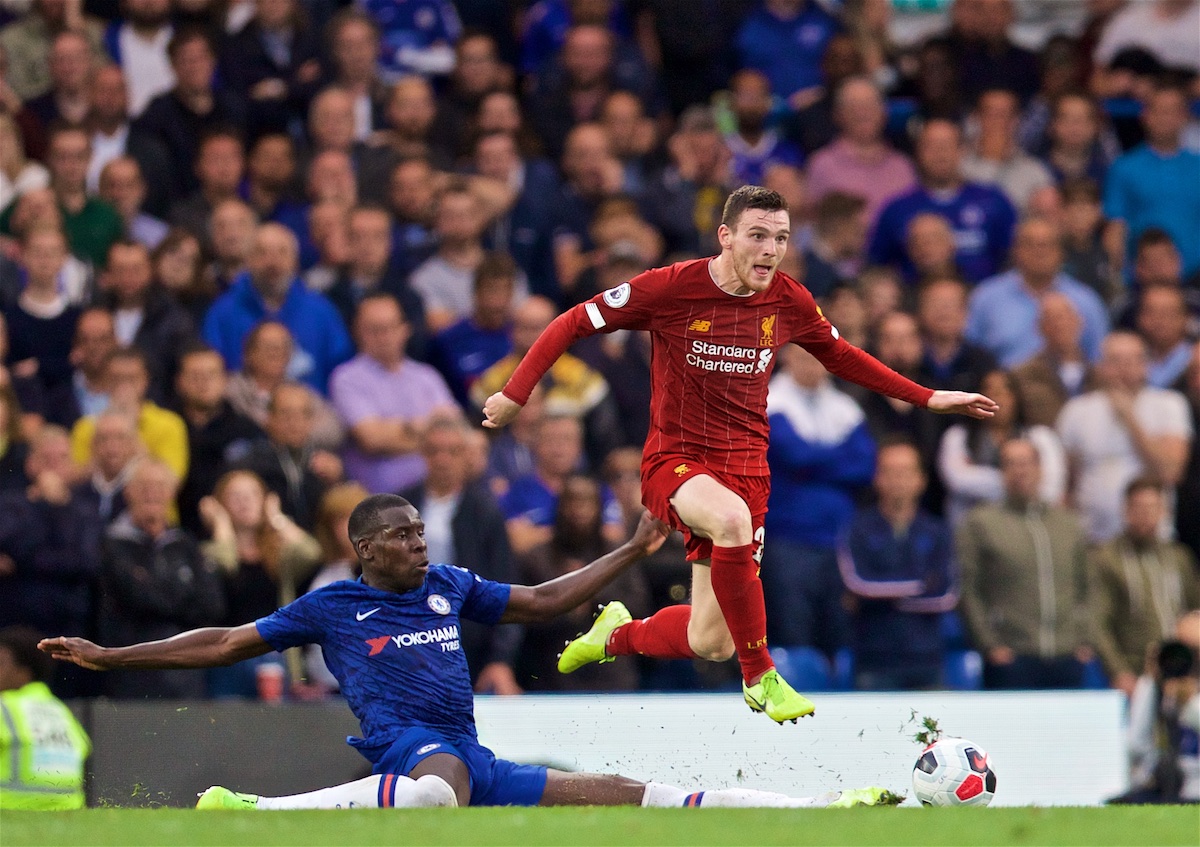 Instead I'm in Las Vegas. A beautiful boozer full of browns and bronze called McMullan's, the place the Liverpool Las Vegas Supporters Club goes about their business. Lucky Liverpool. Lucky all of us, from a city which loves with luck but grinds with the fact that you can't beat the house.
They'll do for me, the record-breaking Reds. Lucky, lucky Liverpool. Lucky, lucky us. Even on days like today you see the oceans between them and the rest barring City. Even on days like today you see where other, older Liverpool sides would have broken down.
This Liverpool don't give a fuck about the momentum. They set the odds and play them with aplomb. They'll do for me.
Six down, 32 to allez.
Allez les rouges.
"This is what The Reds do now. It's a brilliant three points.

"They rode their luck a little bit but did the business when they needed to." 👏

📱 Subscribe to listen to our Post Match podcast and Post Match Pint video after Liverpool beat Chelsea 👉 https://t.co/XZAK9veWt7 pic.twitter.com/KRXQbcOKR1

— The Anfield Wrap (@TheAnfieldWrap) September 22, 2019
Recent Posts:
[rpfc_recent_posts_from_category meta="true"]
Pics: David Rawcliffe-Propaganda Photo
Like The Anfield Wrap on Facebook