THERE is a strong argument that Liverpool had everything, and subsequently nothing to lose in Napoli on Tuesday.
A fixture which produced one of last season's worst displays required no real shot at redemption, given that it was the first group game between the two sides widely expected to qualify from it.
Also given that Napoli manager Carlo Ancelotti who, like it or not, has a measure on how to combat and counter this Liverpool team that the majority of his English counterparts don't.
In addition, you had a fixture three days after one which had an international break preceding it.
All of this begs the question then, should Jürgen Klopp have rotated more for this fixture? Would there really have been much harm in making five changes and matching up Napoli's horribly efficient 4-4-2 with the likes of Dejan Lovren, Adam Lallana and Xherdan Shaqiri all coming into the fold for what would be their first start of the season?
If The Reds had suffered the same fate, Klopp could point to the disruption of rhythm in what is a distinctly difficult place to go and advocate how many players would be fresh and firing for Chelsea on Sunday. It would hardly cause uproar to a supporter base who has seen Fabio Borini and Lazar Markovic lineup in the Santiago Bernabeu in recent years.
Of course, I am being wise after the fact, and cannot honestly say that I was actively advocating such sweeping changes to the team prior to kick off.
There is, however, a wider point looming in terms of what Klopp is planning when it comes to the use of his squad this season? So far, he has made nine changes to his starting lineup in six games, using no more than 16 players to do so.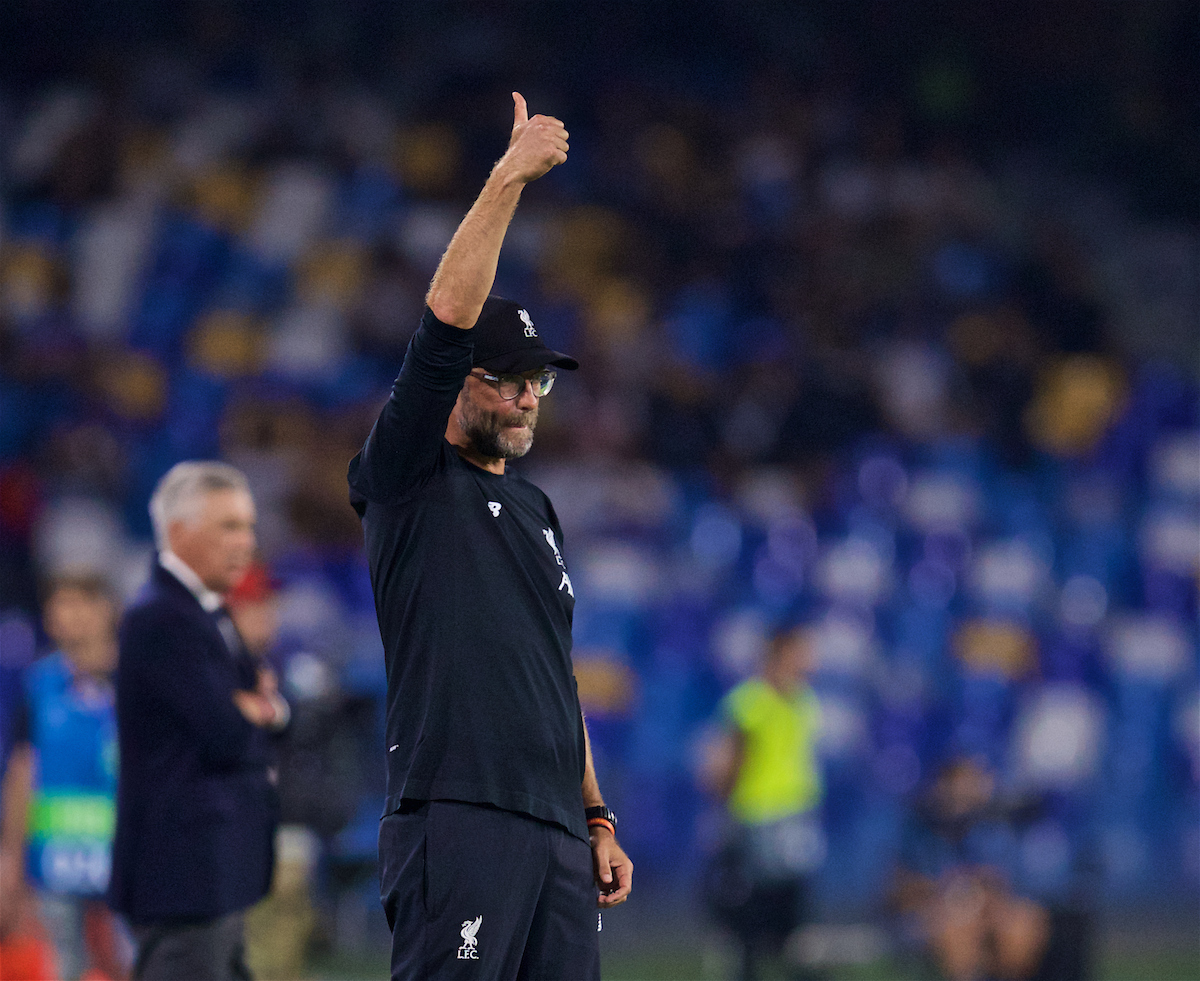 In comparison to last season, however, he is significantly up on the amount of players he has used and how many times he has changed his team — with only three changes and 13 players used at this point in 2018-19.
There are mitigating factors present, one being the injury to Alisson Becker for example. There is also the fact that Klopp has a squad of players which has remained together for the second season in a row, meaning there are no new first-team players undergoing an initiation period from the sidelines.
The fact that every player knows the system and their role within it arguably makes it easier to rotate and trust those on the fringes to come in and not disrupt the rhythm and momentum of the team.
Despite all of this, there are still voices present advocating the need to use the squad more and offering concern about a lack of opportunities for the likes of Shaqiri.
Klopp's comments on the Swiss star, as well as recent quotes from Lallana about training in new positions, offer an insight that maybe they are undergoing the adaptation period of a new player and getting used to a new role in the team outside of the spotlight, before being introduced at a later stage.
If there is one thing known about this manager, it is that he targets specific points of the season in which he feels his team needs to be at their consistent best; being the start, the Christmas period and the run in.
However, the perception of Liverpool has now changed to one who has to be faultless all season round if they are to achieve their aspirations of further success.
That means that the squad will need to be used carefully to maintain the teams winning form. In addition, there is the possibility of a domestic cup run in either the Carabao or FA Cup which may extend beyond the fourth round, draw depending, and which may offer further opportunities to those on the fringe.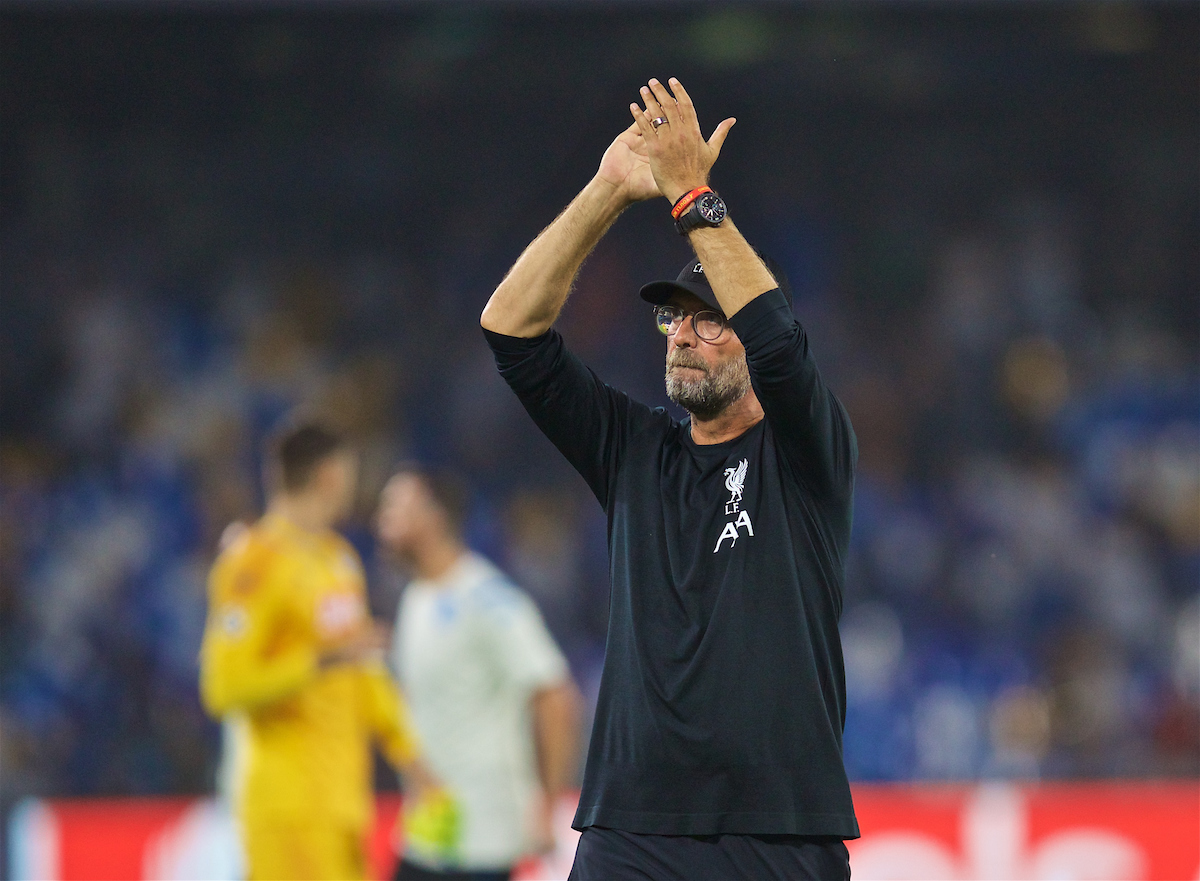 Those referenced may feel frustrated and uncertain about where their next game is coming from, but the fact remains that Klopp is actually rotating a lot more than this time last season.
All of this begs the question where any additional recruits that many were pining for in the summer would have featured, especially given how The Reds still have Alisson and Naby Keita to come back into the fold?
In 2008-9, only three Manchester United outfield players, being Cristiano Ronaldo, Patrice Evra and, interestingly, John O'Shea, make more than 40 appearances in all competitions.
The following season, Ancelotti's double-winning Chelsea have four, Petr Cech apart, to break the 40 mark, in Frank Lampard, Branislav Ivanovic, Didier Drogba and Michael Ballack.
The bottom line is that Liverpool have a squad now dealing with the tag of being an elite European side, one which may be in the top two of world football right now. With that comes the acceptance that very good players are going to miss out for periods, as the level being set each week remains, in many ways, unattainably high.
Yet despite the questions around it, Jürgen Klopp is quietly rotating more than we realise. It's just the results which are now, mostly, staying the same.
"To beat Liverpool you either have to be brilliant, or have a moment of good fortune, and that's what Napoli got."

📱 Download our app and watch last night's 'Post-Match Pint' in full:

👉 https://t.co/joSoJYKkeK
👉 https://t.co/5quoodLQyb pic.twitter.com/m9VjRA4e4U

— The Anfield Wrap (@TheAnfieldWrap) September 18, 2019
Recent Posts:
[rpfc_recent_posts_from_category meta="true"]
Pics: David Rawcliffe-Propaganda Photo
Like The Anfield Wrap on Facebook