IT is a moment that will live in the annals of Liverpool FC history forever.
The outswinging corner, the clacking of the cameras, the scramble as the ball bounces off Jan Vertonghen, and then a neat lay-off into the path of… DIVOCK ORIGI!!!
Heads gone. Voices strained. Some people find themselves upside down all of a sudden.
The second goal in Madrid will be the iconic moment of Liverpool's sixth European Cup win, but while the goalscorer was perhaps surprising, the assist came from a rather unexpected source too.
The deft set up from Joel Matip seemed unbecoming of the lanky centre back. Usually known for marauding dribbles akin to a giraffe loose in the city, this was calmness personified.
Everyone in the stadium was on edge. Tottenham had been pushing for a leveller, but Liverpool had some respite with a corner kick. Virgil van Dijk was already making his way back anticipating a counter-attack when the coolest man in the ground took it upon himself to simply nudge the loose ball perfectly into the path of the second coolest man in the ground to slam home the clincher.
It was at the other end where Matip had mostly impressed though. His defensive pairing with Van Dijk was as strong as any in Europe in the second half of last season, and it ended up winning a European Cup.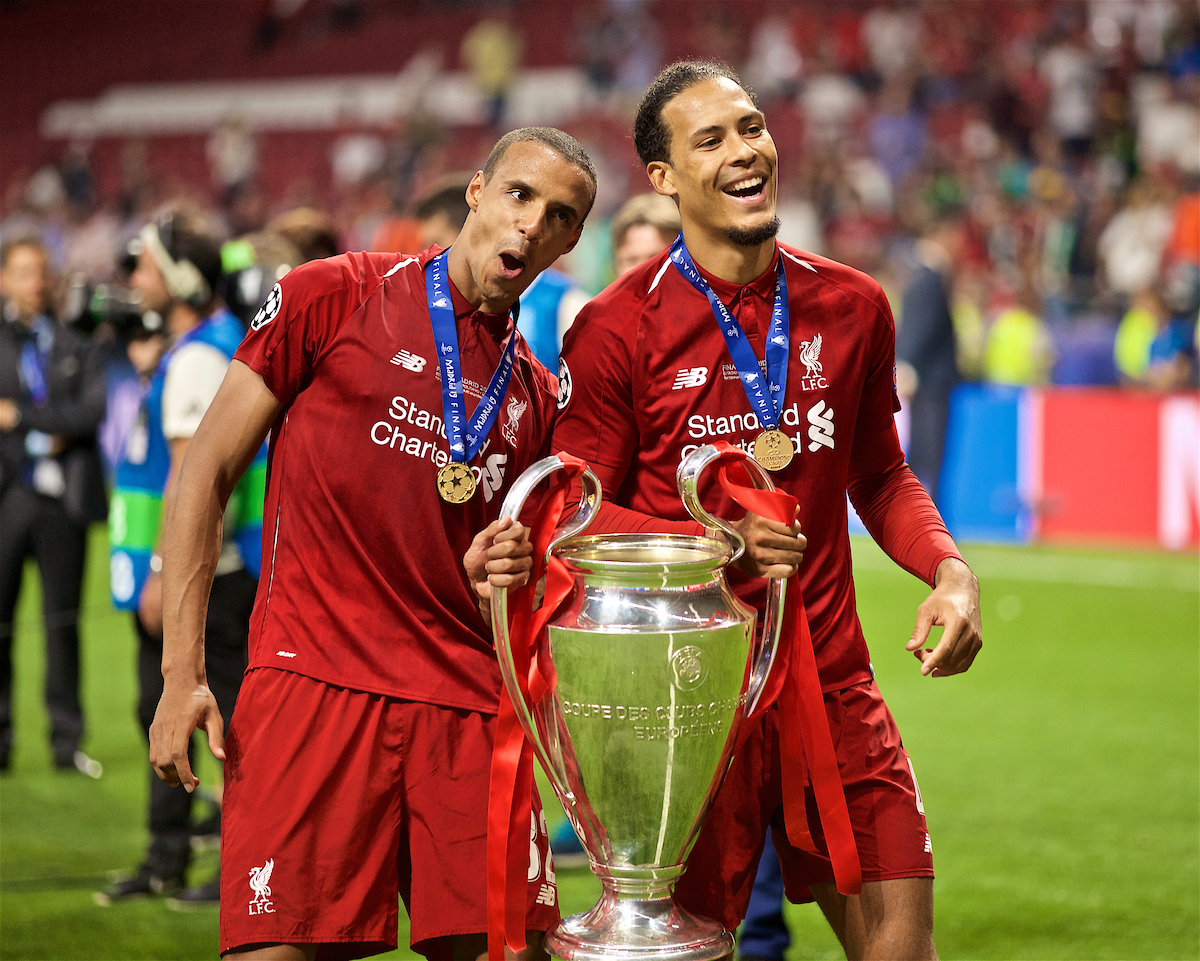 However, it hasn't been enough for the former to completely cement his place in the hearts of every Liverpool fan, many of whom have been championing Matip being replaced by Joe Gomez now that the new season is upon us, and it seems that the manager agrees.
Gomez, it must be said, started last season superbly alongside Van Dijk, conceding just five times in 15 league games before the former Charlton man picked up a bad knee injury in the 3-1 win at Burnley.
Matip replaced him in the side but just two games later, in the last second of the crucial victory over Napoli in the Champions League, he had his collarbone broken in a challenge with Kalidou Koulibaly.
Dejan Lovren came in until his own injury in the infamous FA Cup defeat at Wolves when Jürgen Klopp was having to consider phoning Carol and Caroline from the Melwood canteen to get down to Molinuex to play centre back.
Matip returned for the wobbly 4-3 win against Crystal Palace, which was followed by two disappointing draws with Leicester and West Ham that handed the momentum of the title race to Manchester City.
That may not have helped in building trust for those who still didn't rate him, but from then until the end of the season, Matip and Van Dijk were practically flawless, guiding The Reds to 97 points in the league, and a sixth European Cup.
It is somewhat understandable that people have been clamouring for the return of Gomez. The 22-year old is undoubtedly a fantastic talent, clearly has the faith of his manager, and ultimately, probably has a higher ceiling.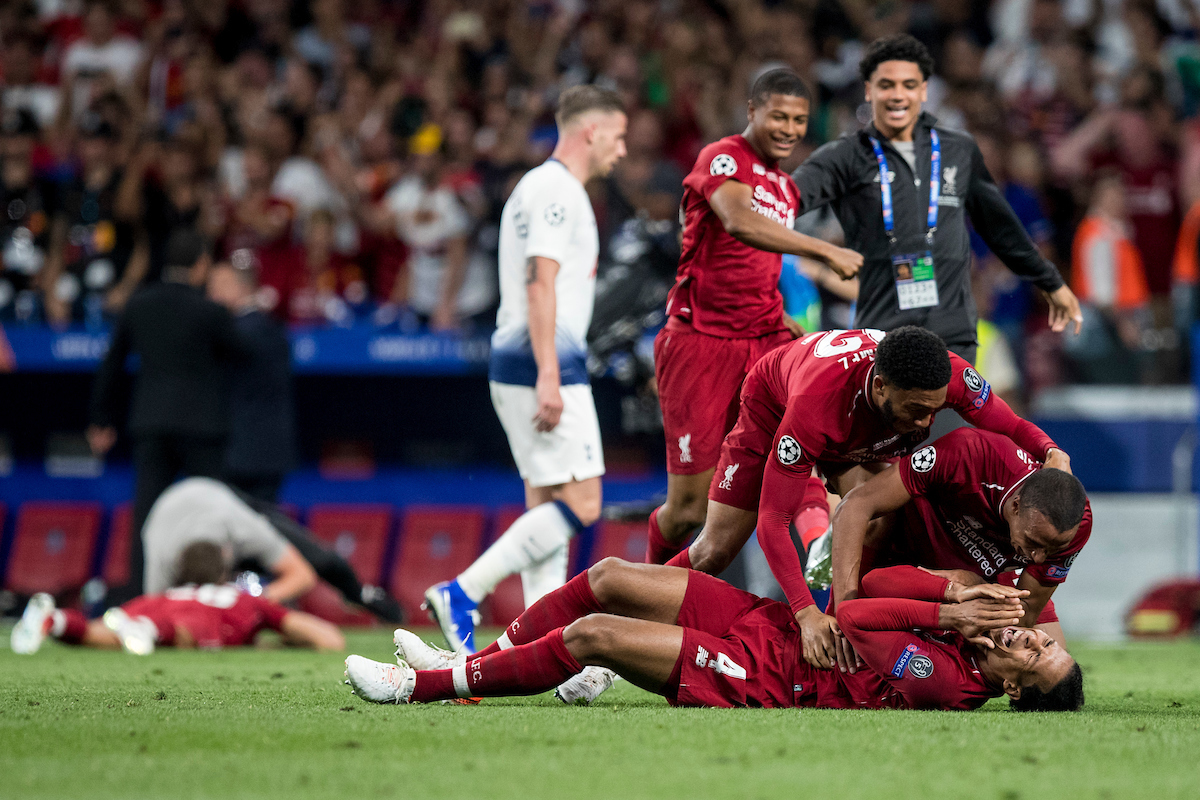 However, you can't help but feel tremendous sympathy for Matip, who will inevitably be the one who misses out. The Bochum-born stopper could not realistically have done any more to establish himself as a regular starter.
He performed consistently, built up a solid partnership with Van Dijk, made a crucial contribution in the Champions League final (at both ends) and perhaps most significantly, stayed injury free from January onwards.
One example of the possible double standards on show came when Van Dijk was correctly showered with praise for his long pass to the feet of Sadio Mane in the return leg against Bayern Munich, before the Senegalese did wonderful things to give his side the lead in the Allianz Arena.
A few weeks later, Matip played a near identical ball to Roberto Firmino to set up the game clincher for Jordan Henderson in the 3-1 win at Southampton. Matip's role barely got a mention post-match.
It is generally said of any player who looks good next to Van Dijk that it is merely the Dutchman bringing them up to his level, and that "your gran" could probably do a job there next to the former Celtic man.
If that truly is the case then there should be no dissenting voices at the potential sale of Lovren, given surely at least one of our grans should be ready to fill in should Matip and Gomez both be out with injury.
That is one particular thing levelled as a criticism at Matip, that he's too injury prone. According to Transfermarkt.co.uk, Matip was out for 23 games through three separate muscle injuries in 2017-18, on top of the 10 he missed in his first season at the club, albeit some of those were due to the bizarre stand-off with Cameroon while the African Cup of Nations was taking place.
However, the only injury Matip experienced last season was an impact one that could have happened to any player. His body seemed to be far more up to the challenge of playing in English football once he returned, and hopefully problems like that are a thing of the past.
After his arrival on a free transfer from Schalke in 2016, Matip actually made a promising start. He was a very highly-rated defender in the Bundesliga, one of the most important players in Gelsenkirchen and many German football experts believed that Klopp had bagged himself a bargain.
Liverpool's defence had been a bit of a mess prior to that, and initially, Matip was mostly seen as a calming influence on a previously shaky backline. Before his enforced break in the December, he had played 14 games in which The Reds conceded just 11 goals.
By the time he returned, the team's form had taken a turn for the worse, and in his first game back in the side, Liverpool lost 3-2 at home to Swansea.
Matip was at the scene of further poor showings against Hull and Leicester, though things did steady towards the end of the campaign, keeping five clean sheets in the final six games.
Klopp's intention was to bring Van Dijk in that summer, but was of course made to wait an extra six months. Though Liverpool broadly did well in that time, there was still the odd hiccup, including the 5-0 defeat at Manchester City and the 4-1 walloping from Tottenham.
After the Spurs defeat, Matip played in a further eight games before Van Dijk arrived, conceding just four goals. However, there were no doubts that the £75m man was needed and that he would make a significant difference, which he did.
Then came West Brom in the FA Cup. It is a game mostly remembered for being the first experience in England of VAR, which basically led to the referee being unsure of what to do for large periods, and fans having no idea what was going on.
Much the same could be said of Matip that day as he, and the rest of the backline, had an absolute nightmare of a first half, culminating in Matip putting what ended up being the winning goal through his own net.
Up until that point, most fans seemed to rate him, at least to the extent of thinking of him as an improvement on what had gone before. However, after that game, it seemed to become the new normal for people to suggest that Matip was a liability, and always had been.
Gomez's injury against Burnley last season was rotten luck, especially as the initial diagnosis of around six weeks turned out to be far too optimistic, but along with Lovren's injury against Wolves, it allowed Matip a prolonged chance to redeem himself, and he took it.
His performances in the Champions League were particularly impressive. Keeping Bayern out alongside Fabinho at Anfield was followed by another vital clean sheet in the remarkable 4-0 victory against Barcelona, and then another one in the final, including a "just the right side of legal" shove on Harry Kane late on as the England striker burst into The Reds' box.
Before the final in Madrid, Van Dijk said of Matip: "I'm delighted for him that he's at that level. The way he is performing, that's unbelievable. If you look at the second game against Barcelona, his performance at home was unbelievable."
Matip is a softly spoken man. He doesn't have the typical voice of a dominant German centre back, or the frame of one, but seeing him holding the European Cup, and then the celebration between him and Van Dijk after they combined to score in the Community Shield last week, you couldn't help but feel happy for him.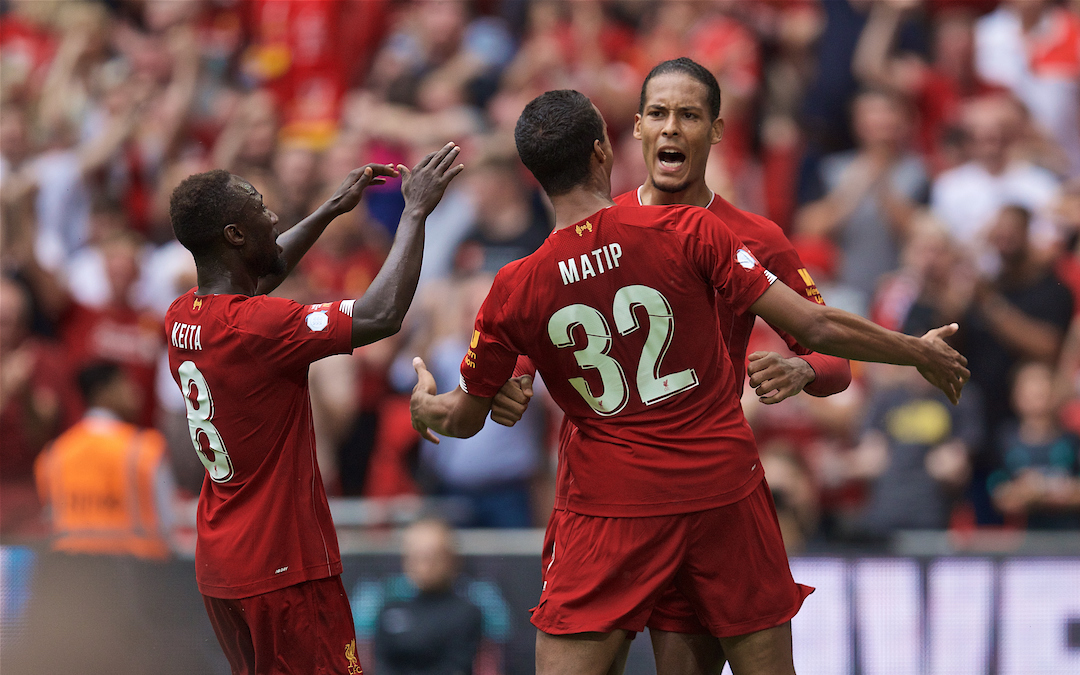 He has certainly improved his standing in the eyes of Liverpool fans generally. However, it seems like some still aren't entirely convinced that Matip's form last season was anything more than a purple patch, rather than an example of his true level.
It can be hard to shake a reputation in football, particularly in England. Liverpool assistant Peter Krawietz said in Raphael Honigstein's excellent book Bring the Noise: "They (English media and public) wait until the respective player finally makes a mistake again and then it's always like: See, we've told you before he's shite. These self-fulfilling prophecies in a negative way are distinctively big in England."
Krawietz was specifically referring to goalkeepers, but the same can certainly also be true of outfield players.
It's still early days, but it appears that Klopp also sees Gomez as the one to push forward with this season. That's not to say he has lost faith in Matip, but the levels that Gomez found before his injury last season coupled with his potential ceiling could well be what swung the dial in the youngster's favour.
However, Matip is almost certain to get plenty more games this season, particularly if reports of Dejan Lovren's move to Roma come to fruition, as Liverpool will have up to 67 games to play before the end of May 2020. Klopp will be delighted to have such riches.
Don't go changing, Joel. We took the good times; we'll take the bad times.
We'll take you just the way you are.
Manchester ✈️ Istanbul

"This is a reward for our achievements last season and a chance to continue the celebrations." ✊

📱 Subscribe for all of our coverage of the Super Cup, live from Istanbul 👉 https://t.co/XZAK9veWt7 pic.twitter.com/YKqtOHUv86

— The Anfield Wrap (@TheAnfieldWrap) August 13, 2019
Recent Posts:
[rpfc_recent_posts_from_category meta="true"]
Pics: David Rawcliffe-Propaganda Photo
Like The Anfield Wrap on Facebook