IT'S hard to know what to take from Friday night.
While it felt as though Liverpool could have been 6-0 up at half time, it also felt like Norwich were able to get in behind more times than anybody in the home end would have liked – and of course they eventually got the goal to show for their, on the whole, decent attacking display.
Heading into the game, admittedly armed with limited experience of watching Norwich in the Championship, I was expecting the Canaries to fare similarly to Bournemouth during their early days in the Premier League – strong against teams in the bottom half with their desire to play a positive brand of football, but able to be easily picked apart by the top teams.
That estimated guess looked as though it would be vindicated watching Daniel Farke's side in the early stages at Anfield.
Liverpool were able to pick them off at will, while Norwich could muster little more than shots from outside the box and the occasional sequence of promising buildup play.
However, this attitude quite quickly shifted as Norwich found some success getting in behind a defence which was practically impenetrable in the face of such threats last season.
It got me wondering whether anything had changed over the summer. Perhaps Jürgen Klopp has tried to once again increase the attacking threat of his side, having shifted the focus more defensively last term.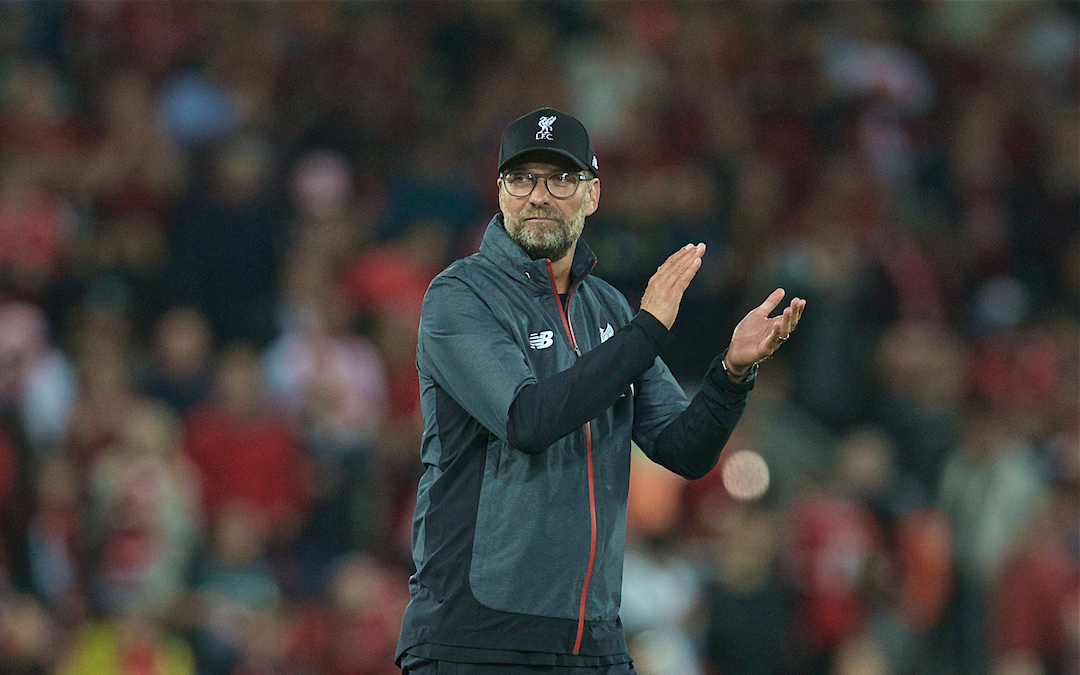 One of the things I noticed while following the club on the pre-season tour was that the manager had clearly been instructing his players to play out from the back more, with attack v defence drills aimed at setting up counter-attacking opportunities.
That was reflected at times in the pre-season friendlies, but what was more noticeable was how easy opposition teams appeared to be able to cut through Liverpool's defence.
That continued during the early stages of the Community Shield clash with Manchester City, though momentum had completely shifted in The Reds' favour by the end of the 90 minutes.
Supporters are no strangers to Liverpool coming on strong late in games, but perhaps the Norwich game showed us that they're now prepared to start games quickly again – something they didn't do as much of last season.
Too often Liverpool gradually felt their way into games, grabbed the odd goal and sat on it, or spent the game looking for that goal and found it late on.
Meanwhile, it felt as though a week spent building up whoever was playing City was always thrown away within the first half an hour, as Pep Guardiola's side were more than accustomed to completely sweeping teams away if they showed even the slightest sign of weakness.
Liverpool were just as good at that in the early stages of Klopp's tenure, but almost always left themselves overexposed at the back while laying siege, or later in games after their legs began to give up on them.
What appeared to be a shift to a more defensive system last season saw The Reds keep the most clean sheets and concede the least goals of any side in the Premier League, but it did feel as though they were making it hard for themselves in certain games where they had the potential to blow away their opponents.
Something that has been clear in the last year or so of Klopp's reign has been the club's desire to make marginal gains in order to compete with the might of Manchester City.
That became clear when the boss took the unorthodox step of hiring a throw-in coach – a move which the football banter pages lapped up, of course – but would have started long before that point.
The most recent move of its kind saw the club hire a professional surfer to help the players manage stress and deal with panic, another clear off-field attempt to gain even the smallest advantage on the pitch.
The margin between the league's two top sides last season was just a point so it's hard to disagree with Klopp wanting to do all he can to bridge that gap. But it may just be that the manager is also looking for more in an attacking sense this season.
Roberto Firmino has come back from a brief summer holiday as sharp as ever which may have some influence – he is massively important to the team in attacking sense after all, and they were perhaps left wanting at times with his stop-start form of last season.
If it is a deliberate move by Klopp it will be interesting to see what kind of influence it has on Liverpool's defensive record and whether the approach shifts on a game-by-game basis.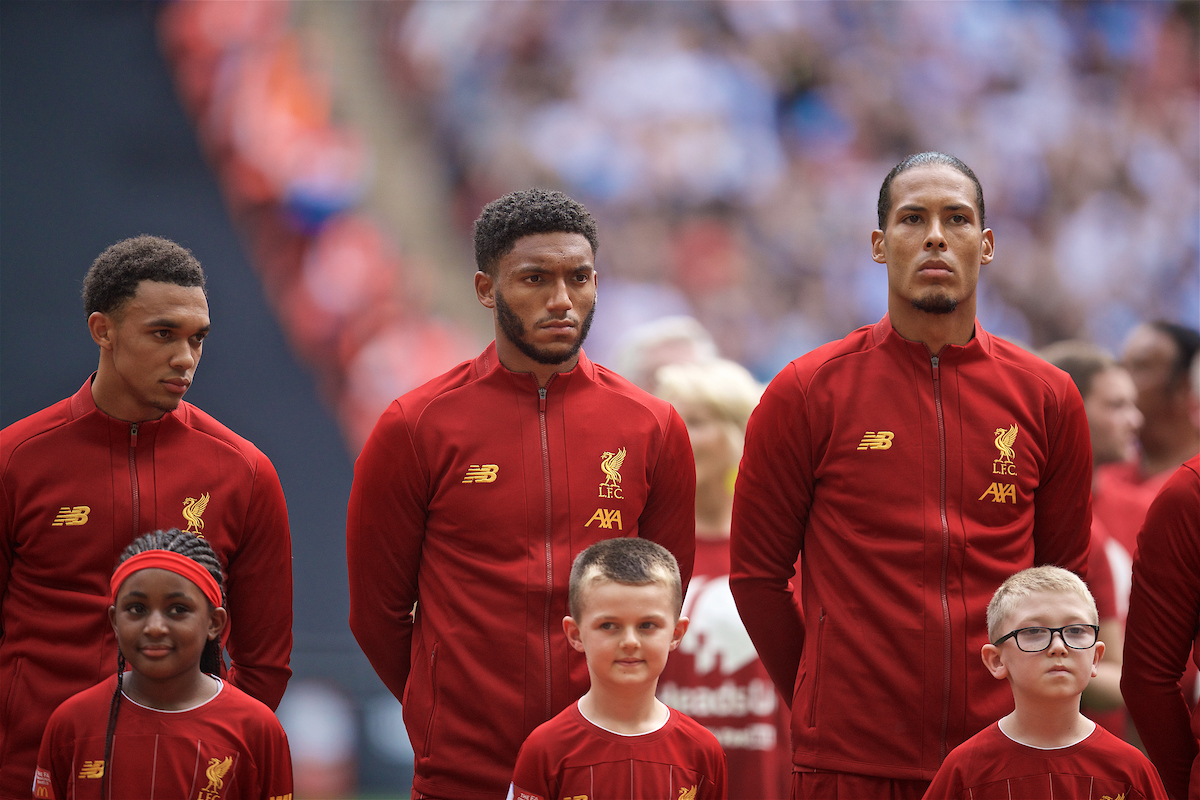 One thing that definitely hasn't changed on the basis of the win over Norwich was the influence of both full backs. Trent contributed an assist, his fifth in as many consecutive Premier League games to match a record set by Mesut Ozil in 2015, and Andy Robertson was a constant outlet down the left-hand side, arriving late in the box to great effect.
Both will be crucial to Liverpool's attack this season, as they were last, and their passing range could be a huge asset in the UEFA Super Cup final against Chelsea.
Frank Lampard's side looked like they could be got at in their 4-0 opening-day defeat to Manchester United – the new best thing since sliced bread, apparently.
Chelsea created their fair share of chances, particularly in the first half, and will be out for revenge after their Old Trafford dressing down, so Liverpool's defence will likely need to rediscover its organisation or risk going a ninth game without a clean sheet – the last one being against Tranmere, so yes that's obviously counting pre-season games.
In fairness, it may not matter if Liverpool start like they did at Anfield and Andreas Christensen and Kurt Zouma continue to look like them two kids at school that had a fight before getting picked to do an activity together, as The Reds will probably be 10-0 up before you can say "behave yourselves, you two".
All the best with Mo Salah and Sadio Mane, lads. They're like Anthony Martial and Marcus Rashford except loads better.
Let's kick off another trophy-winning season, Reds.
🗣 The Review
🎥 The Second Look
✍️ More reaction

📱 Download our app for all of our in-depth analysis of Liverpool's 4-1 over Norwich:

IOS 👉 https://t.co/joSoJYKkeK
Android 👉 https://t.co/5quoodLQyb pic.twitter.com/WtJA1xpv1U

— The Anfield Wrap (@TheAnfieldWrap) August 12, 2019
Recent Posts:
[rpfc_recent_posts_from_category meta="true"]
Pics: David Rawcliffe-Propaganda Photo
Like The Anfield Wrap on Facebook