HELLO. Good to be back. Enjoyed that. Shall we? Let's.
It's right in front of us when Kyle Walker scissor kicks it off the line. He'll play 40 more games this season but he may not once manage a better bit of defending. It truly is game-saving stuff, brilliant work from the Manchester City man.
Liverpool's keeper had made some excellent saves, Manchester City's likewise and Bravo had also needed the frame of his goal as well as Walker's intervention.
It was that sort of game, great for the neutral and given the stakes arguably great for both ends too.
It's annoying not to have won it but just that. Annoying. There were tons of positives for Liverpool, second half especially, but the same goes for Manchester City across the contest and they get to lift the shiny thing.
It shouldn't really bear repeating that these are two great sides, but given the nature of the week perhaps we should make one more effort before both prove it all over again for 38 games.
When these sides start playing there is something incendiary about it. We rarely saw it simultaneously here but we saw enough. The pace and the angles. The close control and tenacity.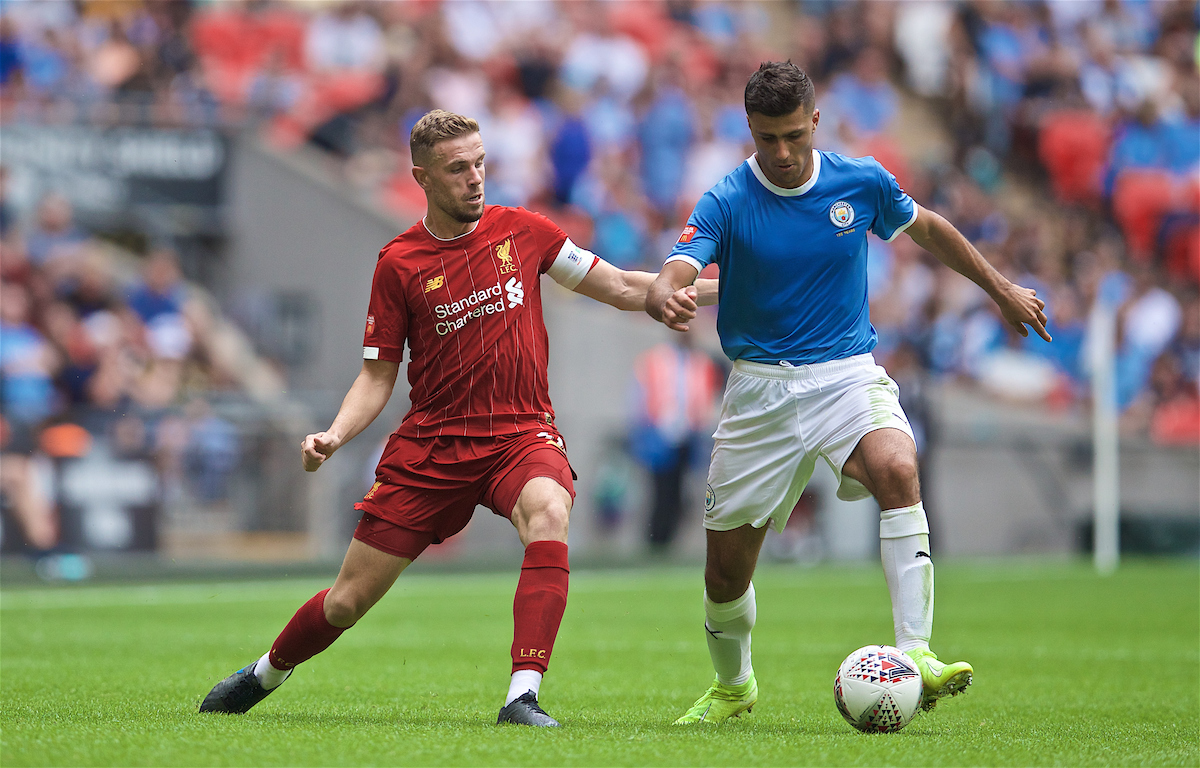 Both of these sides are currently at 70 per cent and even in that shape they are absolutely compelling. These could well be the best two sides in Europe, the best two sides of this decade which is about to draw to a close.
Both sides will have had a game plan for each other. But it became clear the plans couldn't handle the inconsistent legs and ebbs and flows. We'll play one another twice more minimum this season and I'd be amazed if either game is as open.
You see where plans are in the City goal. It's the goal of a club who have watched and analysed a lot of how Liverpool defended set pieces in 2018-19 and exploited what they knew brilliantly.
The late run hurt Liverpool both in open play first half and resulted in the goal from that set piece. Few sides will have the ability and proximity to Liverpool's goal to perform it from open play as well as City, but expect to see it from set pieces a great deal.
City got behind like nobody's business first half. They penned Liverpool in and targeted both sides, Robertson and Alexander-Arnold felt the pinch and Liverpool were penned in at times. They had some sterile possession just to get a foothold in the game especially at 0-1. By the time we approach the interval Liverpool had stabilised, but you are a liar if you wouldn't have taken a one-goal deficit on 20.
Second half Liverpool come out to blow City away. They are aggressive, they gamble, they up the tempo and suddenly City can't breathe. The woodwork rattled and Liverpool's midfield which was neither one thing nor the other first half is the dominant force.
Mo Salah doesn't score but looks alive. No City player particularly looks able to deal with him and what he does in the penalty area before hitting the foot of the post is glorious.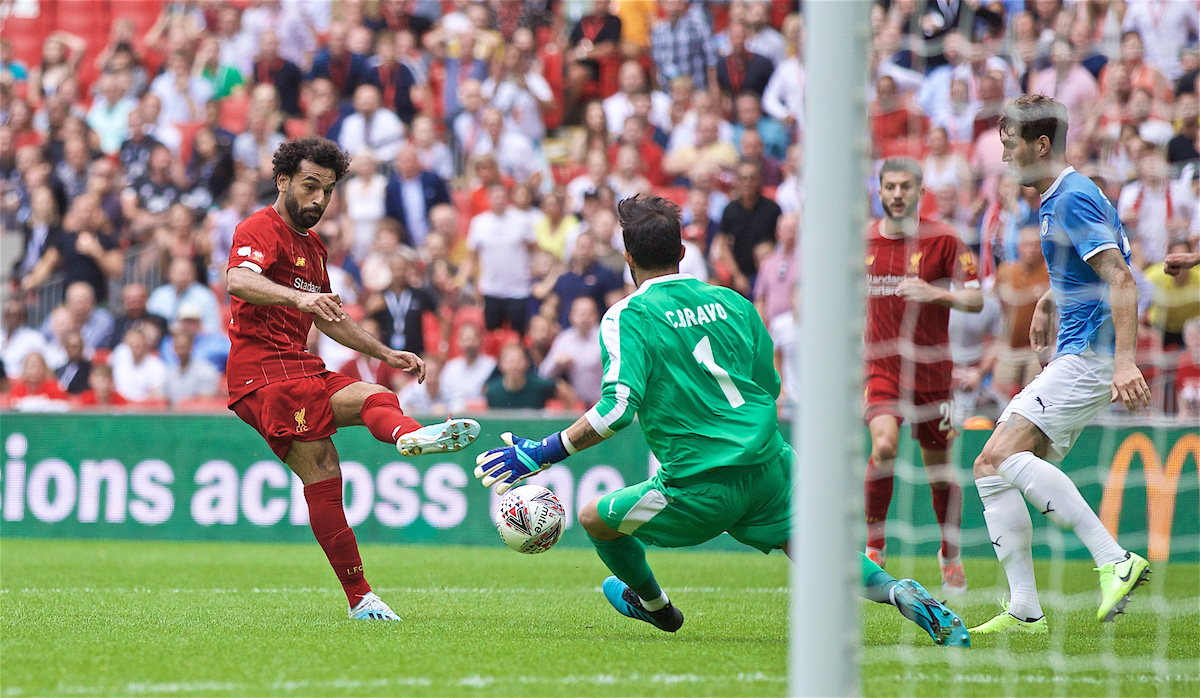 Roberto Firmino and Jordan Henderson are giving no one any peace at all and, while the substitutes slightly discombobulate Liverpool, it is The Reds who look more able to click into gear – a controversial Raheem Sterling breakaway aside.
Sterling and Bernardo Silva were terrific again, by the way. I wish it wasn't so. It'll only be either of those two or a Liverpool player stopping Mo Salah from being player of the year.
The equaliser when it comes is deserved. And celebrated by both a Liverpool team and a Liverpool end in a way which belies the status of this game as a glorified friendly. Wembley was rocking and had been for some time. It meant something there and then and means something now. It was reward for the work, for doing the catch up and overtake on the league champions.
There were still nervy moments and then when Salah thought he had done it, there was Walker. There and then I said they should share it, and while such things are easy to say when you have lost penalty shootouts, it is really is a shame they don't and that would have been appropriate when Walker not the ball was in the net.
Maybe I'm growing soft but I would have liked to applaud both of them together in a lap of honour, liked to have said that they are all good lads, Brent. Despite it all. Opportunities to do that are understandably, rightly, rare.
Will I fuck have any interest in it come October. I hope Manchester City don't win as much as a tombola for the rest of the campaign. But it is a shame that the curtain raiser means the curtain can't at least be raised with two sides sharing the curtain call.
In the end it was one kick. In May it was one point. Liverpool will need to lay one on City soon. Will need to lay two. But while I am away for Norwich I am certain that Liverpool won't be 100 per cent but will be ready for the first four challenges.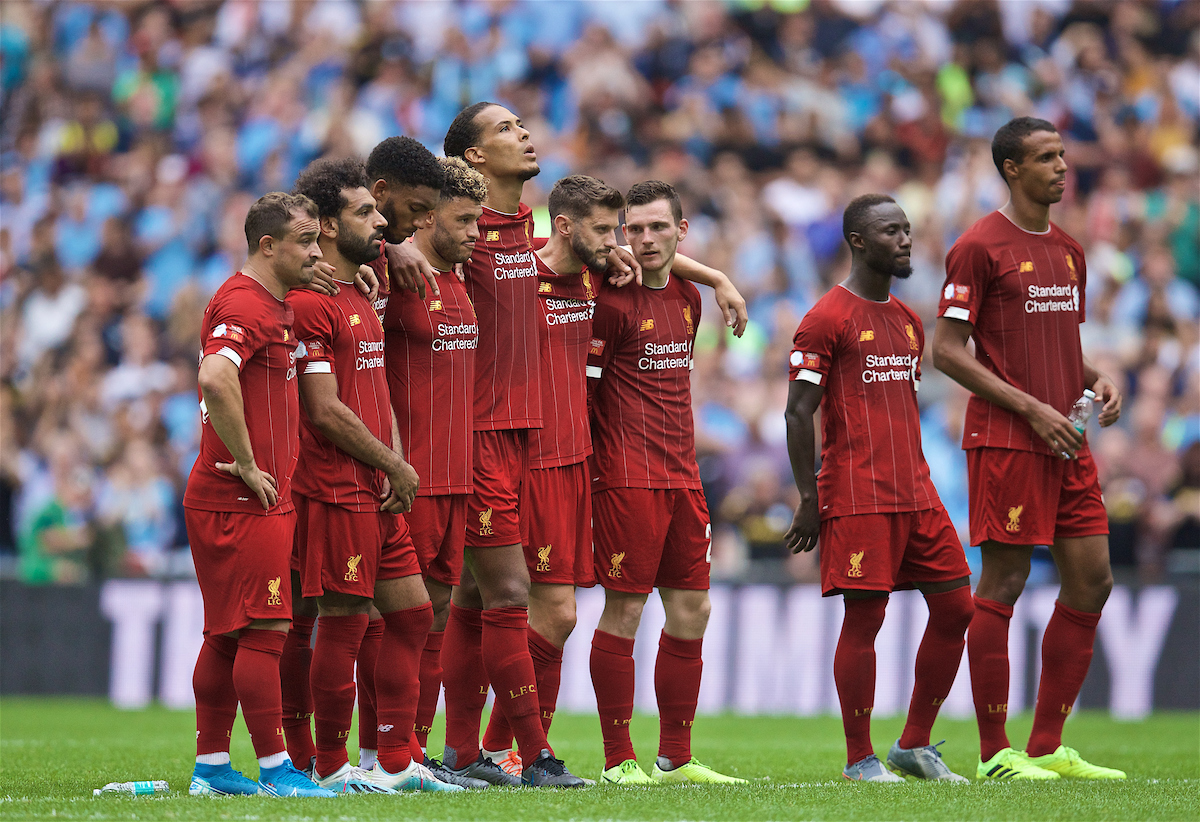 It's good to be back.
Good to come and adore them.
They are the kings of Europe. They are the owners of their own destiny. Thirty-eight more hurdles start Friday. It's going to be terrific. Going to be a reason to be alive.
Truly lovely to see you. Missed this collaboration of ours.
Let's go, Redmen. Into these.
"Liverpool were outstanding in the second half.

"These are the two best teams in Europe." 👏

🎥 Download our app and watch our 'Post-Match Pint' after Liverpool lose the Community Shield on penalties

📱 IOS 👉 https://t.co/joSoJYKkeK
📱 Android 👉 https://t.co/5quoodLQyb pic.twitter.com/ZsFTokkkf6

— The Anfield Wrap (@TheAnfieldWrap) August 4, 2019
Recent Posts:
[rpfc_recent_posts_from_category meta="true"]
Pics: David Rawcliffe-Propaganda Photo
Like The Anfield Wrap on Facebook