OF the early '80s Liverpool side, Graeme Souness once said something like this…
If they wanted to fight, we'd out fight them.
If they wanted to play, we'd out play them.
Today Burnley wanted to Burnley. Liverpool out Burnleyed them.
I love this game, deeply and profoundly love this game. There is nothing purer than Burnley away. Nothing filthier. You want a test? You have one. It is a barometer of a side. Virgil van Dijk and Joel Matip burst the barometer.
Turf Moor's a fixture to relish and an absolute 10 dollar shake of an away. This is a tasty game to be a part of: it may not be the classiest dish, but good god, it fills you up.
When the first goal comes, Trent has got to be disappointed. It must be amazing to strike a ball so beautifully, to feel toe connect with leather, the force of it, the sound of it, the swooping lift and graceful fall, expecting to pass to Mo Salah, but then with a deflection from forward Chris Wood, the ball cascades delicately to the back of the net.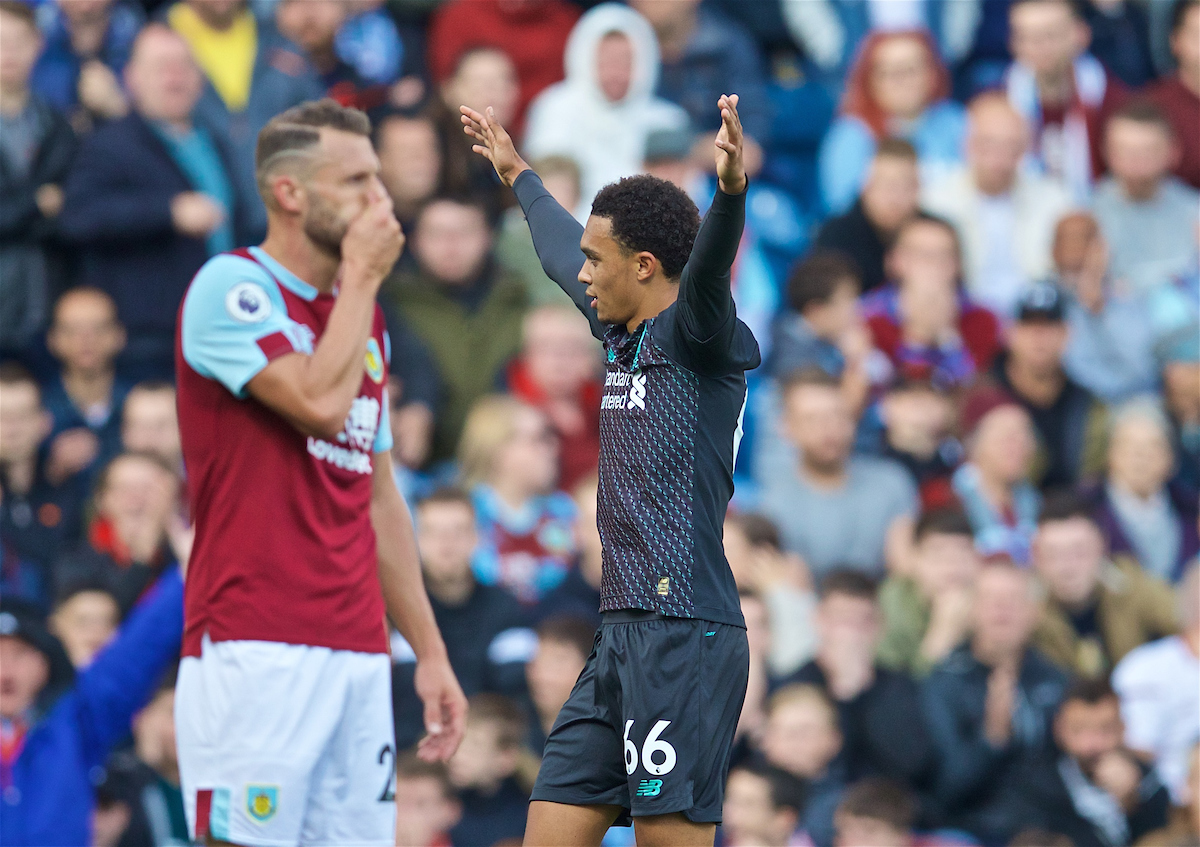 Trent has scored as unexpected in the moment to him as everyone else. Players on the pitch and supporters in the stand cheer and laugh with the ridiculous gorgeous nature of the thing. It's fabulous. It's Burnley. It's 0-1.
Burnley are always the best version of themselves. They have famously found a way to play in the Premier League. Liverpool have a look and do it better. They do it as well as they ever have. This is the first time Liverpool have kept a clean sheet against Burnley since they came back up.
Liverpool have to manage this rough and ready well-drilled group of players. Messrs Mee and McNeil link up well in the first half, and forward Rodriguez gets a wholesome chance in the middle of the second half, plus another almost neatly effort towards the end. But that is really about it.
The difference in quality is absolutely clear but so is the difference in physicality, the difference in brains. The equality was only in effort and even then it became clear the desire is greater and sweeter from the Liverpudlian contingent than the Burnley crew.
For Liverpool, Adrian is doing more long kicks than we might expect from our goalkeeper. This is not a negative and helps Liverpool avoid potential funny business from the Burley opportunists.
Virgil loved the scrap; less angelic these days and more battle hardened, but no less impressive for it. The clean sheet today is so very welcome, and Joel Matip withstands much to make it happen.
Andy Robertson looking fast and sharp; suddenly alive in this season. This is good to see, and his crossing provides good chances for Liverpool even if none will help him in his and Trent's battle to rack up assists.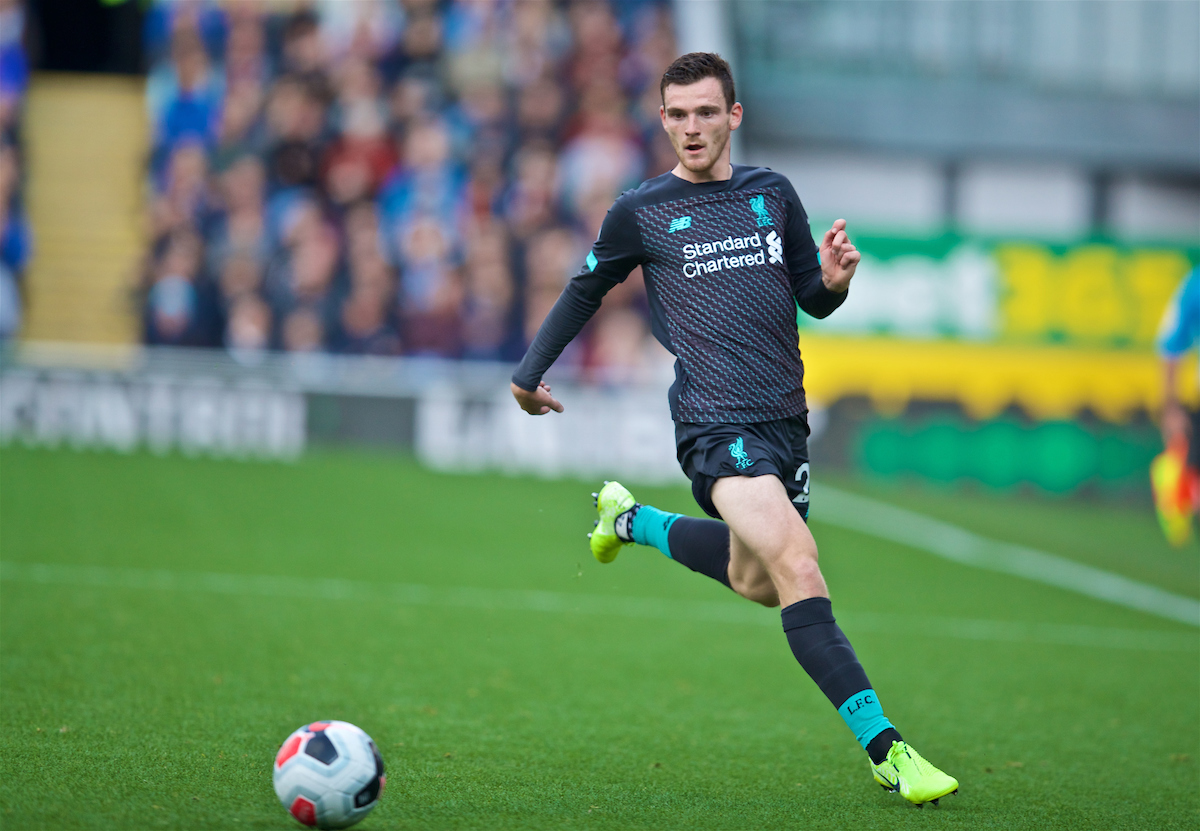 Upfront, Mo Salah does incredibly well, though at times he is understandably greedy. He wants to stick a fork in this Burnley. He wants to get this done and looks again and again for the goal. It is the nature of being number nine. He may wear 11, he may come from wide areas but he sees his job as hitting the back of the net. No one ever chastised van Nistelrooy or Henry.
Sadio Mane is the absolute business, getting the second in the 37th minute with help from Firmino. Sometimes he is rightly aggrieved that he does not get all the passes he might want. We should not withhold our praises from him either.
Bobby Firmino is his classy self, and mightily deserves his slicing goal that splits the legs of Burnley's defender before beating the keeper.
It is wonderful to see. Three goals on this ground is great news, especially goal difference wise, and who knows if that will manage come May? But what we probably can now say is that this trio, this band of three, surpass the standard set by continental rivals.
Suarez, Sturridge and Sterling? Barnes, Beardsley, Aldridge? Those groups of players were incredible to watch. These are better, I reckon. They could be the very best. It is the sensitive and careful management of Jürgen Klopp that has brought us to this point and that can keep these men on an even keel and keep the strength of their triumvirate solid.
Burnley switch between some genuinely good play and rough house, dog rough, physicality. Liverpool in the second half allow the tempo to drop which invites the scrappiness or even allows Burnley to dominate for a while.
We can forgive Burnley for having a go, though if the attack in the 65th minute on Jordan Henderson had been more serious, we might not.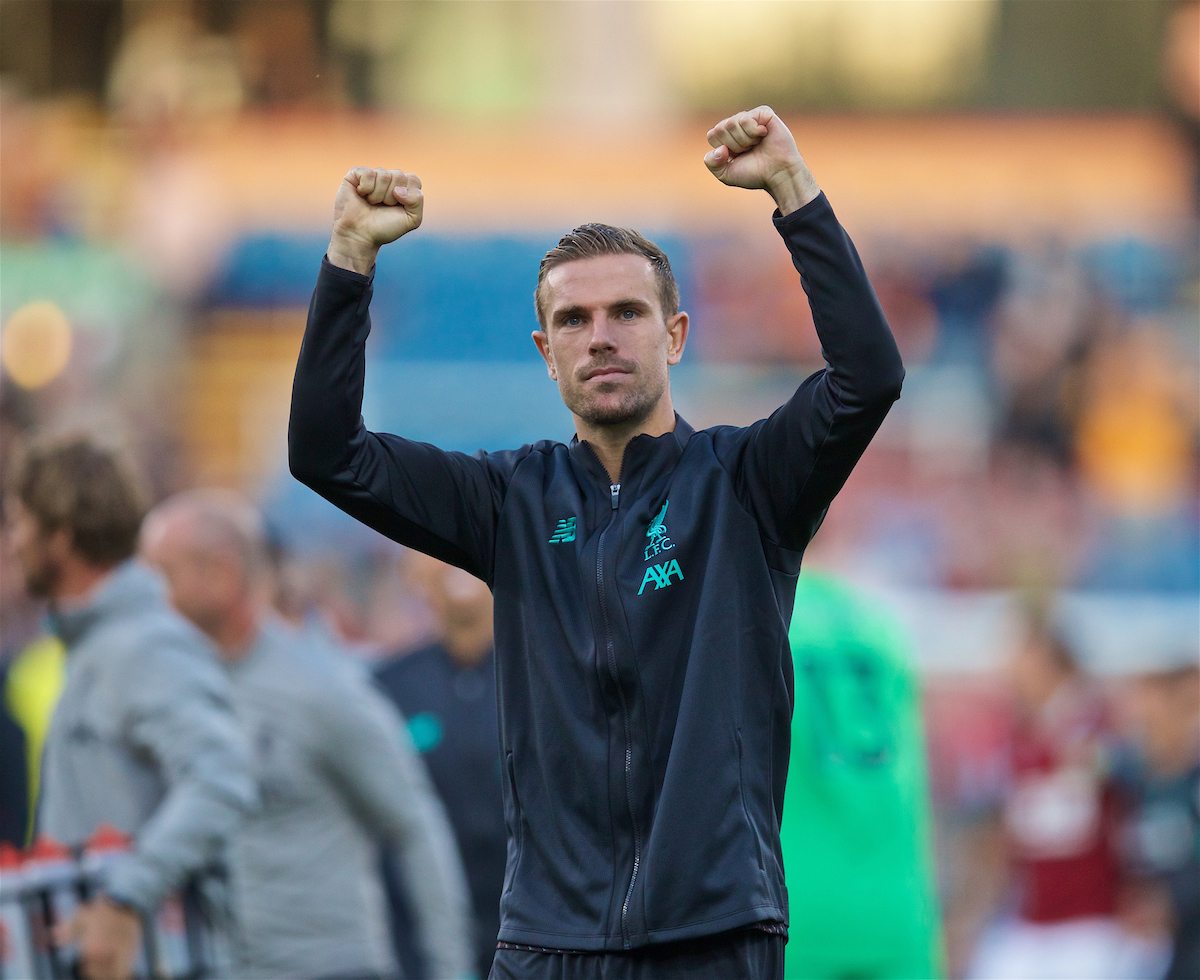 He is hit on the top of the hip and lies still on the pitch. Oxlade-Chamberlain looks hopeful on the sidelines but Henderson always determined. Still, Klopp makes the wiser choice and switches our captain out for Oxlade-Chambo shortly after. None of the subs that follow really manage to get the pace of proceedings.
Burnley up the aggro as they do, but Liverpool are solid. Shirt pulls and grabs to the leg or pushes in the back are withstood by players for whom this is far from their first Lancashire rodeo.
For us, the 13th win on the bounce. Irrelevant to four on the bounce, irrelevant to the game in front of us. But historic for Jürgen and utterly joyful to have watched and enjoyed and experienced. These wins change the experience and have been the experience.
This is a whole mouthful of a game. It fills the belly with three quality goals and a Liverpool side hungry to score. We just want more. And more. We are sated till mid September. It then becomes a different thing. It always does after Burnley. All change we suspect.
Four down, 34 to do. Liverpool won't be outfought, outplayed or out-Burnleyed.
They'll have to send a team from Mars to beat us. And even then they could find themselves out-Marsed.
"Liverpool are absolutely desperate to win this League.

"They are unbelievable." ❤️

📱 Subscribe for all of our reaction as The Reds beat Burnley to stay top 👉 https://t.co/XZAK9uXl4x pic.twitter.com/44NYHoxWSj

— The Anfield Wrap (@TheAnfieldWrap) August 31, 2019
Pics: David Rawcliffe-Propaganda Photo
Like The Anfield Wrap on Facebook