"THIS time, it will be different though."
A lot of us have been guilty of using a similar phrase to the one above to justify us continuing or restarting a relationship that has long lost its ability to have a positive effect on our lives.
The sort of relationship that definitely had its happy times, the times it convinced you that you couldn't live without it.
But it also had its messy ending, the sort of ending that made you doubt whether the other person ever cared about you in the first place. How could they lob in a transfer request the Friday before you were supposed to be spending a long weekend away together in The Lakes?
Philippe Coutinho did some wonderful things on the Anfield turf. Philippe Coutinho produced some mesmerising moments of quality for Liverpool Football Club. The 27-year-old scored 41 goals in 152 appearances for the club, and most of them were absolutely blammed in from about 30 yards out.
For a long time, the Brazilian playmaker was Liverpool Football Club's best player. And there lies the first reminder of the problem – for a long time he WAS our best player, and there was nobody else near him.
I'm sure you've been keeping a bit of a wandering eye on Coutinho's situation at Barcelona, and you wouldn't be blamed if you were more than a little smug that it's just not quite worked out for the lad in Catalonia.
Thirteen goals in 51 games for the Spanish champions since his ill-fated move in January 2018 doesn't quite stand up as being the "catastrophe" that's been made out in some quarters.
However, nearly every noise coming out about his relationship with Barcelona seems to be a negative one and perhaps this is a relationship that has gone beyond the point of no return.
So, what if Barcelona are looking to offload our former number 10 following the arrival of Antoine Griezmann and to make room for the inevitable return of Neymar?
You probably would've seen the quotes from Coutinho's agent, Kia Joorabchian, over the last few days: "Liverpool lies very deeply in his heart. He's a big fan of them. It would be very difficult for him to go to a direct competitor of Liverpool."
If that isn't a massive "I miss you, let's neck again," then I don't know what is.
So, should Jurgen Klopp be sending Coutinho a "U up? Xx" WhatsApp on the night bus home at 3am?
To be honest, no.
We've moved on, we're better than that, we don't need him, we're happier, let him flutter his eyelashes all he wants, the grass isn't always greener.
There is a bit of noise starting to creep into our collective supporter psyche about welcoming Phil back to L4 with open arms, but without trying to bang on too much on the relationship metaphor door, we really have moved on and found someone better.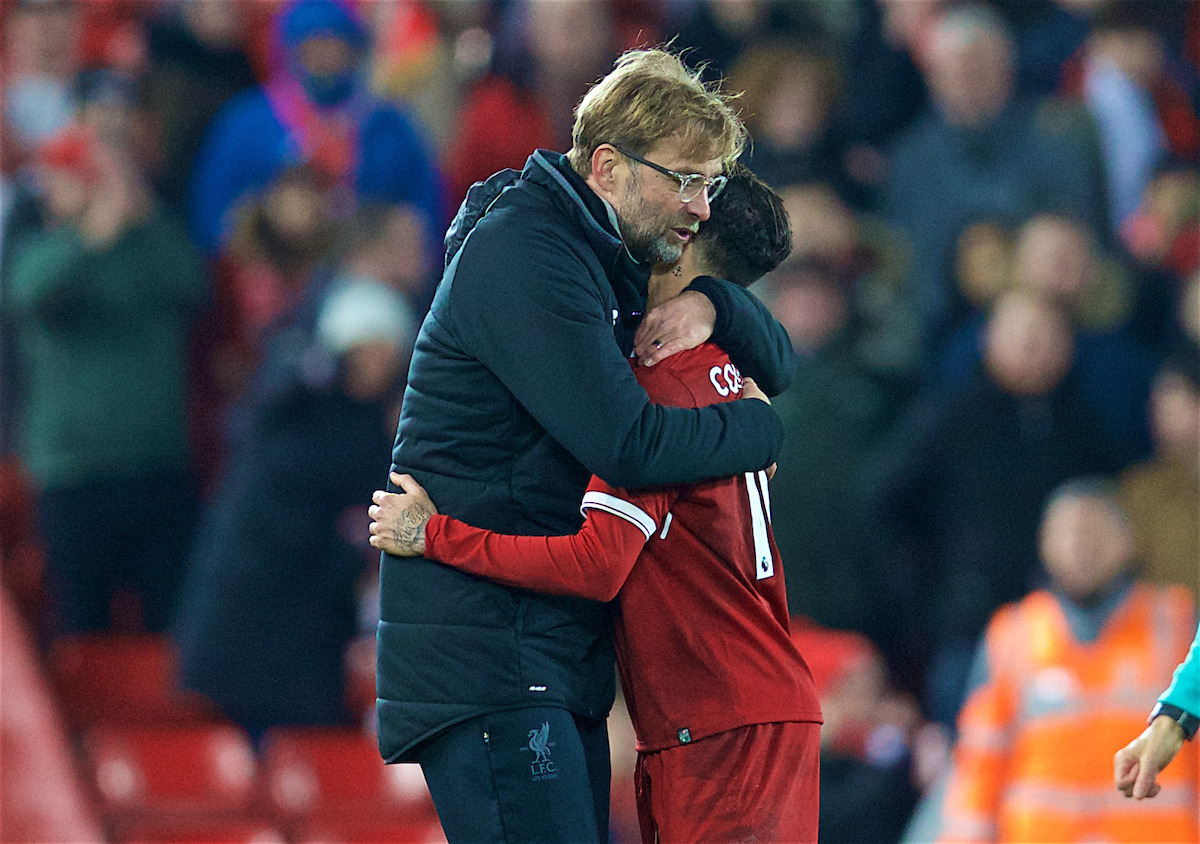 Perhaps you can argue that the Liverpool midfield hasn't improved since Coutinho's departure, but the attack has, the defence has, the team has.
A team that has benefitted from the £142 million fee received for the former Inter Milan player by bringing in two vital cogs in the European Cup winning machine – Virgil van Dijk and Alisson Becker.
Liverpool were guilty of relying on Coutinho to pull rabbits out of the hat on too many occasions, even when Roberto Firmino and Sadio Mane were alongside him, and this was to the detriment of the rest of the team.
When "The Little Magician" was Liverpool's stand-out player it was because the quality of the players alongside him could not match up to his undoubted talent and therefore our play had to be focused left, right and centre around the Brazilian's mercurial strengths.
The landscape has completely changed now. This is a Liverpool side where the team stands out. Where the collective has been allowed to flourish.
Alisson, Virgil, Andy Robertson, Sadio Mane, Mo Salah – all can argue that they are Liverpool's stand-out player, and all would have a fair shout. The thing is though, this is a team where all are capable of magic now, rather than just one little wizard.
Since Coutinho has left, the club has been to two Champions League finals winning one of them, and finished on 97 points within a point of winning the league.
The fact is that we know for sure that Liverpool's fortunes have improved through the sale of Coutinho but we don't know that the return of the Brazilian would lead to a similar route to success.
One of the main arguments for bringing him back to Anfield is to add that creative spark to a vastly-industrious midfield, but there is every chance that the answer to that predicament is already within our ranks.
Naby Keita, Alex Oxlade-Chamberlain and even a season that begins with Jordan Henderson in that number eight position in midfield could, and probably will, add that creative spark that might have been missing since Coutinho's move to Barcelona.
Even if this doesn't turn out to be the case, have Liverpool really been lacking in that area anyway? Last season's evidence of a first trophy since 2012 and only one defeat in the league suggests not.
Maybe we're fine without him. We've moved on. Now he needs to stop slyly liking photos of Firmino holding aloft the European Cup at 2am after a bevvy and move on himself.
Take the advice that the real romantic Sam Allardyce gave us all this week after turning down a possible return to Newcastle United…
"Never go back."
"We need to take the emotion out of it.

"He's one of the best players in the world… if we can get him, we should." 👏

🗣 Subscribe and listen to our latest 'Gutter' show, discussing all things Philippe Coutinho 👉 https://t.co/lmNtBz4ADz pic.twitter.com/ioeAmxhJLo

— The Anfield Wrap (@TheAnfieldWrap) July 15, 2019
Recent Posts:
[rpfc_recent_posts_from_category meta="true"]
Pics: David Rawcliffe-Propaganda Photo
Like The Anfield Wrap on Facebook