SEVEN of those who started in Madrid in the first 11 tonight; nine of those who appeared.
It would be fair to say that the European Champions were ramping it up against Sporting Lisbon and that was clear from the first minute.
But Liverpool found themselves one down in the sixth minute due to a Simon Mignolet howler. It was quite the howler – immediately funny what with it being pre-season, foreboding if you like a bit of that sort of thing and infuriating if you are in that mood.
It was a reminder of why, for all the passes, the flicks and the headers, the best thing about Alisson since he has arrived is the sheer certainty. The pair of hands. He saves some things he shouldn't but he saves absolutely everything he should.
In the end tonight Mignolet makes a series of sharp saves, blocks, tackles and interceptions; an ace double save before the break. But it doesn't ever really matter. For Mignolet this is the reality of the way it will always be now at Liverpool. He will be defined by who he isn't.
Despite the early error, Liverpool recover well and play the better sustained football. But Sporting Lisbon are always dangerous on the break. It's been a feature of these games, seeing Liverpool being broken on with numbers. Since Bradford City away we have seen sides swarm forwards and end up with four on threes, five on fours.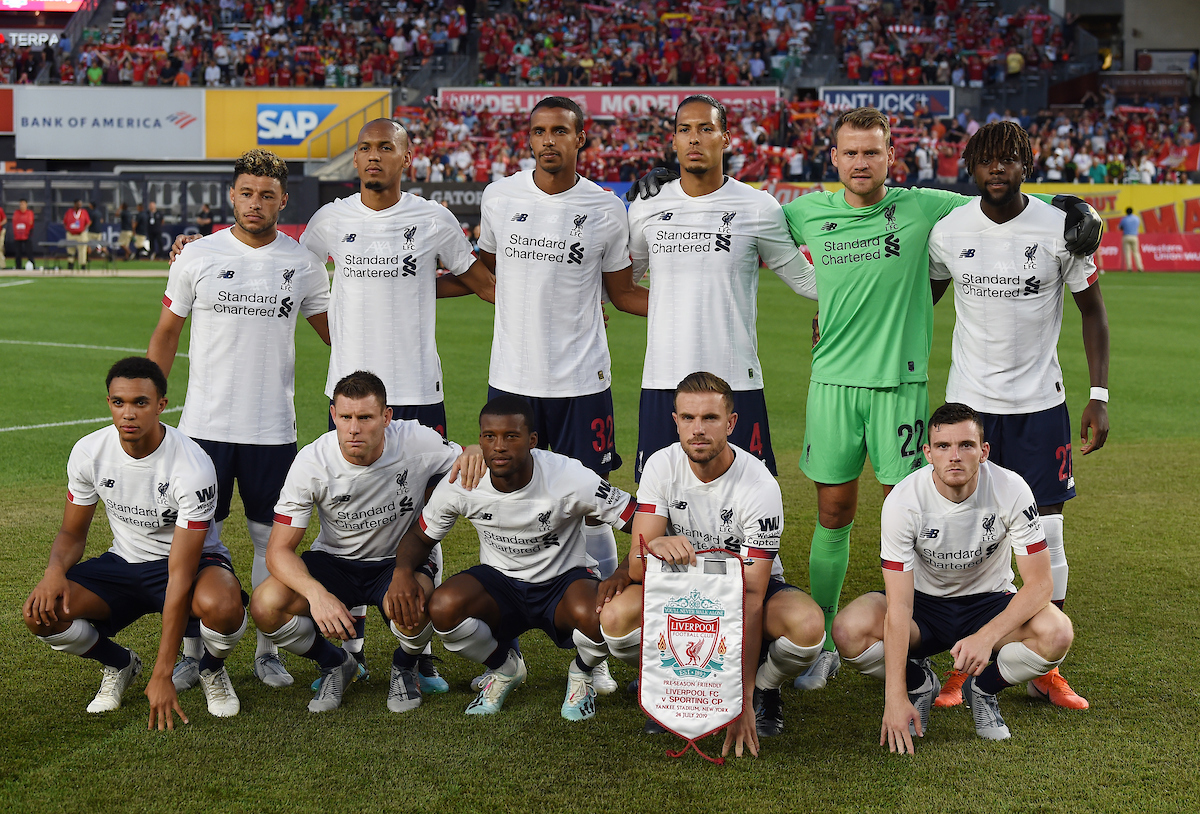 Should this be a cause for concern? It's hard to say – firstly because it is pre-season sides may well simply be more prepared to gamble. Liverpool may be trying to do something differently or may well just be lacking the sharpness we normally expect. It has happened time and again though and tonight were the most concerning examples of it, just when Liverpool were supposed to be ramping it up.
Divock Origi got himself the equaliser after Liverpool had threatened for a while. It was a scruffy goal but the result of pressure. Something had to give. The New York crowd loved the Origi goal and it was reward for a good performance from him.
The use of Gini Wijnaldum in the front three was interesting – we worry about midfielders in those positions but Wijnaldum's movement was constantly dangerous. He was prepared to cheat, take his chances and play on the shoulder. Luis Neto walloping him told the story of how difficult they were finding picking him up.
His goal comes on the third or fourth occasion he had threatened to get in and stems from a fabulous outside of the foot pass from Alex Oxlade-Chamberlain.
Liverpool have a question mark on who features in that area in the absence of Sadio Mane; the manager speaks an awful lot about finding solutions from within the squad and this may well be his one around this. If it is he will be pleased with what he saw this evening.
Despite, or perhaps in part because of, the assist from Oxlade-Chamberlain it will be good to see him back in a deeper role. Oxlade-Chamberlain passes the ball beautifully and the driving runs work better from deep. Him playing in the space the front three create will see him able to produce significant numbers for Liverpool.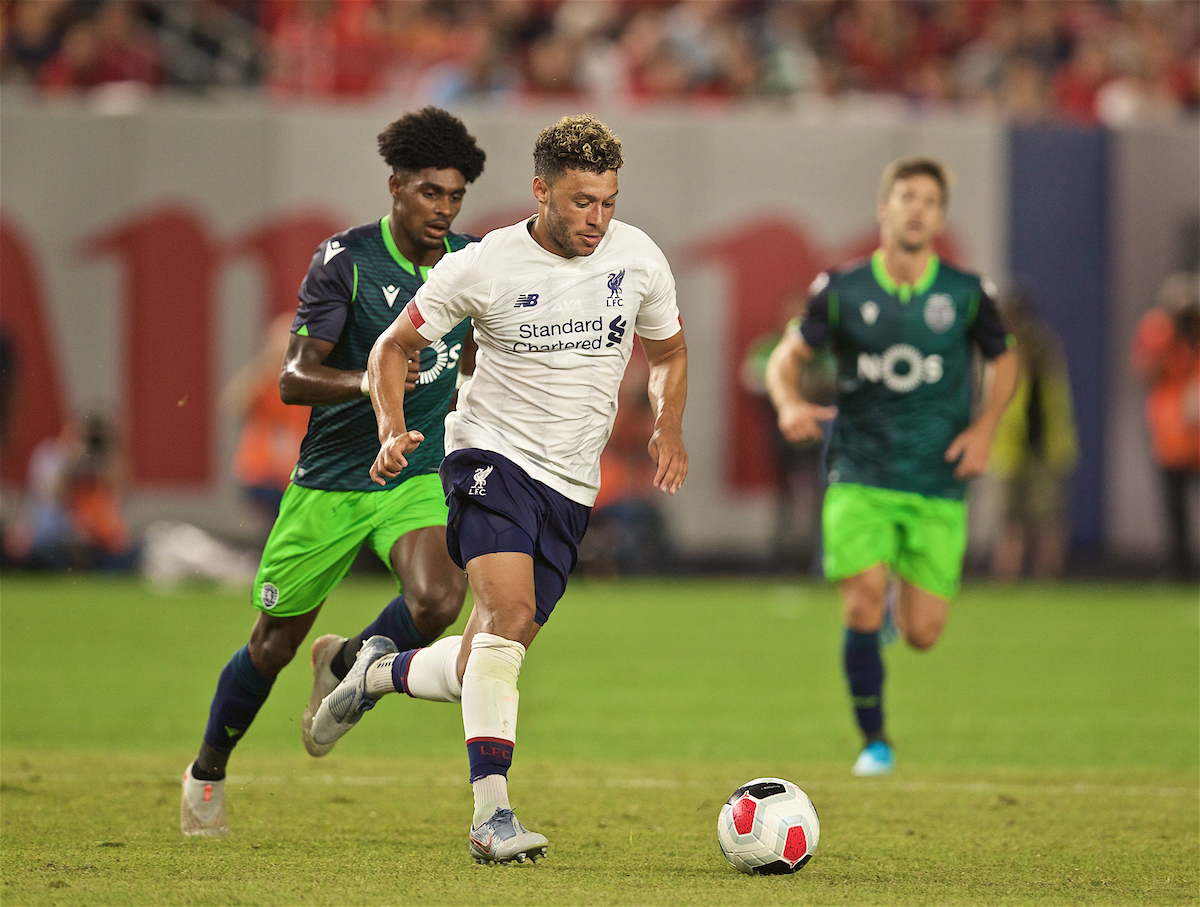 It was good to see the side do an hour, some longer. Liverpool looked the most themselves as they have in these three games. The fullbacks were back pinging the ball to one another, grand passes across the pitch, a pitch Liverpool made big.
Jordan Henderson and James Milner made bursting runs and Henderson still looks to be revelling in his more advanced role. Sporting were a tidy side and will ask some awkward questions for sides in Europe this season.
Once the game had finished and the Western Union trophy awkwardly shared, Liverpool wandered through a lap of honour in front of another American crowd who had come out for them in numbers and with enthusiasm. It's part of being European Champions, part of being Liverpool.
But the clock is ticking.
Jürgen Klopp is about to get most of the rest of his stars back and about to get his week in France. Last season Liverpool started relatively slowly but got the wins and we may well have to expect likewise this year. It was ramped up and it will ramp up further.
This trip is over, but they pop up to Scotland and then the work really begins.
"Mignolet spills one in his net and then makes the best save I've ever seen!"

Download our app for all our reaction as Liverpool end their tour of the US with a 2-2 draw against Sporting Lisbon..

📱 On IOS 👉 https://t.co/joSoJYKkeK
📱 On Android 👉 https://t.co/5quoodLQyb pic.twitter.com/WMxMqCYk92

— The Anfield Wrap (@TheAnfieldWrap) July 25, 2019
Recent Posts:
[rpfc_recent_posts_from_category meta="true"]
Pics: David Rawcliffe-Propaganda Photo
Like The Anfield Wrap on Facebook