IF it ain't broke, don't fix it.
Liverpool's summer 2019 has been something of a homage to their summer of 2018. It's understandable – last year worked so well, the pacing, the fitness, it makes sense to do it all over again.
Strangely, this has also included opponents – Tranmere Rovers makes logical sense but there is also Napoli to come and this evening's opponents Borussia Dortmund.
Dortmund were even the first opponents of the American leg of pre-season in 2018. It makes a neat comparison. To think back 12 months and remember that first match in Charlotte Liverpool looked a little bit ragged, something rather shapeless, lacking identity.
Tonight they were exceptionally ragged in four or five phases of play, three of which led to goals, but in the first 45 minutes and the last half an hour they were very well formed. The shape was there even if the touch at times wasn't. Liverpool were quite good and most definitely superior to the side from last season. They looked like Liverpool in every way but one.
That way was this: when they were bad they were horrid. What clanged was that all three goals now seem so distinctly out of character. Liverpool don't concede goals like that anymore.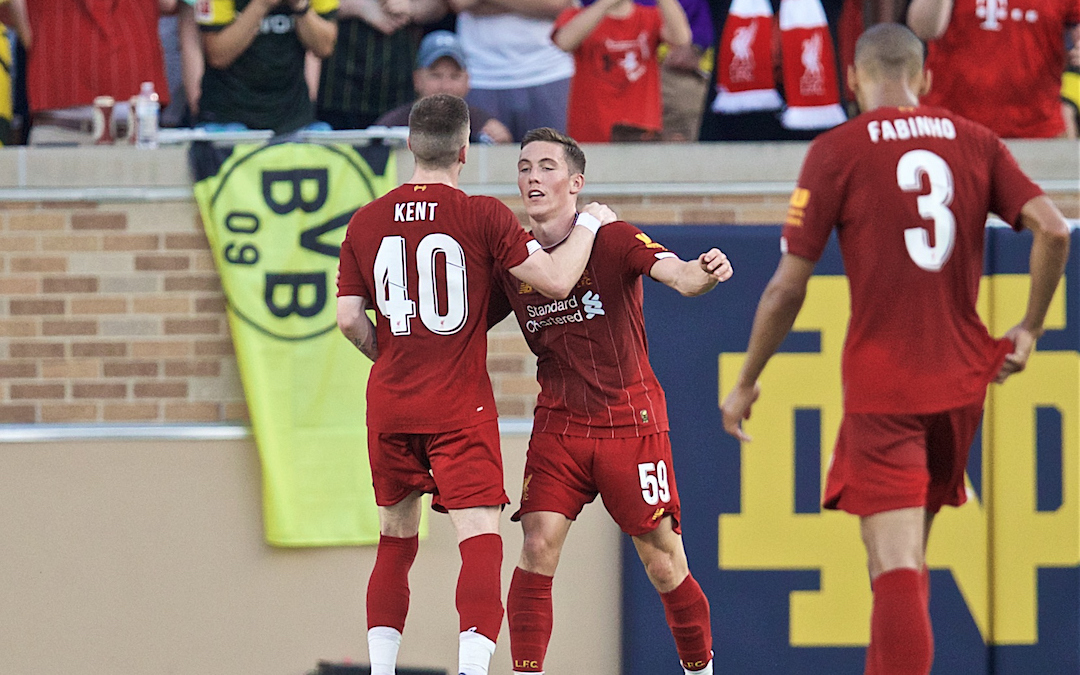 Through all of the 2018-19 season it seemed that goals against The Reds had to be earned, carved out of marble. To score against us was backbreaking labour to the point that you may well decide you can't really be bothered.
Not tonight. Liverpool handed out presents like Christmas morning. All three Dortmund goals had culprits everywhere, two or three Liverpool defenders in conspiracy – every crime had accessories and witless witnesses. Balls pinged around the Liverpool penalty area right up until the 85th minute with no owner in sight.
Dortmund mustn't have been able to believe their luck.
On the other hand, Liverpool looked after the ball well and created chances especially in the first half. Ryan Kent and Harry Wilson both had excellent opportunities and were stopped by brilliant goalkeeping. Wilson eventually converted after Kent dummied a lovely Fabinho through ball.
Fabinho ended the season marvellously but with a second pre-season and last year's experience under his belt he could well kick on. It's a mouthwatering prospect.
Wilson improved after scoring. He finished calmly but it may have been a goal he needed, one which confirms to him he can belong in this company. Wilson is going to score goals somewhere, and just possibly he could get the chance to show that can be Liverpool this season.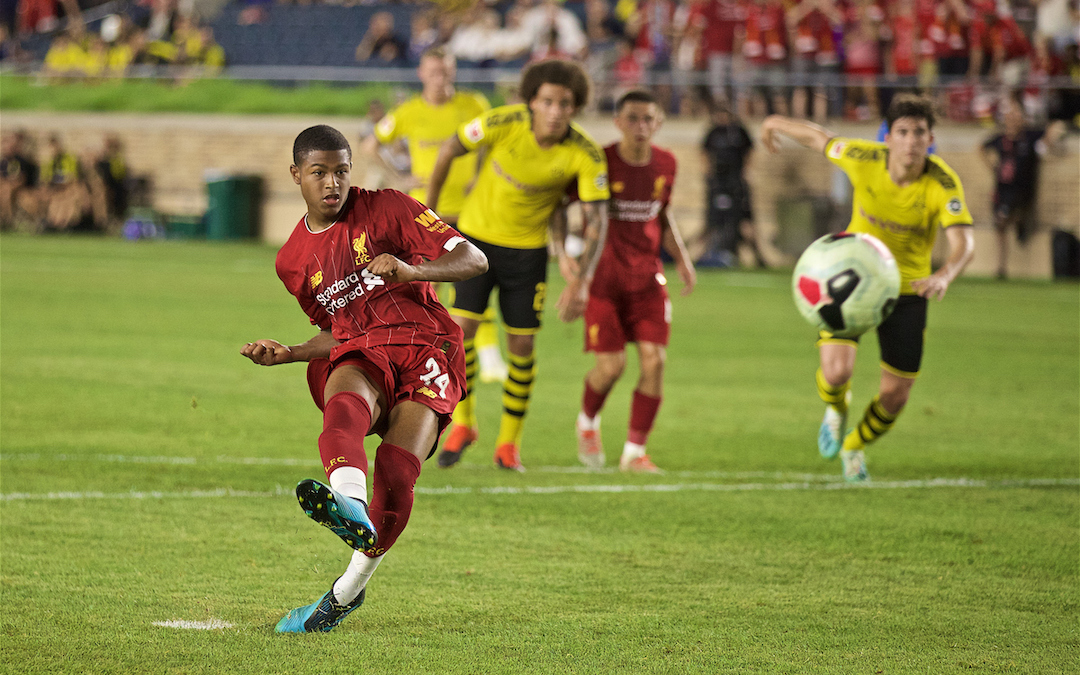 Rhian Brewster got the other with the greatest penalty any Liverpool player has ever taken. He knows he belongs, his aura is incredible. The take away from three pre-season games is his sheer assurance. He looks like he has played 120 games for Liverpool not 120 minutes before August.
The pitch was slow and the ball died when it bounced. It was also oppressively hot. Close. Sticky. I messed about on a stage before the game and felt it, shirt drenched. It's not something to play in.
Importantly though, the conditions nor result impaired the enjoyment of thousands who had come to acclaim the European Champions. Everyone we've spoken to in Chicago and at the game today has had their Madrid story, their Barcelona story, videos of their bars exploding with joy and tears and pyro.
Liverpool sits at the centre of the lives of so many. It's always a shame we can't all be everywhere but it's been as it always is a privilege to be here and share in the sheer affection these Reds have engendered with what they achieved over the last couple of seasons.
Liverpool are right to want to reprise 2018-19, we've a wave to ride across the globe.
Boston next.
Recent Posts:
[rpfc_recent_posts_from_category meta="true"]
Pics: David Rawcliffe-Propaganda Photo
Like The Anfield Wrap on Facebook