WHAT a day. What a night. What a season.
Liverpool are Champions of Europe, and stories will be told for years to come of the experiences. So here's mine…
I couldn't make it to Madrid but no matter, I'd just do as I did last year for Kyiv and head to Liverpool. Nope. Not a single hotel room to be had anywhere. A Premier Inn in Wigan was the nearest I could find.
Experiencing the biggest game in club football in places where you'd want to do so was becoming a near impossibility. It felt like UEFA, the airlines and any hotelier with an interest had managed to successfully make all of it so exclusive that anyone who wasn't extremely fast to book or extremely lucky would be forced to watch the game at home.
One last idea, though. I was aware of an official Liverpool FC supporters' club in Brighton, about 20 miles from me, which had started up in recent years. Presumably they'd be doing something. It would at least be a way of watching the game among fellow Red enthusiasts.
The Brighton Kop was established in March 2014, bringing Liverpool fans on or near the south coast together to turn a little part of Sussex into a Kop away from The Kop.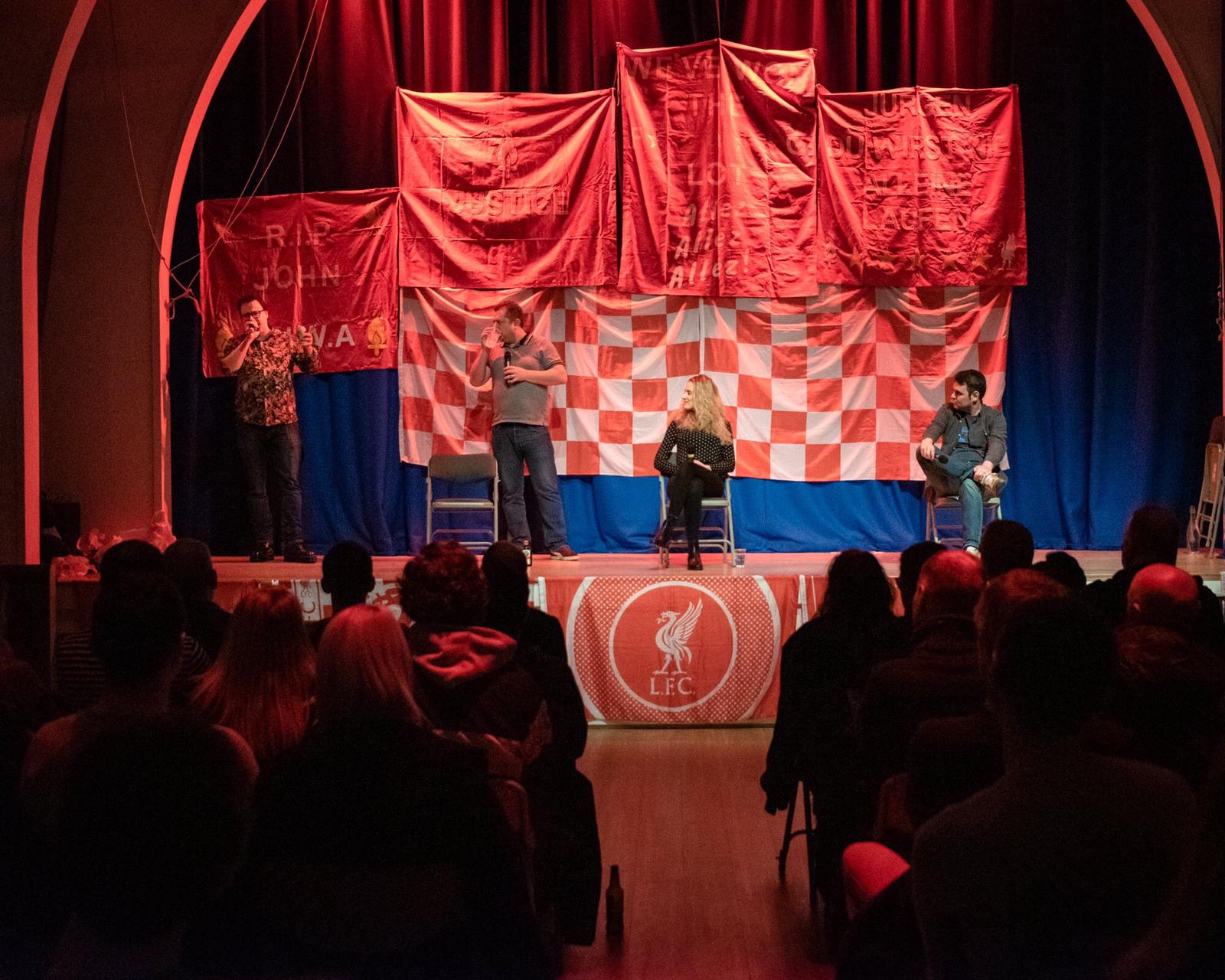 The vision was to build a community and friendship through football, welcoming everyone from any background, and trying to banish the toxic masculinity that following the game can sometimes bring.
As well as screening games, they host barbecues, film nights, sports days and have their own football team, as well as their own charitable project. "Kop Kits" aims to provide football kit and equipment to disadvantaged children and young people in the developing world.
The group started to grow season on season, and in September 2016, was awarded Official Supporters' Club status for Brighton and Sussex by Liverpool FC.
The Anfield Wrap has held events there in the last two seasons as well, so I pinged them an email to see if they had room for a little one for the final.
Founder and Chair of The Brighton Kop, Ben Dew (aka "Benny Punk") replied and very kindly invited me and my brother down to join them for their special screening. Events had previously been held at the King and Queen Pub, but relocated this season to a bar called Patterns.
However, this was a Champions League final, so they were going big. Events manager Mark Graham had pulled some strings and hired out a beachside club called The Arch for the evening, which could hold 500 people, with a further 200 at Patterns for a separate screening.
Not in Madrid. Not in Liverpool, but thanks to @TheBrightonKop I'll still be watching among reds, in the sun by the sea and with beers. Nerves kicking in now. Just win lads. Just win. pic.twitter.com/DtwEfUA77i

— David Segar (@whichdave) June 1, 2019
My brother and I headed down to The Arch where we were met by Benny, and were also introduced to some of the dedicated volunteers on The Brighton Kop team who make sure every event runs smoothly. Anna, Steph, Neil, Archie, James and Kirsty were full of smiles and welcomes, while "Muzza" was there to direct people to where drinking would occur.
There were wristbands and even a registration desk. It was all very organised and efficient considering I was a comparatively disorganised and quivering mess with a Champions League final to fret about.
Benny explained how they had never held an event like this before. Nothing this big, and it was an impressive setup. A nightclub with a big screen, some smaller screens, flags and scarves draped everywhere, and most importantly, a well-stocked bar.
Raffle tickets were on sale for the chance to win a shirt signed by none other than Sir Kenny Dalglish (apparently donated by the lovely John Gibbons of TAW fame).
The draw was made at half time, and in keeping with everything I had seen of the community spirit of The Brighton Kop, the winner declined to take the prize, instead requesting that it be donated to the parents of Connor Price, a member who sadly passed away at the age of just 18 in April.
Connor had done community work for Brighton and Hove Albion and was at university in Manchester, but was a staunch Liverpool fan, and his Just Giving page has already raised nearly £11,000 in his memory for Albion in the Community.
We heard this week that we lost one of our Kopite family. A wonderful young man, Connor. He will be greatly missed by us and, of course, by his loving family. YNWA, Connor. Please donate to his JustGiving page if you can x https://t.co/MmkufYW8Eg#YWWA #LFC #Liverpool pic.twitter.com/z7djyyj1wA

— OLSC – Brighton & Sussex (@TheBrightonKop) April 11, 2019
Fans gathered outside in a sealed-off area for pre-match drinking. We had arrived nearly four hours before kick off, but we were not alone. Many were either already in the venue or enjoying the beach. It was an incredibly hot Saturday so it was busy by the sea, but eventually the normal people were replaced by Reds.
There were shirts of all eras smattered about, including someone in a 95-96 away shirt with "Babb 6" on the back. I was as astonished as anyone that someone other than Phil Babb owned one.
There were Scousers, other northerners, southerners, foreigners, people from all kinds of backgrounds with all kinds of stories, but we had all converged here by Brighton beach for what we hoped would be one of the best nights of our lives.
Benny mentioned that there was even a fan who had come all the way from Brunswick, Germany just for the final. They met Finn Sorensen at Anfield five years ago, and he has visited The Brighton Kop every year since.
While drinking and being nervous, Benny introduced me to Reuben Armstrong, a filmmaker and Liverpool fan, who was responsible for a video about The Brighton Kop in 2017 that went viral, and even drew praise from Jürgen Klopp himself during a press conference.
"The Brighton Kop – a lively supporters club. I watched the video, very nice. Thank you for your support, it's cool!", the boss said.
Reuben was there with his dad, and though I probably should have asked him about his filmmaking career, the game was too close and too important, so we just nattered about football, in agreement that the starting lineup was the correct one once it was announced.
We all felt better, and then it was time to head inside for kick off.
There was a DJ playing some pre-game tunes, and after a hyped introduction from Muzza, there was even time for Benny himself to take the stage to welcome everyone, but not before an energetic rendition of Queen's We Will Rock You, followed by Radio GaGa (with subtle word changes so that we were all singing "Sadio Mane").
Fair play, it did get people bouncing.
There were fans everywhere you looked, but before I had a chance to take any of it in as the game began, we had a penalty. Mo Salah bangs it in and the place goes mad. Everyone was soaked in beer with almost the entire game still to go. Lovely.
It was a weird first half. Nothing really happened after the goal, and yet by half time it felt like everything had happened. Everyone looked exhausted at the break. Most of us headed back outside for a bit of fresh air. A literal breather.
Then came the second half and I must confess, I'm not sure what the atmosphere was like for much of it as all I was doing was clock watching, wishing the seconds away.
Then Divock Origi scores. He scores and the world is a different place. Beer flew again and soaked everyone, and it was very worth it.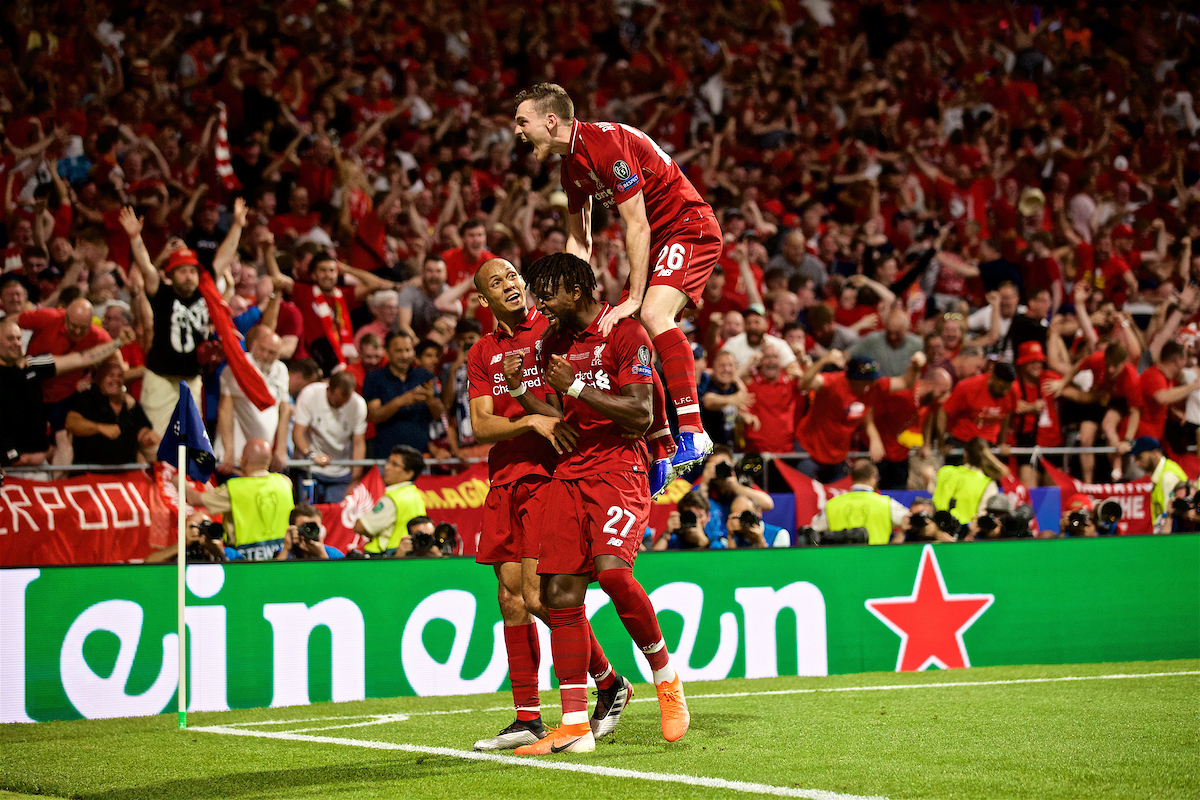 Like I'm sure was the case everywhere, it… Went… Off. It went off like I've never known it go off before. I've been at Anfield for crucial goals, but this was like something else. It was only 500 people but it felt like 50,000.
A release of pure relief and elation. The collective of sweaty people realising at the same time that their team has probably just become European Champions. It was like a cannon.
Screaming, hugging anything that was close by, accidentally elbowing someone who would normally turn around and smack you in the mouth, but instead they grab you and kiss you on the forehead.
I have heard a number of people say that they were overcome with emotion on Saturday. Tears appear to have flowed from the faces of most Reds at one point or another, and everyone has their own personal reasons why.
I didn't cry in 2005. I didn't cry last year. However, when the final whistle went on Saturday, I immediately broke down.
In 2005, I was at home in West Sussex. It was still the best night of my life as I got to celebrate it with my dad and my brother, but when Athens came around two years later, I was living in Liverpool, and had the opportunity to watch it with dad in the city centre.
I desperately wanted the chance to celebrate a European Cup win with my old man in the heart of the city. It was of course denied, and that night on the final whistle I turned to him and spontaneously burst into tears.
Admittedly, I had a tremendous amount of ale in me by then, but I also knew that I had been robbed of what would have been a life-defining moment. Less than four years later, he passed away, and I would never have that opportunity again.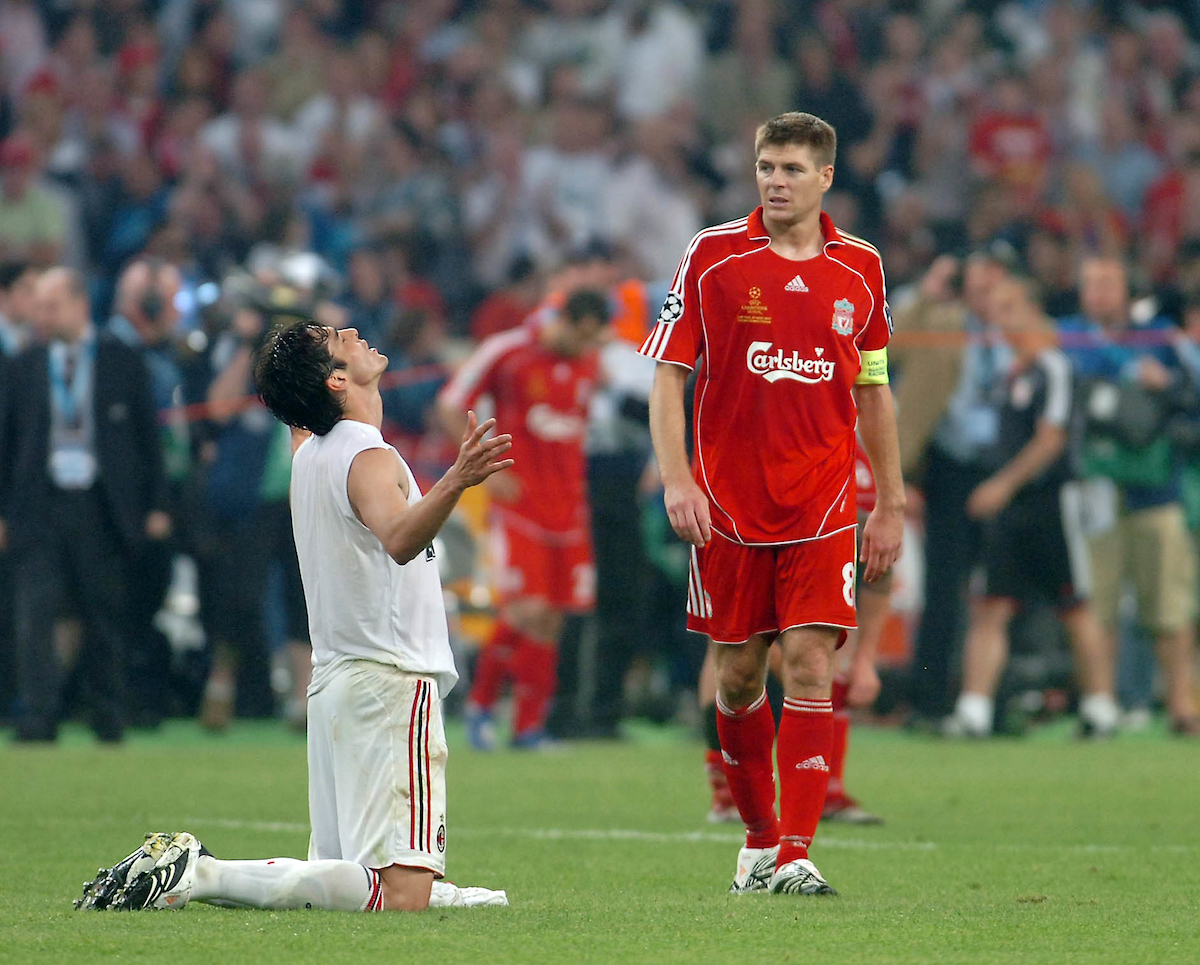 While we weren't in Liverpool this time, given the 500 passionate Reds around us, it was like we were. As the full time whistle went, I assumed I was going to punch the air and cheer. I didn't. I turned around and threw my arms around my brother, before blubbering like a child who has just lost his balloon. My face buried in his beer-soaked shirt, my tears streamed.
It was only a short moment. Within a minute I was back to jumping up and down and singing Allez Allez Allez, but that pocket of emotional frustration that I had been holding for 12 years was released.
Then it was just constant singing from everyone until the trophy lift. Every song possible, not even just Liverpool ones, just songs. Sing anything and hug everyone. If someone had sung the first line of "It's Chico Time" we'd have sung that too.
The furnace of euphoria then unleashed onto the streets, but the party didn't stop. People piled onto the beach with a tin foil European Cup and celebrated their own trophy lifts, to the point where one of the handles came off.
As we collected our emotions outside, Benny came over for one last chat and a hug. The night had been a huge success, not just for Liverpool, but for The Brighton Kop. Their biggest night hosted, and everyone going away with some of the best memories of their lives.
We were 270 miles from Anfield, and over 1,000 miles from Madrid, but felt as close as ever to Liverpool Football Club and everyone who loves it.
Prior to the game, the plan for my brother and I if we won was to stay out all night, head to a club or two, party and get the first train back when daylight cracked the following morning. We didn't. We were both absolutely exhausted from the emotional rollercoaster that winning a European Cup brings, and of course still drenched in sweat and stale beer.
We did though take a short time to go and sit on the beach. The first moment of calm serenity of the night. Looking out at the sea, thinking of dad, taking a moment to reflect on what we'd just experienced.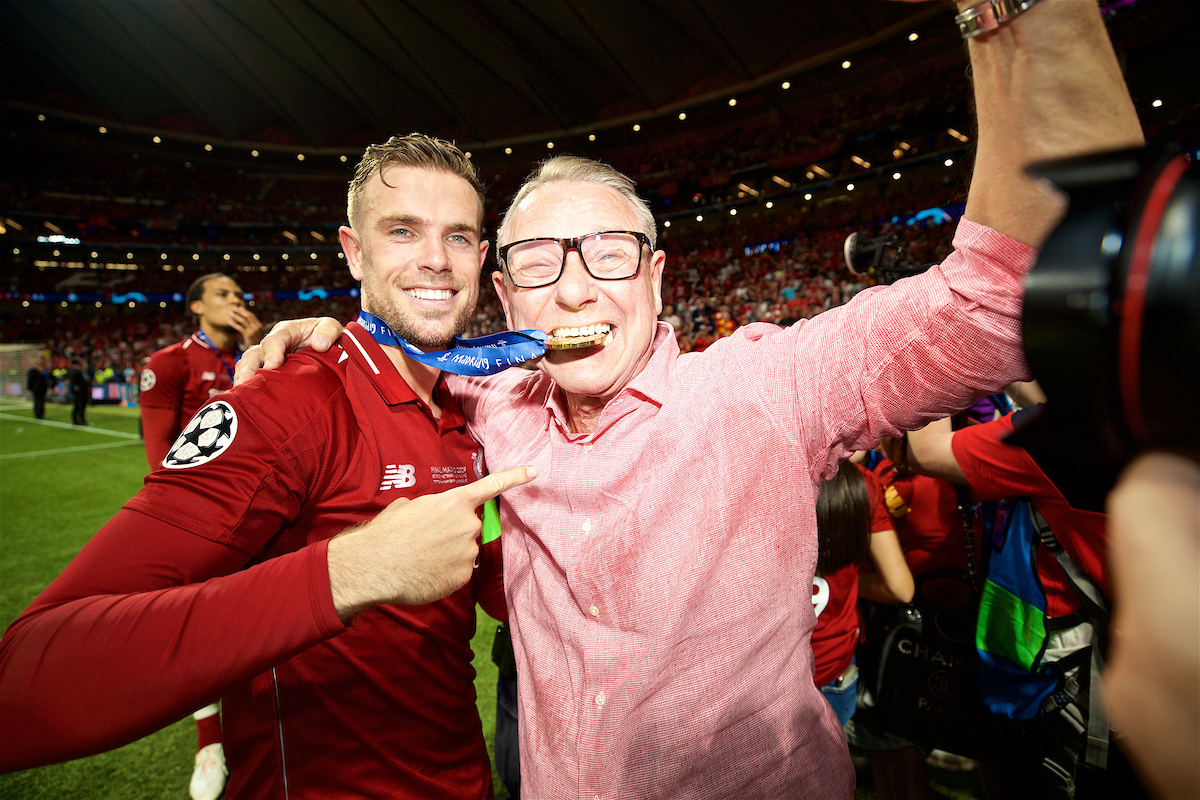 As my eyes began to well up again, I noticed some red lights out at sea. Was it a sign? Was I imagining it? Was it communication from a force far greater than myself? "Ah, no hang on, it's coming from those wind turbines", but still, it was very fitting.
After lobbing a few stones into the ocean (because you can't not do so if you're sat on a pebble beach) we walked back up the hill to the station, got the train home, arrived back around 1.30am, cracked open more beers and watched all the post-match celebrations again, in the same front room where we had both experienced Istanbul in 2005 with our dad.
What a night, and I would like to extend the biggest of thanks to Benny and everyone down at The Brighton Kop for letting us be a part of it with them.
It is everything that the club is about that so many people from all kinds of backgrounds could be brought to one place, and by the end of the night be drinking, dancing, singing and hugging together, all because of what some brilliant lads in red had done with a football over in Spain.
Nights like Saturday will ensure that communities like The Brighton Kop continue to grow, and if you are a Red in or near Brighton and Sussex, I would highly recommend getting down there for a game or few next season. I know I will be.
It's a great place to watch the European Champions play, after all.
More info on The Brighton Kop can be found here.
"We needed this. Kiev, Barcelona, it all had to mean something.

"This is the best night of my life." ❤️

🗣 Subscribe and listen to our immediate post-match shows after Liverpool were crowed European Champions for the SIXTH time 👉 https://t.co/XZAK9veWt7 pic.twitter.com/mC3iLp874R

— The Anfield Wrap (@TheAnfieldWrap) June 2, 2019
Recent Posts:
[rpfc_recent_posts_from_category meta="true"]
Pics: David Rawcliffe-Propaganda Photo
Like The Anfield Wrap on Facebook