IF you're a Liverpool fan in your 20s, it's highly likely that Fernando Torres helped you fall in love with football.
Loving footballers is a complicated thing. When I was growing up it was best confined to the bedrooms of teenagers, posters of their favourite stars adorning their walls. Nowadays it's expressed slightly differently, as youngsters flock to FIFA to sign favourites to their "Super Squad" (I'm pretty sure that's correct), bragging to friends about the form of their pixelated heroes.
Fernando Torres, though, made loving him mainstream. As the first decade of this millennium drew to a close, he hadn't just taken over the bedrooms of young Reds, he cemented himself in the hearts of every Liverpool fan.
We're now looking at a group of lads that we can reasonably surmise would go to war for us. We're looking at a team who have given us the greatest league points tally of our lives, arguably the most special of Anfield nights against Barcelona, and a sixth European Cup to boot. You can't not have fallen in love with every single one of them.
Watching Jordan Henderson lift that trophy, I'm certain I would take a bullet for him. I would jump in front of a train for Andrew Robertson. Hell, I would even pick up a Maccies for Xherdan Shaqiri if he wanted. If Mohammed Salah needed someone to follow him around with a hairbrush for emergencies, I would gladly uproot my entire life to be there for him.
It wasn't always like this, though. We didn't use to love many footballers, but we loved El Nino.
In 2007, Fernando Torres joined a club and city in a state of optimism. By the time he left in 2011, things were bleaker than ever.
Fresh from the disappointment of a European Cup final loss, Liverpool were about to embark on one of their darkest periods in the modern age. February had heralded the arrival of Hicks and Gillett, the two horsemen of the apocalypse, deceptively primed to bring a European giant to its knees.
At this point, the promises they had made were yet to be proven empty, and talk of a new stadium and the financial power to compete with Abramovich's Chelsea was tantalising to a fanbase who were, as we are now, desperate for a Premier League title.
The signing of Torres seemed to back that up. The club's new record signing at £20million, which wouldn't get you half a Wan-Bissaka these days if rumours are to believed, was a typical "statement signing".
The Spaniard, a hero at his boyhood club Atletico Madrid, was given the famous number nine shirt, and backed by Rafa Benitez to spearhead a realistic title challenge in the 2007-8 season.
"He has experience. He was playing in the first division at 17 years old and I think he can manage the pressure", Benitez said.
"He knows he will be an important player and I'm sure the staff and other players will help him.
"He has power, pace, is good in the air, scores goals, can dribble and do a lot of things. The kind of striker he is different to the other strikers we have at the moment."
Indeed, many of those strikers were jettisoned the same summer. Robbie Fowler called time to his second spell with The Reds, joining Cardiff City. Djibril Cisse, the previous record signing, left for Marseille. It was clear from the outset that Torres would be leading the Liverpool frontline, and he took to the task with aplomb.
A difficult debut at Villa Park ended in a win thanks to a remarkable last-gasp Steven Gerrard freekick, before Torres made his Anfield bow against Chelsea, the team who had tried to prise him from Atletico a few years prior. You can probably picture it now, can't you?
Gerrard fizzes a ball into his feet. On the edge of the box, the striker feints past Tal Ben Haim with disdainful ease, leaving the full back scrambling. A clinical finish past Petr Cech, and El Nino had announced himself.
The swagger of that first goal was no one off. Fernando hadn't taken long to realise that, outside of the big names, the quality of defenders in the Premier League would seldom be enough to stop him.
Rafa, as usual, had been right. The guile, quality and speed of Torres was a breath of fresh air, and something Liverpool had lacked for a long while.
The ability to run in behind defenders suited the passing abilities of Xabi Alonso and Gerrard perfectly, and the telepathic relationship between the captain and the forward would develop beautifully over the course of the next two seasons.
His Champions League exploits would only endear him further to the Anfield faithful. A ridiculous goal against Marseille sticks in the memory, Torres feinting and gliding his way through the opposition, sliding it into the corner in a fashion that already looked so typical.
Goals against Inter Milan and Arsenal still feel like yesterday. The effortless turn, touch, that unerring volley into the corner. Here was a man who could score any type of goal, destroy any type of defender.
The mixture of craft and graft is one so potently appreciated by fans. While Torres looked slight, and his long hair would always give the misconception that he was "soft", his grit and mentality completely contrasted the stereotypical image of a "fancy foreign striker".
With his back to goal, Fernando had the touch, strength and composure to match. His unpredictability and incredible use of his body meant that he could leave defenders clutching at air, and the typically rough treatment of English defenders did little to put him off.
Platitudes about his love of the club seemed to come from a place of true sincerity, backed up by the suggestion he took a pay cut to join The Reds. Leaving Atletico, whom he had joined as a schoolboy, was a massive decision. He was the club's youngest ever captain, fulfilling the boyhood dream of any young football fan, but by the end of the 2007-8 season, he was Liverpool's.
Once again, looking through the prism of the modern day, Torres' achievements in his first season may look diminished in comparison to the 44-goal masterclass that Mo Salah delivered in his debut season.
But this was before the age of the super striker, when scoring 20 league goals in a season was considered the mark of a world-class talent. A goal every other game was the benchmark to meet, whereas now the two players that tend to finish seasons with more goals than games played have skewed the expectations.
Fernando's 24 league goals made him the first player to reach that magical 20-goal mark for The Reds in over a decade, the last being Robbie Fowler in 1996. What's more, his overall tally of 33 goals entered him into an elite bracket, becoming only the 10th Red in history to manage over 30 in a season.
Torres made the Fifa World 11, and scored the winning goal as Spain clinched the European Championship against Germany. It seemed that Liverpool finally had a world-class striker to complement their illustrious captain.
However, the 2008-9 season was a disjointed campaign for El Nino and one that ultimately ended in heartbreak for the club. Hamstring strains that proved to be easily aggravated restricted him to just 24 league appearances.
His moments on the pitch were still punctuated by class, and he produced some vintage performances despite a lack of fluidity and form.
His showing against Real Madrid at Anfield remains one of the finest number nine performances I can remember. Aggressive and determined against his old rivals, Torres tormented Pepe and Sergio Ramos, opening the scoring in a stunning 4-1 win.
His two late goals against Chelsea showed his penchant for movement and clinical finishing, whilst another brace against Arsenal in the infamous 4-4 showcased his strength and aerial ability.
Oh, and he broke Nemanja Vidic, pouncing on the Serbian's hesitation to leave him in a heap during a landmark win at Old Trafford. As Torres wheeled away in celebration, he made the famous "five times" gesture towards the crowd. Liverpool fans tend to find that quite endearing.
The glut of draws during the winter would ultimately prove crucial as Liverpool ended the season in second place. Regardless of what many will tell you about Benitez's rant causing Liverpool's downfall, the absence of Torres in games against lower-class opposition was telling.
His contribution while on the pitch told you everything you needed to know as he rattled in a respectable 17 goals, but the restricted role he was forced to play no doubt had an impact.
The 2009-10 season told a similar story. Torres, who had been rewarded with a new contract in the summer, was again blighted by injuries and fatigue. However, his performances and goals meant that his reputation still remained incredibly high with the fans. He wasn't to blame for his availability, and the effort and class he showed when he could get on the pitch hadn't diminished.
Worryingly though, things were crumbling around him. The disingenuous intentions of the two owners were finally becoming clear, and Benitez was becoming an increasingly frustrated figure as he attempted to fight against the tide. Xabi Alonso, a fellow Spaniard and fan favourite to this day, had departed under acrimonious circumstances. Emiliano Insua was about to start 43 games in a season. Something wasn't right.
Liverpool would go on to finish in seventh place, dropping out of the top four for the first time since 2005. This time there was no European Cup to celebrate. Wheels were in motion that would take The Reds away from the top table, and Benitez would leave his position just a week after the season concluded.
Despite only playing 22 league games, Torres notched 18 goals, including his 50th in the league. Amid a terrible season for the club and the looming spectre of debt, we were witnessing a record breaker, as he became the fastest Liverpool player to reach the milestone in club history.
And therein lay the problem for Fernando. Rather than spearheading a team of high-level talent, he was becoming a diamond in the rough, surrounded by mediocrity in a club that was going backwards.
At the time of signing, The Reds were a resurgent power and European Cup finalists. With a top manager at the helm in Benitez and one of the finest players in world football in Gerrard, it seemed that some solid squad building would be enough to maintain their level at the very least, while the new owners were promising a radical improvement and investment into the club at all levels.
Perhaps it was the excitement of the new project, but Torres ingratiated himself in Liverpool culture in a way that few foreign imports had before. His performances, full of heart and quality, were allied to the spirit of a working-class boy who had fulfilled his dreams by coming to Liverpool. He was taken in by the fans as one of them, and appeared to reciprocate the affection, though it took him by surprise.
"At Liverpool, there was no reason for this relationship to develop the way it did. How many players have signed for Liverpool, they go there and play and pass the years but nobody remembers what they did? I was lucky. They did not have any reason to love me that way but they made me feel different to any other player," Torres told Simon Hughes in his book Ring Of Fire.
Torres remarked in the same interview that the club he left was not the club he joined. The breakup of the "best midfield in the world" and the loss of Benitez hit Fernando hard, and although he verbally reinstated his commitment to Liverpool before the 2009-10 season, things were different and the momentum of the club had changed direction.
Behind the scenes, the two owners were pulling in different directions. Administration and a points deduction were threatening to become a real possibility. On the pitch, things were just as desperate.
Benitez had been replaced by Roy Hodgson, who seemed to have no grasp of the principles and expectations at Liverpool Football Club, let alone the tactical ability to get the maximum output from his stars. The opening six games yielded a total of seven points – the worst start to a season in Liverpool's premier league history.
Torres could still find the net, but not the enthusiasm and love he once had for the club. His body language had clearly changed as he looked around desperately at some of the questionable new recruits, pining for the quality of a few years prior, just as the fans were. There were glimpses of quality, but the player who scored 33 goals in his debut season was barely recognisable.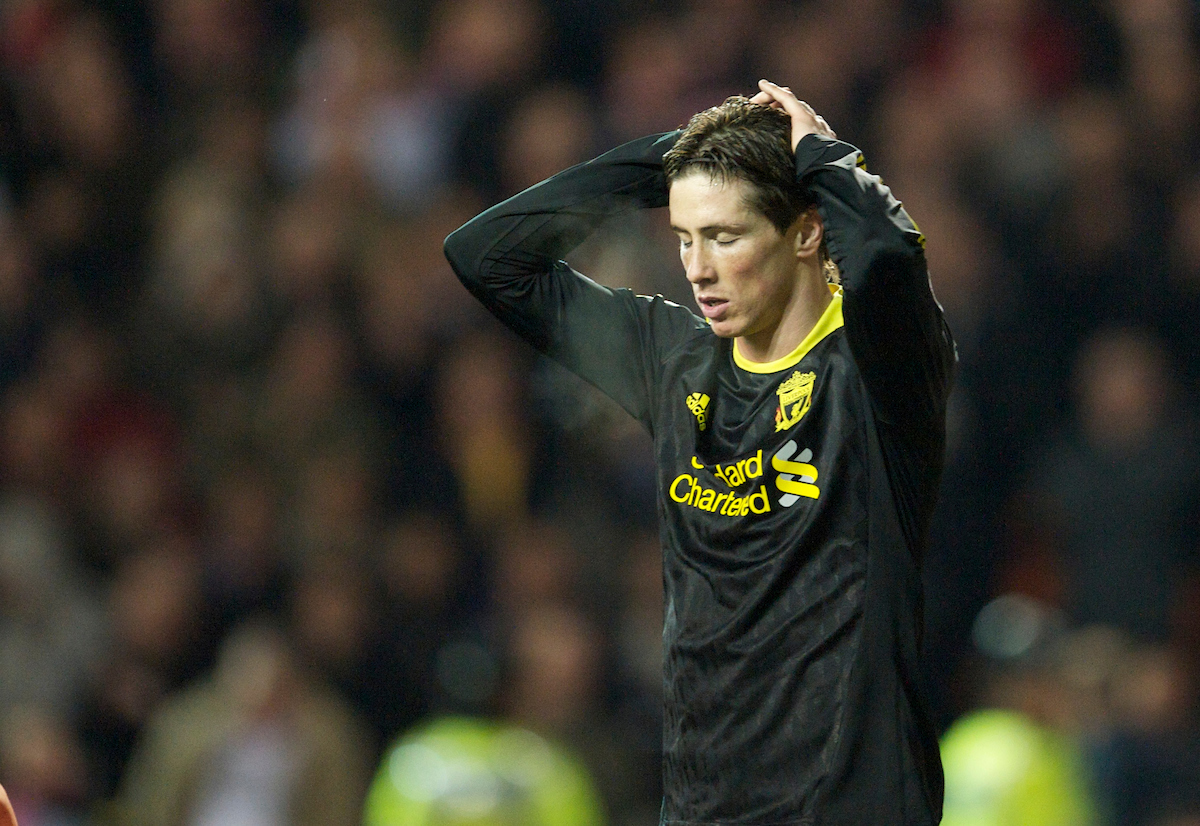 By now, we all know the story of his exit. Rumours, followed by a transfer request, followed by a £50 million move to Chelsea that still hurts to think about. The player that Torres was, the unstoppable force, seemed to be a thing of the past. In truth, the deal was a good one from a business point of view, but the emotional ties were not easily severed.
Time heals all wounds. The sense of perspective has been key to the resurgence of Torres's popularity at Anfield. When he left, the club existed in a vacuum of negativity, with desperate and broken fans aiming their ire at players and fellow supporters alike. At the time, the sense of betrayal was too much, because the love that had been afforded to Fernando was so exceptional, so unique.
Today, as he announces his retirement, there is genuine warmth emanating from Merseyside. We remember the boyish good looks, the goals. The stunning combination of balance, power and speed. There is an understanding that his "betrayal" was merely a reaction to his own sense of injustice.
The Hicks/Gillett/Hodgson period was brutal and challenging for fans, but it's easy to forget that the players are human too. As time goes on, there is a realisation that Torres gave his best years to Liverpool and aside from the obvious financial rewards, got nothing back from them but broken promises.
What he gave us, though, were breath-taking moments and goals that can be replayed for years. For young people like me, he gave us a hero to worship.
So happy retirement Fernando, and thanks for the memories. Thanks for United, for Milan. Thanks for Chelsea, Blackburn and Marseille.
I might even dig out the posters.
"What a finisher he was, just a player that seemingly always made the right decision in the box." 🇪🇸

"He was always in space, his movement was brilliant and his link up with Gerrard was phenomenal." 🔴

✍🏻Subscribe to listen to our @Torres special: https://t.co/JaNSChm2u9 pic.twitter.com/9WqQqxU5vT

— The Anfield Wrap (@TheAnfieldWrap) 20 March 2018
Recent Posts:
[rpfc_recent_posts_from_category meta="true"]
Pics: David Rawcliffe-Propaganda Photo
Like The Anfield Wrap on Facebook