HISTORY is littered with background people.
For every moonwalking Neil Armstrong there's a Michael Collins hidden away in the lunar module. For every John, Paul, George and Ringo there's a George Martin staying behind to patch it altogether with just a mug of Horlicks and a biscuit for company.
These are people who played a huge part in a series of life-changing events but, for some reason, took a back seat when the plaudits were handed out. Some people just don't get their day on stage.
The same is true of football history. Every Red will know about the 1986 double and Kenny's goal at Stamford Bridge to seal the title, but fewer speak of Oxford United's Les Phillips — the man who scored the goal against Everton which made that possible. No Les, no title.
The same is true today. In years to come, fans of the 2019 European Champions will look back and consider Mo Salah's back-to-back yin and yang finals. They'll nod at Alisson Becker's saves in the Madrid heat and they'll point at Virgil van Dijk and argue that he is the club's most significant signing since Bob Paisley liked the look of that skinny lad from Chester City.
After all, those are the names — the legends who will be painted into the mural of Liverpool folklore. Jordan Henderson now stands alongside Emlyn, Thommo, Souness and Gerrard. His manager joins Bob, Joe and Rafa in a very select group.
But what about the other lads? The ones who appear lower down on the agenda? They're as much a part of this as them.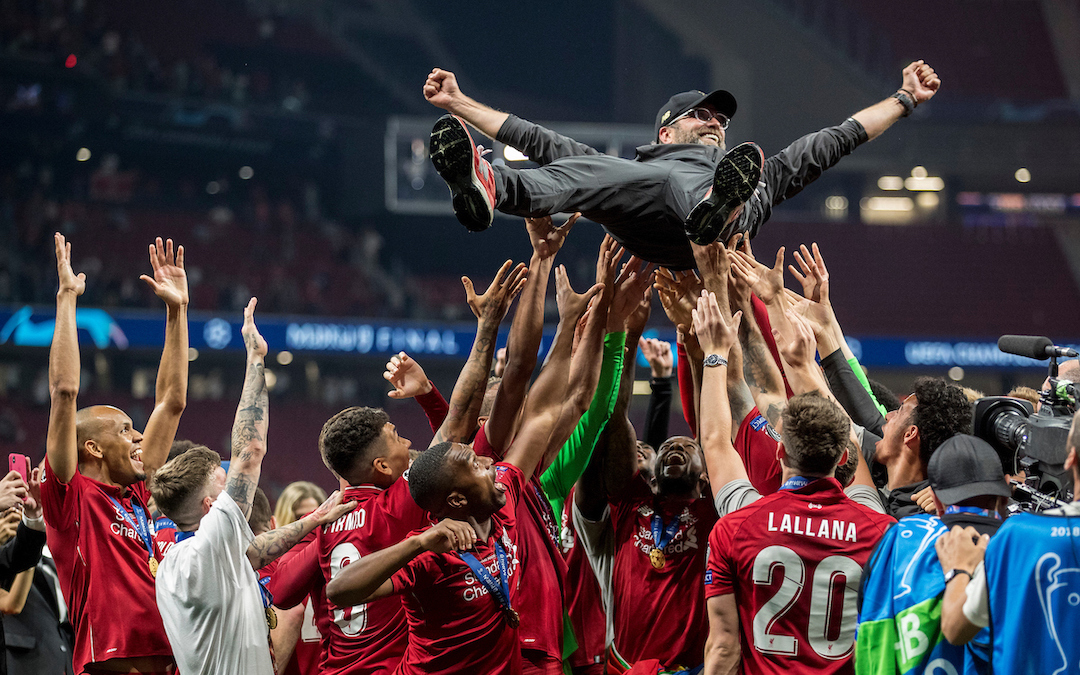 First Item: Joel Matip.
He wasn't even in the manager's opening 11 of the season nor was he on the bench. Relegated to fourth-choice centre back, his only role was to be brought on in the dying seconds of the wins at the King Power Stadium and Wembley when Liverpool defended narrow leads. It took him till the sixth league game, Southampton at home, for him to make his first start. He scored.
It was only when Joe Gomez broke his leg at Burnley that Matip was properly introduced and even that comeback was thwarted by a broken collarbone sustained against Napoli. After that you would have expected Jürgen Klopp to pick Dejan Lovren as van Dijk's companion, but it was Matip who got the nod and he was pretty much a mainstay from January onwards.
Always consistent if occasionally maddening (see "the Matip confusing exploratory run"). Not an immediate hero, but a man you could rely on. It was no shock to see him line up in the final.
It was in the latter stages of that match where he produced the most Joel Matip act ever. You'll have watched Origi's goal a thousand times already, but I ask you to look at what happens around it. It's wonderful and I can't stop watching it.
Virgil van Dijk swings a leg at Milner's corner, there's a weak header from Eric Dier which is nodded back to him by Vertonghen to prevent van Dijk from stealing it. Matip sees his chance, steps up and shins it first time to Divock. You know the rest, but look at Matip's celebration.
He doesn't go mad in the aftermath. He doesn't really do anything.
Instead he orbits Kieran Trippier and nonchalantly trots off to the corner flag behind his mates.
He's just laid on the most important pass of the last 14 years with no little skill and he's not sprinting anywhere. He moves like a kid sluggishly walking to school. There's laid back and then there's that.
Oh, and it's his first ever Liverpool assist. Obviously.
I love that understated approach. It's not McManaman being all cool after a goal. That was all rehearsed and feigned something else. This was just genuine calmness while the world goes mad. He's happy for his teammates to hog the cameras and maybe pat them on the back if he gets a chance. My new hero.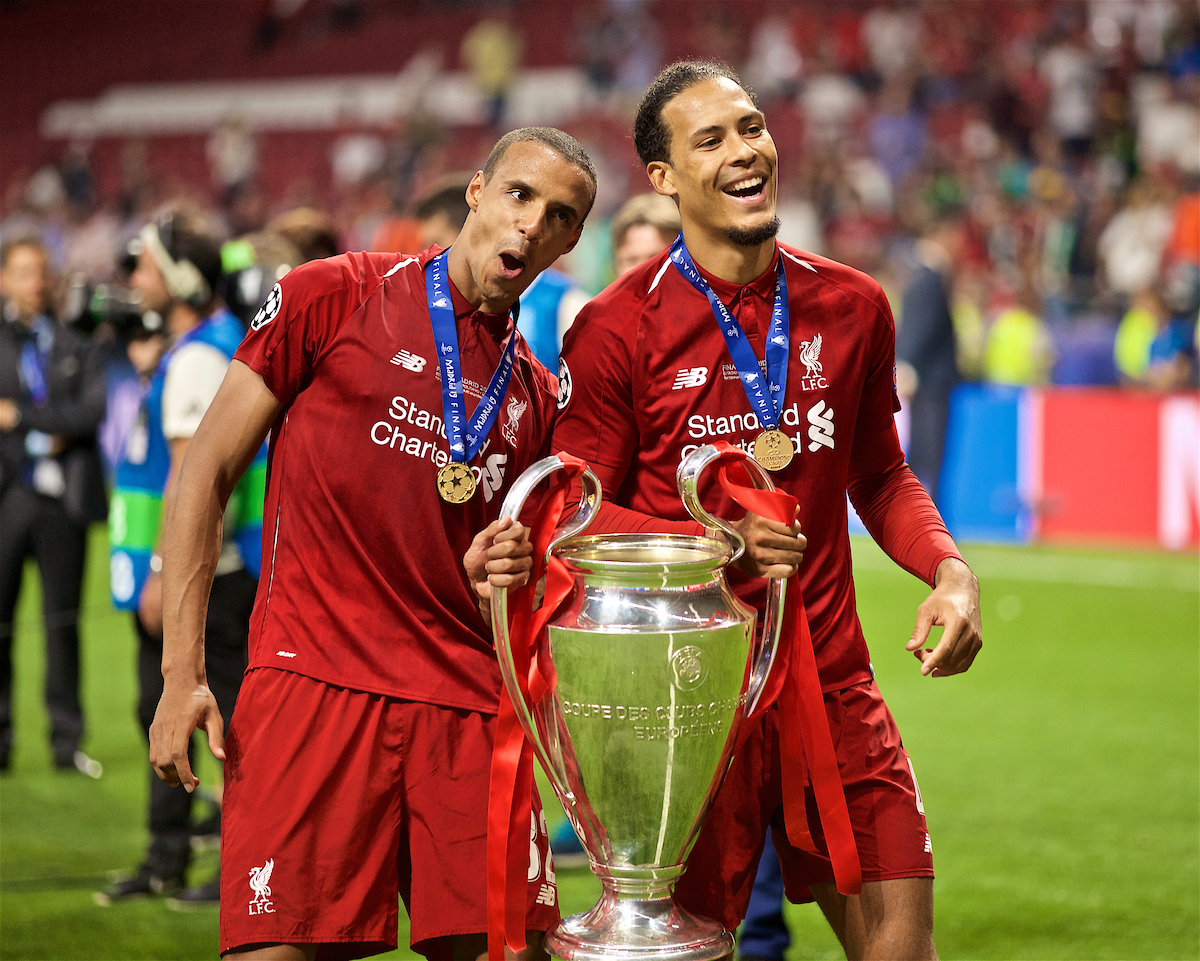 Next Item: Divock Origi
It's December and the man once dubbed "the worst player in Ligue 1" by L'Equipe meanders onto the pitch with the Derby ebbing out to a draw. The ground hasn't seen him for over a year and he's hardly expected to rescue this.
Yep.
Wins the Derby, scores a vital late winner at Newcastle, knocks two past Barcelona and secures number six by recreating Gary Lineker's 1990 World Cup semi-final goal.
He could have gone to Wolves, Palace or Everton earlier this season, but didn't fancy it so stayed behind to get better. Now he's a T-shirt, a meme, a cult hero, a hero.
A bit-part player? Certainly. He only started four league games all season and, let's be honest, he hardly set them alight, but now he's the Belgian Ronnie Rosenthal. Ostend's David Fairclough.
After the game he told the press that he wasn't a hero. The team were.
Go back in time and tell yourself that Divock Origi scored the goal which won the European Cup. You'll wonder where your mental faculties started to slip.
I also like that his Dad's name is Mike. Mike Origi. Nice to meet you.
Final Items: Xherdan Shaqiri et al.
The man got us through December when the pressure was really building. He beat Man United on his own and then wrapped up the points against Burnley when we'd gone behind. He doesn't do much after that save for crossing the ball for Gini's second at Barcelona, but it's that donation to the cause when we most needed it that makes this squad so special.
Successful teams need someone unexpected to pop up and sort out a problem when the bigger names are blowing a bit.
Daniel Sturridge? A man with little to offer now? Sure.
Scores the goal that starts the entire European Cup run as well as calmly knocking in the goal of the season when it looked like we'd finally lose a game against a rival.
Adam Lallana? One game, really. Burnley at home. People went nuts when he was included in such a must-win game and talked of us starting with 10 men. He was man of the match. He came, he saw, he went back to the bench. Cheers. Just doing my bit.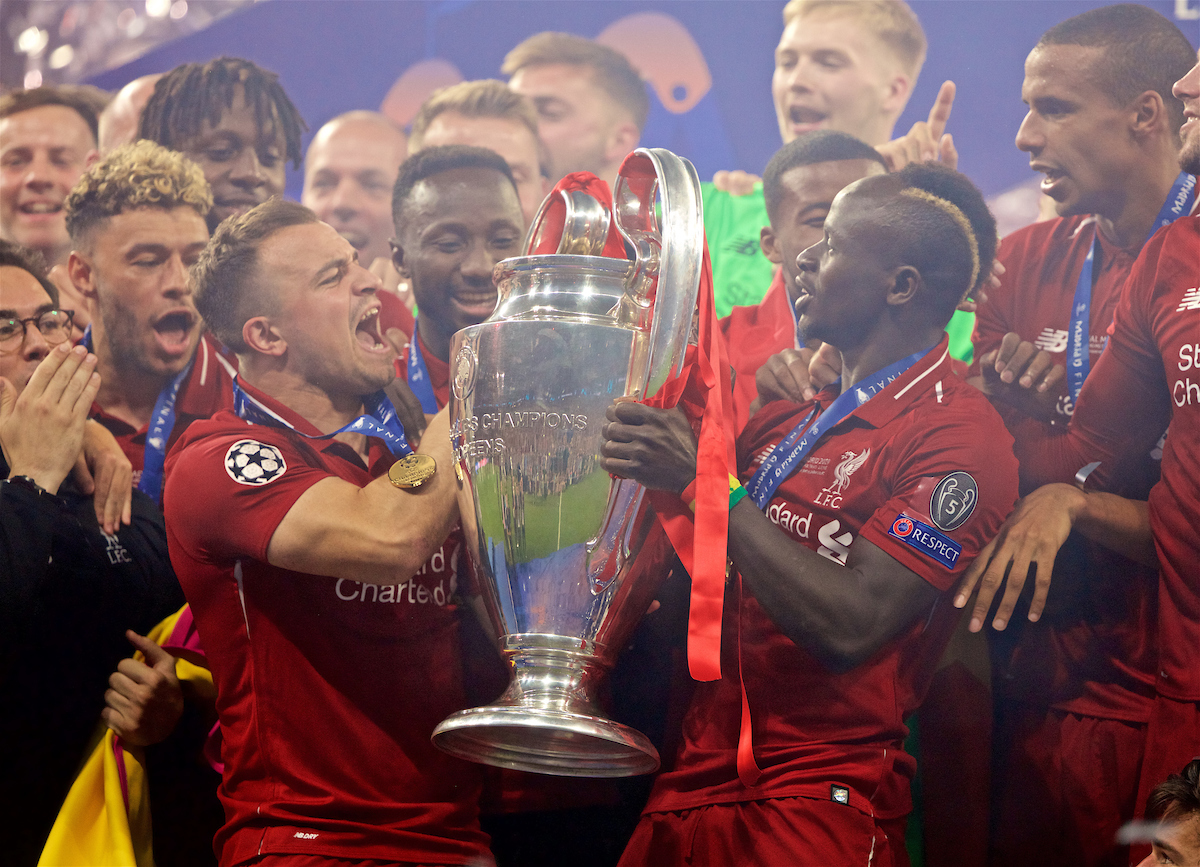 They've all done so much and at different times. They all have European Cup winners' medals. Every single one of them.
There was a sense that our more successful earlier incarnations were one-man teams — Gerrard from 2005-7, Michael Owen in 2001 — but this feels different. There's no sense of just giving the ball to the most talented man on the field and letting him win the game. The tiniest bit part now all goes to the whole unit.
Fabinho slotting in at centre back during an injury crisis and no one mentioning it again. Even the two lads who came into the back four for the FA Cup game just to give the others a night off. They all added to this. Even Nathaniel Clyne turning up to play against Man United like he was on day release from his college. Heroes all.
We'll always sing the names of the blessed but our adoration is no longer confined to just the chosen few. This is a team now. This is a squad. This is a club.
This is more.
"We needed this. Kiev, Barcelona, it all had to mean something.

"This is the best night of my life." ❤️

🗣 Subscribe and listen to our immediate post-match shows after Liverpool were crowed European Champions for the SIXTH time 👉 https://t.co/XZAK9veWt7 pic.twitter.com/mC3iLp874R

— The Anfield Wrap (@TheAnfieldWrap) June 2, 2019
Recent Posts:
[rpfc_recent_posts_from_category meta="true"]
Pics: David Rawcliffe-Propaganda Photo
Like The Anfield Wrap on Facebook