ARE you not having fun?
How can you not be?
This isn't the current state of mind. I'm on a train from Madrid to Barcelona the morning after watching Liverpool win their sixth European cup.
The trophy is intoxicating in its sheer presence. It engulfs you, it is a beautiful, unapologetic elephant in the room whenever it is in your presence.
Whenever it is in your presence.
An oxymoronic turn of phrase. There are those who have never got through the door to share a room with it.
Those whose only reference is of European elite being dwarfed through the prism of a screen in a far away dystopia.
We have six of them. Six.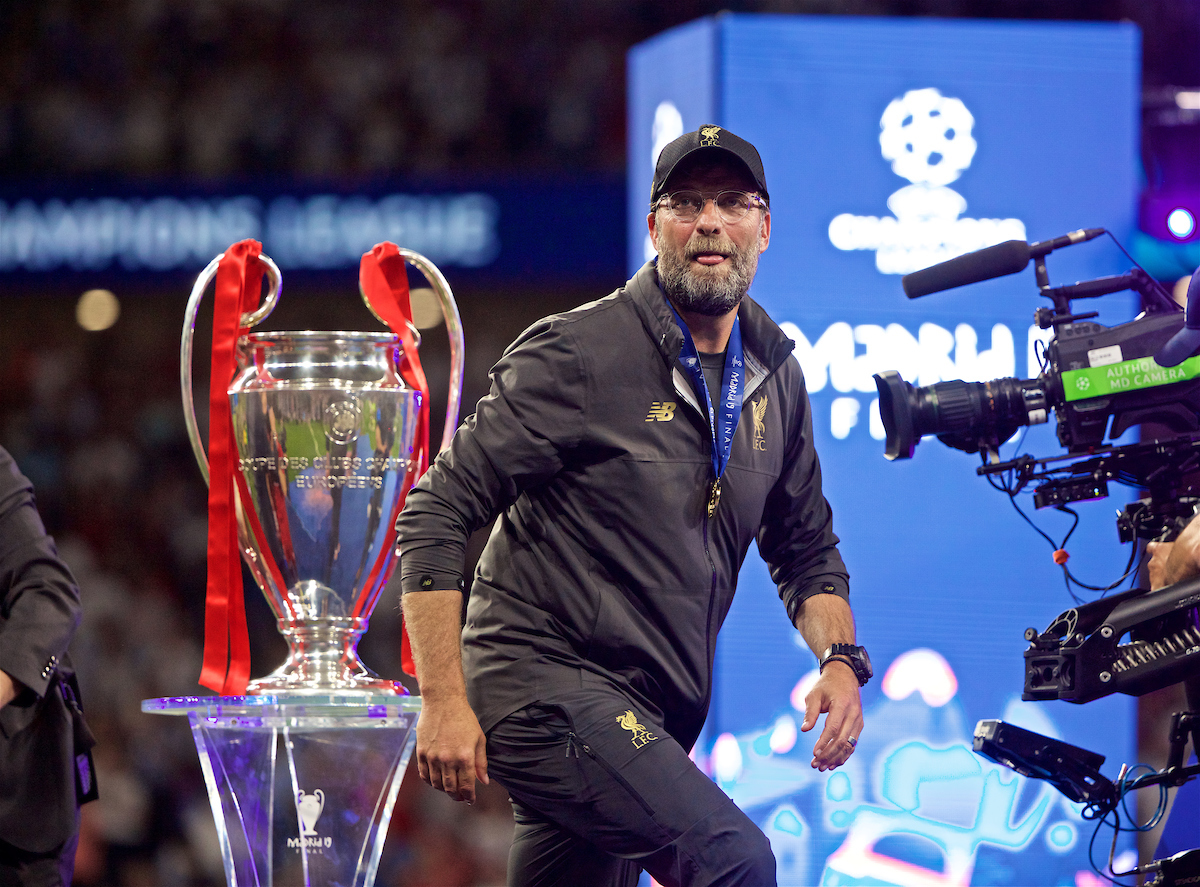 I don't often engage in the things that surround my day to day which I consider slightly bourgeois.
But mark my words, I will make a consented effort to get into Anfield's trophy room this summer and feel the sheer overwhelming sensation of being in the company of half a dozen giant pots.
You can be grounded by triumph at times. In this sense it can remind you of what you've endured to get that sweet sensation of winning.
But in this case, you become grounded by modesty. By realising that your Liverpool bubble, framed by your own insularism, is the European hub of performing arts, of football royalty.
Are you not having fun?
The reason I ask is because I'm not actually thinking of now. I'm thinking of the question in its source.
Jürgen Klopp asked the question to Mauricio Sarri in the melee of being a goal down at Stamford Bridge in October's league encounter in which the game finished 1-1.
In many ways, it is my moment of the season. It is Klopp to his core. His infectious humanism has been a mirrorball which has bounced around all of us.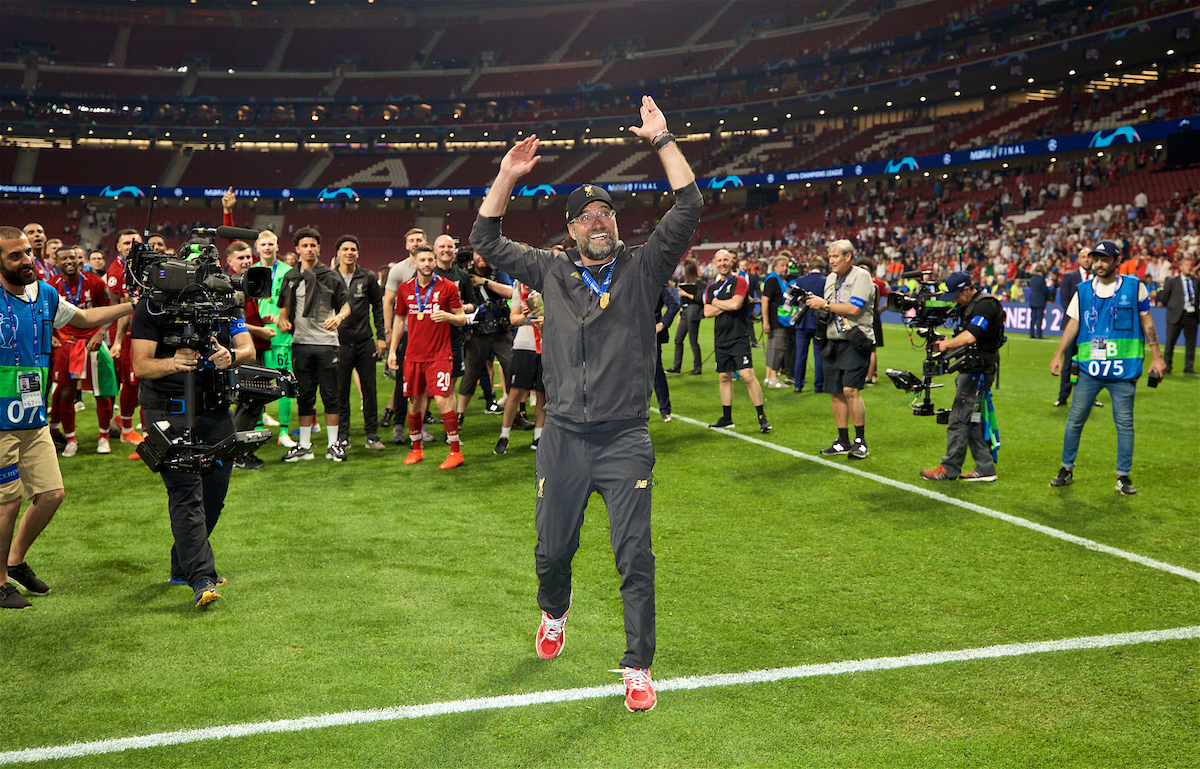 He reminds me and you on a regular basis that you should be having a good time doing this.
That he will politely disagree with one of the most notorious Shanklyism's that football is more important than life and death.
His mantra remains that football is about people and experiences. It is about opening your eyes to the world and its beauty in front of you.
It is about seeing people grow. To know that at some point there will be an end, but you will look each other in the eye and by god you will know you have savoured every second with each other.
That is why what should be a culmination of a post-2012 famine in Madrid only feels like the warmup act.
It's because we are grounded by the honesty we see in front of us by the 11 in red.
Liverpool's sixth was ours. I told as many people I could hug and love in that stadium.
Ours is not defined by age or generation, however. Ours is purely all of us old, young, man, woman, local or global who've invested into this manager and this team.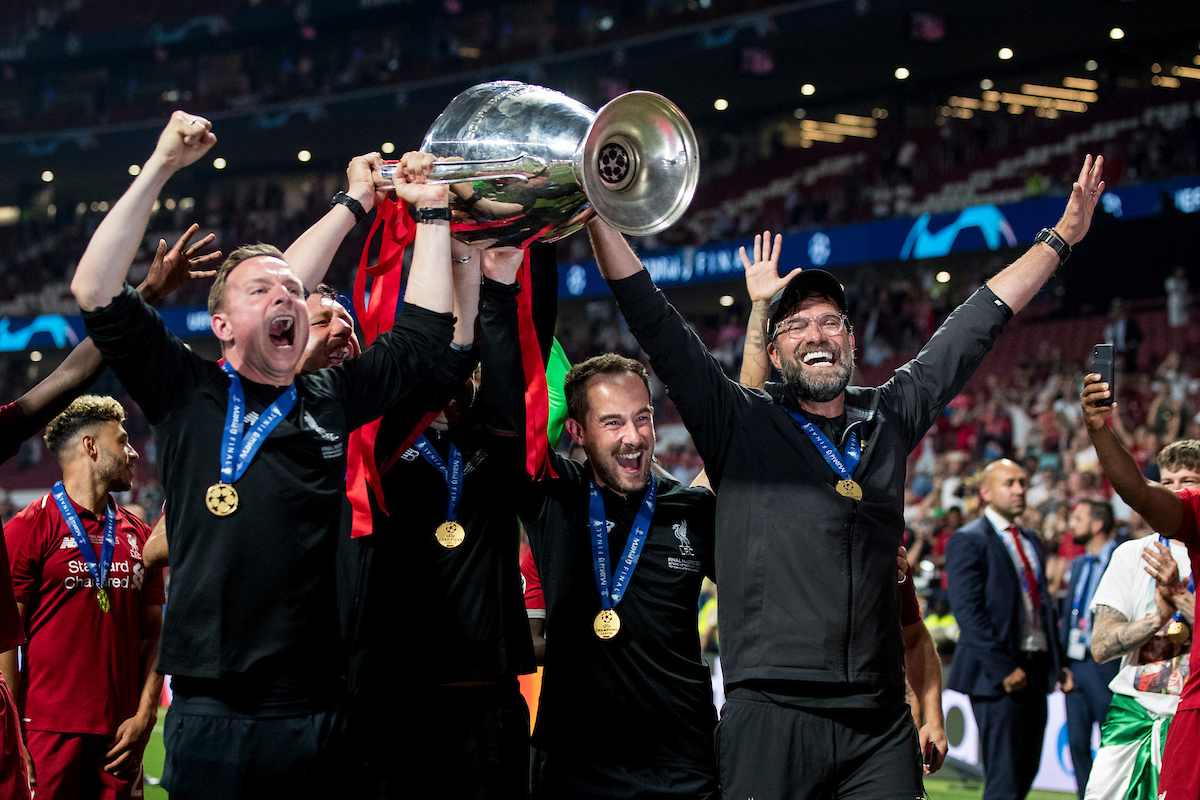 They deserved their turn. We very much deserve ours.
Are you not having fun?
If not, that is completely your own prerogative, and you will have your own valid reasons away from football as for why not.
But in all of our hardships, there are chinks of light. Reminders that things are possible if you see a way, if you remain honest and hard working, if you believe and erase doubt.
In the end, we all get a turn in some way. In our sheer divinity we have had more than most, which is enough to tell you that we may well never stop – in our lifetime, at least.
Fun? We're not just having fun, we're having the time of our lives.
"LIVERPOOL HAVE WON THE EUROPEAN CUP.

"These are the best moments of all of our lives." ❤️

🗣 Subscribe for all of our reaction as The Reds are crowed European Champions for the SIXTH time 👉 https://t.co/XZAK9veWt7 pic.twitter.com/le8ythbzm8

— The Anfield Wrap (@TheAnfieldWrap) June 1, 2019
Recent Posts:
[rpfc_recent_posts_from_category meta="true"]
Pics: David Rawcliffe-Propaganda Photo
Like The Anfield Wrap on Facebook