IT'S easy to just think of ourselves, isn't it?
To think about how many years we've been doing this, how many times we've had these months or these trips.
Even knowing we've done it so many times before I'm all over the place with it. There's talk if Liverpool lose this one that my mates and I might pack it all in and open artisan businesses in different locations around the world, possibly never seeing each other again.
Like John Lennon and Paul McCartney jacking it all in then reconnecting years later talking by phone about their new mutual interest in baking bread.
But imagine for a second being one of the lads actually playing. The ones literally tasked with winning a game of football that changes lives. Theirs and ours.
I don't think there's much doubt it has the potential to change their lives more than ours, though. I've won a European Cup before, as have many of you.
But Jordan Henderson hasn't. Nor has Mo Salah or James Milner.
And for them time is always running out. If I live until I'm 70 I've got over 30 more years of this, of a chance of watching us win another shiny thing. I could see another five European finals in that time, or more.
This could be Milner's last chance, as it could be for any of them.
Football is a short career and even the greatest teams only get to a limited number of finals. This is only the ninth in the history of our great club, and one of the others came last season.
Before Jürgen Klopp it was seven European Cup finals since Liverpool could first enter the competition in 1956. Pep Guardiola hasn't won this prize since leaving behind Lionel Messi in 2012, despite being heralded as the greatest manager of a generation and leading two of the richest clubs in the world in that time.
We can comfort ourselves in some ways that this is one of the things in our lives that is almost completely out of our control.
For those of us lucky enough to be in the ground we can sing and shout and scream support, and for the rest we can channel our energy and hope to manifest a trophy, like millions of little Uri Gellers all around the world, but we can't directly affect anything.
Not like they can. Not like the lads in the shirts on the pitch.
Imagine how that feels. That pressure. That responsibility.
The chance of becoming an icon set against the risk of being an also-ran. Again.
Just ask Vladimir Smicer or John Arne Riise how it can change your life winning a Champions League for this club and they'll tell you all about it.
The current crop must be aware of those stories, of the chance to become legends. They must have moments allowing themselves to dream of what that would be like.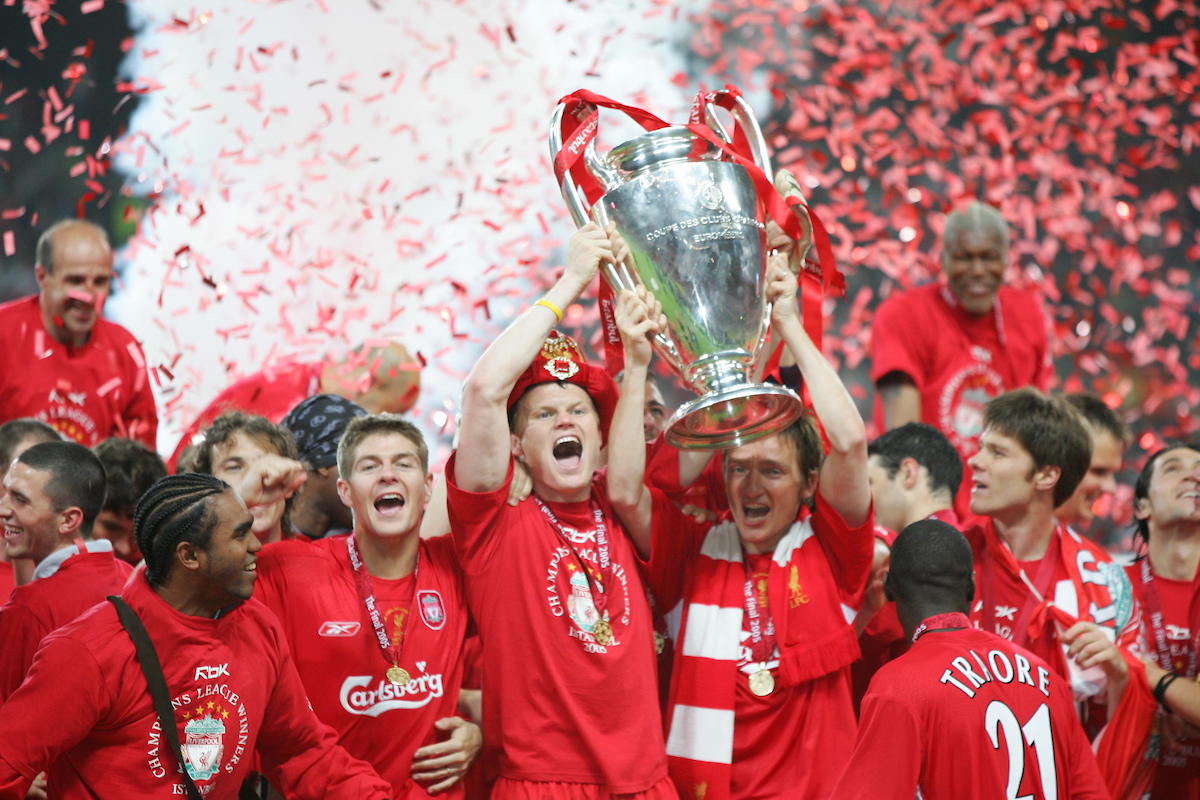 Maybe none more so than our often maligned captain.
I make no secret of the fact I'm a Jordan Henderson supporter, always have been. It still baffles me how such a good player, captain and human could be treated so negatively by sections of his own supporters over the years.
No one was ever going to be Steven Gerrard, but I've never been able to comprehend how many people have such a low opinion of our Mackem leader.
This for him could be a sliding doors moment in his whole Liverpool career. Since the position switch that he prompted via a knock on the manager's door a few weeks ago, he's started to convince some of the doubters.
If he can end the past few weeks by performing as he has been and lifting the club's sixth European Cup, he could go on to lead Liverpool into a new era of domination and be remembered as a truly great captain.
Perhaps finally shaking off the "not good enough" tag that many have labelled him with.
But lose and there's a good argument that changes are needed for us to dispose of this runner-up curse that has hit us in recent times, and handing the captaincy over to Virgil van Dijk could be one of the most logical moves to make. Not unlike when Sami Hyypia was asked to hand it to Gerrard for the overall boost to the club that could be gained.
Neil Atkinson went as far as suggesting in our fascinating TAW Player Preview show (out soon…) for the final that there's an argument Henderson should be sold if Liverpool lose, he'll be that badly damaged by it all. I can't imagine Klopp ever going that far with such an influential member of the squad, but I know where Neil is coming from.
In some parallel universe somewhere, Henderson has won every trophy there is to win with Liverpool, including two league titles. In that land he's already heralded as one of the most successful captains we've ever had, with Europa and Champions League medals adorning his display case at home alongside an FA Cup and those league championships.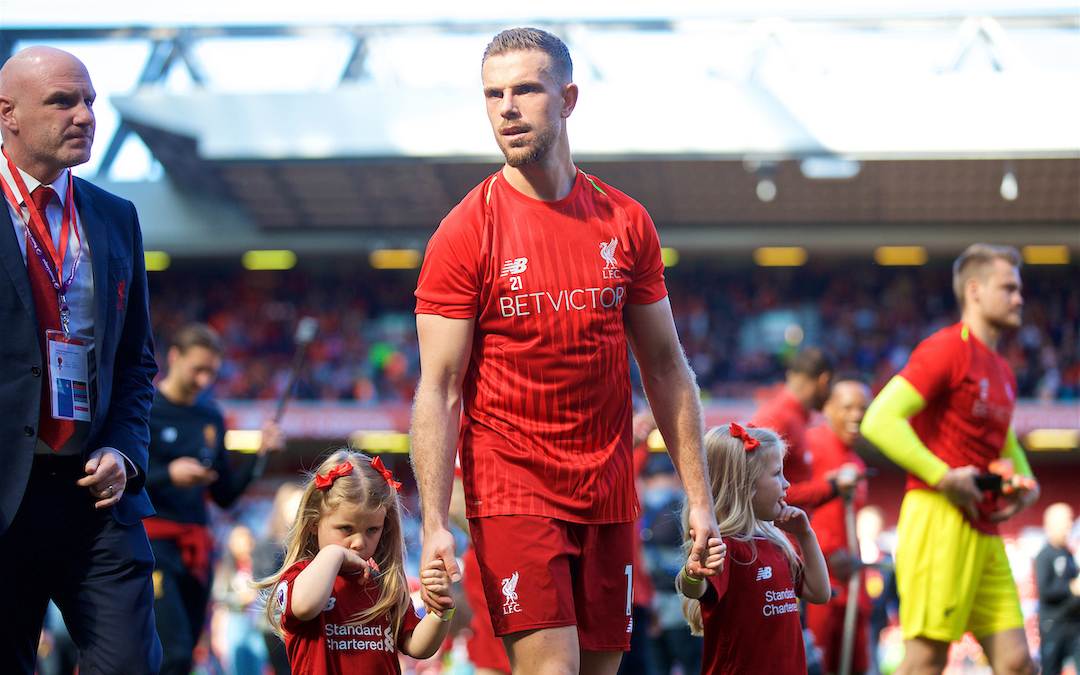 But, in this world, he's left with one League Cup winners medal and a box full of runner-up prizes no doubt gathering dust in a loft or garage somewhere around his house.
He needs to win this one. For his own good, for his career and for all of us, he needs a big victory on his record. For all my talk of positivity and getting up from the dirt after defeats, sooner or later we all need a win to keep us in the game.
For the first time I can remember, though, this feels like a group of players which can just get a job done when it needs to. A group unified in its purpose, even those who have hardly appeared on the pitch all season.
The noises coming from the club in recent weeks, and the photos of the players in training, suggest that the likes of Simon Mignolet feel as though they're very much a part of this journey.
There's a story I love that springs to mind about someone going to the headquarters of NASA to cover the Apollo 11 mission and asking a janitor what his job was.
"I'm helping to put a man on the moon," was his profound reply.
Not sweeping the corridors, not cleaning the toilets. Helping to put a man on the moon.
It feels as though Mignolet and the other bit-part players all believe they're helping to put men on the moon. Helping to launch a club back to the stratosphere.
They want it, I am sure of that. They may even want it more than us. Their whole lives might depend on the outcome of this match. Whereas ours might feel like they do, hopefully none of us will lose our jobs because of the outcome or be forced to move our families to another city or country.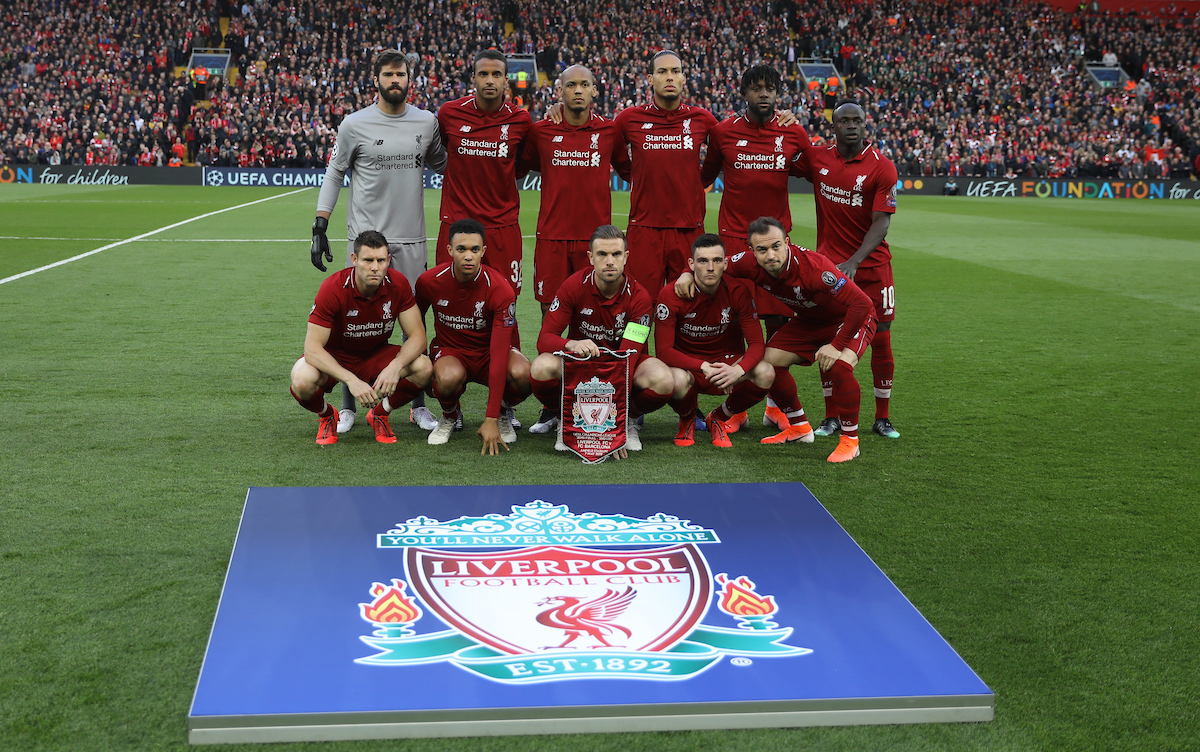 It feels to me as though these lads will all be looking each other in the eye in Marbella and reminding themselves that they can't afford another glorious failure.
That this time they have no choice but to bring the trophy home for a parade. To write themselves into the legend of the club and etch each other into the many iconic images of European glory that adorn our walls and social media accounts.
Maybe for the first time ever I'll be thinking of them over the next couple of weeks more than I'm thinking of us. I'll be hoping Jordan sleeps well and can visualise himself lifting that huge trophy. That Mo can already feel the moment when he calmly slots past Hugo Lloris and Sadio Mane is certain of the back-post header he'll be burying in the 36th minute.
I hope Virgil van Dijk is oozing the cool charisma he's become so famous for and that his calm certainty is spreading through the training camp while our man mountain of a goalkeeper is assuring everyone he's got them covered if any mistakes are made in the rearguard.
I pray that the lads are hearing talk that their name is already on the trophy and are reminding themselves of last season when they might have thought the same, before Real Madrid and Sergio Ramos reminded them that there isn't usually room for sentiment in football and that, more often than not, the superior team comes out on top.
I'll be thinking of our lads this time. I'll be hoping they look back on the next two weeks as two of the best of their lives.
Maybe more than ever before, I think these players deserve it.
"To get 97 points and reach another Champions League final after what happened in Kiev, Liverpool have done so, so well." 👏

🗣 Listen to this week's FREE Anfield Wrap show, looking at The Reds' road to Madrid, here 👉 https://t.co/4PHZDcYGAe pic.twitter.com/ZVMZE2AT5E

— The Anfield Wrap (@TheAnfieldWrap) May 20, 2019
Recent Posts:
[rpfc_recent_posts_from_category meta="true"]
Pics: David Rawcliffe-Propaganda Photo
Like The Anfield Wrap on Facebook