MAYBE there are lessons.
Maybe we will be forever young.
Maybe, the hope for the future lies in the eyes of our youth.
Effervescence: in Anfield on Tuesday night while nursing a frenetic three-goal advantage against a body which claims to be more than a club, I was grounded by youth.
I've shared my European journey with two young flag bearers in The Kop. We are on acknowledgment terms; we look out for each other before the game and after.
"Alright, lad."
"See you later, lad."
Nothing else needed other than a hand slap and the odd word of versed wisdom I forget I possess when being in the company of late teen Reds doing the things that have already passed my door.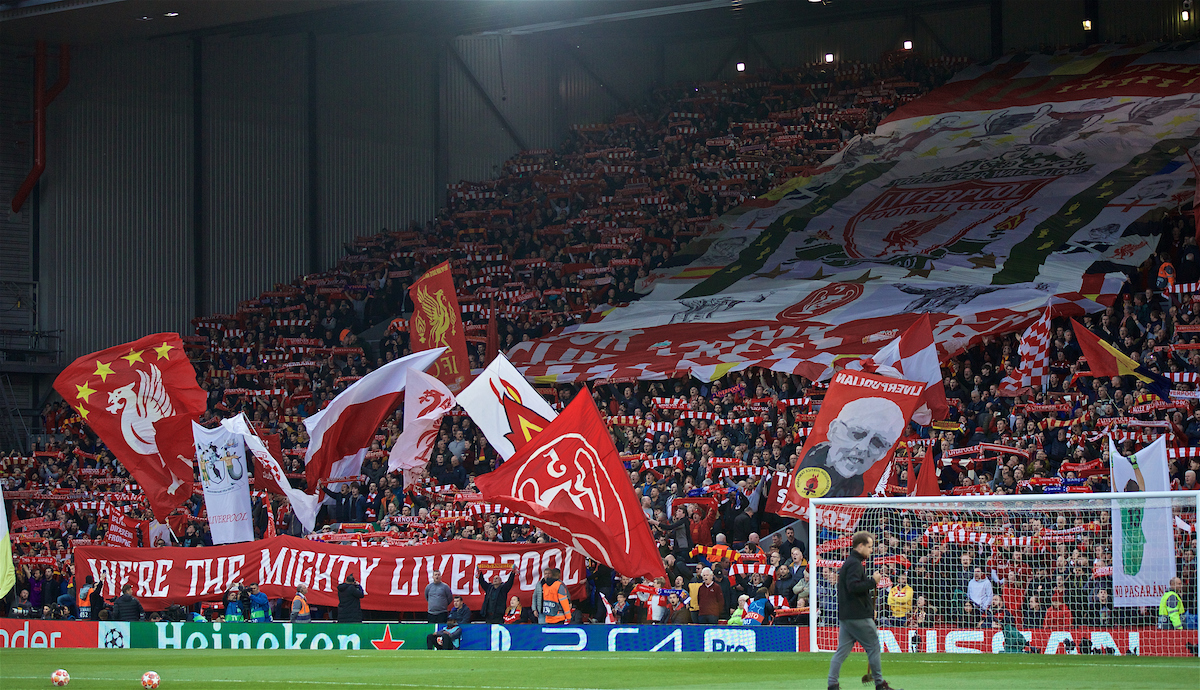 Things changed Tuesday. Emotion poured in and out of everyone in the place. The concrete underbelly of one of the world's most iconic stands rumbled to its foundation and knew that it was happening again up there.
And yet somehow I knew my role and knew where my head was. This wasn't where I've lost it this season. Jordan Henderson's goal at Southampton and Alisson's save against Napoli have felt much more adept to my psyche.
Tuesday I was grounded, and as a result I was guarding. Telling the young lads this only goes our way, to look at those in yellow who cannot even look at each other because they don't truly believe, not like this place believes. Telling them there is nowhere else in the world where this happens.
It happened. And still, maybe there are lessons?
I had only one job left, to see my lads and tell them that we've always got tonight and to thank them for doing this with me, for their fearless emotion.
For deep down, despite my efforts of wisdom and reassurance, they were braver than I'll ever be.
I don't remember looking to the pitch after the final whistle for the most part. But when I did, I saw the burning manifestation of youth shining bright in another form.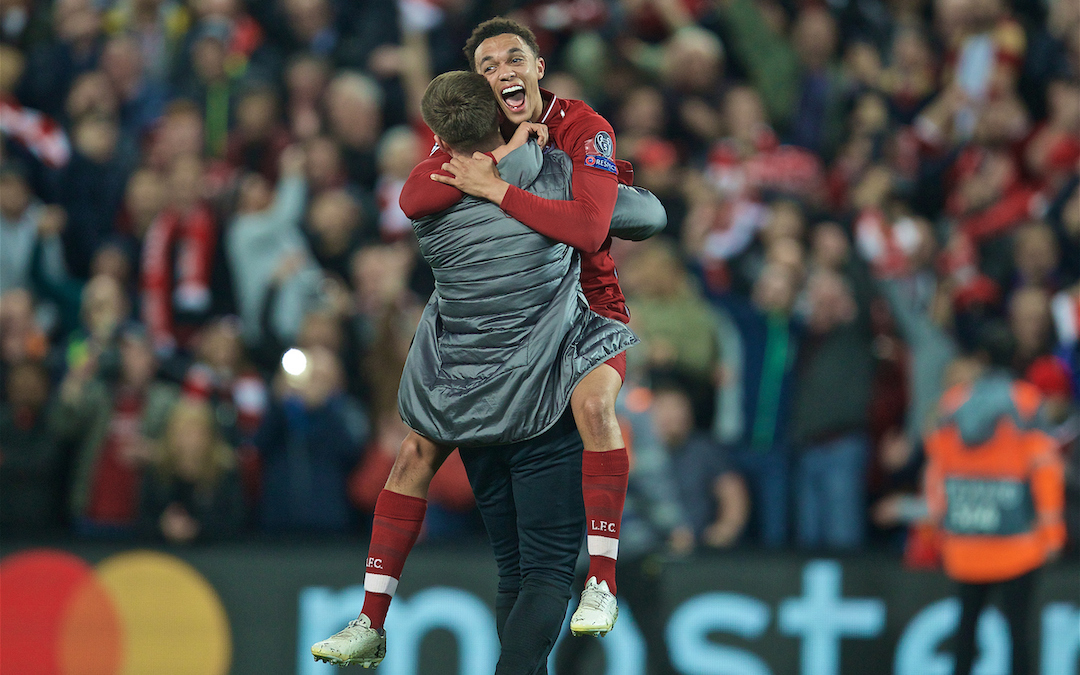 There is a parallel when you look at the journey of Trent Alexander-Arnold. Not yet 21 years of age, yet off to his second Champions League final and a pivotal ingredient to a 94-point football team.
He was everything on Tuesday; he emitted nous and imagination beyond the likes of Lionel Messi and Gerard Pique at times.
If Liverpool are to beat Tottenham in the final in Madrid in a couple of weeks, then the experience of last season may well play a big factor.
It is, therefore, wonderfully ironic they have a lad at right back who emits experience from arguably being the club's best player in last year's final and as yet still can't be served alcohol in America.
Trent's story remains one which mirrors that of his manager. He is in many ways the representation of his manager's vision, an example of the adversity he overcame from a contamination of doubt that had tainted the waters of the river Mersey long before his arrival.
January 15, 2017: Trent is thrust into the limelight of Old Trafford for what is the biggest club game on the planet, it is also his Liverpool debut.
His name had been mooted. He had appeared in pre season for Brendan Rodgers in his last summer as Liverpool coach. Yet here he was, looking every inch his 18-year-old self, charged with United, charged with endless attack, charged with being a Liverpool full back in a Klopp team.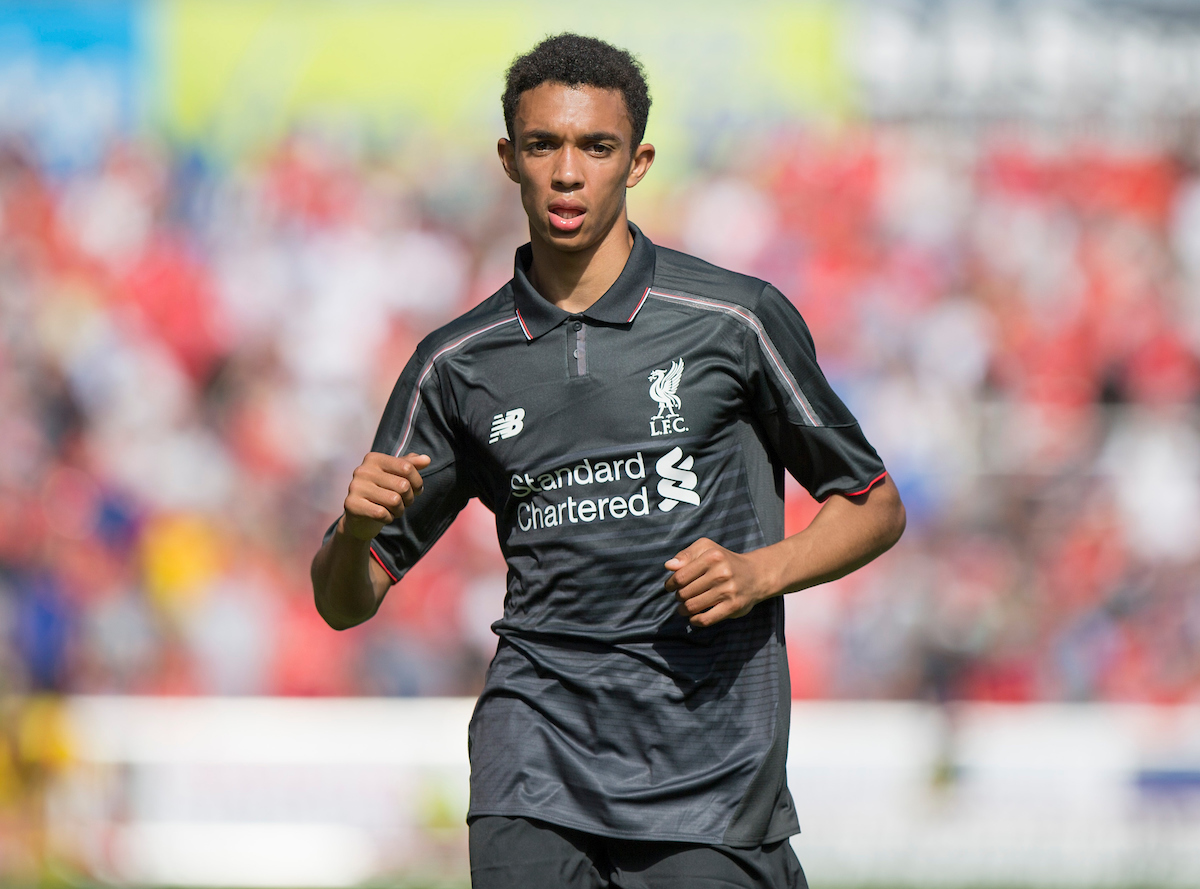 It became clear to us that Klopp wasn't asking for a one off from the young scouser. It was quickly apparent he seeks such thrills for his human experiments as well as football coaching.
He had seen something in the player and person that told him he would be more than enough for where he wanted Liverpool to be.
I wrote about it at the time, I called his approach and vision organic. It was met with objection from many corners. None more so than a former Liverpool player who tweeted me to say the approach better work as we'd won fuck all for too long and it didn't show signs of changing soon.
And yet, maybe there are lessons?
Nathaniel Clyne was still seen as the answer. Extravagant expenditure was still the pledge. The perception among many at the time was that this had to be now, it had to be yesterday.
Klopp looked forward and saw Trent as one of many of his projects to see blossom with time. In many ways, the manager and what he always told us about patience, attitude and mentality was present in the development of his young right back.
Klopp's trust is one thing. However, his certainty is on another scale completely at times. He invests in the collective and believes that if the attitude is right, the rest will come.
Before Tuesday night's game, he told his players it was possible because it was them. And among them sat his number 66 who had lived this before, who knew how to look after himself against the best about.
Trent capped his night with the innovation and speed of thought to set up Liverpool's winning goal. He stood and watched as thousands of people who have endured marriage, childbirth, personal loss and the general weathering of life adore his sense of maturity.
And somewhere in the ether of the madness and ecstasy at full time on Tuesday, there were the words of the Liverpool manager ringing out. That if we believe and we stick together, we can achieve anything.
Maybe the lesson is that youth really is a state of mind. Maybe we are better off surrounding ourselves with the things which make us exude what it is to be young and alive.
And maybe, just maybe, it's the youth within ourselves and those around us which will hold us up and tell us that this will all be OK, and that experiences such as Tuesday will mean we are all eternal in a moment of pure ecstasy.
That we will never grow so old again.
"There were people queuing up to say how it was better than St Etienne and Chelsea.

"It's the best night Liverpool have ever had at Anfield." ✊

🗣 Subscribe to #TAWPlayer for all of our reaction as The Reds reach ANOTHER European Cup final 👉 https://t.co/XZAK9veWt7 pic.twitter.com/29g3AhUBBg

— The Anfield Wrap (@TheAnfieldWrap) May 9, 2019
Recent Posts:
[rpfc_recent_posts_from_category meta="true"]
Pics: David Rawcliffe-Propaganda Photo
Like The Anfield Wrap on Facebook