THIRTY-SEVEN down. One to go.
Liverpool go and win at bottom half Newcastle. They show their class over the course of the 90 minutes and…
…As if you can talk about this being cut and dried. As if this is cool. As if this should become something which is never about how it feels. It feels like everything. All there is is feeling. All there is is being alive.
Tonight I saw all my friends strung out. I saw Emilia Bona rock back and forth while it was 2-2. I saw Ben Johnson with his back to me, on his knees at 2-2 shuddering. Stu Wright sitting on the floor blankly while Mo Salah was injured. Paul Cope in bits. Steve Graves cry for the first time since 2014.
When the final whistle went I sank to my knees, my sobs heavy. Liverpool still alive, Liverpool giving it one more go. I was and have been prepared to bleed, but maybe not quite that much.
It's no wonder Trent Alexander-Arnold kicks it out of play at times.
Someone made you fall in love with this mad game, these mad men in Red. Someone gave you bad advice, one thing lead to another and years later you are watching Liverpool playing Newcastle United at St. James' Park in the penultimate game in the closest Liverpool have come to the league title in a generation, and Newcastle equalise making it 2-2 and you and everyone you know is done.
Thirty-seven down. One to go.
The game starts brightly despite the weather. A Virgil van Dijk classic header in the 14th minute feels like a smash and grab. A set piece that will allow Liverpool to control the game. A headstart that will allow the players some breathing space before the biggest week of their footballing lives. Breathing space for us was all that was wanted.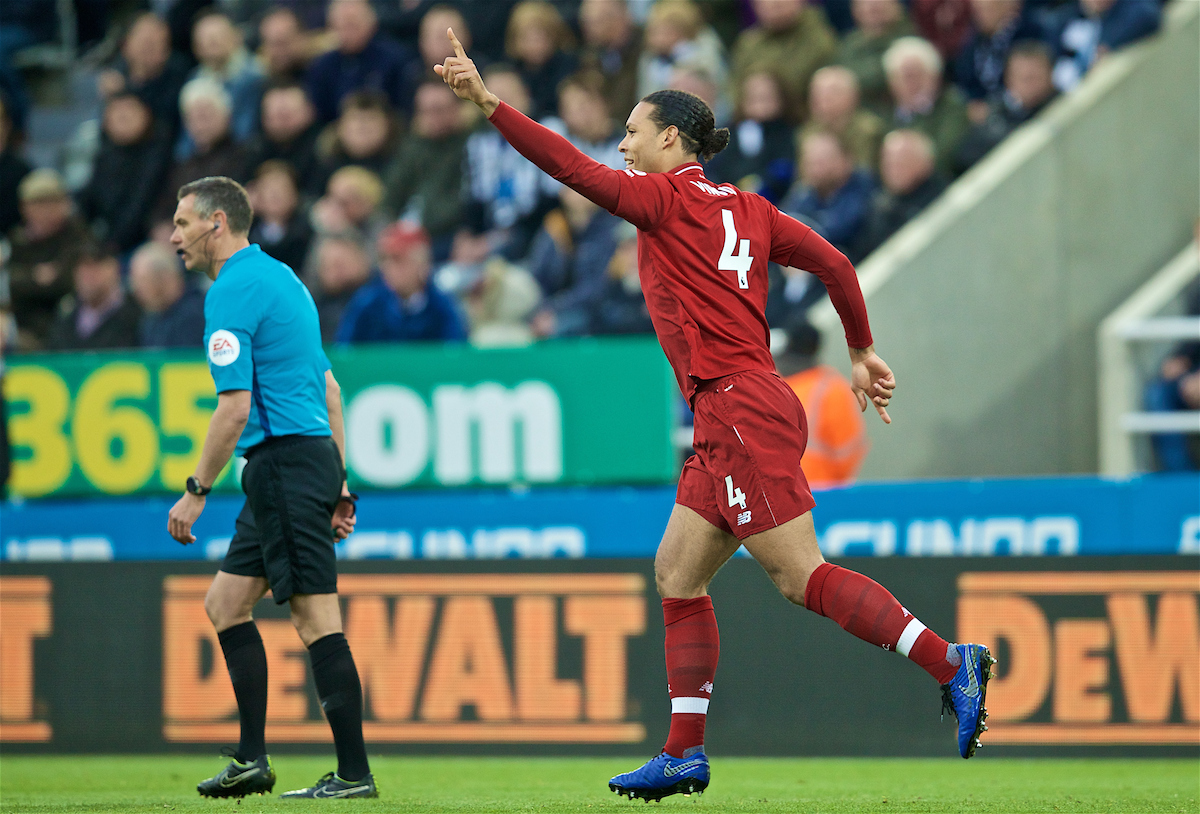 Liverpool are not blameless when it comes to the first equaliser. A scramble in the box allows Newcastle's Atsu in. Still, we've had shaky moments before. We've had plenty of dodgy 10 minutes before, and so it appears in the first half of this game as a cool Salah goal 15 minutes later restores the lead and calms heads.
At this point, Newcastle are supposed to give in. They are supposed to give in. But we all know, however much we love him, Rafa Benitez's Newcastle were never really going to give in. Not with the power and headwind provided by their fans, and frankly the skill and dignity of this Newcastle side.
Lascelles is a leader on the pitch and gets the ball in the correct places. Newcastle look fit and up for it, and Liverpool at times look tired. The Redmen are harried by the physical interventions of their opposition, and Fabinho and Wijnaldum can't really get control of the game.
Everything became unbelievably difficult. Salomon Rondon doesn't help, the unplayable bastard. He gives van Dijk a torrid time and leaves Lovren a mess. He is the essence of awkwardness, the definition of a difference maker. Thank Christ they didn't have Almiron tonight or Liverpool may have been torn asunder.
Liverpool's opener is a lovely goal; their second an excellent one. A backheel from Daniel Sturridge leads to Arnold's ball in, which leads to Mo Salah's delightful finish; Fowler-esque in its innovation.
Liverpool the better side throughout the first half should really find their way to a third and the same can be said for the first 15 of the second half. Chances are missed and defending is last ditch until Rondon scores a beautiful goal, so sweetly struck.
When he does so, what follows make you think that this side that was about to have scored its third will never score again. Hearts sink. Is this it? It that it? Done. And then, there is worse to come.
Mo Salah falls very badly after his head collides with Newcastle's goalkeeper Dubravka. He falls to the ground and reaches for his head. He barely moves. Our wonderful man, our clever, kind Mo is hurt badly, and it is more than anyone can take.
He is stretchered off and showing solidarity as ever, Rafa reaches out his hand to him as he is carried towards the tunnel, as if even now, Rafa understands how we all feel.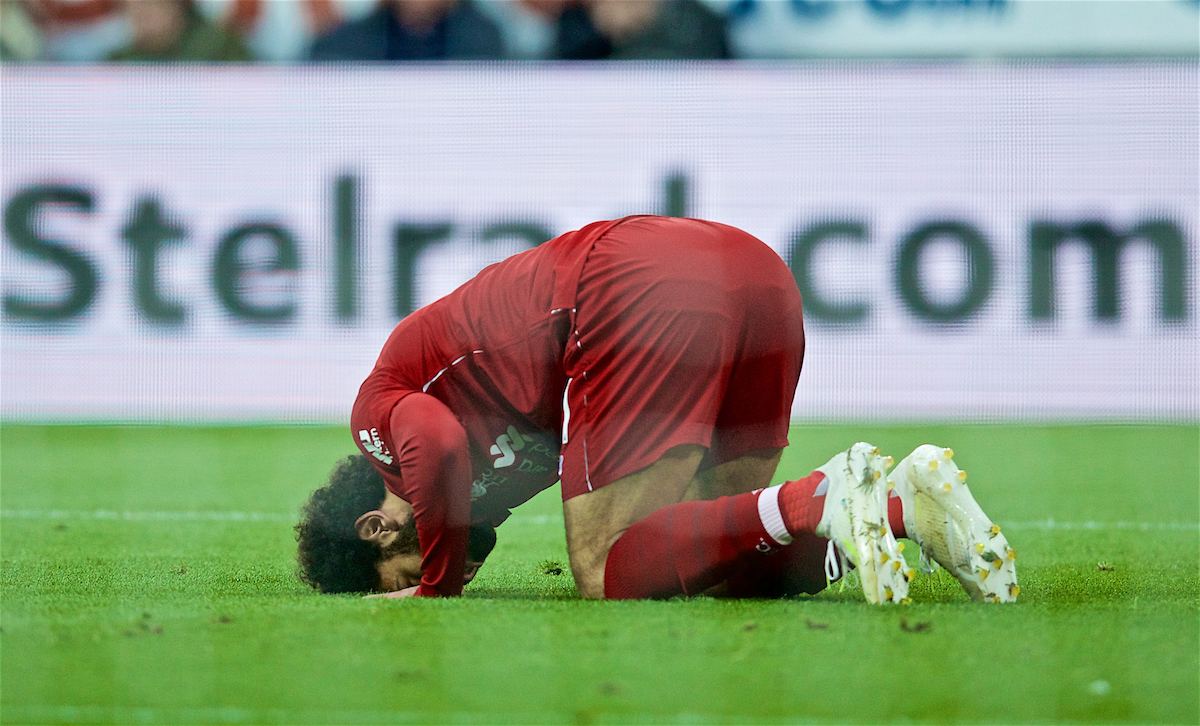 Liverpool are affected by that or the change of shape. Nothing is going to come until the very second it does; until the net bulges, until Divock Origi is there again. Divock is again fortunate, but he is again there to buy a ticket to win the lottery.
At this moment, and for the final 11 minutes as we struggle through eight justified but long minutes of stoppage time, we are watching stories flash before our eyes. We are thinking of all the other 3-3 draws we have ever known. Liverpool have been known to draw games at St. James' Park before.
We are thinking about the words "bitter" and "sweet" and how fucked up and wrong it is that a team as good as this Liverpool side doesn't just get all the medals now. We are wondering how long we have to go through this for. We are wondering why there is so much pain in what is supposed to be a fucking leisure activity.
Until the final whistle. Until that final blessed relief comes. And you want to run to that person who made you love The Reds and grab them by the shoulders and tell them perhaps it isn't all mad and painful after all. Perhaps it does mean something, perhaps there is some point to it all.
Perhaps this love is actually for something. Perhaps it is about the beauty, not just of the glorious gliding cross-field pass, or the power of a undefendable strike, but also of the beauty of these men, fighting for each other, wanting to be with each other, and to win this thing together. That love.
Thirty-seven down. Two to go.
Liverpool win and one more hurdle has been cleared, one more during this remarkable season. They now have 94 points, only beaten the once by the only side that can finish ahead of them. This is a remarkable performance which defines consistency but more than that it defines want.
Liverpool are where they are because they can be, but also because they want it more than anything imaginable. They crave it. Their manager has done an astonishing job of placing that need in them but without overwhelming them by the task.
Two to go. Two to go because there is Monday night, there is that moment when another side becomes something we can so directly get behind. Two to go for these Reds because there are two more things that need to happen and Leicester can make it happen.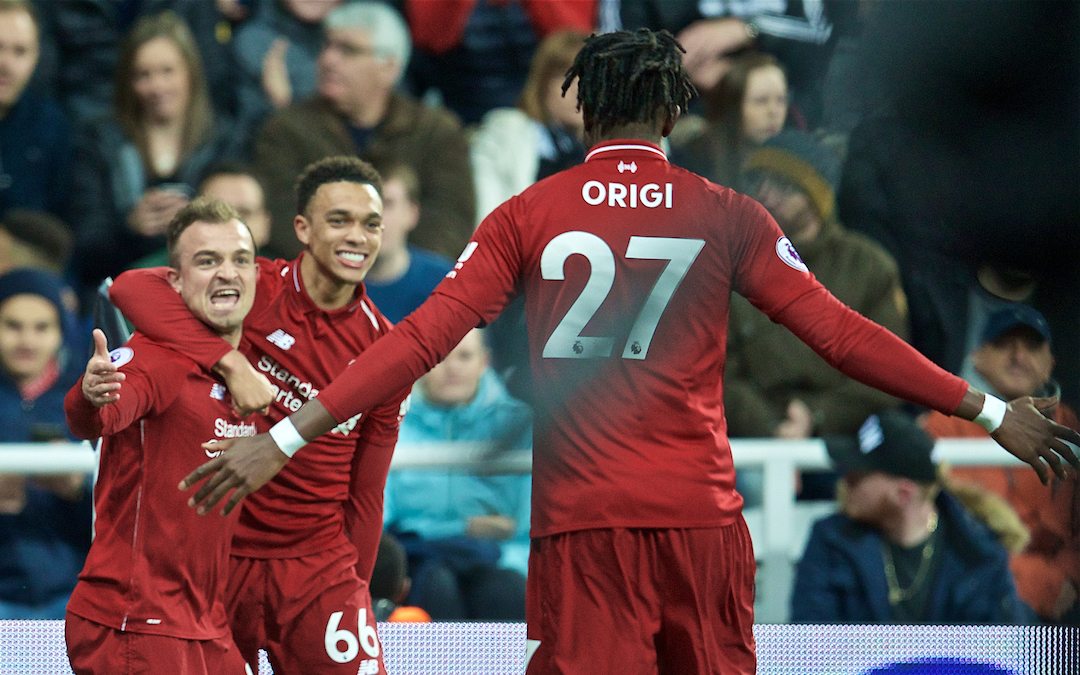 Thirty-seven down. Three to go.
Three to go because we get to acclaim our magnificent men on Tuesday night. We get to adore them at Anfield when they face a great side. We get to roar at everyone. We get to live. You'll be glad of the summer. You'll be glad of the July 4 when everything works as it should, when your heart isn't pounding and your knees aren't buckling.
But it won't be living. Liverpool have shown you living. And there will be more of it on Tuesday. Let's roar our defiance; let's articulate the joy it is to be alive.
Thirty-seven down. Four to go?
It's unlikely but why not? Why can't this season have an encore? Why can't Tuesday night lead to Madrid still? Honestly, lord, the idea of only watching them twice more hurts as much as anything else. These are the best of us. The best of themselves.
They are just a football team, trying to play the best season of their lives. Nothing purer. Nothing sweeter. They'll do for me.
Thirty-seven down. One to go. Let it break you. Let it leave little meaning and too much emotion. Let it all be about what it feels like. Our lives can be mundane, our football team is anything but.
This is what it is to be alive, my friends. This is what it is to be in love.
Thirty-seven down. One to go.
"It shouldn't feel like this. I shouldn't be crying on a pub floor. This has to mean something." 🏆

🗣 Subscribe and listen to our immediate post-match reaction show after Newcastle 2 Liverpool 3 👉 https://t.co/XZAK9veWt7 pic.twitter.com/8dDdiXmsdS

— The Anfield Wrap (@TheAnfieldWrap) May 4, 2019
Recent Posts:
[rpfc_recent_posts_from_category meta="true"]
Pics: David Rawcliffe-Propaganda Photo
Like The Anfield Wrap on Facebook