WELL, what a strange week that was.
First of all, I do want to say a sincere congratulations to Manchester City. What an incredible effort to stay ahead of the relentless Red machine until the end. If I had a hat, I would take it off to Pep Guardiola and his players.
However valid the concerns are about how they came to join the top table in English football, they have a phenomenally talented squad and an absolute top of the range manager who has nothing but my utmost admiration.
In fact, it was actually reading Marti Perarnau's superb book on Guardiola, Pep Confidential, that inspired me to write one on Jürgen Klopp (Kloppite, available in some good bookshops).
Anyway, utterly shameless book plugs aside, back to how strange last week was.
Divock Origi's late winner at Newcastle, Vincent Kompany's improbable thronker against Leicester, Liverpool's dramatic success over Barcelona, Tottenham's comeback against Ajax, then Kepa Arrizabalaga saving a penalty by basically sitting on the ball like a mother bird. Last week, the rule seemed to be that if something was unlikely, it happened.
Just to round off the week of weird, Friday saw me handed an opportunity to be my own Origi, my own Kompany, my own Trent Alexander-Arnold and ballboy, my own Lucas Mou… you get the picture.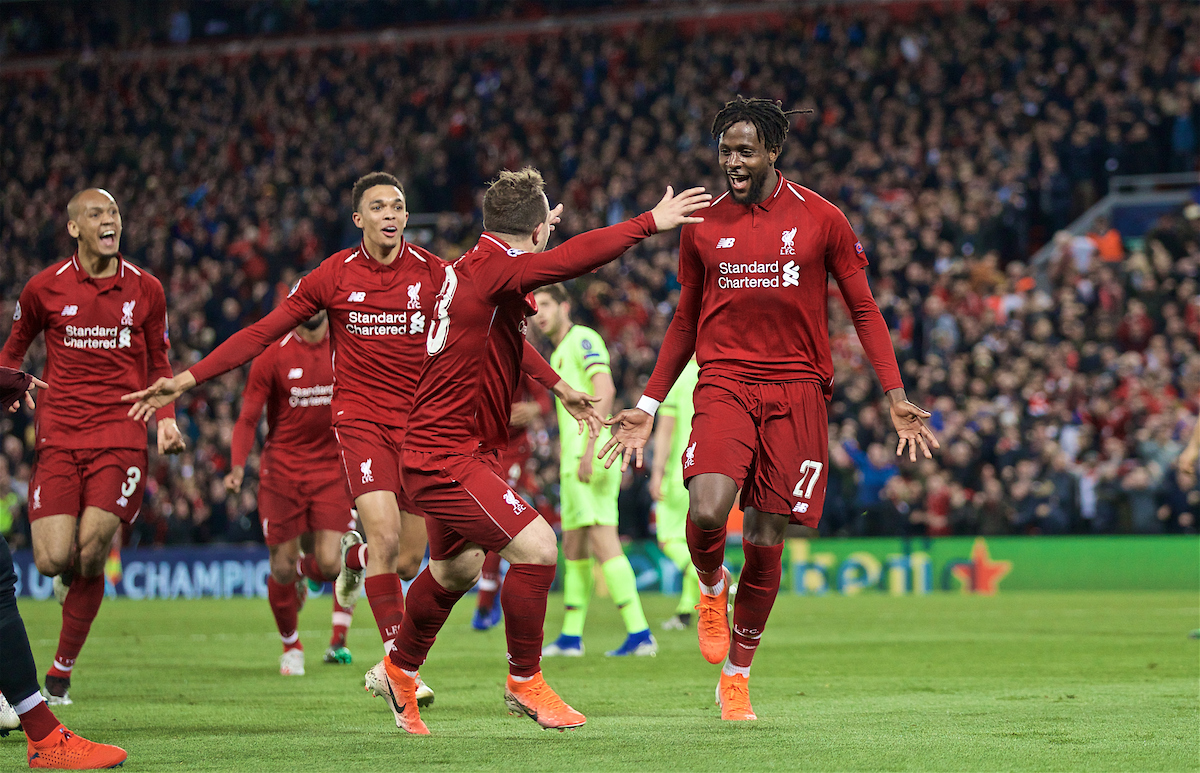 Not in a footballing sense, because I'm shite, but in a life sense. I'd just finished work, possibly the last time I'd be in work before Liverpool won the league. I had a spring in my step and whistled a jaunty tune, until I saw my train was delayed by three minutes and I started cursing out all and sundry under my breath.
As I waited semi patiently for the train doors to open, my gaze was struck by a woman stood next to me on the platform. It was one of those moments where you question whether you have been alerted to them purely out of attraction, or if it's because you know them from somewhere.
Normally I would do what any self-respecting person on public transport (or soon to be on public transport) does and avoid eye contact forevermore, and certainly avoid the horrors of communication of any form. But Friday felt different. That whole week felt different. Anything was possible because impossible things were happening on the daily.
As I stood opposite her on a busy train trying to play it cool in a way I have seldom ever managed even around people I have no particular interest in, it hit me. Why I had noticed her as if she could have been an acquaintance from a previous life. She was an actor. Relief that I'd figured out the mystery of why the pretty woman seemed familiar, followed swiftly by concern that the intimidation levels were raised exponentially.
Brush that aside at the end of the magic week, though. If Gini Wijnaldum could harness the disappointment of not starting against Barcelona into coming on and ripping them apart in 10 minutes, I could use nerves and anxiety to talk to a pretty actor.
She didn't get off at the first stop, which felt like Gini making it 2-0. The crowd weren't yet going wild, but you just wait until that header. My ingenious plan to strike up conversation was to ask her what book she was reading and go from there, made better by the fact she did actually have a book, and it was about to be executed like a Xherdan Shaqiri cross.
However, disaster struck as she saw a free seat and took it, facing away from me as I gormlessly pictured Lionel Messi slamming in an away goal that I hadn't accounted for.
On top of all that, the book was being read and earphones were well and truly in. She had her away goal and was shutting up shop. My inability to sit in a nearby seat thanks to an injured knee was also hampering my chances. I was determined not to let my tie be over though. The spirit of Jordan Henderson would be needed here.
Various possible scenarios to turn things around were being concocted, but all were swept aside by the obvious issue that there is no way of getting the attention of someone on public transport who has their earphones in unless you are alerting them to a nearby fire or are a ticket inspector (which I momentarily considered pretending to be).
One last Hail Mary opportunity presented itself (I'm mixing my sport metaphors here). With one stop to go before mine, a seat close by with enough room for me to stretch out my gammy leg opened up. That would present me with one final chance to make eye contact and flash a smile. If a reciprocated smile came back, a chance would be created and I'd just stay on the train and live somewhere else for a bit.
My stop was coming up. I also forgot that I now needed to struggle back to my feet thanks to previously referenced leg in a way that was in no way dashing or heroic, more a way that would cause anyone who saw me making such a fuss to tut and whack me with their Evening Standard.
Here we go. Last chance. Ball played up to the big man, shot from distance, scream for a handball in the box that has clearly hit the defender on the face, anything. I walk past and glance over, and there she is… Head down checking her phone, earphones still in and no chance of acknowledging my existence at all. Off the train I get. Out of my life she speeds.
I suppose the miracle stories of last week had to end sometime.
It was my own fault, of course. Barriers were put in my way and I'd failed to overcome them. That was the inspiration to take from last week. Overcoming adversity. Unfortunately, I didn't have a quick-thinking ballboy to help (not sure how him throwing a football to me would have helped in this scenario though).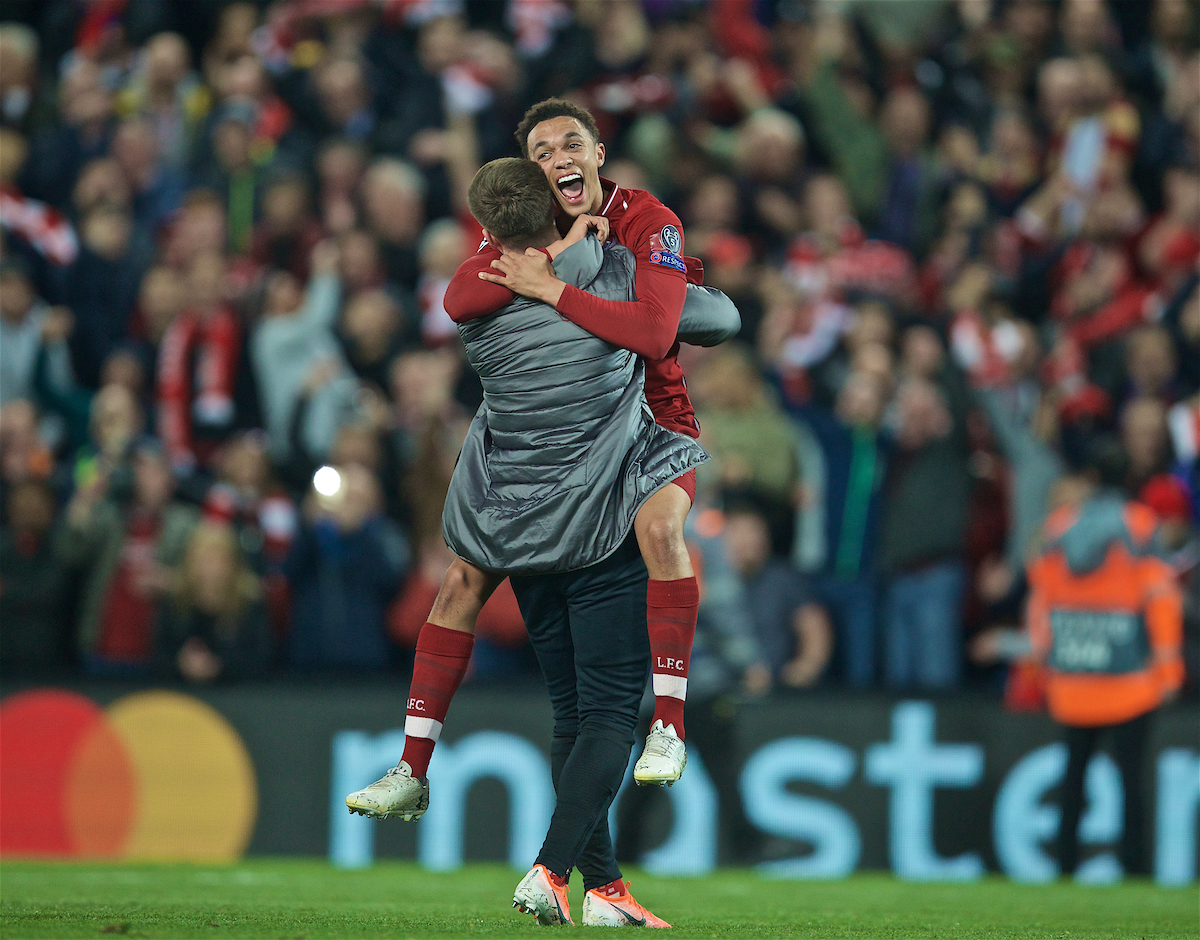 However, on a certain level, the experience prepared me perfectly for Sunday. For most of this campaign I have bought into the idea that Liverpool were meant to win this league title. How could all of the things that we've been through this season not lead to ultimate glory? Who ever heard of that movie?
And yet, not all stories work out the way you think they will when they begin. City sweeping aside Brighton to clinch the title and deny The Reds, despite a 97-point haul and one defeat all season, was like Rocky IV ending with Ivan Drago winning on split decision. Yes, the significant favourite winning narrowly seems more than reasonable, but yet the journey happened the way it did, appearing to have purpose and meaning.
What would have been the point of Rocky's training montage if it didn't lead to victory? What was the point of Origi 90+6 if it didn't lead to the Premier League title? What was the point of the universe giving me one last mad thing in a mad week if I wasn't going to act on it?
I had made a promise to someone at work on Friday. If Brighton stopped City and Glenn Murray scored, I would get a tattoo of the great 35-year-old striker. After 27 minutes at the Amex Stadium on Sunday, I started doodling designs of Murray riding a Liverbird over a blue moon. After 28 minutes, I crumpled it up and threw it in the bin.
As the inevitable occurred on the south coast, potentially the greatest day of my life became just another Sunday. On the plus side, potential heart issues were not only avoided, but I watched the remainder of Liverpool's 2-0 win against Wolves with more serenity than I could remember watching a Reds game in a long time.
In fact, I have to thank the Wolves fans to a degree. It was only their lack of class and general weirdness that made me care about beating them again. Great set of lads. They'll be quite a force if they ever learn any songs that aren't about Liverpool and are about, y'know, Wolves.
Appropriately, helpfully and entirely coincidentally, following the last day of the Premier League season was the first day of Mental Health Awareness Week. I attended a session at work on building resilience first thing Monday morning. There was plenty of good advice and life tips, but the main one I took away was to accept that things not going the way you think they should are not "failures", but merely "setbacks".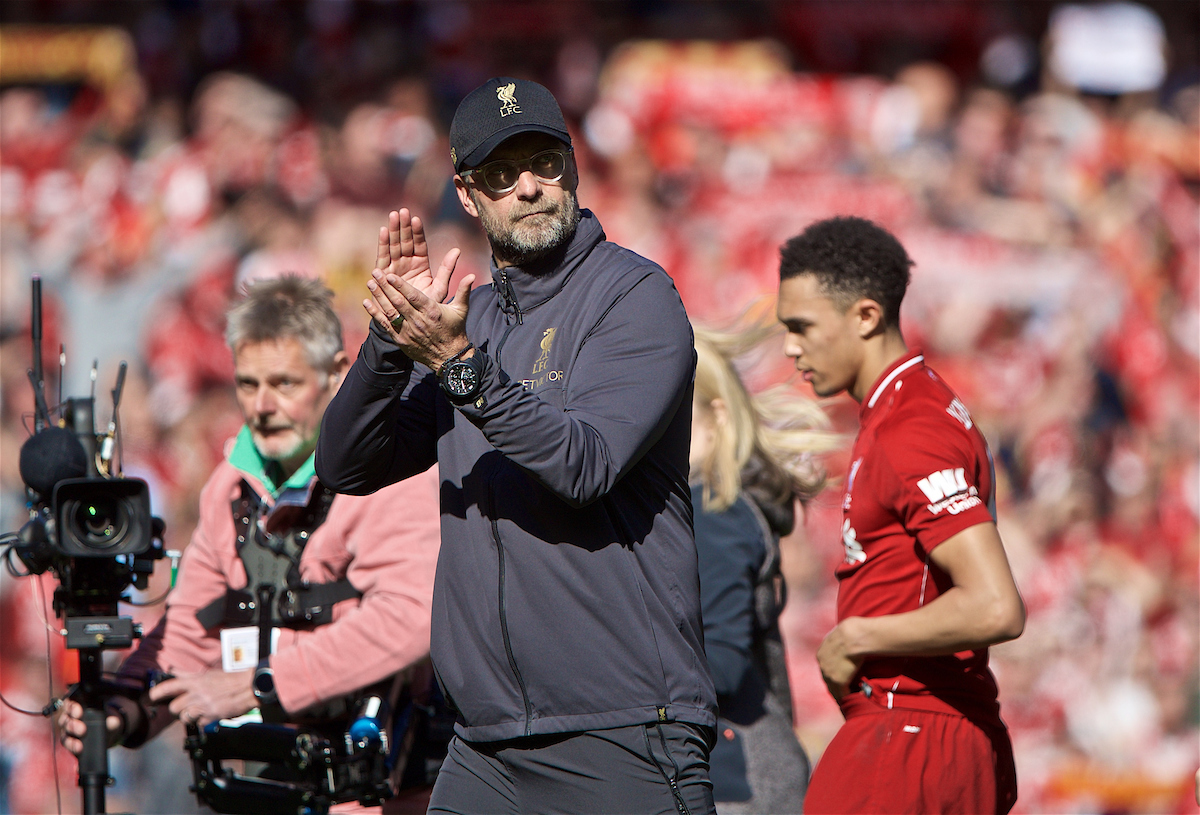 Thomas Edison once said: "I have not failed. I've just found 10,000 ways that won't work." First of all, that makes you wonder how rubbish the first 9,999 light bulbs must have been, but also, it's the sort of thinking that can stop you from dwelling on defeat.
It also sounds like the sort of approach that Jürgen Klopp seems to take. Never getting too down about falling short as he knows he can use the lessons learned in why that happened to try and ensure that it is better next time.
Of course, that becomes more difficult with a team that gets 97 points and generally wows the world with continued brilliance. A fault in this Liverpool side is more difficult to find than a magnanimous Manchester City fan.
In less than three weeks, The Reds have a fantastic opportunity at their first redemption story. Get that trophy under their belts, and the mindset of the entire club heading into the summer break will surely be that the same can be done in the league next season.
Immediately after the final whistle on Sunday, every interviewer seemed to want to ask anyone connected to Liverpool what their overriding emotion was. Most said "disappointment", before ultimately getting more upbeat and defiant as they spoke and remembered what they had achieved.
As someone who was on the floor in drunken tears after the 2007 Champions League final, couldn't talk to anyone for a week after the Chelsea defeat in 2014, and considered having a year off from football after defeat in Kyiv last season, it was a surprise to me that when the question was being asked of others, I immediately thought "pride". Maybe I didn't need that resilience training after all.
Still can't talk to a pretty woman on a train, though.
"We should be so proud of this team. Proud of their efforts, proud of the points total… and we've got a European Cup final to look forward to." 👏

🗣 Subscribe and listen to our immediate post-match reaction show after Liverpool's 2-0 win over Wolves 👉 https://t.co/XZAK9veWt7 pic.twitter.com/zGoaoDHA6M

— The Anfield Wrap (@TheAnfieldWrap) May 13, 2019
Recent Posts:
[rpfc_recent_posts_from_category meta="true"]
Pics: David Rawcliffe-Propaganda Photo
Like The Anfield Wrap on Facebook