MAY is anniversary month.
Last week saw the celebration of 'Istanbul Day' and Reds of a certain age took to social media to share clips of the Gerrard goal and Dudek's save.
A day later Arsenal fans celebrated "Michael Thomas" day while, on the same day, United supporters cast their minds back twenty years to the Nou Camp and their own improbable victory.
Of course, May 25 is a double anniversary as it also represents arguably the most important day of our history some 28 years prior to Istanbul.
The year 1977 may seem like the Dark Ages nowadays, but it shone bright if you were sentient at that time.
It was a great year to be an eight-year-old growing up in Liverpool. The Reds won the league by a point from Manchester City — those were the days — and only missed out on a league and cup double thanks to a jammy deflection off Jimmy Greenhoff's chest at Wembley.
Across the park Everton reached the League Cup final—a trophy Liverpool were yet to win—though they were to lose after a replay by an Andy Gray-inspired Aston Villa. Local football was national football.
It didn't end there. If you liked other sports, Red Rum won his third Grand National at Aintree and he was largely considered to be a "Scouse horse". Virginia Wade won Wimbledon which made my mum happy and we all got a street party for the Silver Jubilee. Then came Star Wars.
It really was a great time to be eight years old. It was also my first proper Liverpool season.
Oh, I would watch the odd Match of the Day and Kick Off before that, but I preferred playing to watching it back then. I always knew the score of the weekend's game for both Liverpool and Everton, and I wanted the shirt more than anything in the world until Darth Vader came along, but it wasn't yet an obsession. Come the start of 1976-77, though, I was all in.
The BBC had televised the home internationals and Wales' kit had a profound effect on me. They also showed some of the 1976 European Championships so for once live football was accessible. That was all I needed – that and the greatest side in the world playing just three miles away from my front door.
It's difficult to convey just how much that meant to us. Anfield was a bus ride up Breck Road away from us living in Norris Green. You could even see them train if you were prepared to look through the gaps in the brickwork at Melwood before getting chased off.
You felt privileged. You felt part of it.
It's a myth that Liverpool fans shunned the rest of the world when it came to our club. We were more than happy to share. One flag boasted that we had "fans all over the world" and that too came with a sense of pride. The world wanted to know us and it felt good.
Fast forward 42 years and that feeling is back. Not just for us adult Reds, but for the kids and their age of discovering the highs of football. Oh, there's the other side of that coin, sure, but let's hold on to how this feels for the time being.
Liverpool-supporting kids, maybe some of them just old enough to experience all this for the first time, have their own heroes. For me it was Kevin Keegan and Ray Kennedy. Now it's Salah and van Dijk.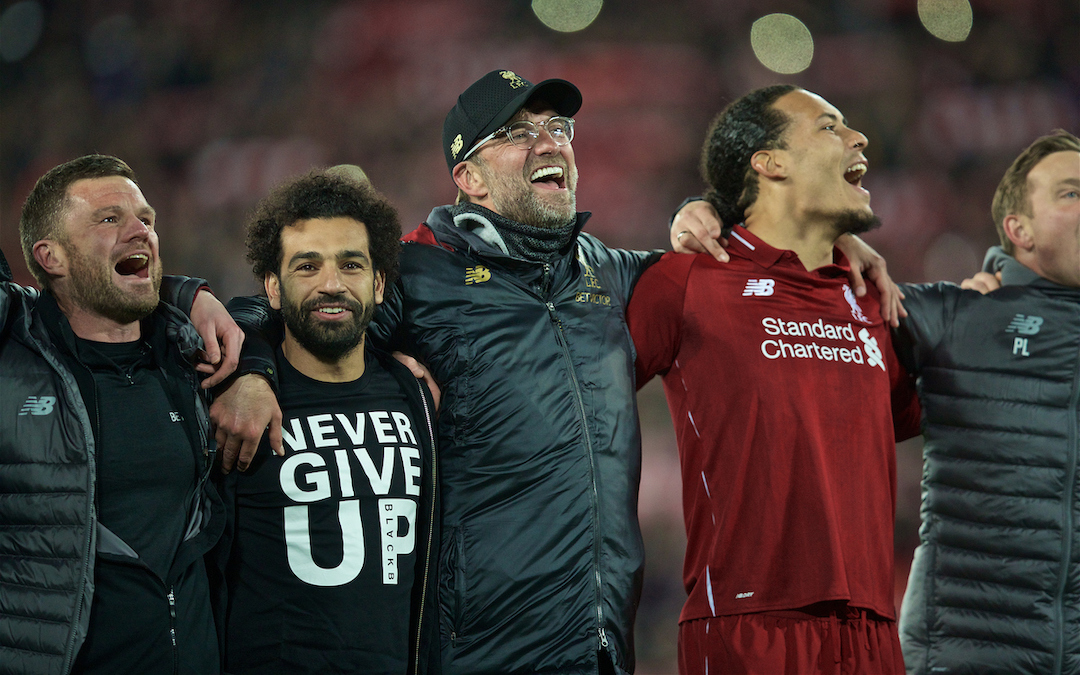 We should never underestimate the joy of having heroes at that age, particularly if they're all good, approachable lads.
Anyone who was at Anfield for the opening game of the season against West Ham may remember a child running onto the pitch and launching himself with joy at Mo Salah. The Egyptian could have ushered off the pitch in annoyance for breaking his concentration. He didn't, of course. Instead he hugged him and ruffled his hair as he was led away. The ground applauded its approval.
I didn't have the nerve to try that with Tommy Smith.
It's great that that path is being followed. One mate recently told me of his annoyance a few years ago when his six-year-old was making noises upstairs when he should have been asleep. My mate tore up the stairs two at a time to tell him off only to see his lad lying in bed looking through his Liverpool sticker album while quietly singing the big Jerzy Dudek song to himself.
How could he tell him off when he himself had done the same at that age? We're passing something on, and at the moment it's the good bits.
Everything came after Rome. Success after success after success, but that was the first stage. True, we had the two UEFA Cups in 1973 and 1976, but we truly arrived in 1977. We needed that first win to match Celtic and Man Utd's victories in the '60s.
What's more, we had to get into the habit of winning it if we were going to be talked of in the same breath as Bayern Munich and Ajax, who had won the previous six between them. That's what we wanted then. We'd conquered the First Division but there was a new frontier.
That same challenge exists today. We went close last season, but the 97 points and victories over Bayern Munich and Barcelona demonstrates just how Jürgen Klopp is aiming not just for our sixth European Cup, but for a legacy.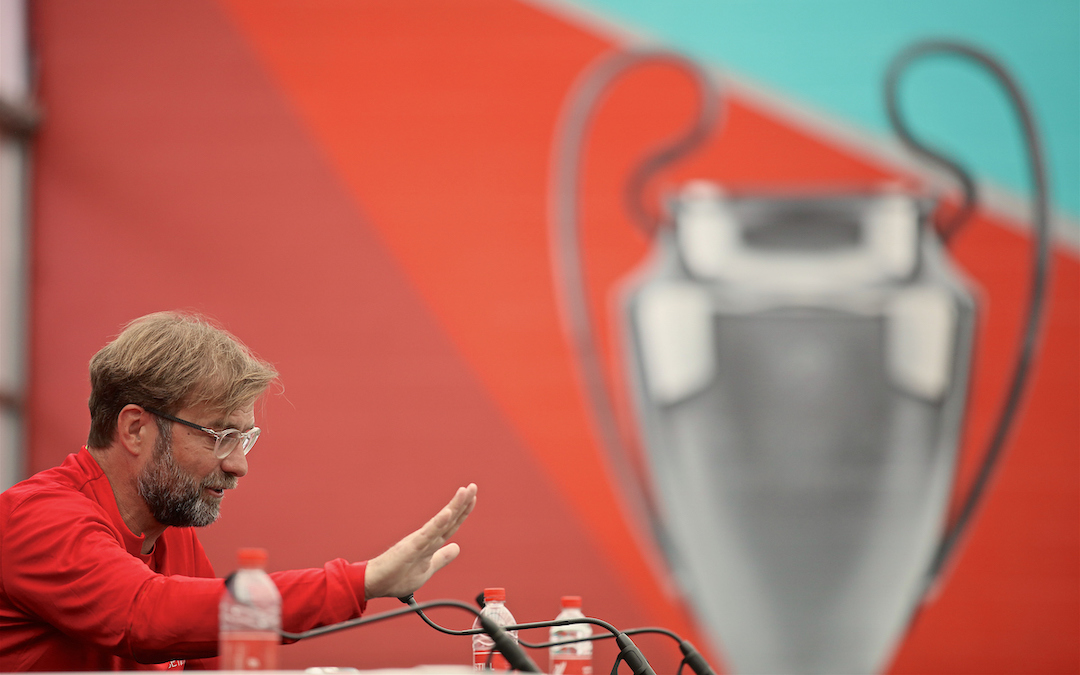 And just as we had the base of young players in 1977 with only Smith (32) and Callaghan (35) forcing the average age up to 27, we have a squad who want to be a part of that success. Let's not forget that the lad who undid Lionel Messi's Barcelona with a moment of genius is still only 20.
Rome was joyful and the aftermath more so. My mates and I were allowed to line the route when the team came home and for weeks afterwards there were still yellowing pages from the Echo held up by Sellotape in the windows throughout my street.
We all knew it was special and though we knew Keegan would play no part in what was to come, the next final would be at Wembley and we owed that ground something after what had happened in the FA Cup final.
It wasn't just that we were European Cup winners. It was because we knew that there was no one to take it off us. That wasn't arrogance, it wasn't even a statement. It was just something we felt in the way we were certain that eight-year-olds can't be bruised by fall from trees or that playing seven-hour matches on the top field without adequate hydration was perfectly fine.
It was just a truism.
That's going on today, too. OK, there are more choices for kids in this day and age, but that sense of alliance with Liverpool Football Club no matter what is to come has already taken root.
We've rolled around to this time again and no matter what happens on Saturday night, that's a great feeling.
Here's hoping we have a new anniversary to celebrate in June in the years to come.
"Liverpool are European royalty… and this is why." ✊

✅ Bayern Munich
✅ Porto
✅ Barcelona

🎥 Watch The Anfield Wrap's 'Road to Madrid' in full here 👉 https://t.co/647bnHk5oX pic.twitter.com/MFyUvbvpPY

— The Anfield Wrap (@TheAnfieldWrap) May 30, 2019
Recent Posts:
[rpfc_recent_posts_from_category meta="true"]
Pics: David Rawcliffe-Propaganda Photo
Like The Anfield Wrap on Facebook