"SEE you in Madrid."
That was the parting shot for so many as the traditional farewell to friends at the match took place as fans filtered away from an emotional afternoon at Anfield.
There was no final twist, no fairytale ending, but there was a swell of pride in the stands for a side, and a squad, that has poured everything it has and more into a season that still isn't over.
At times the madness of the final day seemed to get to the players, there were nervy moments – understandably so as goals, and phantom goals, were celebrated and cheered in the stands.
But the mental strength that has been on display all season was there once again. For the 30th time, Liverpool found a way and won – finishing the season unbeaten in the Premier League at Anfield for a second successive campaign.
That same mental strength is why there shouldn't be too many tears shed about a glorious failure in the title race. The best runners up of all time is not a title anyone wanted, including the players. But they know and we know that it's not over yet – not this season with Madrid to come, and not in general. This Liverpool isn't going away.
A sustained challenge for the top titles in football looks likely. And more, for the first time in a long time, the club has won something else – trust.
A look down the league shows a string of clubs where that isn't the case. For one reason or another, be it disappointing football, a failing transfer policy, an underperforming manager, or owners that seem to care little for the club, there are supporters all over who will be unhappy with their lot.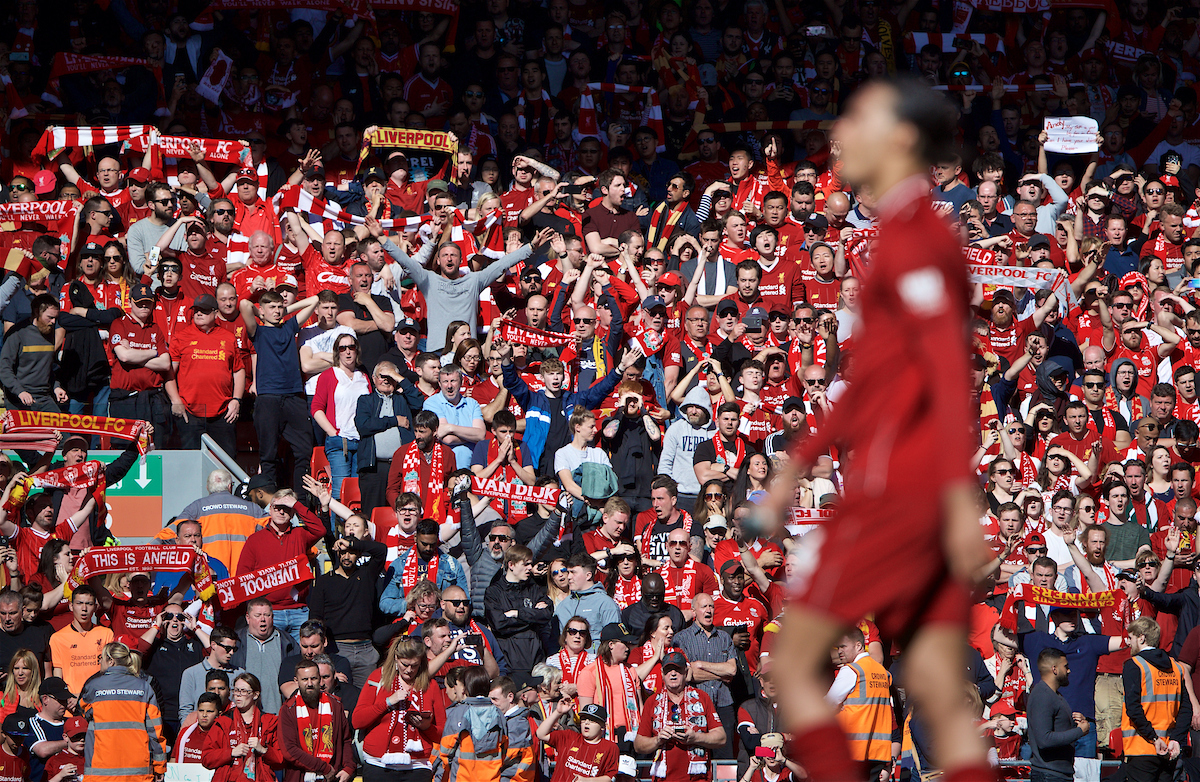 And while they have a big empty space where the football should be, we have a Champions League trophy to dream about.
For us there is clear disappointment in the league. To come so near yet remain so far from title number 19 stings. But 97 points and a European Cup final in the same season – after an amazing comeback against a Barcelona side that must surely have already had their suits measured for Madrid – is a clear marker of progress.
It's been a remarkable feat. And it's a remarkable feat borne from a club that is punching its weight again thanks to a smart manager, a committed group of players and smart thinking at the very top of the club.
There is a talk of "failure" out there, but it's hard to see how that stacks up. Yes, Liverpool literally finished second, and there are no trophies for second. But come on. There was no choke, no slip, no moment of "fucking it up" that so many seem so desperate to find.
Instead, there was a sustained, determined push that so nearly resulted in the Holy Grail. In the meantime, we kicked Bayern Munich and Barcelona out of the Champions League for good measure.
Liverpool fell short not because of failure. Liverpool fell short because of a Manchester City side that was ruthless and relentless in its point gathering. And only managed one more than The Reds.
Those that really want to get stuck into Liverpool right now are struggling. Beyond, "yeah, but they didn't do it," they don't have much else. And while the Champions League trophy continues to flutter its eyelashes from afar, their dread at the potential of "unbearable" gloating Liverpool supporters remains palpable.
But enough of "them", instead let's focus on us. The manager has universal support because of the clear direction of travel, because of the brand of football, and because he has made Liverpool into Liverpool again.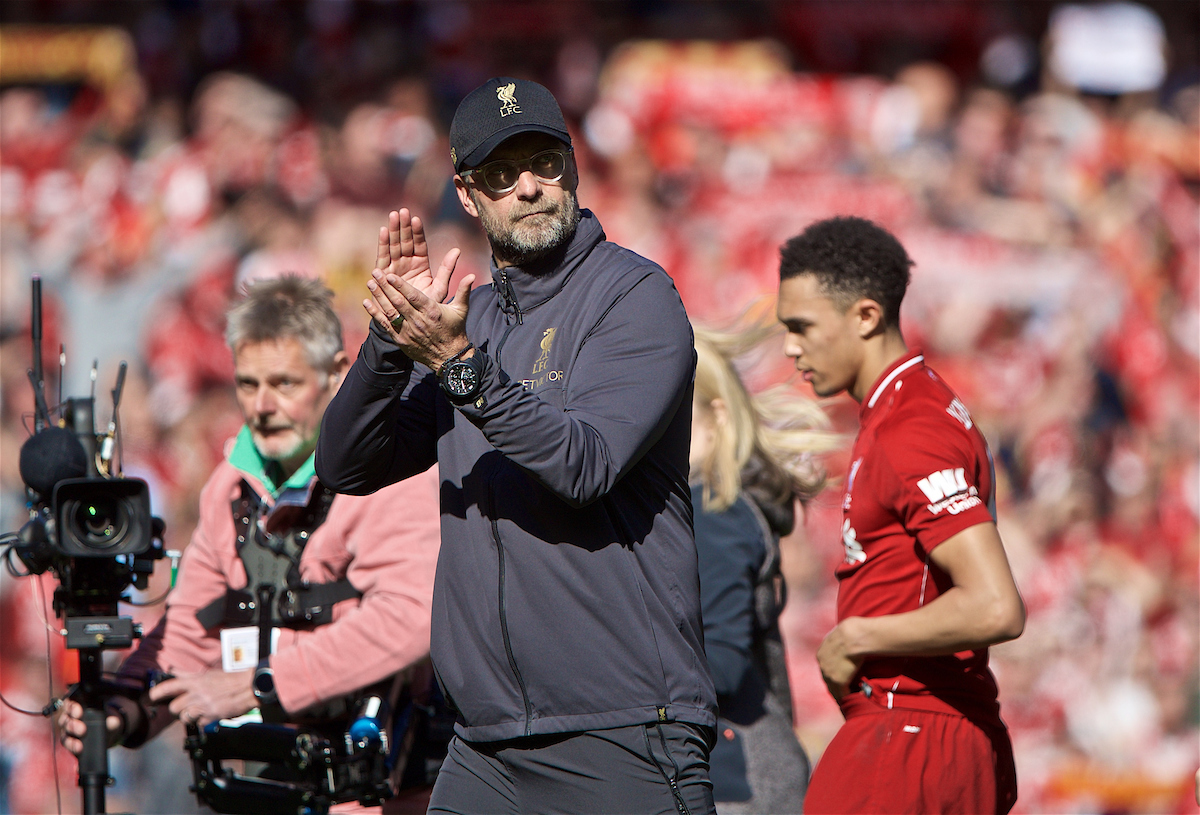 Once upon a time not so long ago, The Reds were rolling out the red carpet for Real Madrid at Anfield. They were treated like royalty, like a club on another level. In the stands and on the pitch it was a depressing experience. Compare and contrast to when Barcelona came to town. That was Liverpool.
Transfers were always another moan. Yet a glance down Klopp's list of business so far offers little to stress about. There can be clear confidence that Liverpool have got many more things right than they have got wrong since Klopp has been at the helm.
So now we wait. There will be no revolution. No new man at the top. The majority of players that have given it their all will do it all again come August. Deservedly so.
There is room for recruitment because there is always room for recruitment. Some players will leave. But there are no protests, no sagas, no issues. Plans will not be ripped up.
The club is in rude health. The stars are signed up, the kids are alright and the team will likely get better and better.
But first the final. See you in Madrid.
"We should be so proud of this team. Proud of their efforts, proud of the points total… and we've got a European Cup final to look forward to." 👏

🗣 Subscribe and listen to our immediate post-match reaction show after Liverpool's 2-0 win over Wolves 👉 https://t.co/XZAK9veWt7 pic.twitter.com/zGoaoDHA6M

— The Anfield Wrap (@TheAnfieldWrap) May 13, 2019
Recent Posts:
[rpfc_recent_posts_from_category meta="true"]
Pics: David Rawcliffe-Propaganda Photo
Like The Anfield Wrap on Facebook