THERE are some things you should never look back on.
This is a mantra I have embedded as a coping mechanism when it comes to football.
There are things I have witnessed in stadiums that I point-blank refuse to watch on a screen in acknowledgement of their gravitas.
Andriy Arshavin's four goals for Arsenal at Anfield in 2009, the FA Cup semi final versus Aston Villa at Wembley in 2015 and, the most significant of all, last season's Champions League final defeat to Real Madrid in Kyiv.
I have never seen any of them back and hopefully never will. There is a beauty to their tragedy when you witness them unravel in front of you. A humbling nod to the fact that no matter the standard being played if there is a pitch, a ball and players anything can happen.
There are other strategies we all adopt to deal with the game's eventualities.
During this season's league run in, I stopped watching Manchester City after their demolition of Chelsea on February 10, 2019.
I didn't see the point. I had prepared myself for what eventually transpired; anything different to my prediction was a bonus. Unfortunately, I was correct.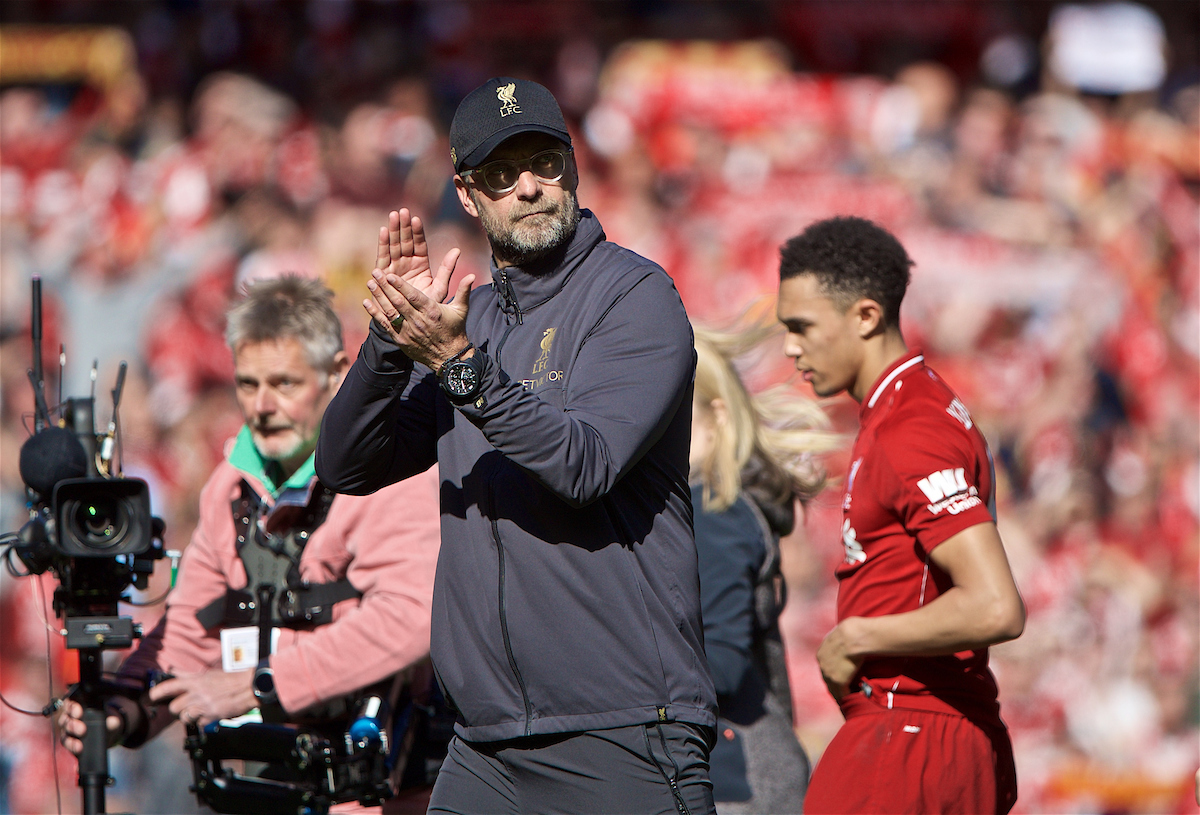 Even after the league season's finale, I have yet to see any of City's 4-1 victory over Brighton & Hove Albion, or them lifting and celebrating with the Premier League trophy.
The only snippet of City's day that I inadvertently consumed was a radio clip of an uncharacteristically serene and relaxed Pep Guardiola's post-match press conference in which he uttered a quite basic, yet overlooked statement: "Winning is so addictive".
Despite the immediacy of the quote, it didn't feel like something said on a whim.
It was a comment which had layers.
It was the Catalonian adopting an Alex Ferguson-like approach of attempting a marginal psychological gain for the season which followed.
It was also Guardiola perhaps subliminally explaining why he fought so hard to stop this Liverpool team. Because he knows the minute Jürgen Klopp's side wins one, they will acquire a taste for it.
He was maybe sniping that until The Reds won something of significance they would be ever the bridesmaid.
He possibly has a point. There is currently a feeling of culmination around Liverpool which is a result of their improbable 97-point haul and their second consecutive Champions League final.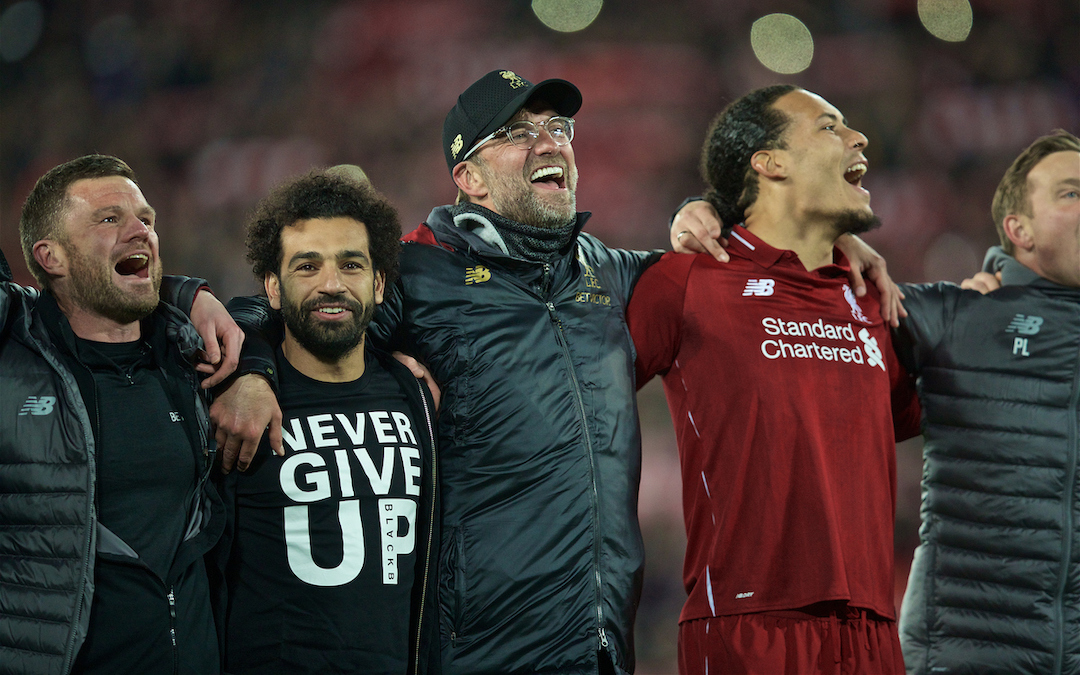 The Liverpool collective will not feel in any way entitled to win come June 1 in Madrid.
However, it feels like the most natural step for this team is the ability to look each other in the eye next season and see themselves as corroborated winners. They will be a group of players whose body of work will be accredited with success.
If Liverpool are to make a sustained title challenge going into next season, it will be fitting that they come to the fore with the status of European champion to match Manchester City's domestic dominance.
The concept of Klopp's team achieving their sixth European Cup undoubtedly makes his job a lot easier going into next season.
For Liverpool, this final needs to be different. There is no longer a feeling this occasion represents a somewhat unexpected stride en route to triumphs which will make such disappointments taste even sweeter next time.
In the three previous cup finals Liverpool have faced under Klopp, they have arguably been the lesser favourite of the two sides competing. This has added to a sense of the defiance this club and city loves in such situations, but this mentality will rightly shift in Madrid.
Liverpool's players are regularly reminded of the prestigious history which surrounds them and will feel it is their time to add to those images of Kenny Dalglish in Wembley, of Bruce Grobbelaar in Rome and Steven Gerrard in Istanbul.
There is also a sense that everybody around the club feels like it's the right time for a generation of fans to now build their own history. To acquire their own hazy, euphoric cup-winning memories to tell their offspring about in years to come.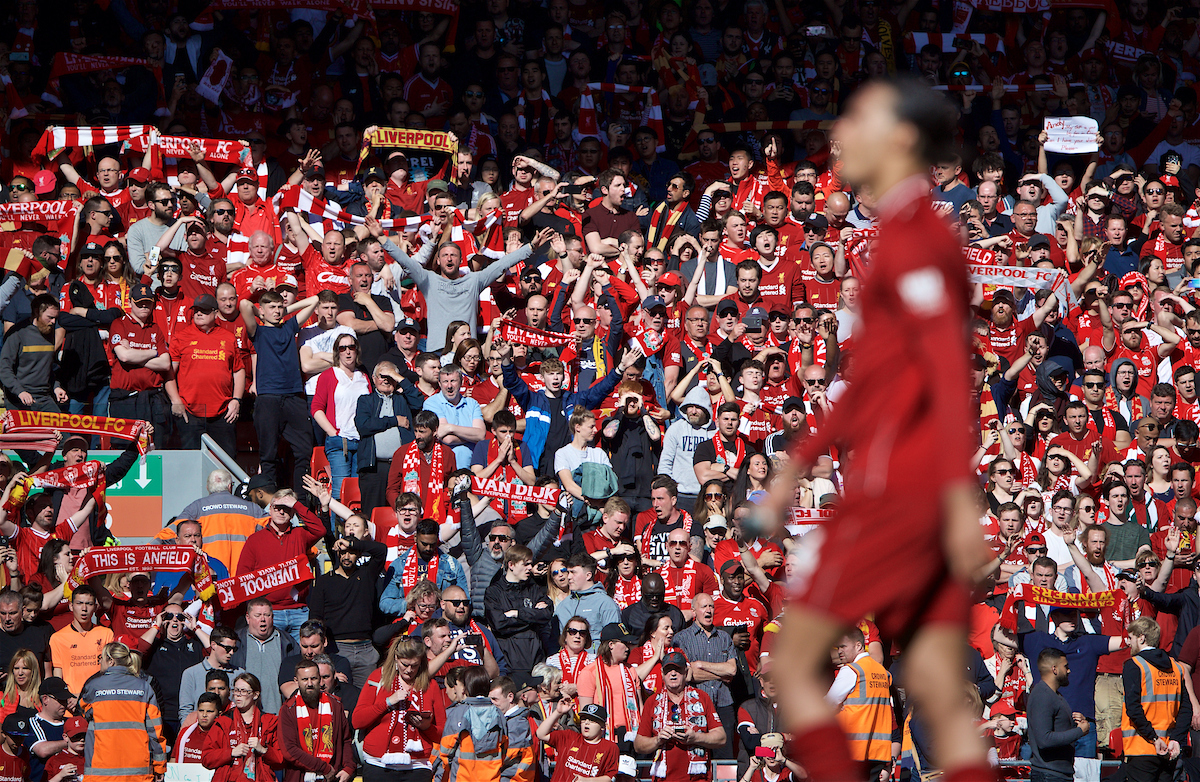 In an interview with Melissa Reddy for Joe.co.uk in November 2018, Klopp stated: "Nobody wants to look back in 10 or 20 years and say 'so the best time we had without winning anything was when Klopp was here. It was so funny and all that stuff'."
Make no mistake, nobody at Liverpool is treating this season as the same high-wire act as seasons past such as 2008-9 and 2013-14. There is no realistic prospect of Klopp's team finishing next season marooned and looking a pale imitation of their previous selves.
Yet the time for evolvement is upon this Liverpool team. The fans and the city feel it; the air of anticipation has not left Anfield since Klopp's arrival in 2015.
To many, the sense of unity between players and fans at the club is like nothing ever witnessed before. It has reaffirmed the very essence of why we do this and makes the concept of supporting a football club enjoyable again.
There will be a feeling in Madrid that the fans will want this victory for the team as well as their own sense of elation and satisfaction.
In the same interview, Klopp went on to say: "I don't know when (we will win something) so let's have the best times of our lives until then. Let's enjoy the world, let's enjoy the football, let's enjoy the journey and it's what we did so far – it was a good time."
Those good times are further anticipated in the hope they will encapsulate what currently feels like one of the very best periods in history to be a supporter of Liverpool Football Club.
If such hope is achieved, Liverpool will find a welcome addiction is starting all over again.
"If you win the European Cup for Liverpool then you will be remembered forever.

"To win three is something I'm very proud of." 🏆

🗣 Subscribe to #TAWPlayer and listen to our latest European Cup final special, with Kenny Dalglish, in full here 👉 https://t.co/lmNtBz4ADz pic.twitter.com/6sqgum8dXn

— The Anfield Wrap (@TheAnfieldWrap) May 23, 2019
Recent Posts:
[rpfc_recent_posts_from_category meta="true"]
Pics: David Rawcliffe-Propaganda Photo
Like The Anfield Wrap on Facebook