THE hope doesn't kill you.
It is the sense of entitlement in every single football fan which makes you feel so vehemently wronged and ultimately makes you wonder for a split second if it is all worth it.
It is.
Liverpool's season is on a knife edge, this is nothing new. It has been this way since September. Yet the ebb and flow of these nine months has currently left us all a bit stranded, waiting for the tide to come back in and that sea of red to engulf and mother us all. To tell us everything is going to be OK.
We are at the point where it may not now come. This is the reality of things; it is also the fine margins.
It is a season in a microcosm of Liverpool being perfect for all but a millisecond. It's not kicking on after they go 1-1 at the Etihad Stadium in January and making sure they left with at least a point. It is being off it for five minutes in the Camp Nou on Wednesday.
It is so unfair. It is also the stakes you play at this table. You've got aces and queens, have you? Cop for this, dickhead.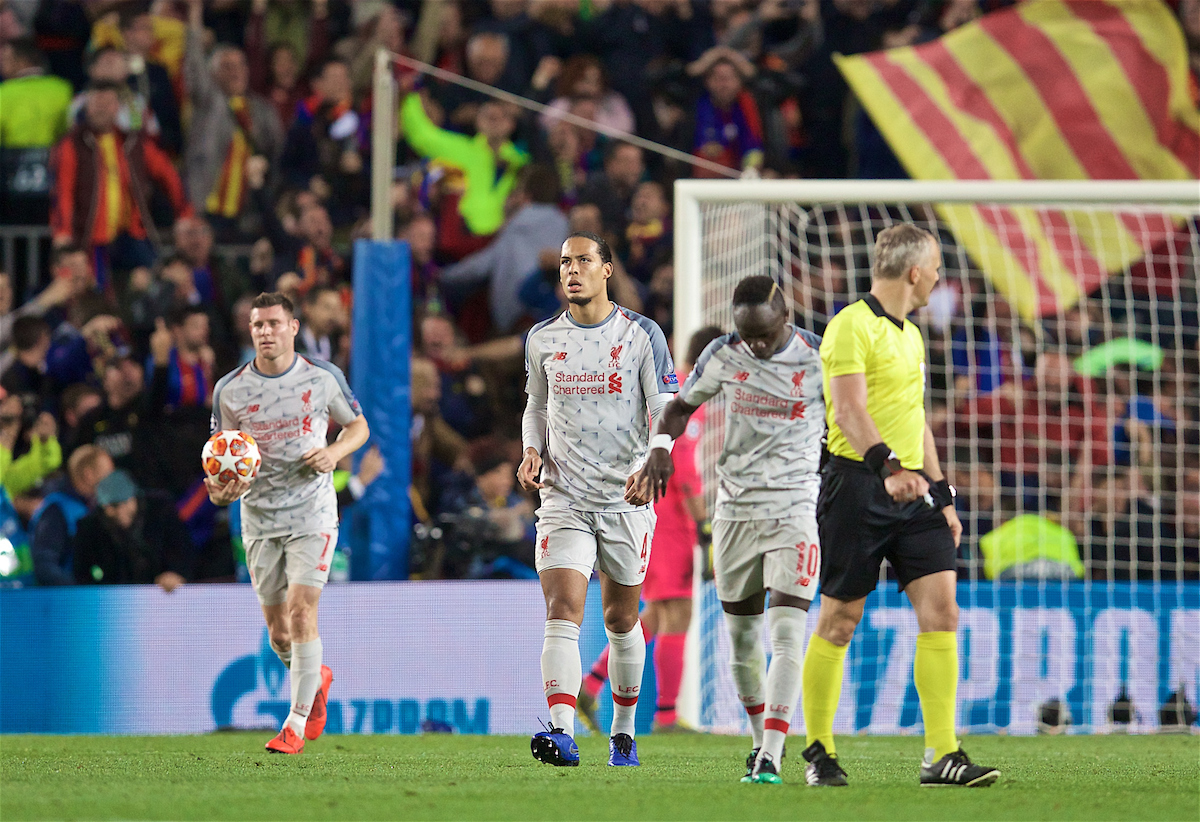 But something in us constantly reiterates that surely this is all for us, for me. For it's I who ultimately ends up living with the aftermath of not watching men lift shiny things in May.
While we all should feel a sense of entitlement after investing so much into one enterprise, the truth is probably somewhere in the middle.
The truth is that Jürgen Klopp and his group of players need to win a trophy. They need to put a pin in the map, a centripetal memory which encapsulates this wonderful moment more than the week-to-week victories which now feel so commonplace and amalgamated into one, such is my own sense of entitlement.
The fact they might not win a title with a record amount of points will evaporate to those prodding the cage and a history book that is not ageing at all well among Reds.
Klopp will have wanted either a league or European triumph for this very reason, but also because it is what he feels his players deserve, what will take them on to the next level of this journey.
Among the plaudits paid to his team by the manager has been that they are what he called "mentality monsters" after their dramatic win over Tottenham in March.
To scribe these words on these pages yet again is no hardship for me because it is the truest of declarations; these Liverpool players are a credit to each and every one of us.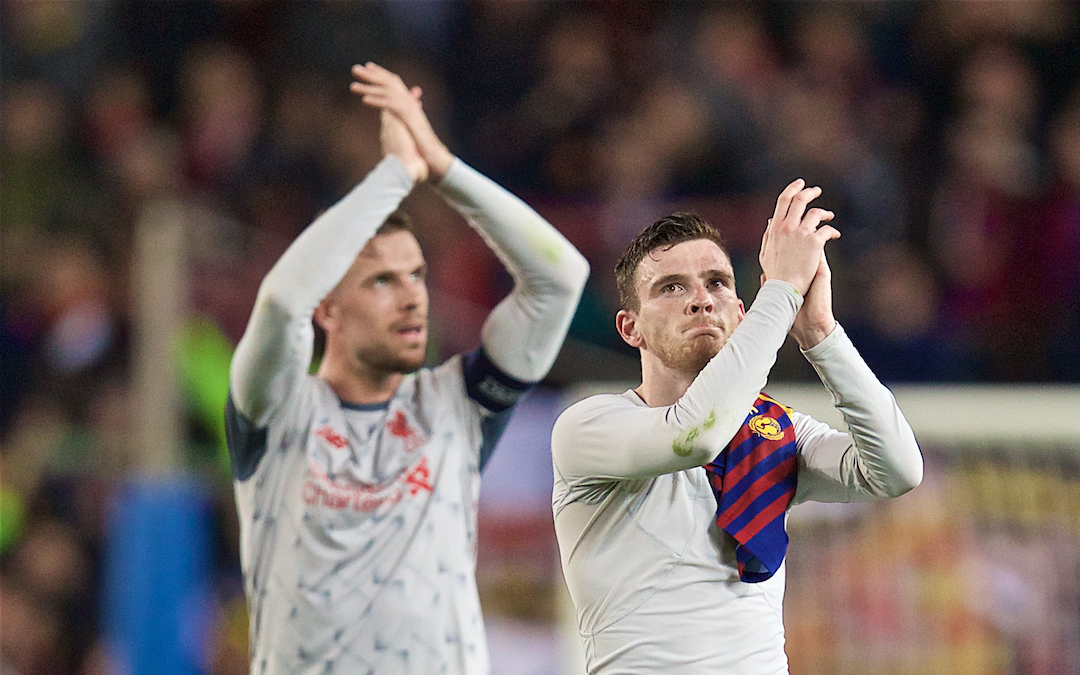 Humble, dedicated and supremely talented. They are ours and should be eternally so. They have not let us down in the slightest.
Such mental strength will be tested to the maximum in the next three or possibly four games. Liverpool now have to rely on a mixture of other results and one of their own that would go down as one of the most miraculous in their illustrious history.
But there are three games remaining, possibly four. If four is possible, then four should be the aim.
If you don't think Leicester or Brighton can do anything about Manchester City then that is completely rational. If you don't think Liverpool can be 2-0 up inside 20 minutes at Anfield next Tuesday then you've not been watching us for the past two years.
When all is done, Klopp may find that he faces his biggest challenge in football come this summer. To improve on a potential 97-point finish and a Champions League record which is hugely admirable for a side who only returned to the competition fully two years ago is a huge ask.
Yet to improve is not always to be statistically better. Manchester City will likely finish the league season two points worse off than they were last season, but should they retain the title this term they may well be considered a better team than their centurion selves of 2017-18 for fending off this relentless Liverpool machine.
Klopp may find that for his side to break 90 points again and progress beyond the group stages of the Champions League, and even get to the FA Cup semi final next season, is more than an acceptable ask. That is what will put them in the conversation and will leave them in and around the business of who is winning what.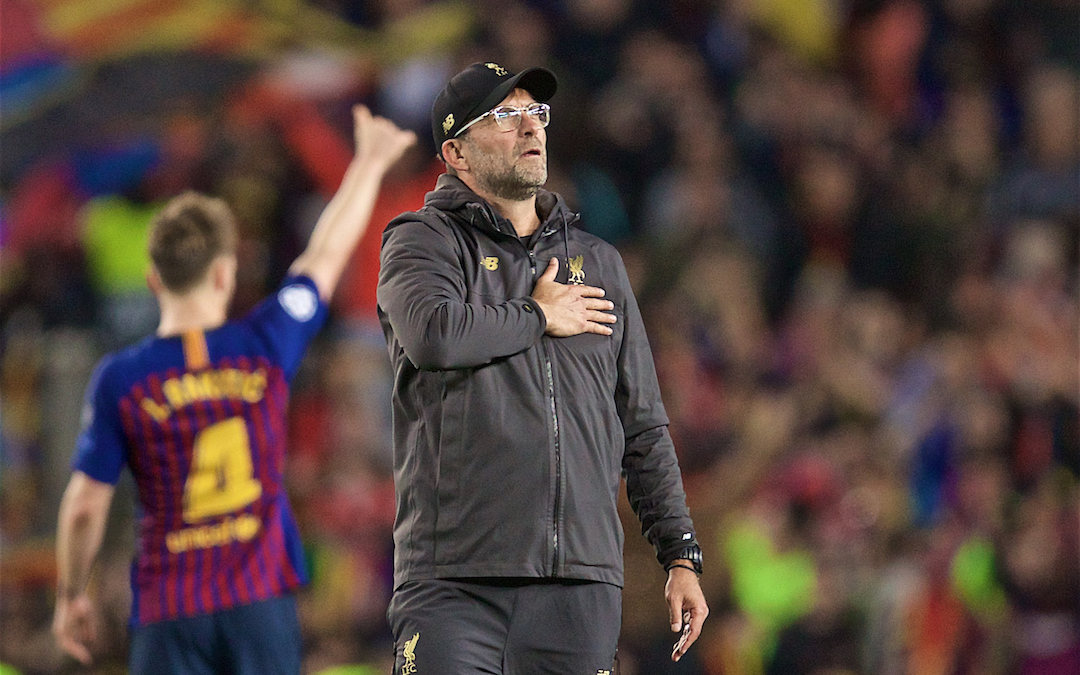 Klopp, in his post-match praise for his players, was keen to mention that the experience against Barcelona is vital because it will form a huge part of the journey. He is right, what hasn't killed us before has only made us stronger.
We have all said at some point we will never be broken hearted again. We're never going to let it happen, then it won't be all for nothing.
But we come back, a lovefool suckered by the glint of an eye. We all long for the fulfilment and comfort of its touch despite having not felt it for long enough to forget how it feels.
In the meantime, we are entitled enough to think that 2018-19 still offers something. That all is not lost until it is written in that grotesquely misleading book of facts which offers no context, no consolidation.
Until then, anything is still possible.
"Liverpool have lost which is an unusual feeling."

"I don't know whether we're still in this."

🗣 Subscribe for all of our reaction, live from Barcelona, here 👉 https://t.co/sAYhSu6Qag pic.twitter.com/1bgKYBKP9c

— The Anfield Wrap (@TheAnfieldWrap) May 1, 2019
Recent Posts:
[rpfc_recent_posts_from_category meta="true"]
Pics: David Rawcliffe-Propaganda Photo
Like The Anfield Wrap on Facebook