I THOUGHT I had to write this yesterday.
I lost track of the days and all concept of time. They told me I had another day, that I could let it all soak in before putting some words together in a coherent way.
I'd need more than a day to get anywhere near letting that soak in. To be coherent. To understand.
I don't understand. It's beyond comprehension. I used to think that everything had to be explained, that everything could and should be logical and rational.
But I don't believe that anymore. Now I believe in the unknown. In the joy of the adventure. Of not knowing what's around the corner. The thrill. The excitement. The risk. The payoff.
I believe in the impossible. That dreams exist to be fulfilled. That life can be lived beyond the walls they tell you are in your way.
And belief is the first step to experiencing what we experience. Without belief you have nothing. Without blind faith you just don't get miracles.
You can never have what we have unless you're prepared to give what we give. Everything. Every part of your soul. Every element of your being.
I don't know what to tell you. I've transformed my life, changed everything, but still came back for this. Still travelled across a planet in the blind faith that this mad thing would give me something nothing else can ever give. No human, no mountain, no waterfall. This crazy thing. This incredible, uncontrollable, inexplicable rollercoaster of an experience.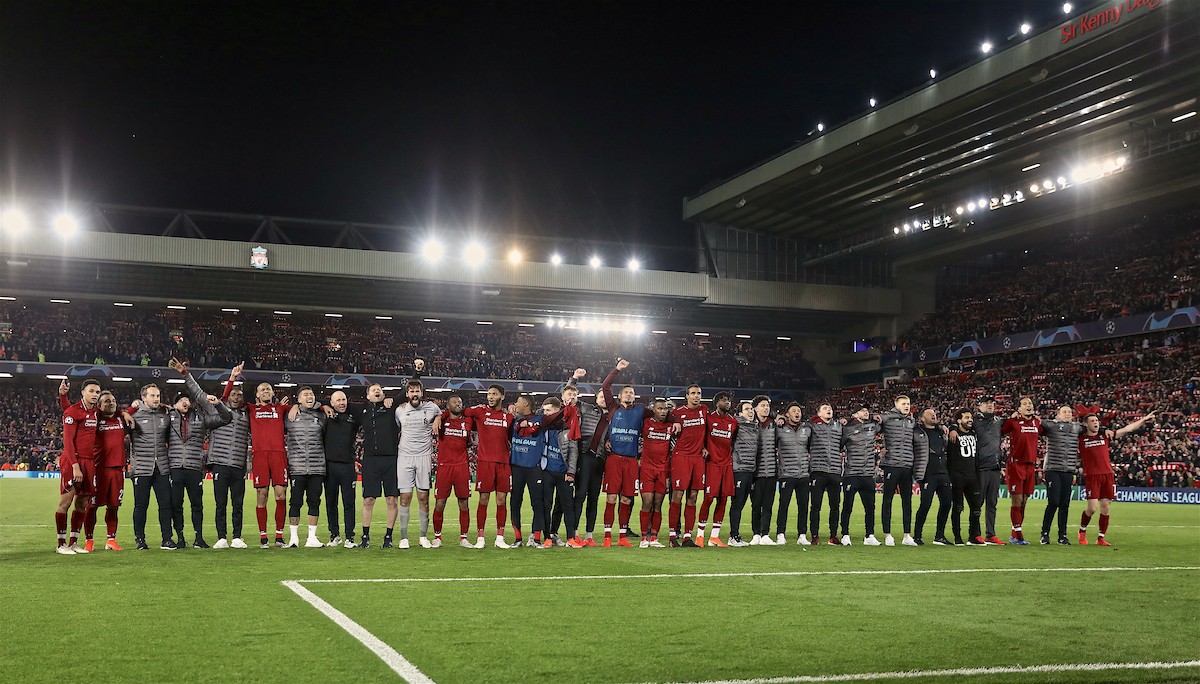 This miracle. Time and time again it delivers. I don't know how to describe it to people who don't know. To people who don't understand. This is the greatest of all religions.
I've watched miracles happen. I've seen the equivalent of Jesus splitting bread and fish and feeding the masses. I've seen him walk on water. I don't know what to say to people who don't believe me. I've seen it. Time, and time, and time again. They say it's impossible and yet this incredible thing just keeps happening. The last miracle was the biggest until the next one.
There's something supernatural about it all. If this whole thing is a simulation, someone, somewhere pressing the buttons is a Liverpool supporter. But he or she knows that to experience the highest of highs we need to experience the lowest of lows. We can't just keep winning, that would be too mundane.
For this thing to exist in its purest form, we have to suffer. It's essential that we doubt. That we walk to the brink of disbelief. That we question our very existence.
Because only then can we be truly rewarded. Only when the whole thing has taken us to the very edge can we possibly feel this amount of elation.
It's no coincidence that our signature song talks of walking through storms and finding golden skies.
This is special. Make no mistake this is special. The most incredible miracle in the long list of miracles. At some point in time they were debating on Catholic Twitter whether Jesus walking on water was his best miracle, or whether him splitting a few bits of bread among a massive crowd trumped it.
We can have the same discussion about St Etienne, Chelsea and Borussia Dortmund but, for me, this game wins.
Keeping a clean sheet against the champions of Spain, with the greatest player ever to play the sport in their side, and scoring four goals with two of your best strikers watching from the sidelines.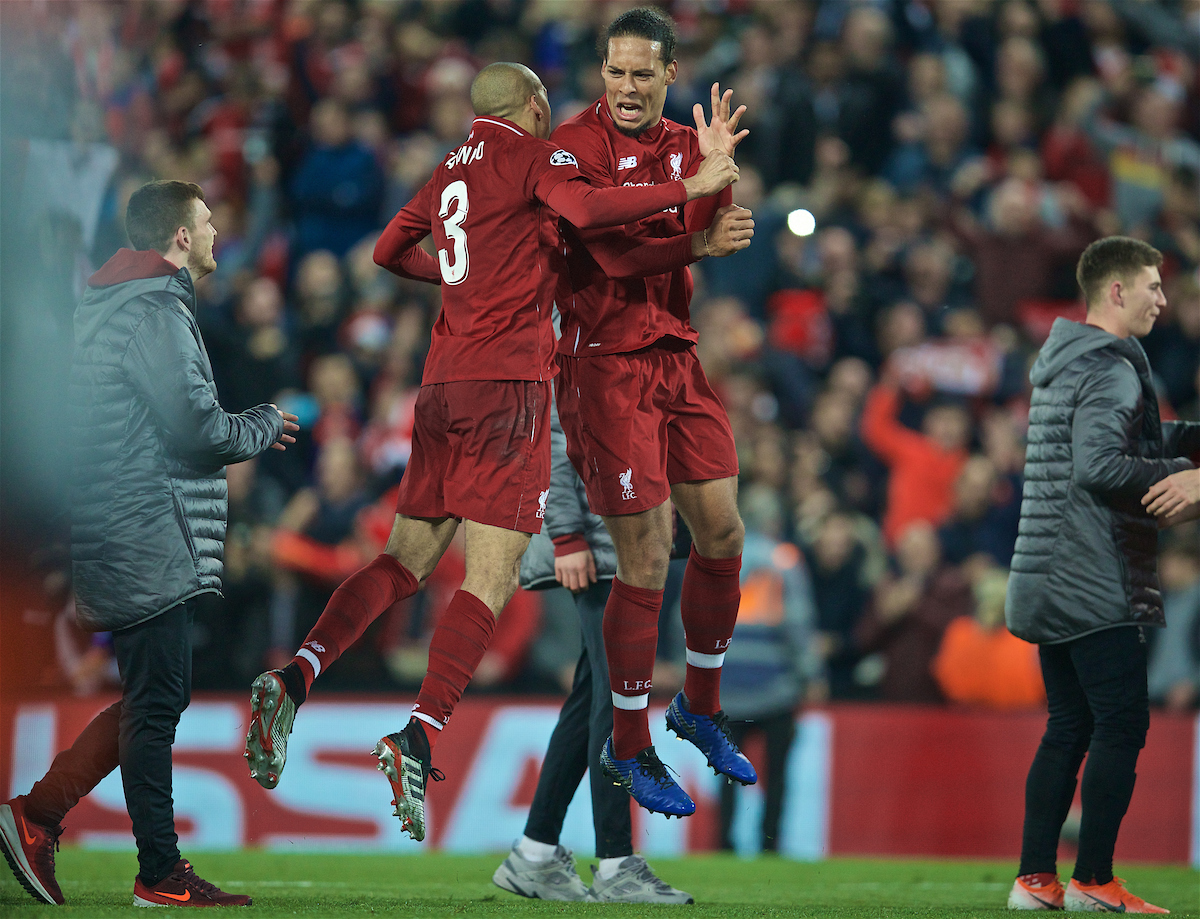 Even now I can't quite believe it.
We are miracle makers. No wonder our rivals hate us, I would too if I was them.
We might not win the final, and we might not win the league, but most people in the world never, ever get to experience what we just experienced.
While I was away I tried to explain this weirdest of weird things to people who just don't know. We talked about it on The EPL Show, which is worth a listen if you haven't already heard it. Some have called it the greatest podcast ever recorded, so I'd say it's worth a go.
I also tried to explain Liverpool to people from far foreign lands. It's impossible to do. This is a wild place full of wild inhabitants, none of which can be explained in words. I tell stories of when they allowed 24-hour drinking in the UK and we had no idea what had changed. We were already doing it.
I talk of jokers and pisstakers. Of scoundrels and vagabonds. Of warm hearts and standing up for our brothers and sisters in ways others might never understand.
Then, as if to illustrate everything I'd been trying to tell people for months, a young, Scouse full back does something to win a European Cup semi final that only a Scouser could do. Something so cheeky that only a certain character can it pull off.
The best thing about the winning goal was that it was a goal created in Liverpool. Forget the tactics and the "greatest of all time" debates, this was Scouse cheek and charm and wit at its best.
Before you've even noticed we've already scored. You're already laughing, already loving what you've seen. Or you missed it altogether it happened so unexpectedly. Too quick for you.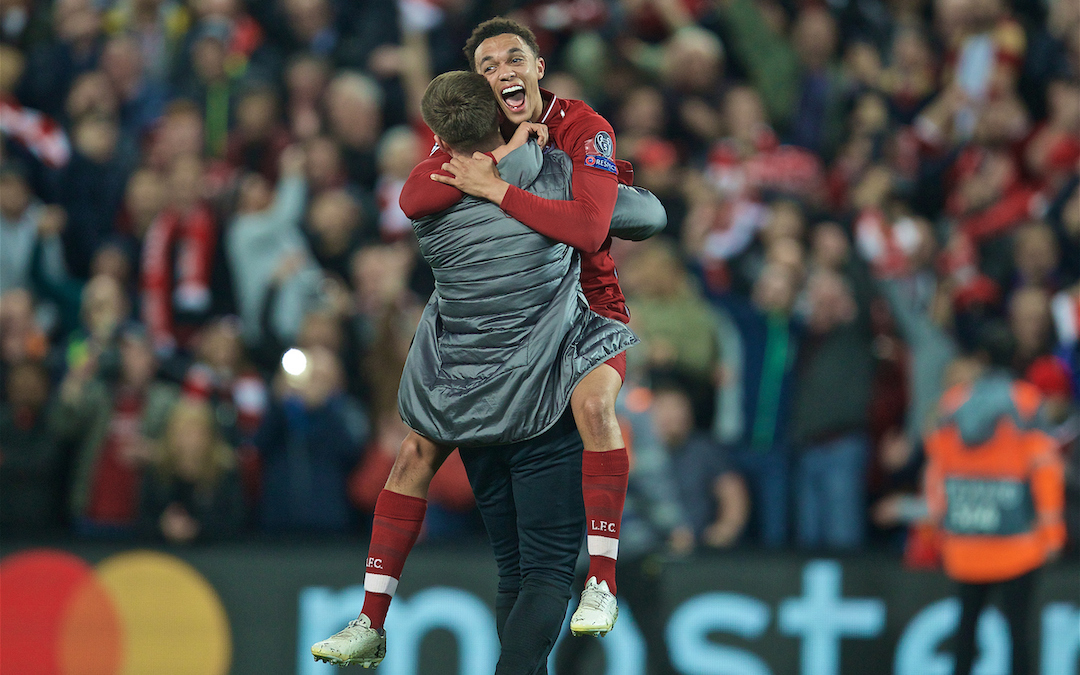 It's special. Some might say magical. I know for sure it can't be taught. I see it in some people's eyes but not in many. A spark, a charm, a charisma. An attitude that, no matter what, we will not be defeated. Take us on as many times as you want. When they eventually call time on the game I know who will be the last standing.
Tired? Maybe. Fatigued? Of course. Worn down by a world that does not want you to succeed? Absolutely.
But carrying on in the face of it all? You'd better believe it. Standing up when all hope seems lost, when no one else believes and when the whole world mocks? That's Liverpool. These people. If you've made yourself an adopted member of this family you'd best show the same character traits.
The winning goal is more than a goal. It's a city embodied in a pass. In a moment. In a cheeky, talented and humble young lad who by rights shouldn't be playing in a Champions League semi final, let alone his second final in two seasons.
Defiance. Belief. Strength. Unity. Never giving up no matter what.
Soak it up. Let it seep into your veins. This doesn't happen to most people. Whatever happens next we are blessed, and I want us all to remember that fact. Win or lose in the end, most people don't get these moments. Be grateful. Enjoy every last dying second.
This is why we come. Why we sacrifice so much of our time on this planet for something so strange. Why we do something others will never comprehend.
And it's why we owe it to everyone else to savour it all. Most football fans never get these moments, yet we seem to get them all the time. Be thankful. Be grateful for the ecstasy and humbled by the pain. The version of this sport we get to witness does not resemble the experience of most others watching.
This is special. And while many may mock, we know what we see. And we should enjoy it all, every last second. Because we never know when it might be our last.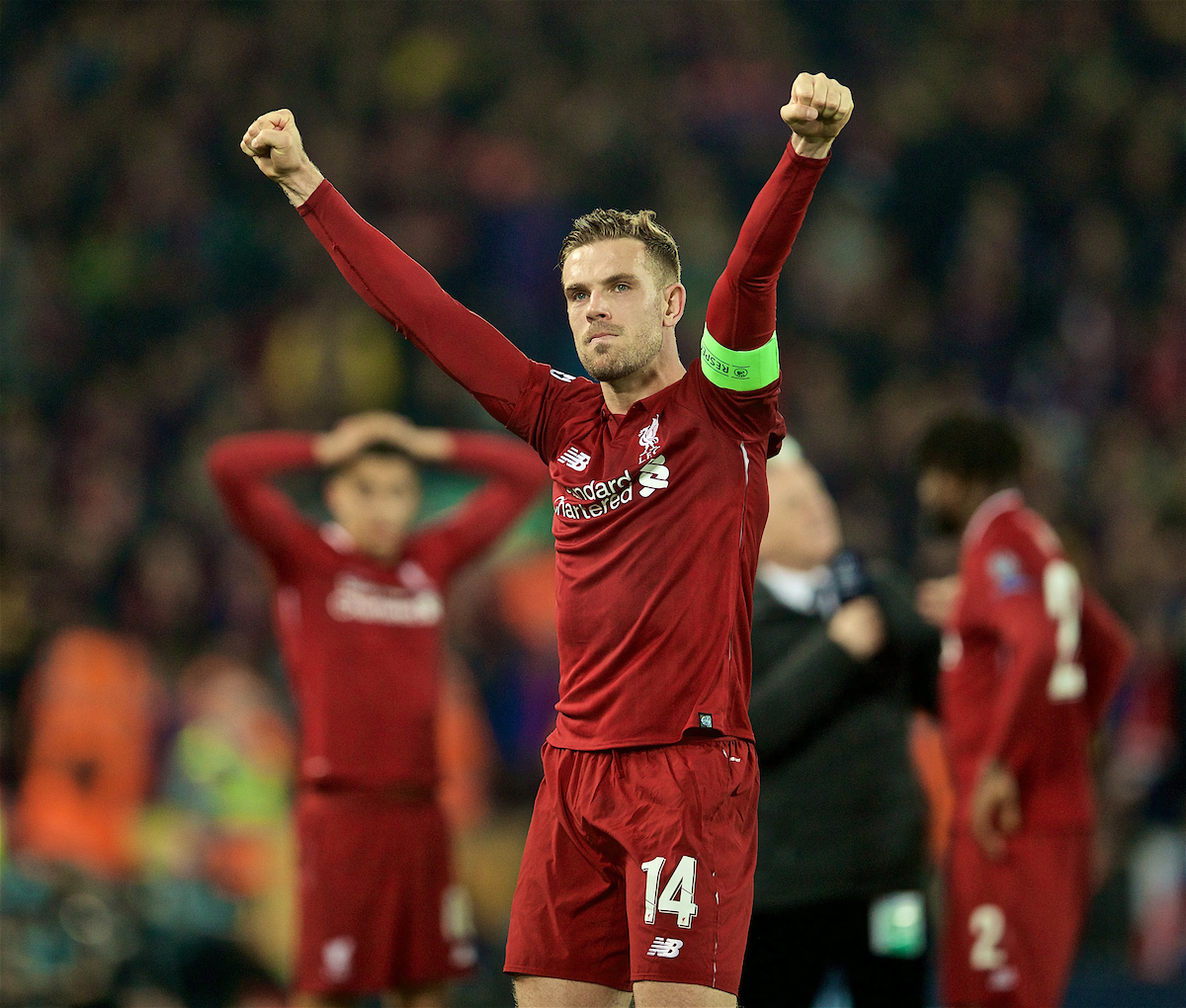 I have words for before the final that I didn't think I'd have the opportunity to write. But that's for in two weeks' time. For this week, all I can do is revel in where this Liverpool team has taken us, regardless of what happens next.
To sing, and dance, and laugh, and cry. To embrace the ones we love and remember that all hope is never lost. No matter how dark it becomes, there is always light. Somewhere, somehow. There is always the slightest glimmer of hope. Cling onto it. Let it pull you through the darkest of times and drag you to the bright sunny skies.
We can always succeed. Sooner or later, as long as we keep moving forward, we will stand on the edge of the mountain overlooking the sunrise and know that this time was always meant to be.
Just keep going. Beyond the point when all hope seems lost. Past the edge of time. That's where the real glory lies.
We will succeed. In this life or the next. We will sing, and dance, and laugh, and cry. We will drain every last ounce out of life.
And now we sing on the streets of Madrid. Together, as one. The champions elect. Against a side with its own glorious story to tell this season.
Until then, let's see Manchester City finish the job on Sunday under the weight of this greatest of institutions. If they can then so be it.
But all hope can't be lost until the last moment.
I still remember Ludek Miklosko.
"Tonight was everything that Anfield can be.

"It was unbelievable." 👏

Post-Match with @PakoAyestaran and @GuillemBalague…

🗣 Subscribe for more reaction to Liverpool 4 Barcelona 0 👉 https://t.co/lmNtBz4ADz pic.twitter.com/7SkeHpWzfg

— The Anfield Wrap (@TheAnfieldWrap) May 8, 2019
Recent Posts:
[rpfc_recent_posts_from_category meta="true"]
Pics: David Rawcliffe-Propaganda Photo
Like The Anfield Wrap on Facebook