THERE was a moment at the end of the game where someone from BT Sport came onto the pitch, shoved a microphone under Sadio Mane's nose and asked him a question.
His response will live with me forever.
He mumbled a few half-formed words then he went quiet. Then he tried again. No good. Just noise. He grinned and then gazed off into the middle distance. He had no idea what he'd just said. To call it a sentence would be too low a compliment to the beauty of the language.
He then fell silent, leaving the viewer with the sight of Sadio's eyes hazing over in disbelief. He was too busy having an internal conversation with himself — one we were not privy to. I doubt if he realised he was being examined.
We all had moments like that last night.
Cut to Gini Wijnaldum on his knees, hands covering his face to hide his expression. Cut to James Milner, eyes red raw from a mixture of sweat and tears. Cut to Andy Robertson being asked about his running battle with Luis Suarez the journalist and replying; "Which club was going to Madrid?" Needle returned to the most needled man in the game.
And so onto the manager.
Jürgen Klopp has sat through a lot of football in his time. Here is a man who's done the lot.
He's pulled the all-powerful Bayern Munich back towards the pack when they were streets ahead. Then he usurped them with a side unlikely to bother most. He took them to an improbable European Cup final and narrowly missed out on the trophy. He has sat through a lot of football and seen everything.
Even he didn't expect to see that. He too went a bit Sadio in the press conference.
Where does football go after Istanbul? What high can you reach after that? The improbable meets the possible and becomes the written word. What do you do after that?
You wait till May 7, 2019.
The Chelsea semis of 2005 and 2007, lessened with age, seem like pre-season friendlies compared with Liverpool 4 Barcelona 0. The 1984 final in the lion's den relegated to a mere kickabout on the back field. What does football do next?
It's not just the 4-0. It's not just the depleted forward line. It's not just that it was Barcelona or the players who seemingly left us behind. It's not about the individual issues. It's about what Liverpool Football Club are capable of doing. The improbable and the possible.
Divock Origi; the second half of a cheap joke about squad depth in the first month of the season. Xherdan Shaqiri underhitting every ball he could. Gini Wijnaldum and his woeful away goal record. He's now got three goals in European Cup semi finals.
This is emotion speaking but that fourth goal may well be the greatest goal I've ever seen. I realise that might be hyperbole but I'm serious. Coincidentally, I saw Terry Mac's famous header against Spurs in 1978 yesterday—the goal universally acknowledged as the best ever. It's my favourite, anyway. Or was.
Barcelona in the European Cup semi final with the tie locked at 3-3 and a 20-year-old kid from West Derby chooses that moment to try something new to see what would happen. A sweep of the foot later and Liverpool are 17 minutes away from the impossible. The absolute cojones to do that. One of those moments where you celebrate the surprise as much as the goal.
Jürgen Klopp didn't see it. He had no idea what happened. The side he built has now surprised him with just how far they've come. He's practically just as much of a spectator as the rest of us.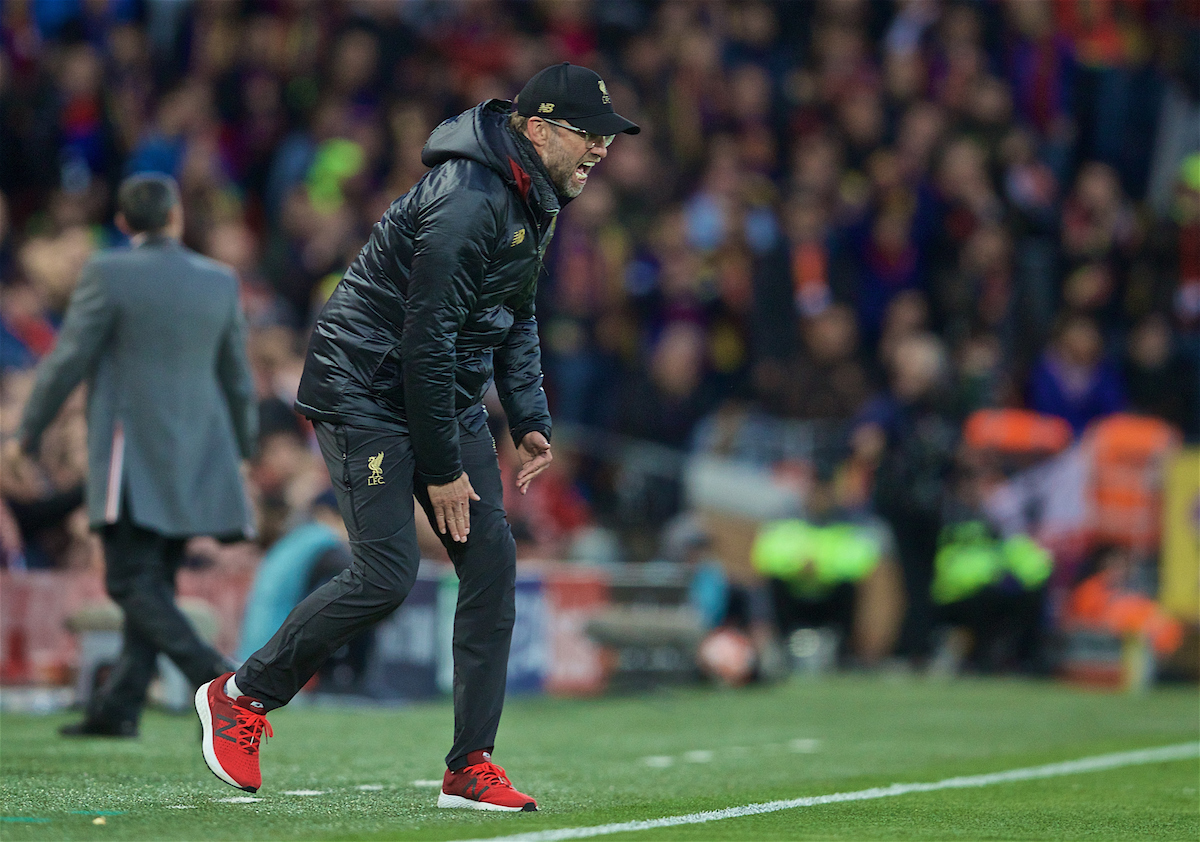 A word about Barcelona. People will always look at their forwards, but Arturo Vidal is a magnificent footballer. His substitution made the rest of our midfield sigh with relief. What a player he is.
A word about Liverpool. People will always look at our forwards, but our midfield was magnificent.
Jordan Henderson can't feel his patella for much of the game, but was everywhere. Fabinho was booked and shoved all over the pitch by whoever's job it was to get him sent off, but was sprinting upfield on his own on minute 94 like it was minute one. James Milner replaced the league's best left back and made it look like it wasn't a downgrade.
It's a 4-0 win after a 0-3 defeat, but it feels like more. Barcelona are an incredible side and "won" the tie in Camp Nou when they felt us weaken. They kicked us, harried us and shithoused us into submission.
Liverpool brought them to a ground half its size and went toe to toe. Liverpool were free of the dark arts and beat the best side in the world by four clear goals — the last of which was supplied by a lad born two miles away from the ground.
Liverpool have won the greatest FA Cup final ever, the greatest UEFA Cup final ever, the greatest European Cup final ever and now we've boxed off the semi final. Where does football go next? How do you top that?
Two 1-0 wins in the next two games would be enough for me, but there will always be another improbable, becoming the possible, becoming the written word to come.
European Cup final number nine coming up.
Dream number nine.
"This is the best football team I've ever seen.

"I'm so proud of every single one of them." ❤️

🗣 Subscribe to #TAWPlayer for all of our reaction after Liverpool reach ANOTHER European Cup final 👉 https://t.co/XZAK9veWt7 pic.twitter.com/RDsV1MdS2z

— The Anfield Wrap (@TheAnfieldWrap) May 8, 2019
Recent Posts:
[rpfc_recent_posts_from_category meta="true"]
Pics: David Rawcliffe-Propaganda Photo
Like The Anfield Wrap on Facebook