THERE were maybe four to go when we last talked, you and I. Maybe four more love songs.
And now there is definitely just one. And how are we doing?
Proud but not that cool. Not really. Angry but at no one in particular. No blame, not because of a no-blame culture, but because no blame should attach itself. However, there is this: Liverpool have had an interest on one last day since last winning the bloody thing.
And for a moment the trapdoor is lifted and we get a sense of what it might feel like if Liverpool win the league, and the answer is this: absolutely crazy.
This team, these supporters have so much pent up desire to win the title, it bursts out as Brighton's goal goes in on the 28th minute. The noise shoots out of the corporate boxes in the middle of the main stand and swoops round the stadium in seconds.
People are up on their feet shouting about god knows what, as if someone had just discovered oil or diamonds under the Anfield Road end. As others scream "What? What? What has happened? Please someone tell me. What. Is. Going. On?"
My head went. Which is nothing compared to what happened to The Reds for whom the first half had started incredibly well. The passing is fluid, and Origi looks more comfortable than he ever has, no doubt basking in recent heroics. Liverpool keep shape and ball, waiting for the opportunity to come.
The captain is all about the clever moves and the Liverpool shape is still evident as it has been for 99 per cent of this season. On the 17th he couples up with Trent, to allow Sadio Mane to slot one in deflected off Boly.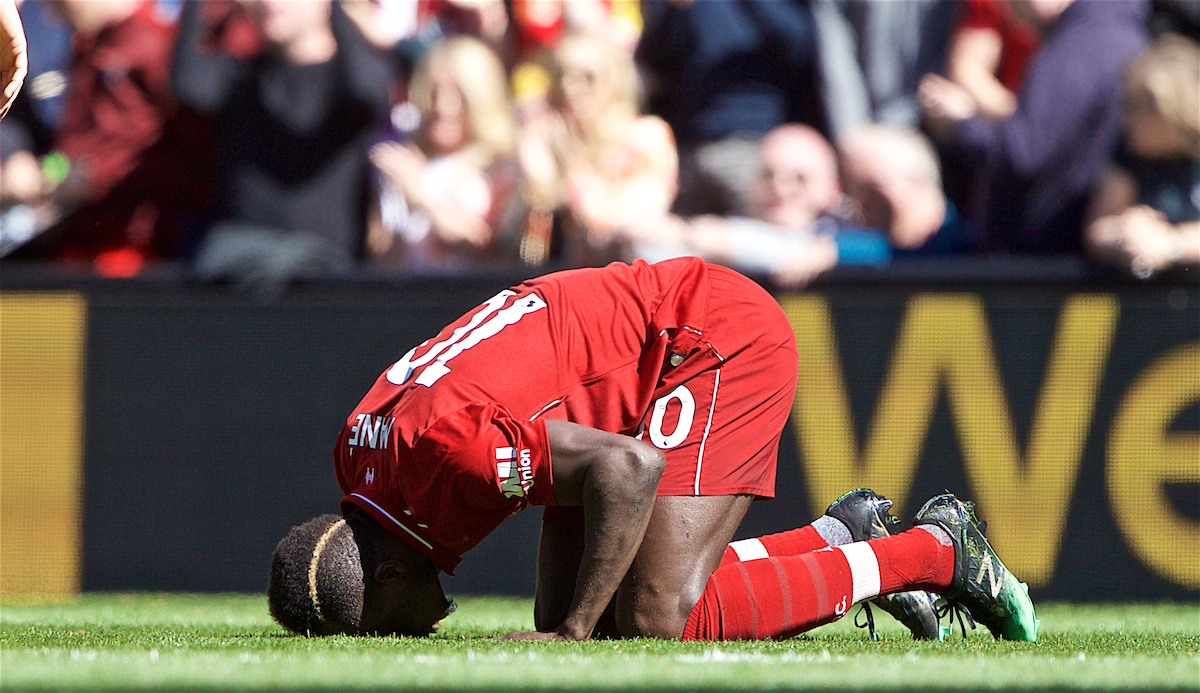 Then the goal on the South Coast and then just moments later as City equalise the craziness takes a turn for the worse. Panicked Liverpool fans desperately try to make phones work. "Is someone making this up for a laugh? What. Is. Going. On?"
The game continues but for a period in the first half, it feels like we are all playing someone else, somewhere else, and that transmits to a team of lads in their 20s who look suddenly like lambs shot through with serotonin. Frisky isn't the half of it. Frisky isn't always good and is bad news against Wolves.
Against Wolves you need focus and certainty because they have it in the bucketload. A gang of massive lads who love and trust their shape. A million diagonals later and here I am trying to tell you Dendoncker is enormous. They are always dangerous without a load of actual danger. But they do hit the bar.
They are a better side than their Mancunian-obsessed support deserve on the day. They are bantz writ large while the side has no jokes and a ton of elbows. An old school "who the fucking hell are you?" rings out from The Kop.
But that's not really the question here. Who the fucking hell are we? That is what matters. Are we brave? Are we strong? Do we believe in our lads?
We all bounced into the ground and now we realise. This is torture. It is horrendous. We are making it harder for our footballers and kettling our own heads. Not knowing whether there was still hope was actually physically painful for a few minutes.
This isn't what Jürgen meant when he discussed being prepared to suffer through games, but it is what I meant when I spoke to you about being prepared to bleed. We bled. There was a moment when I realised the rollercoaster was at the point where vomiting is an option.
By half time, though, everyone knows that it is 2-1 to City, and that the mighty Brighton & Hove Albion were not to be our knights in shining armour this year. But it is that gradual realisation that allows Liverpool's crowd to find itself having lost itself in the early excitement.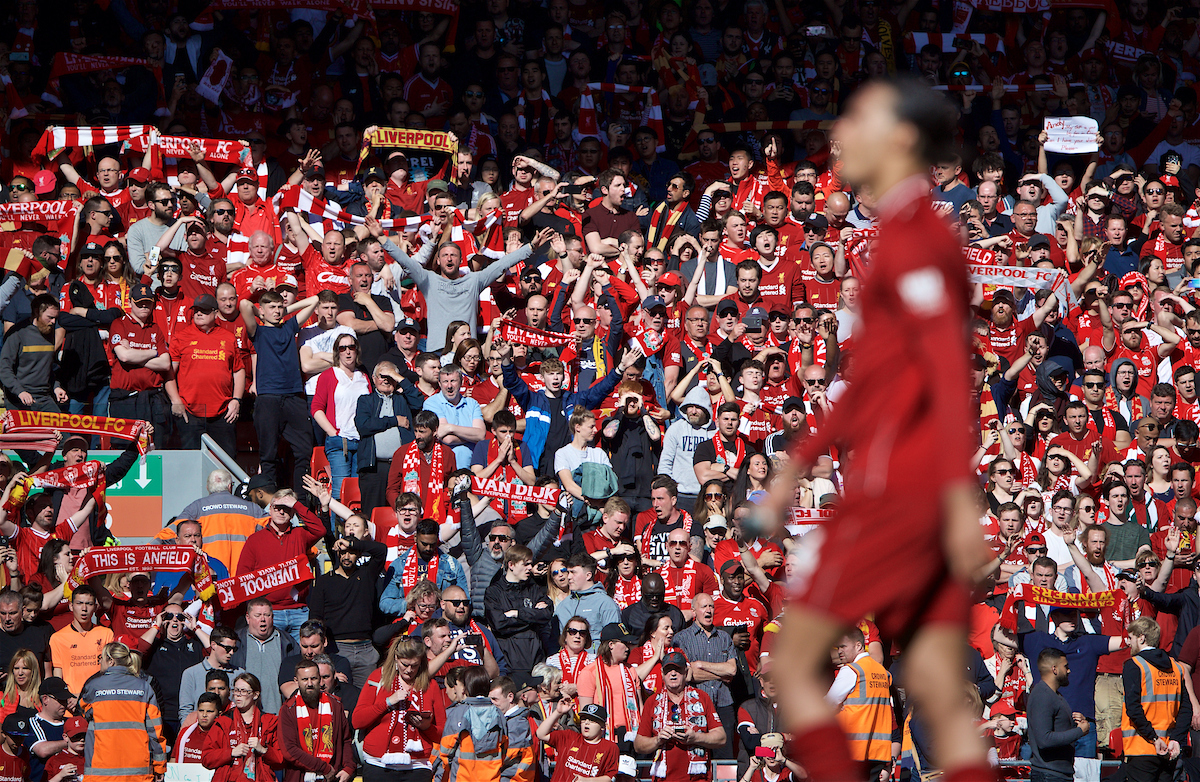 There was a moment we realised the rollercoaster was just that; not a runaway train where crashing and burning was a possibility, but something with a solid safety harness and that harness is called Madrid.
Wolves continue to impose themselves and perform well but Alisson is remarkable in his unfussiness. He is always exactly where he needs to be and personifies reliability. This isn't accidental. His brain is constantly whirring. It makes the saves look mundane when they are anything but.
The checking of phones doesn't stop. We couldn't really ask Brighton to give us that miracle. The expectation wasn't fair. Manchester City are a really great team. There will be discussion of how that gang of lads came together. But that shouldn't in anyway lessen the brilliance or achievement of that gang of lads nor the journey of their supporters. Far from it.
They have shown astonishing grit and spirit, Bernardo Silva and Raheem Sterling have impressed beyond belief and it should be possible to salute them and love Liverpool. When in doubt, be kind. In fact just be kind in general. We've spent the season together, you and I. I'd hope it is always within the essence of these words.
Mane's second goal on the 82nd from the boot of Trent, to Sadio's head to the back of the goal is glorious and takes him level with Mo Salah for the golden boot. Which leads to Mo Salah having a ton of shots which make me laugh, anyway.
Mane now has scored the most goals at home of any player this season, too. He takes his place among the greats in this team and the greats of our club. That he happens to play alongside other greats ought not to overshadow his achievements.
However, our brilliant lads were tired in the second half, and despite substitutions, looked like they could all use a breather. They had had midweek exertions. They didn't need a stellar performance, they just needed a win, in case of miracles. Today's match ends as a routine win but a good win.
So it's a strange one. You get a win that feels like coming second. Because it is coming second. That's what has happened and sugarcoating it is pointless. Let it taste sour. But you can't help feeling amazed by it all nonetheless. It's weird. And something of a hiatus now that we have Madrid to come.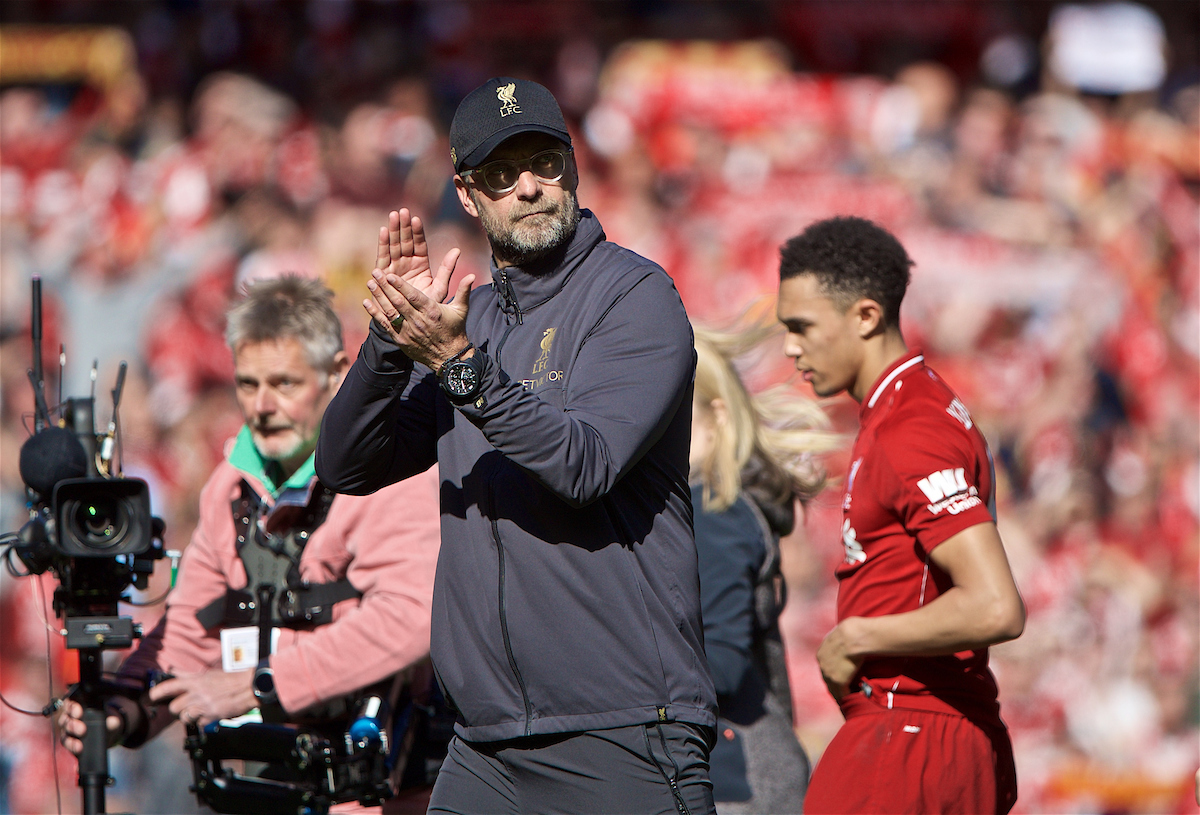 We have that one to go. We are brilliant and beaten. Unimpeachable but bettered. Touched by greatness but unlucky.
But. But. But. Lucky. That's what I feel. Lucky. You get to a point in life when you think that there are no more love affairs. You think, there were players, teams, games before that made me giddy. But surely you get to a certain age, and all that's gone. You still support them, but not with childish excitement anymore.
People say it's the hope that kills you. And that is true to a certain extent, but it's also a total lie, because we haven't been killed by hope this season, we have been brought alive by it. Here is a team, that for 38 games has held us captivated. This is the real thing. The romance. It had had it all.
More than anything it had the ability to make us giddy, to make fools of us in the best way and we get one more go round the carousel with them, one more time to send our stomach west. One more awfully big adventure. Giddiness is reason to live, giddiness is reason to clamber out of bed, giddiness is your stomach and your heart in unison.
It is what Liverpool at their best do to their opponents, what making people turn round again and again is about. What they do at their best to us, make children of us, make lovers of us.
Liverpool have made us lucky, Liverpool have made us proud. Liverpool give us something to do, something in common and a reason to write love songs, a reason not to be cynical, a reason to be kind.
Thanks lads. Thanks Jürgen and the backroom chaps. Win in Madrid because you deserve to lift something up and hang something around your necks.
One to go. One more love song.
"97 points is incredible.

"This has been a stunning campaign, they've given us some of the best days and nights of our lives." ✊

🗣 Subscribe for all of our reaction to a historic campaign for The Reds 👉 https://t.co/XZAK9veWt7 pic.twitter.com/jCIOTc6TTp

— The Anfield Wrap (@TheAnfieldWrap) May 12, 2019
Recent Posts:
[rpfc_recent_posts_from_category meta="true"]
Pics: David Rawcliffe-Propaganda Photo
Like The Anfield Wrap on Facebook