LIVERPOOL fans were forced to return to normal life morose after witnessing The Reds lose 3-1 to Real Madrid in the Champions League final in Kyiv last May.
It had been a wonderful journey, which ultimately ended without silverware, and there was a vast wasteland of nothing to provide excitement until August. There was a World Cup to look forward to, but let's face it, that's like saying your other half has left you, but at least you've got that barbecue with the strange lads from work to go to next week.
It was difficult to engage with football at all immediately after the final defeat. All the sports news would be about it, about Loris Karius, about Mo Salah's shoulder and Sergio Ramos's bastardly ways, and about a night we'd much rather forget (the bit that contained a football match at least, the rest of that day was quite good).
Just two days later, many had abandoned that brief footy boycott and well and truly re-engaged. Liverpool were signing Fabinho.
This was from absolutely nowhere. The Monaco man hadn't even been linked. There had been murmurings of him going to Manchester United or PSG, but here was the usually reliable Liverpool FC patch saying he might be heading to Anfield. Then reports that a fee had been agreed, followed shortly by confirmation that it was all agreed, in a matter of hours.
Transfer news doesn't usually work like that. Normally a player is linked in February, 480 newspaper stories of an imminent deal later and a bid might be being "prepared", then after a few more weeks and Twitter ITKs frantically making up false developments, the player might eventually join, about five months after the first story.
Not here, though. You could have gone to the cinema to see a movie with no prior knowledge of the Brazilian midfielder, other than the fact he is Brazilian and a midfielder, securely playing at Monaco, only to come out as the credits roll to check your phone and see that he was the newest member of Jürgen Klopp's red army.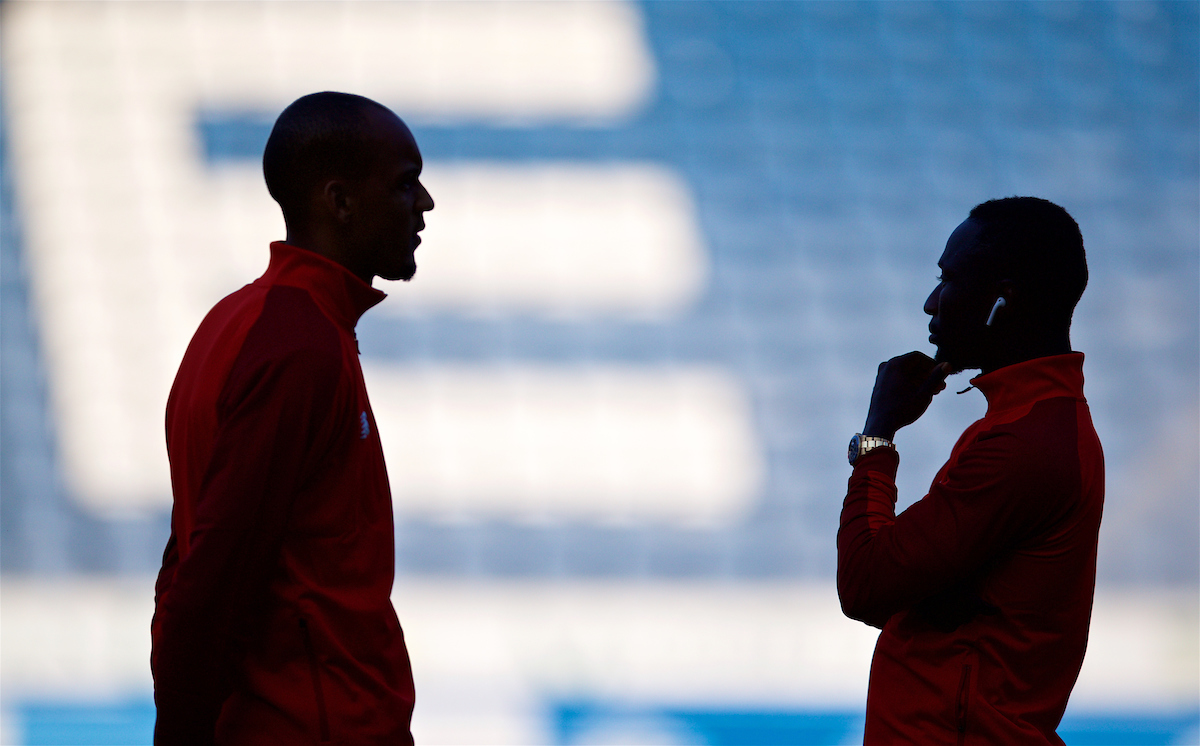 Signing a new player doesn't make up for losing a final, but it was significantly more welcome than not signing a new player and losing a final.
Twelve months on from those hectic few days, Fabinho will line up for Liverpool in the Champions League final, and a remarkably round story arc of his first year will be near completion.
The breakout season of his career came at Monaco where he, along with Benjamin Mendy, Bernardo Silva and Kylian Mbappe, won the hearts of Europe with their underdog story to reach the semi finals of club football's premier competition. In his first campaign on Merseyside, he has gone at least one better.
This wasn't always the obvious direction that the Fabinho story was heading, though. Despite the fanfare around his signing, especially from those who thought that Liverpool's midfield was an area in desperate need of immediate improvement, it took a while for the 25-year-old to break into the team.
His first start came in the Carabao Cup defeat to Chelsea, and it wasn't until back-to-back starts in late October against Red Star Belgrade and Cardiff that he seemed to be ready to be unleashed by Klopp.
Liverpool's number three struggled on occasion, noticeably behind the pace of the 1-1 draw at Arsenal in particular, but was still trusted to play more regularly from then on.
He had shown glimpses of what he could offer, but it wasn't until the 3-1 win against Manchester United that he properly gave the Anfield crowd a sign of the sort of quality that had been secured the previous May.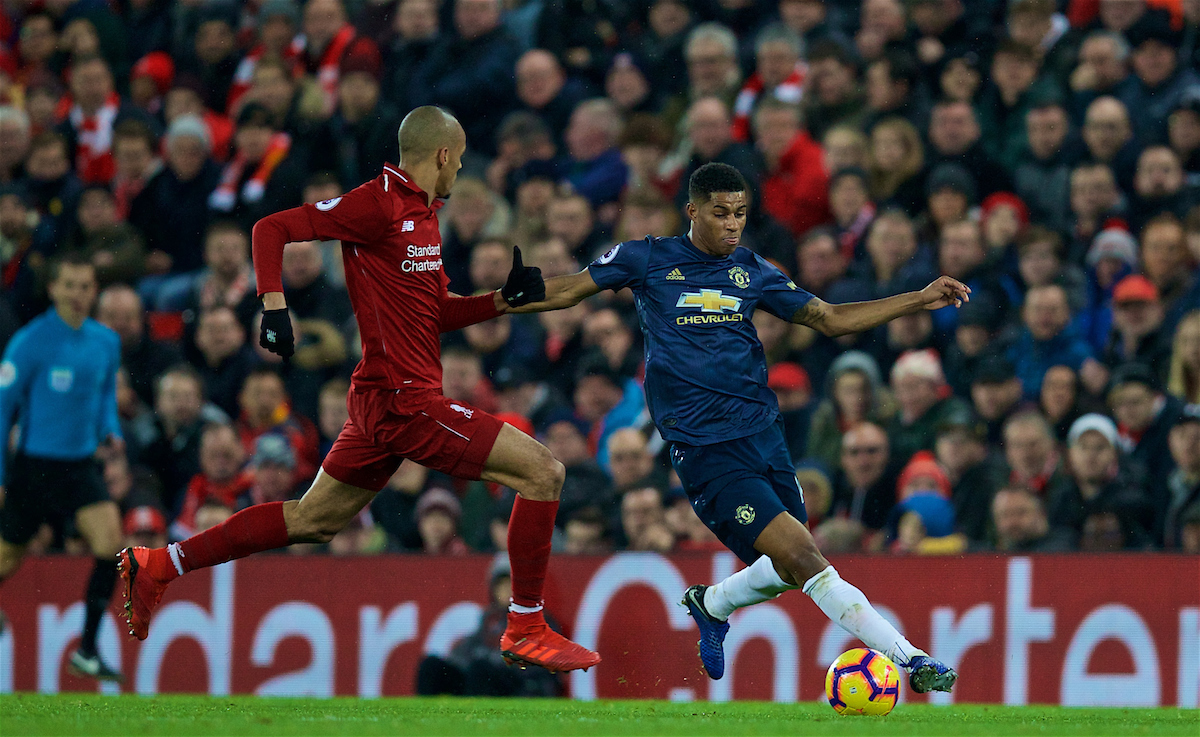 Despite only playing the final five minutes just a few days earlier in the crucial win against Napoli to confirm passage into the Champions League knockout stage, he was given the responsibility from the start against United, and didn't disappoint.
His positioning, his interceptions, his tackles, but perhaps most surprising of all, his passing range were all at elite levels, and it was his perfect ball over the top for Sadio Mane to run on to that set Liverpool on their way to victory against the great rival.
From then on, Fabinho went from "that £40m lad who never plays" to one of the first names on the team sheet.
After experiencing his first English Christmas and New Year, and all of the football that the period brings, he came out the other side an even better player. Despite being forced to plug gaps at centre back during a January injury crisis, he remained one of the most consistent forces in the side.
Once the Champions League returned, he moved onto another level again.
His performance in Munich with the tie tentatively poised, and the disappointment of not starting in the Allianz Arena only to be thrown in after 13 minutes following an injury to Jordan Henderson, was exemplary. He was solid in the midfield alongside James Milner and Gini Wijnaldum, allowing his teammates to secure the historic win further up the field.
Arguably his pinnacle in a red shirt so far came in the semi final against Barcelona, in particular, *that* second leg.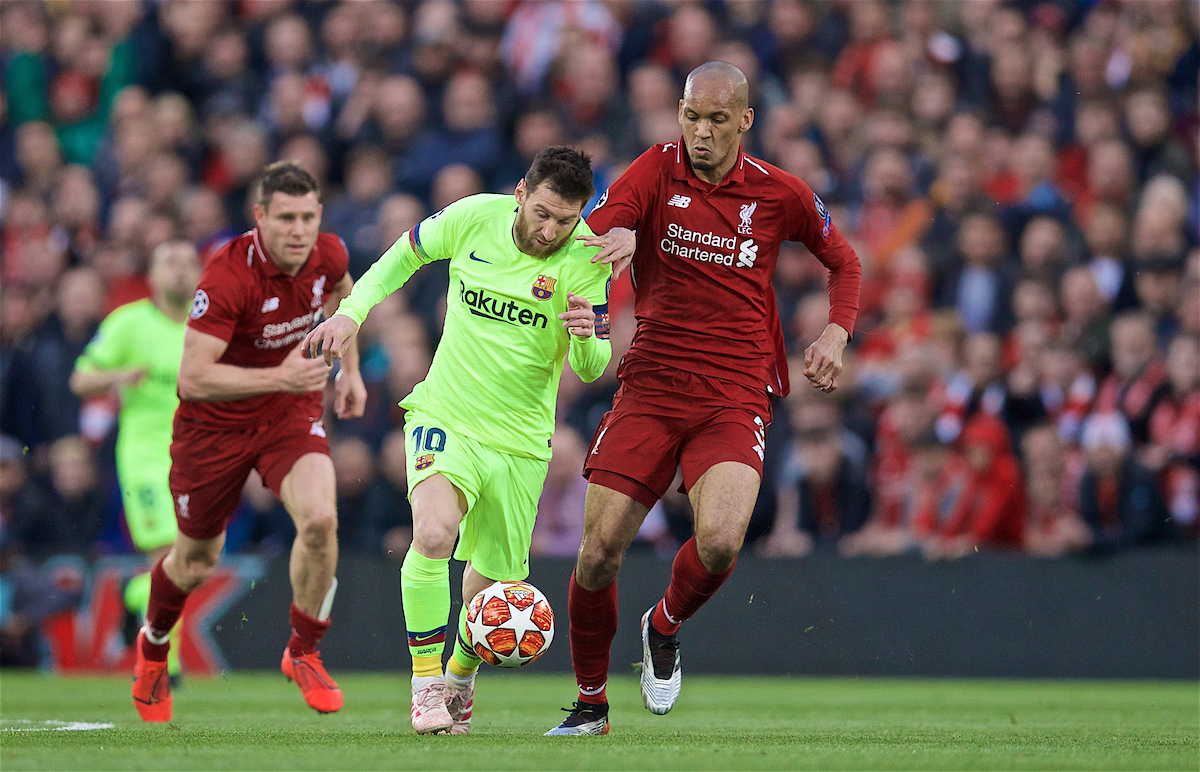 Just 11 minutes in, referee Cuneyt Cakir showed Fabinho an incredibly harsh yellow card for a perfectly good tackle (sensational, in fact) on Luis Suarez. Imagine having to play the role of defensive midfielder against Lionel Messi and Suarez knowing you can't foul them for another 79 minutes plus change.
And yet, not only did he manage to avoid a red, but he still bossed everything and everyone.
The goals were lovely and everything, but the other moment from that night that will live with me forever came near the end. Messi had managed to win the freekick that he bent into the absolute top corner just six days earlier at the Nou Camp after appearing to actually smack Fabinho in the head, and then just falling over.
On this night, he ran to intercept a pass into the Argentinian wizard, nicked it and ran from one end of the centre circle to the other, forcing Messi to trip him.
Sat at home, with barely enough energy left for one more "Allez", that moment forced me to my feet, before I punched the air, declared Fabinho the best midfielder of all time, and then gave the TV a little hug and a kiss. It wasn't my finest hour, particularly given how dusty the telly was, but I don't regret it.
The consistency that Fabinho has achieved at the base of Liverpool's midfield has been a key reason for Klopp feeling comfortable in moving Henderson back to his favoured role higher up the field.
It has allowed the skipper to find an extra level himself, and is a perfect example of how making big signings is one thing, but making the right signings can improve more than just one aspect of a team.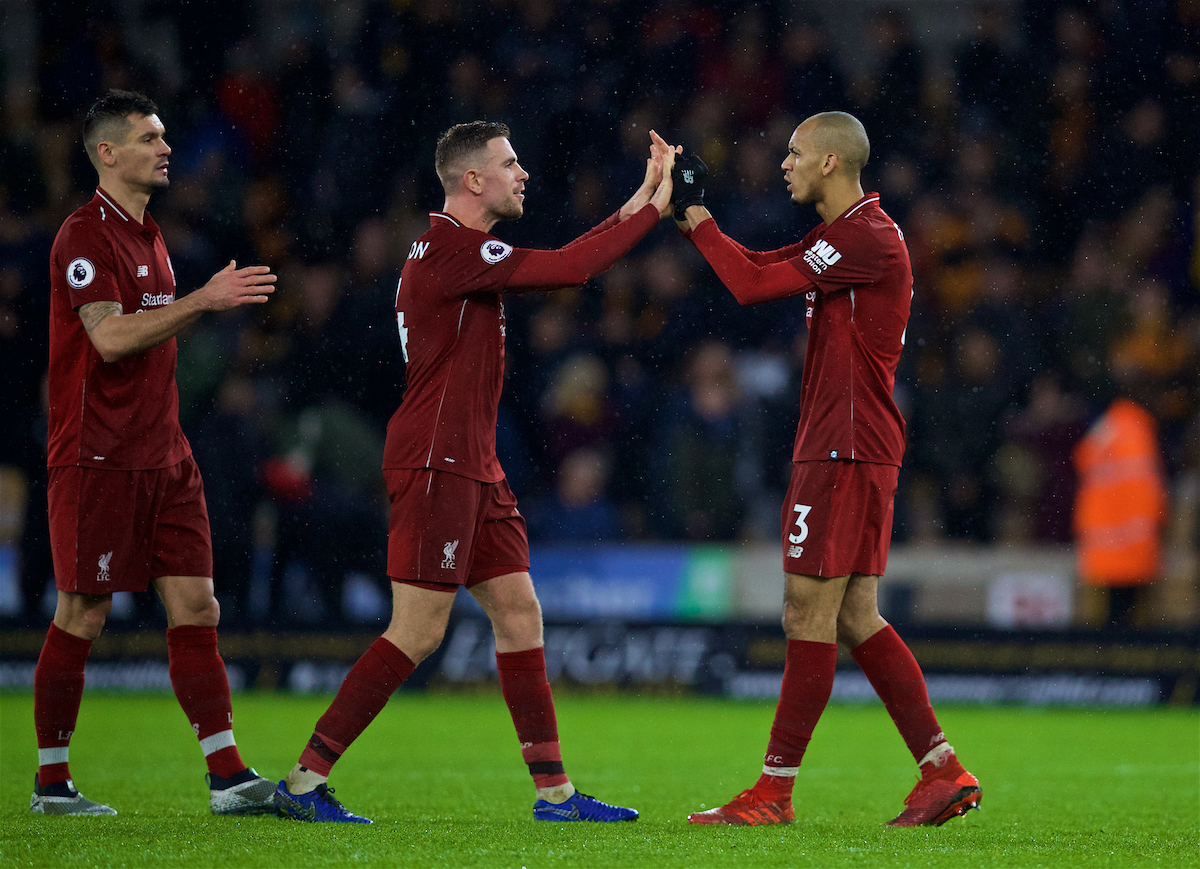 As seen in his forced cameos there, the Brazilian has also proven himself more than capable of filling in at centre back. He started out his career as a right back, before being moved to midfield, but his versatility was on full show as he guided child prodigy Ki-Jana Hoever through the narrow FA Cup defeat at Wolves.
There is a temptation to see more of him at the back given the mouthwatering potential of a partnership with Virgil van Dijk, but then you would be depriving yourself of one of the world's best defensive midfielders.
There are all sorts of narratives awaiting the player and his teammates on June 1. Fabinho returning to the city where he was denied an opportunity to prove himself as a youngster at Real Madrid, and Liverpool aiming for redemption 12 months on from being denied by the same team from the host city.
Should they lift "old big ears" together in the Spanish capital, it will be a fitting moment in more ways than one.
Fabinho's signing gave Reds fans a big lift after Champions League heartache. One year on, he could be there for a big lift of his own, and ensure that nobody needs a swift transfer to cheer them up afterwards.
However, if he wants to have a chat with his old mate Kylian about playing together again in a red and white shirt I'm sure we'd all be fine with that.
"To get 97 points and reach another Champions League final after what happened in Kiev, Liverpool have done so, so well." 👏

🗣 Listen to this week's FREE Anfield Wrap show, looking at The Reds' road to Madrid, here 👉 https://t.co/4PHZDcYGAe pic.twitter.com/ZVMZE2AT5E

— The Anfield Wrap (@TheAnfieldWrap) May 20, 2019
Recent Posts:
[rpfc_recent_posts_from_category meta="true"]
Pics: David Rawcliffe-Propaganda Photo
Like The Anfield Wrap on Facebook