IT seems only fitting that one of the first articles I read this morning was from The Guardian, talking about "the age of rage" and how the world is angrier than ever before.
The article raised so many interesting points, but its last sentence reverberated like a thunderstorm. It said: "Anger can be the start of something. But then you need the something."
Never before has a phrase felt like such an encapsulation of Liverpool supporters, and of Liverpool's achievements over the years. What I mean by the latter point is, Liverpool's greatest achievements, both as a club and a city, have come as a product of anger in the face of adversity.
The continual fight for justice after Hillsborough was a product of the anger of the truth being swept under the carpet for 27 years. Istanbul was a product of the anger of being 3-0 down, at being mocked, humiliated and underestimated.
Even this season's 97-point haul was a product of the anger of being up against Manchester City, who have set unprecedented standards in the league. The run to Madrid has been a product of the anger of what happened in Kyiv. The Barcelona home result was a product of the anger of the Barcelona away result.
Next season needs to be a product of the anger of getting 97 points but somehow not winning the league.
Anger can be an ingredient for success, provided you channel it in the right way. Only by channelling your anger in the right way can you realistically hope to achieve something glorious. Ultimately, you want to prove yourself right first and foremost, rather than prove other people wrong.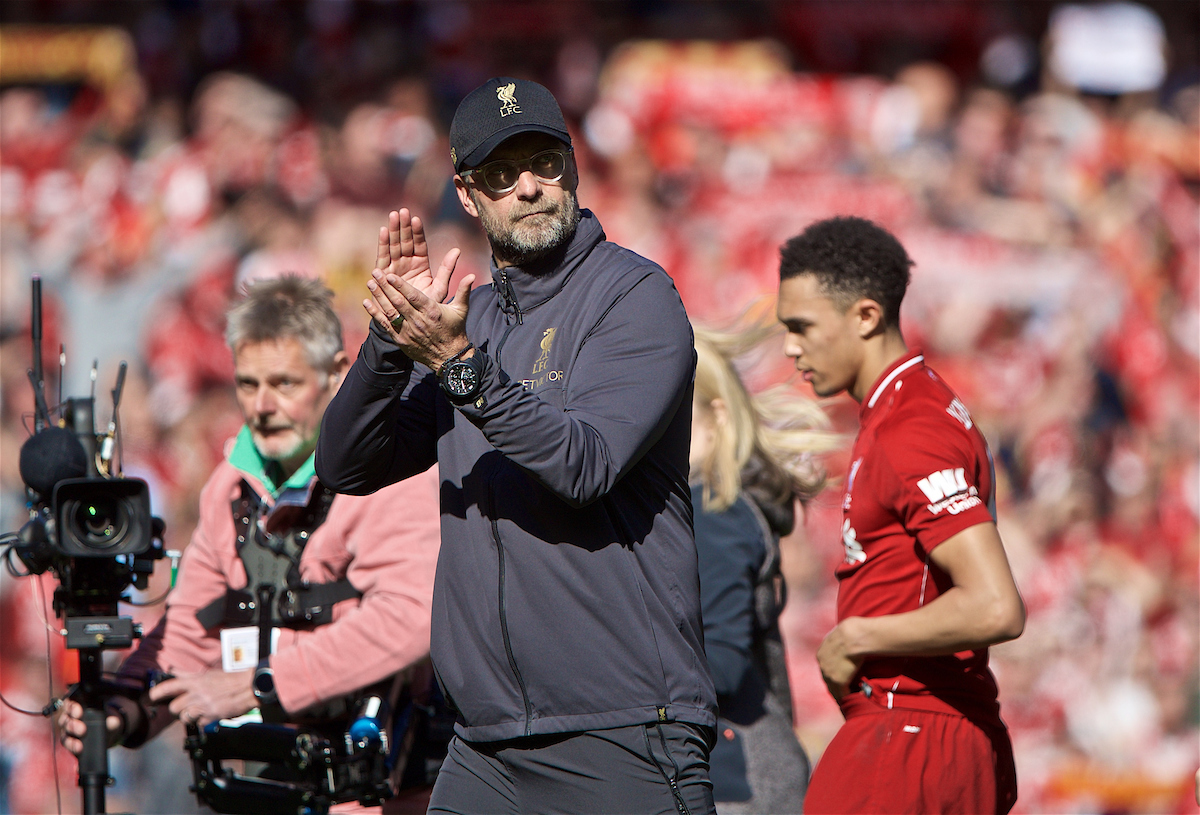 It is difficult to always be angry in the right way, though. I don't just mean that as Liverpool supporters, but as human beings. We're angry about life's complexities – often with good cause.
Football is no different. It sucks us in and makes us feel empowered and powerless in equal measure. Empowered to support our team, powerless to stop other people and events from manifesting themselves.
We can't control Brighton having the defence of a 17th-placed Premier League team, we can't control Evertonians, United fans, @gazzamcfc laughing at us on social media from afar, or some Wolves fans being poisonous.
We might feel angry about all of these elements (and it should be obvious by now that I do) – but we can't change them. When fans of other teams start writing tweets like "when's the victory parade for Liverpool's 97 points?", our immediate reaction is to feel angry, and even inclined to respond with a snide remark of our own.
Ultimately, though, what does this achieve?
It satisfies a need for a split second, but it doesn't make us get to 100 points and win the league. It doesn't make the ball cross the line at the Etihad. It doesn't stop Sergio Aguero's shot from crossing the line at Burnley.
Human nature dictates that some rival supporters feel angry – wouldn't you be, given Liverpool's success this season? If your team had just finished 31 or 53 points below Liverpool, or not reached the Champions League final? Of course you would.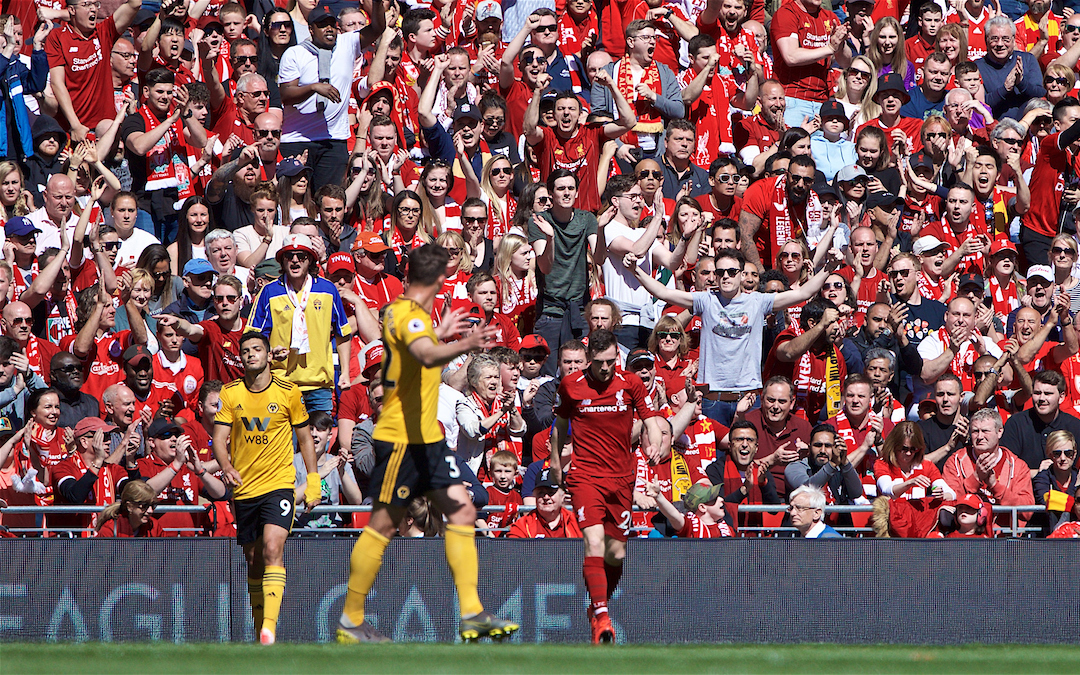 But it's always the "what next" which defines you as a person. What do you do next with your anger? Do you mercilessly mock others for their team's shortcomings, either on Twitter or in the away section at Anfield? Do you snap back at opposition fans for doing so and lower yourself to their level?
You should probably take a deep breath and keep a pragmatic view on things, knowing that you'll back your lads to the bitter end because you love them, and everything else is kind of immaterial. I know I should always choose this option. Sadly, this isn't always the case.
In the words of Ewan McGregor in T2 Trainspotting, we need to "be addicted to something else". Something that's within our control. Something that produces positive results.
Situations which provoke anger will always exist, whether we like them or not, and they're often not within our control – but motivating our players is. You only need to read their Instagram captions after games to know that.
As such, we've got a collective responsibility to continue embodying our club's core values of defiance and excellence – and never are these values more pervasive than when we sing You'll Never Walk Alone.
We don't sing this iconic anthem passively – it's an ode to life as much as football, and there's anger, desire, and relentlessness etched into every lyric.
There's the anger at our dreams being tossed and blown. The desire to walk on through the wind and rain. The relentlessness to keep going until we see the golden sky. It's a battle cry which preceded the age of social media and will be here long after it's gone.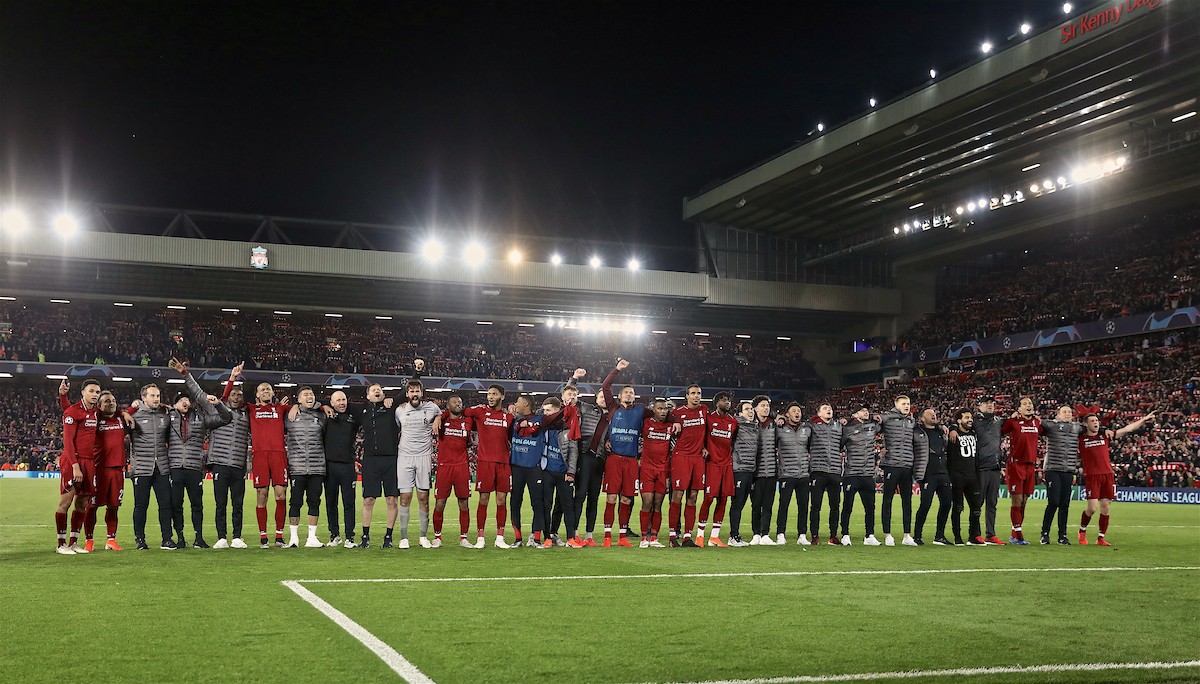 Last Tuesday, I thought our season would be over come the Wolves game. I'd watched Vincent Kompany's wonder strike. My heart had sank. I'd gone on social media. I'd read things I didn't want to read and they somehow became bigger than they were. That was the anger, so what was the something? The something was this…
I got into Anfield early and I sang You'll Never Walk Alone like my words could literally turn the tide, like no one and nothing could beat us. I hugged my dad, and I told him I loved him for the first time in years, and I cried, and I shouted, and I roared the lads to victory. They never gave up in their pursuit of the golden sky, and we all saw the sky with them.
This is the kind of anger that gets results. The kind of anger that empowers, that inspires, that brings out our best emotions, that makes even the seemingly impossible happen. The kind of anger that might help the lads bring home European Cup number six next month, and the Premier League title next May.
This is the kind of anger we should continue to show in Madrid, next season and for the rest of our lives. We're not Liverpool, as a club or as a city, without channelling our anger in the best possible way.
Anger can be the start of something. But then you need the something.
"We should be so proud of this team. Proud of their efforts, proud of the points total… and we've got a European Cup final to look forward to." 👏

🗣 Subscribe and listen to our immediate post-match reaction show after Liverpool's 2-0 win over Wolves 👉 https://t.co/XZAK9veWt7 pic.twitter.com/zGoaoDHA6M

— The Anfield Wrap (@TheAnfieldWrap) May 13, 2019
Recent Posts:
[rpfc_recent_posts_from_category meta="true"]
Pics: David Rawcliffe-Propaganda Photo
Like The Anfield Wrap on Facebook