THE lonely painter.
Well, it hurts. Let me tell you, it hurts. Be prepared to bleed. I told you. I warned you.
To bleed is to love.
The worst thing, the most painful thing about the enterprise is that at no moment did they feel two goals better than Liverpool let alone three. At no point were The Reds played off the park. Far from it.
At almost every stage Liverpool seemed the best team on the pitch. We've seen this trick this season from Liverpool; these rope-a-dope moments. But tonight Liverpool weren't truly victim to that, instead Liverpool were victim to their own lack of ruthlessness. Again and again Liverpool were an inch away from finding a way. Again and again it didn't quite happen.
Liverpool bled. Always turn up there and always get within yards from the goal and find it suddenly very difficult. Barcelona did nothing special. Nothing remarkable. It's why there should still be hope. Why there should be frustration.
To be done, right now, right in this moment, feels unfair. And Liverpool aren't done. It takes little imagination to see The Reds 2-0 up with 10 to go at Anfield. Even with Barcelona's brilliance, even with Leo Messi's brilliance. But there should be frustration.
Look where and when The Reds knocked off. We can expect better from our best at both ends of the pitch.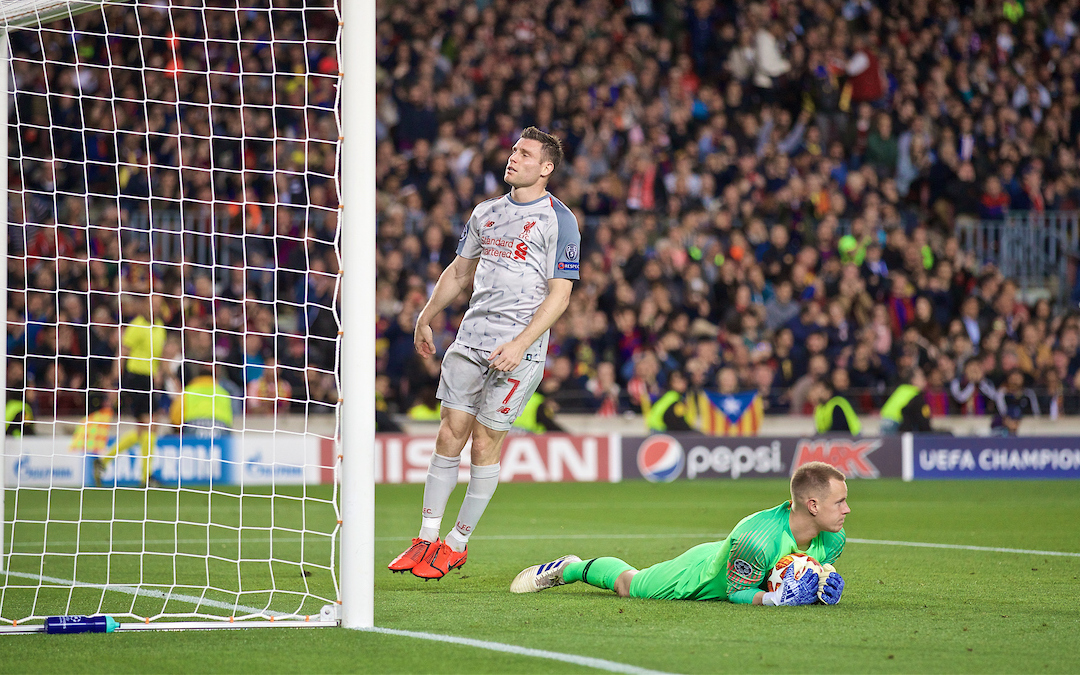 Virgil van Dijk has been marvellous but he can't look back on the first goal feeling faultless. Instead he falls short, knocked off and deep. Then at the very end of the affair Mo Salah hits the post when he should score, when he should give Liverpool some just desserts. The ball bounces out.
There was a strangeness to the enterprise; every early moment saw Barcelona accept Liverpool's superiority. I may be naive but this wasn't the plan to an extent, but they played like an away side in front of 100,000 Catalans.
They accepted that Liverpool were better and, therefore, it is no surprise that until a brilliant freekick it was Luis Suarez who stood out for our opponents. More than anything he is a natural underdog, a man who loves that fight, a man who shows for a year and a day, a man looking for one more at all times.
He's marvellous but then again, who isn't? A takeaway from the first half is this: these are 22 of the very best footballers in the world. It's an uncomplicated point, but the sheer quality on show was phenomenal. Liverpool are one of the best teams in the world. This is their breathtaking domain. This is what they go to school for. They are better than Barca. But…
But there is the main fella. He is a joy, an astonishment in human form. Leo Messi is the best person ever to play this game of ours by a distance.
He is remarkable in brain and in feet. He is an outrage and a kaleidoscope, something to stop and something to adore. He is all twists and all marvellousness. He is the best of us all; he is your dreams. He is what you always wanted to be writ large. Leo Messi is the best person to play this daft game by a mile.
And Liverpool did well. Until he banged on in from 30 yards, because why not? Until he reminded us and hurt us. Until he was the thing and the whole of the thing.
Go to him. Stay with him if you can. Be prepared to bleed.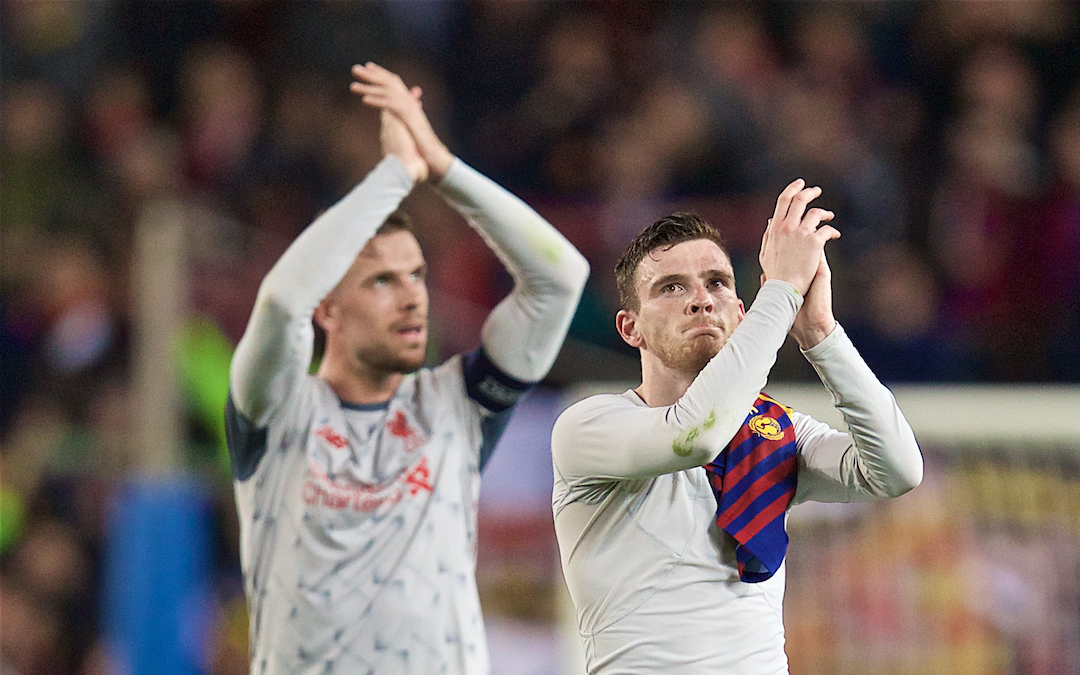 Be prepared to bleed. Liverpool were tonight. They expected to see some magic but they thought they would score. All of them, especially James Milner, didn't just live with opponents but outstrip them; Milner the best player on the pitch tonight. Apart from the very best players, apart from the magicians.
We shouldn't think Liverpool are beaten. It is earthy to think until they score at Anfield this tie is alive. Liverpool are capable of being 2-0 with 10 to go. That should be their aim. They can beat this side. Apart from the brilliance of the greatest to play the game, they have little to be scared of.
Er. Yes.
Be prepared to bleed. Liverpool tonight could have been better at 1-0. They could also have been luckier. But nothing will let me give up on this season. These are my lads; our lads, for better or worse.
To take us to Madrid they will need to be outrageous versions of themselves and we will need to do that too. Nothing is finished tonight but everything now is graft. But Jürgen's lads love that.
Liverpool should go out. But should is doing a lot of work in that sentence. But I still back them, the dope that I am. Stay with them if you can. Be prepared to bleed.
Barcelona come to Anfield to deal with the bloodied. This Liverpool are better than Barcelona; this Liverpool are capable of showing that. However, like everyone else, this Liverpool is capable of being Messied. You go up against the King, you better not miss. Liverpool missed tonight but they get one more go.
Thing is… So does he.
"Liverpool have lost which is an unusual feeling."

"I don't know whether we're still in this."

🗣 Subscribe for all of our reaction, live from Barcelona, here 👉 https://t.co/sAYhSu6Qag pic.twitter.com/1bgKYBKP9c

— The Anfield Wrap (@TheAnfieldWrap) May 1, 2019
Recent Posts:
[rpfc_recent_posts_from_category meta="true"]
Pics: David Rawcliffe-Propaganda Photo
Like The Anfield Wrap on Facebook