LIVERPOOL knew they needed a new goalkeeper for a long time.
Long before Simon Mignolet had been dropped to the bench, not for the first but certainly last time in his Liverpool career. Long before Karius threw the ball at Karim Benzema's feet, or let a long-range Gareth Bale effort through his hands.
Karius's return to Liverpool for pre season looking like a Vietnam war veteran with PTSD won't have been the final nail in the coffin. The ironic cheers and taunts from lower league opposition every time Karius made a mistake won't have changed anything, apart from maybe the decision on who would be the reserve goalkeeper at Liverpool this season.
Liverpool had already identified their new goalkeeper, not just a great shot stopper, but one who would revolutionise how they play from the back. They played it as cool as possible to try and get the price down, saying with as straight as face as possible in the media that they were happy with their two existing 'keepers, and that they didn't fancy Alisson anyway.
But on July 19, nearly two months after they announced the signing of Fabinho and with the team set to fly out to America for the pre-season tour, Jürgen Klopp had his man for a world-record fee.
Many, including myself, doubted the full extent a world-class goalkeeper would revolutionise this team. Let's face it, we'd become so dominant at home that Jürgen could play most games in goal himself if he chose.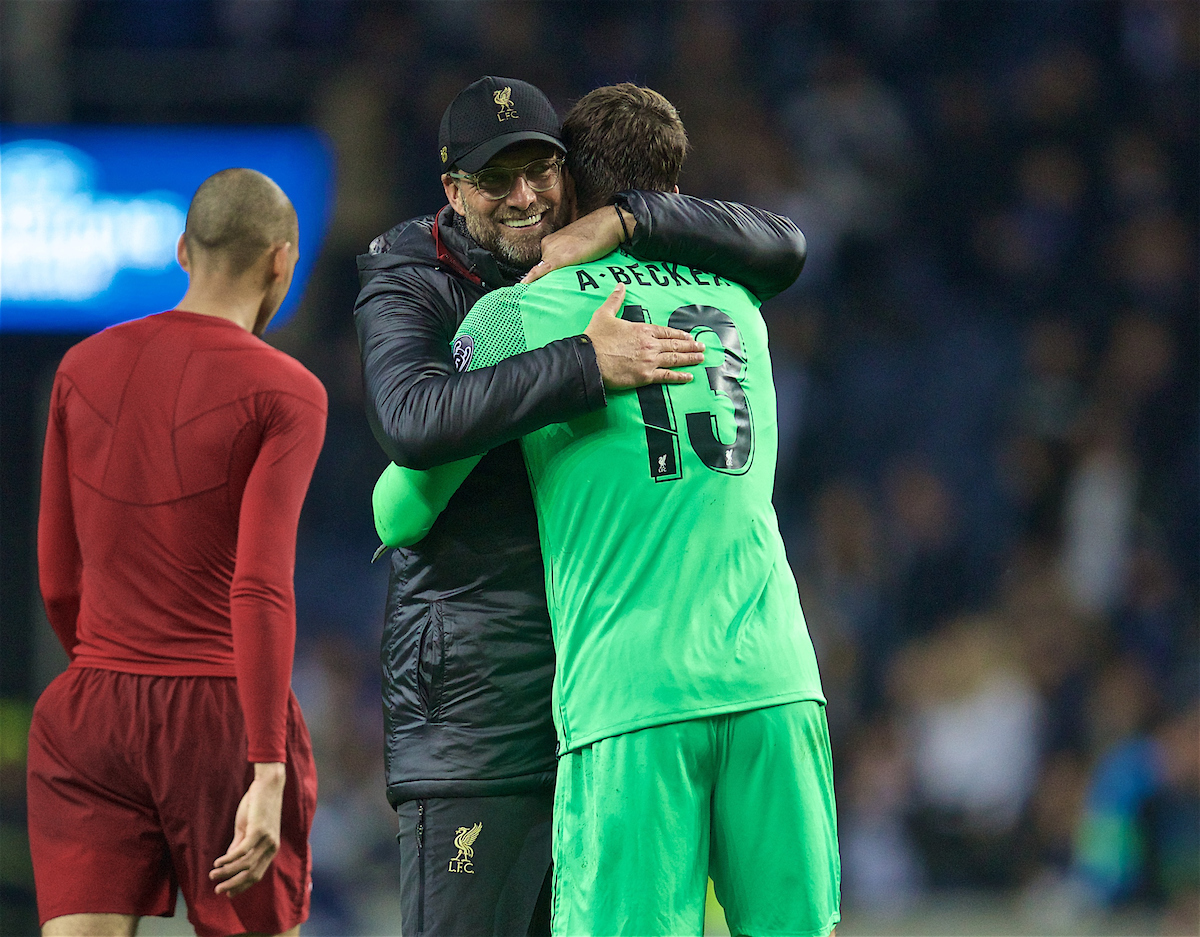 No one was doubting we needed a new fella in goal, mostly because we couldn't bear to look at the other two anymore. But did it have to be the most expensive goalkeeper of all time? Couldn't we just get a lad who could catch things and spend the rest on a forward?
I would imagine that Alisson's last-minute save against Napoli, from point-blank range, with the whole of Anfield with their hearts in the mouth, has almost paid the transfer fee on its own.
Liverpool could have crashed out of the Champions League in the group stages and be on our way to frigging Baku, but instead it's Madrid and all the riches, glory and general bossness that comes from being in the Champions League final for the second time in successive years.
He has been brilliant in the league, too. There have been many brilliant moments on the way to winning the Golden Glove award for the most clean sheets in the Premier League.
The moment that probably summed up his full range of skills best was probably at Turf Moor, in very un-Brazilian and very Burnley conditions, where he makes a top-class save from a set piece, manages to grab the ball in the melee, and launches a counter attack with a booming throw that sees Liverpool score and seal the win.
It is easy to say "you should get all that, he was the most expensive goalkeeper in the world". But a big fee is never a complete guarantee of success. Just ask our friends at Old Trafford.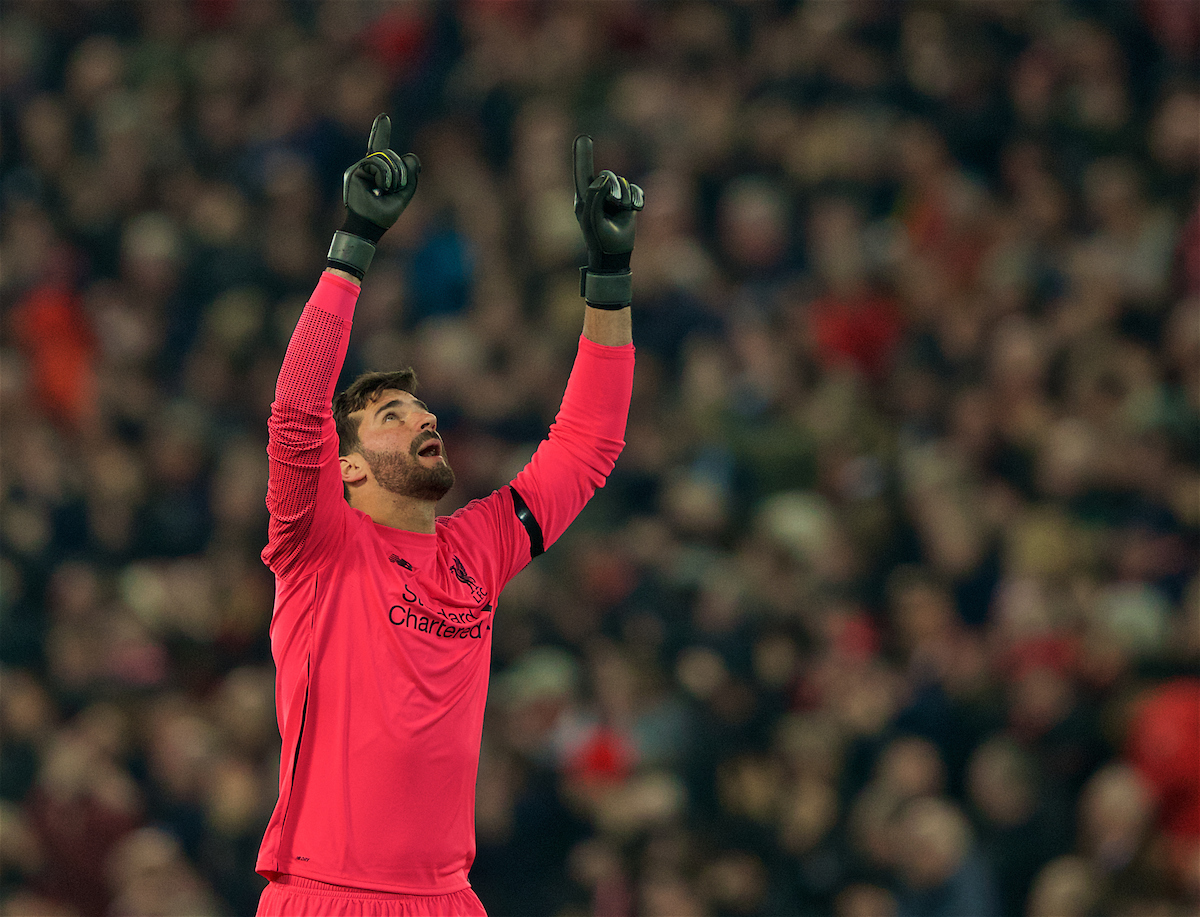 He deserves great credit for how quickly he has adapted to his new club and country, and the recruitment team deserve great credit for identifying him as the perfect goalkeeper for this Liverpool team – with the correct amount of talent and personality to thrive.
That combination has seen him become a firm favourite on The Kop. This week, Alisson has talked about "the power the fans give to the team on the pitch," that he has experienced on the other side as a Roma player who was blown away on a European night and now as a Liverpool player who witnessed Barcelona succumb to the same fate.
He should know that he has contributed to that positive atmosphere this season. That the Anfield crowd is at its worst and quietest when it is nervy. And nothing makes us more nervy than a goalkeeper in front of us who looks unsure.
Alisson has been outstanding, eye-catching but above all: sure. A walking clean sheet.
One more please, Alisson. One more.
"To get 97 points and reach another Champions League final after what happened in Kiev, Liverpool have done so, so well." 👏

🗣 Listen to this week's FREE Anfield Wrap show, looking at The Reds' road to Madrid, here 👉 https://t.co/4PHZDcYGAe pic.twitter.com/ZVMZE2AT5E

— The Anfield Wrap (@TheAnfieldWrap) May 20, 2019
Recent Posts:
[rpfc_recent_posts_from_category meta="true"]
Pics: David Rawcliffe-Propaganda Photo
Like The Anfield Wrap on Facebook