"TAKE a walk around my centre half, gentlemen. He's a colossus."
That was Bill Shankly's famously declaration when the media first clapped eyes on Ron Yeats in a Liverpool kit back in 1961.
Shanks was keen on an exaggeration, but Yeats went on to prove the colossus assertion to be accurate, winning two First Division titles and becoming the first player to captain The Reds to an FA Cup success.
Jürgen Klopp made no such statement about Virgil van Dijk when he made him the world's most expensive defender in December 2017, but if he did, the words would have had a new meaning.
"Take a walk around him gentlemen. You can't, can you? Try running around him. Nope, can't do that either eh? How about if you get him in a two-on-one situation in the last five minutes of a game?" Followed by roaring laughter and a fist pump.
Just seven years ago, things looked very different for van Dijk. As referenced in a recent interview with FourFourTwo magazine, on April Fool's Day in 2012, the big Dutchman was lying in a hospital bed having suffered a burst appendix, and could have died from the resulting complications. He fought back to recover and move on with his football career.
Fast forward to 2019 and van Dijk was rightly receiving adulation from the football world after another top-level performance in Liverpool's dramatic 2-1 victory against Tottenham at Anfield, including an astonishing piece of defending with the game level, and Moussa Sissoko and Heung-min Son bearing down on him.
The vast majority of centre backs would have panicked and lunged at Sissoko, leaving Son open, or been too concerned about the South Korean and allowed Sissoko a simple finish, but van Dijk judged it perfectly, putting the emphasis on Sissoko, pushing him onto his weaker side and forcing him to rush the shot.
You could imagine Alan Hansen, Mark Lawrenson, Phil Thompson and Jamie Carragher getting on their centre-halves' WhatsApp group and sending countless fire, shocked face and aubergine emojis.
While the Sissoko incident was rightly lauded, perhaps the best thing van Dijk did all day was in the aftermath of the winning goal. As his teammates went off to celebrate in the corner, Van Dijk was only interested in retrieving the ball. He then ran over to the side of the pitch and despite playing on an injured ankle, volleyed it as hard as he could, comfortably clearing the gigantic Main Stand.
Of course, there was another ball in the stadium so it didn't exactly waste time, but it was a symbolic gesture. Game over. Last season, he and his teammates were cruelly denied by Tottenham despite taking a late lead. Lightning would not strike twice as far as he was concerned, and it didn't as van Dijk himself made sure by heading away a final freekick.
The performance was important not just for Liverpool and their Premier League title challenge, but for the widening belief that van Dijk might just be the best defender walking the planet right now.
His recent error against Fulham was so out of character that it was noted as a rare chink in the armour, and meant that his next high-profile showing would be scrutinised thoroughly for those trying to find evidence to allow them to take a contrarian – and therefore headline-worthy – viewpoint.
Netherlands faced Germany in Euro 2020 qualifying last week, and van Dijk comfortably dealt with everything that Leroy Sane and Serge Gnabry threw at him in the early stages. His young partner, the very highly rated Matthijs De Ligt, showed moments of inexperience as he was pulled out of position, but van Dijk covered and dealt with anything that got through.
WHAT A GOAL!

Serge Gnabry with an absolute cracker for 🇩🇪 – weaving inside and then belting the ball into the back of the net ⚽🚀

Missing him yet @Arsenal fans? pic.twitter.com/i4KA8d0Tdq

— Sky Sports Football (@SkyFootball) 24 March 2019
That was until one moment of brilliance from Gnabry. The former Arsenal and West Brom man ran at Van Dijk, who was again forced to come over to the right to cover the space De Ligt had vacated. The Liverpool man jockeyed him, much like he did to Sissoko, but allowed Gnabry to cut onto his stronger right side. Due to his right back Denzel Dumfries (presumably a Scottish Denzel Washington tribute act) getting in his way, it prevented him from blocking the eventual shot, which rocketed into the top corner.
You could argue that he should have shown Gnabry onto this weaker foot, as he had done earlier and did again later in the game, but it still required a finish of world-class quality to result in a goal. The commentary team weren't having it though, and started laying into Van Dijk, as if he had stood out of the way completely and let Gnabry have a tap in on the line.
They had enthusiastically praised his earlier work, particularly in dealing with Gnabry, but all of a sudden, every touch from the big man came with a comment of "he's having a shaky game" or "a rare wobbly performance this from van Dijk." It took "build them up to knock them down" to a completely new level.
It wasn't just the commentators. Articles were written on fairly reputable websites about a supposed weakness that had been exposed. The weakness apparently being that if you drag van Dijk to the right side of the defence, he struggles. Given he plays on the left side, it's not exactly a revelation that he shows some vulnerability when covering for an errant centre-back partner and/or right back.
These things will always happen of course, especially when contrary opinions are currency in today's world, but it was perhaps also another sign of why it is so hard for defenders to get wider recognition in the game. Why Fabio Cannavaro winning the Ballon d'Or in 2006 was such an event. Why, since 1994, only one PFA Player of the Year award has been handed to a defender (John Terry in 2005).
However, as things stand, van Dijk is the favourite to buck that trend. He's still odds on to be announced as the winner of the PFA award in around three weeks' time. It is testament to the impact he has had on a defence that was once derided as one of the shakiest among the top six, but since his arrival 15 months ago has become the best in England, and one of the tightest in Europe.
It is why Liverpool waited for him. When his original move to Anfield was blocked by Southampton in the summer of 2017 after accusations of tapping up, many Reds fans desperate for improvements in the backline begged the club to move on. Sign an alternative. Sign Mr Right Now rather than waiting for Mr Right.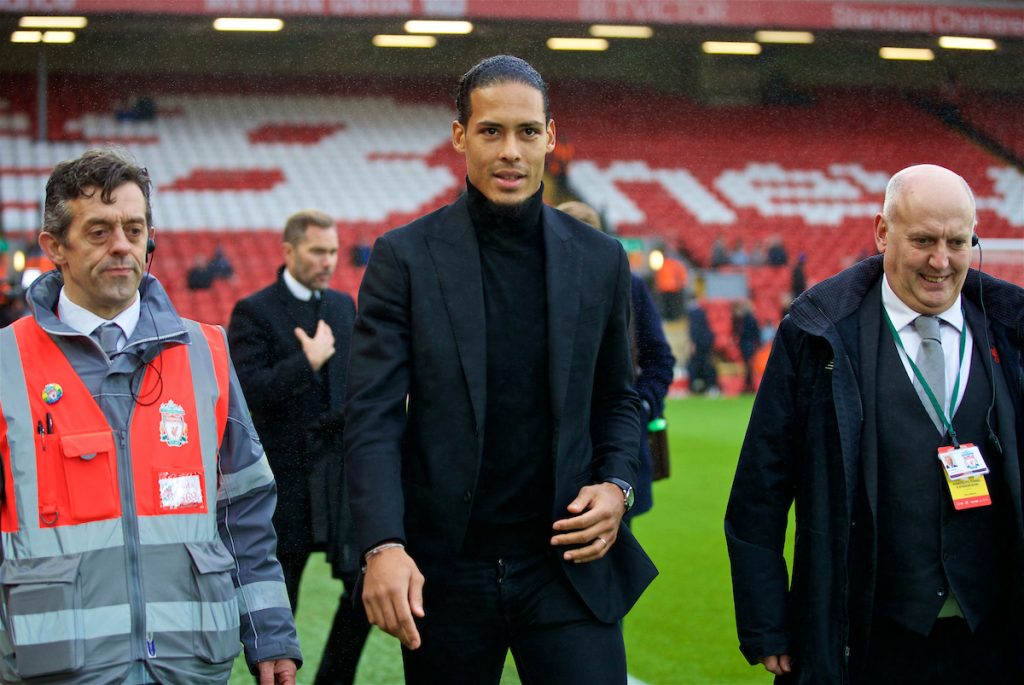 Klopp waited for Mr Right, and ever since the 6ft4in Dutchman made his Reds debut that decision has been fully vindicated, not just with his qualities as a centre back, but the much-needed leadership he brought to the team.
In his interview with FourFourTwo, Van Dijk laid clear the way he sees leadership: "Look at LeBron James in basketball or Tom Brady in the NFL. They are proper leaders, who are among the best in their sports of all time. They are under immense pressure every day, but they still show their teammates what can be achieved and inspire them to bigger heights.
"I want to get the best out of myself, but I also like helping the players around me to make the most of themselves, too."
Six games to go for Liverpool in this title race. Their best player will be key in every one of them. He won't just stop goals. He'll lead by example, he'll calm the nerves, both on the pitch and in the stands. He'll kiss everyone on the forehead and make cups of hot chocolate for all.
Take a walk around him, gentlemen. He's a colossus.
"Liverpool could win the double and Jordan Henderson would be slammed for the way his lifts the trophies." 😂

🗣 Subscribe and listen to our 'Review' show after Liverpool's dramatic 2-1 win over Tottenham 👉 https://t.co/lmNtBz4ADz pic.twitter.com/i29GjogG5J

— The Anfield Wrap (@TheAnfieldWrap) April 1, 2019
Recent Posts:
[rpfc_recent_posts_from_category meta="true"]
Pics: David Rawcliffe-Propaganda Photo
Like The Anfield Wrap on Facebook