LUCK is not chance,
It's toil,
Fortune's expensive smile,
Is earned…
I know what you're thinking and you're right. There just aren't enough football articles opening with Emily Dickinson quotes these days.
I doubt anyone leaving Anfield on Sunday would have had Em on their minds, but as the smoke cleared and the resultant debris examined for reason and fume, the key takeaway was that The Reds had been lucky. Incredibly so. Blessed beyond belief.
So much so that the teatime TalkSport radio show, "We're All Furious about Something or Other," tweeted a poll asking their listeners asking which was Liverpool's luckiest moment of the season. The options given were the Divock Derby, Fulham's rick last week, Hugo Lloris' mind melt and Rihad Mahrez's orbital penalty at Anfield back in the autumn.
The idea being that The Reds have been so spawny that there are multiple examples to vote on.
Though many of those incidents were indeed lucky, the majority were due to Liverpool being unwilling to settle for a point and pushing their opponents into late panic. Only the City penalty can be put down to pure good fortune, but, you know, sometimes teams miss crucial penalties. God knows we've done enough of it ourselves. Eh, Philippe?
The result on Sunday was fortunate. Of course it was. Djimi Traore could take lessons from poor Toby Alderweireld after that. That was cruel on them as Tottenham were excellent in the second half and showed just why so many viewed this fixture with scepticism. They're one of those teams who don't mind getting their shirts dirty regardless of the opponent. A Spurs victory was far from unthinkable.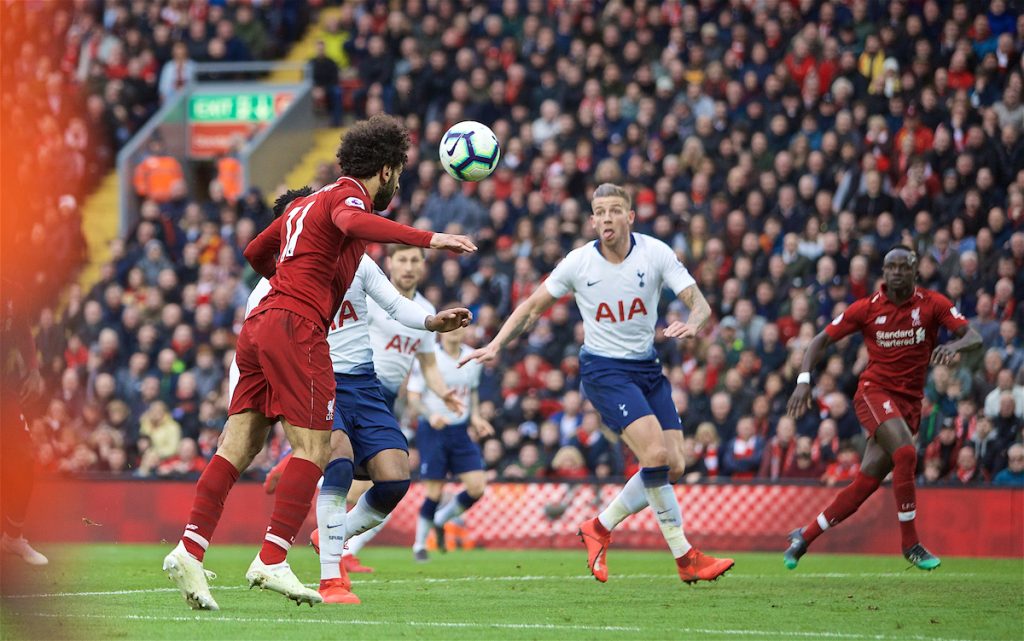 That said Liverpool had the better of the early exchanges and fully deserved the lead from a goal that had many celebrating before Roberto leapt for the ball such was the quality of the cross, but it was the visitors who showed more in the second half. It was only when Sissoko blazed over, thanks to the closing down of Virgil, that the prospect of an away win seemed slight.
But no one could have dreamt up that last minute.
Those of us watching from the other end of the ground had no idea what happened and would have scratched our heads when George Sephton announced Salah as the goalscorer had we not been trying to work out which row we were now on and which way we were facing at the time. It was one of those celebrations.
A friend of mine claimed that George gave the goal to Mo simply because he was too much of a gentleman not to publicly out the Belgian centre back.
Lucky? Of course? Deserved? Hmm. Maybe a draw would have been fairer. Are Liverpool a lucky side?
There's an adage erroneously attributed to the golfer Gary Player which suggests that the harder you practice, the luckier you get. Though that's certainly true to some extent there were many saying that Liverpool are simply jammy. That's not true.
Look at the derby. Jordan Pickford should let the ball sail over, of course he should, but none of that happens if Allison Becker doesn't race forward a few seconds earlier to push the ball a yard or two forward to put Trent's ball within range. A long shot, yes, but Liverpool were canny enough to give themselves an advantage no matter how tiny.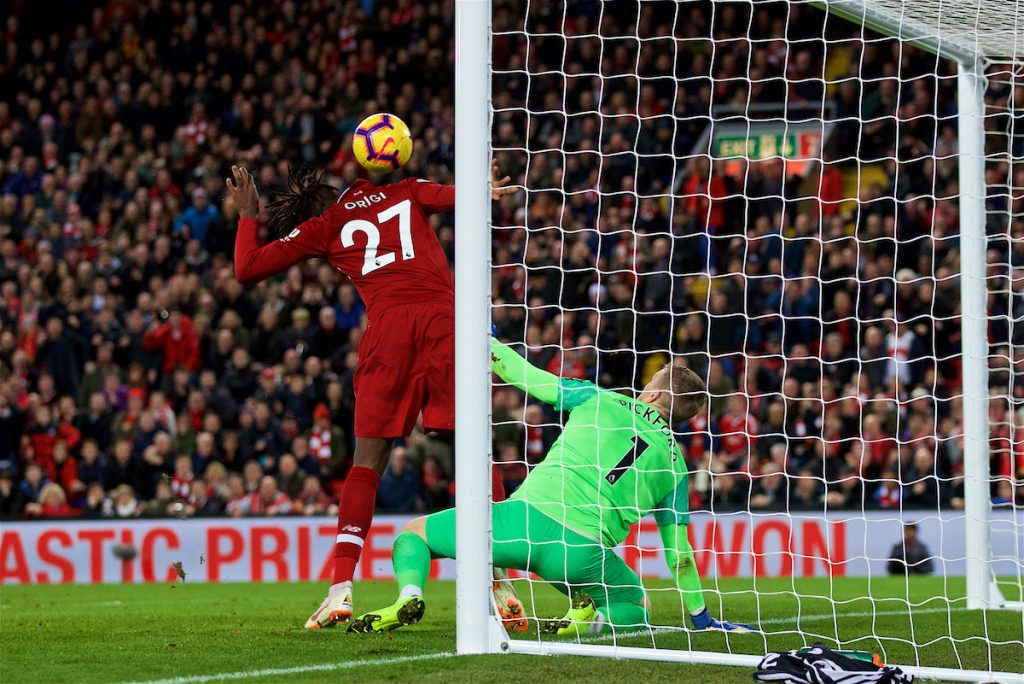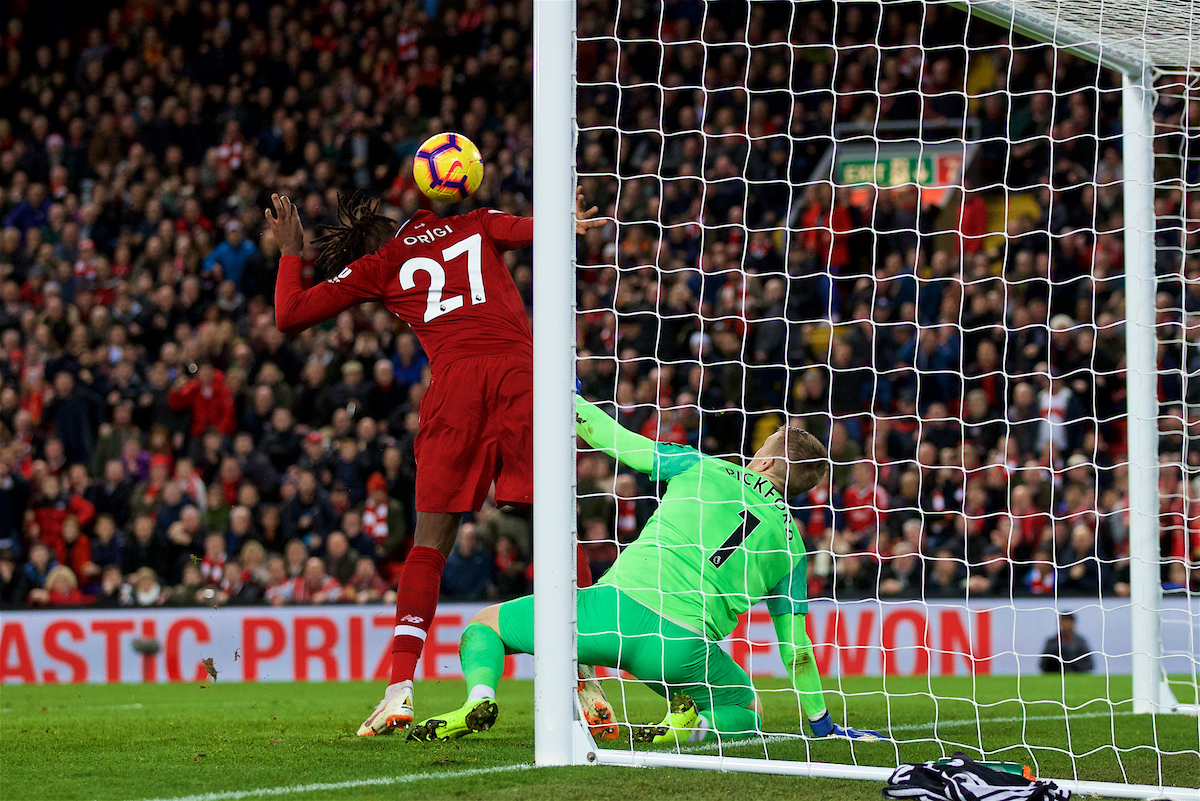 This is what Emily D meant when she said that it is toil not chance which tips the scales. It is earned, albeit only occasionally.
The Fulham game is the best example of this. Why did we get the late penalty there? Because The Reds simply could not countenance the idea of a draw at a club doomed to relegation and such was the strength of our attacks, we exploited a mental weakness and something gave.
And it's that mentality — a Klopp word — that is key. How many times have we seen a Liverpool side capitulate once a side throws everything at them? United in the 1999 FA Cup springs to mind. On that cursed day an early Michael Owen goal saw us lead for the majority of the game. Then came a late equaliser followed by an inevitable winner.
That inevitability is no longer in play for the current side. Liverpool's back five could have wilted once Alli, Eriksen, Kane and Son gained an upper hand, as so many have done before. It didn't, though. It kept on going. That's not entirely about luck. That's focus, single mindedness.
Sure, Tottenham were unlucky as human error let them down just at the worst possible minute, but they were the only team dogged by ill fortune that day.
Look at Cardiff City. A goal up against a potential top-four side with the relegation trapdoor snapping at their heels and then they get a linesman who can't be bothered moving his head a few inches to look over Willian's shoulder to spot the three lads offside.
You train across an international break, you run drills and scenarios all over the place, and take a lead only to find yourself in the not-too-safe hands of Mr Magoo.
Virtual reality!

— Jamie Carragher (@Carra23) 1 April 2019
They went to pieces after that and lost the game once Chelsea went for broke. Tough luck for The Bluebirds, but very, very funny for those of us who know the Neil Warnock of old. Still, to hell with you and the rest of your world though, eh Neil?
That winning Chelsea goal provides the perfect example. "Unseen in the background, fate was quietly slipping lead into the boxing glove," as P.G. Wodehouse put it, and Cardiff were wounded enough to lose their impetus entirely. Heads went.
They certainly didn't last week at Craven Cottage when Milner, van Dijk and Alisson, combining to make a dog egg of a situation, let Fulham into the game with minutes left. But it was how they dealt with that situation which made the difference.
Liverpool are no longer a side to lick their wounds and make cow eyes to the heavens afterwards. There's a league to be won. Again, focus and single mindedness.
Bad luck is one thing. How you deal with it is another.
Liverpool were lucky on Sunday, sure, but sometimes fortune's expensive smile is earned.
"We're in April and Liverpool are in contention for the title and the European Cup.

"It's not too often we've been able to say that over the years, so let's enjoy every step of the way." ✊

Listen to this week's FREE Anfield Wrap show here https://t.co/23oRaYppcW pic.twitter.com/V2siJXbHvu

— The Anfield Wrap (@TheAnfieldWrap) 2 April 2019
Recent Posts:
[rpfc_recent_posts_from_category meta="true"]
Pics: David Rawcliffe-Propaganda Photo
Like The Anfield Wrap on Facebook