I READ the news today, oh boy.
Seriously though, have you read it? And I don't mean the April Fools stuff. Try the football. It's glorious. This game brings with it many joys, and few are as good as a probably undeserved, and definitely very lucky, last-minute own goal victory in the archetypal must-win game.
That was exactly what Liverpool experienced yesterday against Mauricio Pochettino's impressive Spurs side and, given the current state of affairs at the top of the table, there was no better way to win it.
Why? Well aside from the primal joy of celebrating that wonderful moment, and the lift for all involved given that disappointment was so close, there is the second wind of it getting in heads and up noses as the season edges ever closer to its finale.
Many of the national media reports from Anfield appear to be bristling at the temerity of Liverpool daring to win in such circumstances. You can feel the feet stamping, the frowns forming and the mouth foam frothing. And not just because they all had to rewrite their copy in the press box either.
There's talk of luck, mention of fortune and football gods, even the idea of Liverpool's name being on the league, while one journalist even included a laughable line about Jürgen Klopp's "expensive-looking teeth". Bless. As professional as some journalists strive to be, the mask often slips for many. They all support a team after all. And they probably hate one or two, too…
Social media, as ever, goes the extra step further with conspiracies ranging from bent officials to orders from above at the home of football administrators. They don't want Manchester City to win it, apparently.
It's brilliant. And it's brilliant because this is what football does to so many of us at times. Think of all those moments we've been left lamenting the "spawny Manc bastards" down the years. It's much, much better being on this side of the fence as we enter April with us up there and them down there.
33 – @LFC have scored 33 winning goals in the 90th minute or later in Premier League history, at least eight more than any other side. Pulsating. #LIVTOT pic.twitter.com/Ts2U1HuZAA

— OptaJoe (@OptaJoe) 31 March 2019
Liverpool are – or at the very least are becoming – the embodiment of all those things we used to love to hate about those Alex Ferguson sides among others. They don't know they are beaten, they appear to enjoy huge slices of "luck" and they have a wonderful habit of finding winners late on in games.
As the kind people at Opta reminded everyone yesterday, The Reds have a real knack for it. So what does that do for everyone's hearts and minds?
I'd like to think it gets in the head of their players and spurs ours onto something more. It should be sparking belief in the stands, too. And judging by how it felt to be part of that crowd on Sunday – and how highly Klopp praised it post match – it seems to be doing just that.
Andy Robertson has spoken post match of Liverpool's fitness levels and there's an argument to say Spurs burnt themselves out a little yesterday, which may go some way towards explaining the bizarre own goal that won it for The Reds. It was the sign of tired minds and tired limbs. And when you face this Liverpool side, that's what you'll likely be feeling late on in matches.
Come the next six games Liverpool play in the Premier League, how would you fancy lining up against them knowing they keep on going, keep on knocking and are seemingly very good at finding a way through late on? It must creep into the consciousness of opponents and the more it happens, the more Liverpool players must believe it will happen again.
Meanwhile, how much did Liverpool's "get out of jail free" victory mess with Manchester City's Mother's Day? You can almost picture the scene that surely played out among fans, players and staff of a blue persuasion alike.
The Spurs equaliser will have been much celebrated. The Moussa Sissoko miss much maligned. And the own-goal winner? Don't rule out boxes of chocolates hitting television screens in Manchester around about 6.30pm yesterday.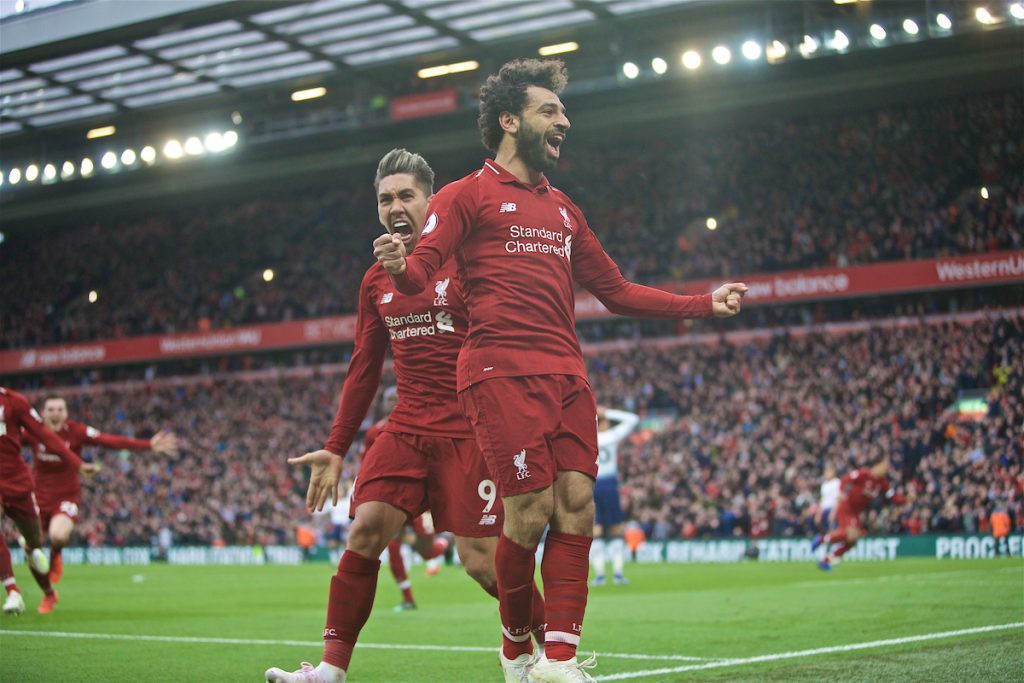 A match so quickly swung from offering a chink of daylight for City and an easing of the pressure to the familar sinking feeling of slumping back to second place. It's got to annoy them. They're only human after all.
The Premier League title can still go any which way between Liverpool and City, and there is much football to play. But you can't help but wonder how much Liverpool's staying power will start to creep into the craniums of City's superstar squad.
By now they probably expected The Reds to have fell into line. Last season they had it all their own way. This time they have a real challenge to cope with. It's a different type of pressure so let's pray it eventually tells. If it doesn't, and they hold their nerve, then fair play to them. It will be quite the feat.
In the meantime, we can enjoy it – brushing over the bruises from celebrating another late winner safe in the knowledge that Liverpool have done their bit. Again.
It's a record tally for Liverpool after 32 games in the top flight now. An unbelievable bar has been set. And The Reds are still jumping, still fighting, still there.
Jürgen Klopp could be the lucky man who made the grade.
"Yesterday was absolute carnage… and I wouldn't have it any other way." ✊

🗣 Listen to this week's FREE Anfield Wrap show in full here 👉 https://t.co/Gd5kjgCI3P pic.twitter.com/G79ZqRxuKs

— The Anfield Wrap (@TheAnfieldWrap) April 1, 2019
Recent Posts:
[rpfc_recent_posts_from_category meta="true"]
Pics: David Rawcliffe-Propaganda Photo
Like The Anfield Wrap on Facebook