IT'S all people have been talking about.
The battle between rival regions over the throne. Wild stories, fantastic creatures and plenty of very sexy moments.
But enough about the Premier League title race (raises an eyebrow in a pathetic attempt to suggest I had you going there).
Yes, of course Game of Thrones is back for its final season and it's all anyone seems to want to discuss, which is particularly annoying for people like me who have never seen a single minute of it (because I'm so indifferent and cool). It's really cutting into quality football chat, to be quite honest.
"Have you seen the first episode?"
"No. Have you seen that Fabinho tackle on Eden Hazard? Better than all the full-frontal nudity and CGI dragons in the world, that."
Jürgen Klopp is leading this particular army, and is doing his utmost to ensure that it ends in glory at the end of the season.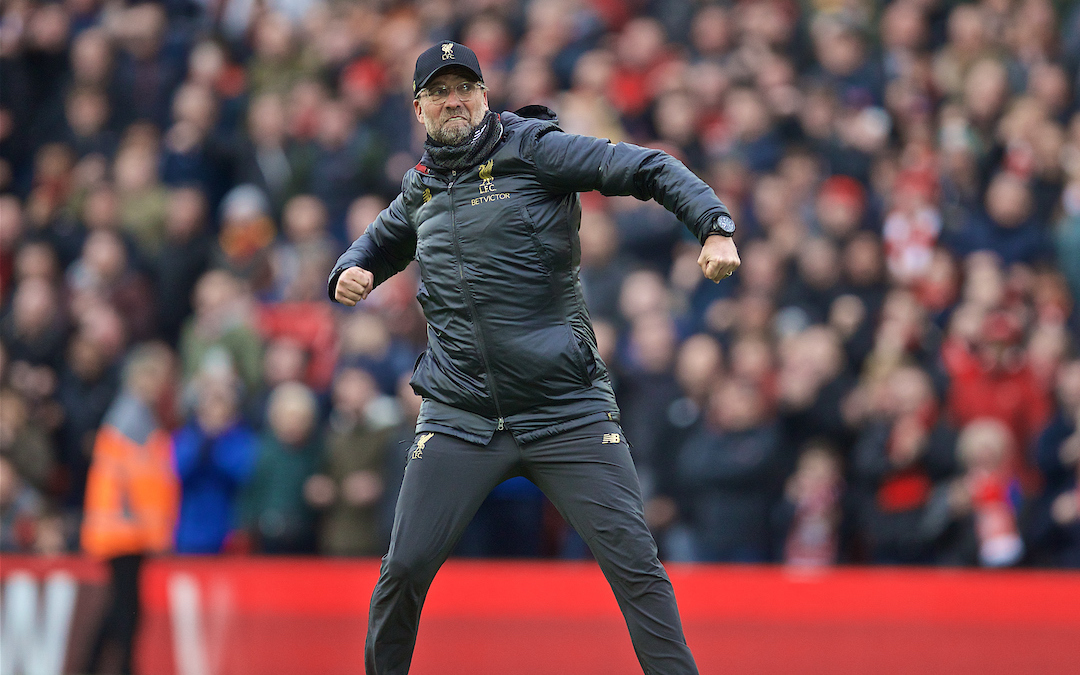 Nerves were abound before the game, or at least that's what the media indicated. We were all apparently obsessed with The Slip™. There was a point where The Slip™ was such an oft-used phrase in the buildup that I genuinely thought it might be a new Netflix series I hadn't heard about (and would ignore anyway because, as established, I'm so indifferent and cool).
Chelsea at home is not a game Liverpool have found easy, or even winnable, in recent years. Added to that, while Maurizio Sarri's men have not had the best of seasons, they seemed to be regaining some semblance of form, in particular, through their little dynamo, Hazard.
In a tight and tense title race, and having seen Manchester City comfortably dispatch a meek Crystal Palace, the pressure should have been close to bursting point when the whistle blew to begin the game at Anfield.
As it was, Liverpool controlled proceedings, played with maturity and authority, and thanks to the right men doing the right things at the right time, ran out with a relatively routine 2-0 victory to return to the top of the Premier League.
It was a fine way to pay tribute to 96 souls 30 years on from the tragic events at Hillsborough.
The start was calming enough as The Reds established the order of things straightaway. Not by scoring or blitzing their opponents, but by simply dominating the ball and the territory. They probed but knew there was no need to overcommit, in case Sarri's own pacy front three catch them on the break. Chelsea probably went into the break happy they had reduced the hosts to half chances.
Then the start to the second half. What an absolute whirlwind. From kick off in the second period until around the 56th minute, The Reds lay siege to The Blues' goal. They created three presentable chances before Sadio Mane even scored the opener. In fact, including the two goals, Liverpool had about six quite decent chances to score in that 11-minute period at the start of the half.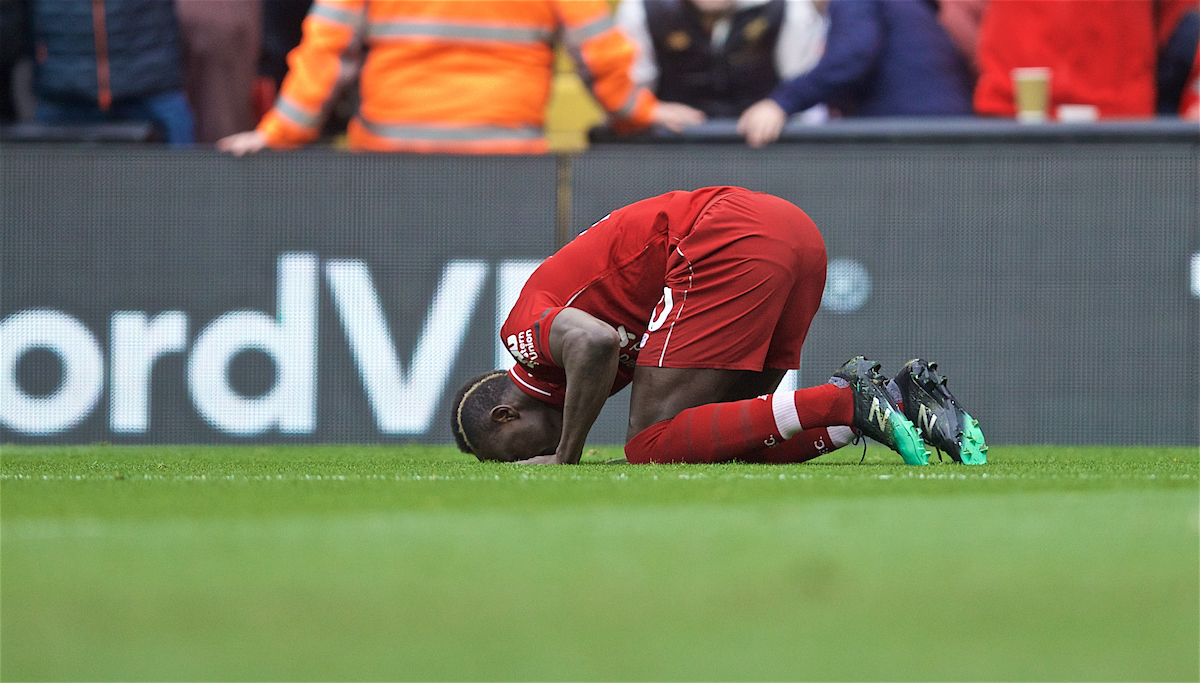 You would have thought that the Mo Salah thunderbolt would have battered Chelsea's confidence, caused them to retreat and accept damage limitation. To the visitors' credit, that wasn't the case. Gonzalo Higuain came on, Hazard moved to the left and by the time Liverpool adjusted, The Blues had already created three threatening opportunities.
It was a concerning time where Hazard hit the post and forced a save from Alisson, but if you can't allow a team like Chelsea a five-minute period in a 95-minute game then your expectations might be a bit too high.
Plenty said that Liverpool would struggle having to play after Man City practically every weekend, but they've come through it with flying colours. Imagine how annoying it must be for the reigning champions, going top only to be knocked off shortly after time and again.
Sunday was another example of the absolute balls being shown by this team. The rest of the top six have not only been left in the dust, but are now about 50 miles behind the dust.
As well as the intensity of the title race, Liverpool are also playing Champions League knockout games with no fuss. Another professional showing in Portugal on Wednesday will mean that this team is simultaneously on the cusp of a record points total in the league and safely into another Champions League semi final.
Remember when people were saying that Klopp was a fraud because his win percentage was no better than Brendan Rodgers? Sunday was his 200th game in charge, in which he has recorded 112 wins, the joint-second most in the club's history, level with Rafa Benitez and only behind Sir Kenny Dalglish. Maybe he's more than the "glorified motivator" that some tried to desperately paint him as on his arrival in England.
The Reds have come through a run of games that looked difficult on paper unscathed. Concentration in the final four against Cardiff, Huddersfield, Newcastle and Wolves will be needed to seal those points, but the onus is now on City to win theirs.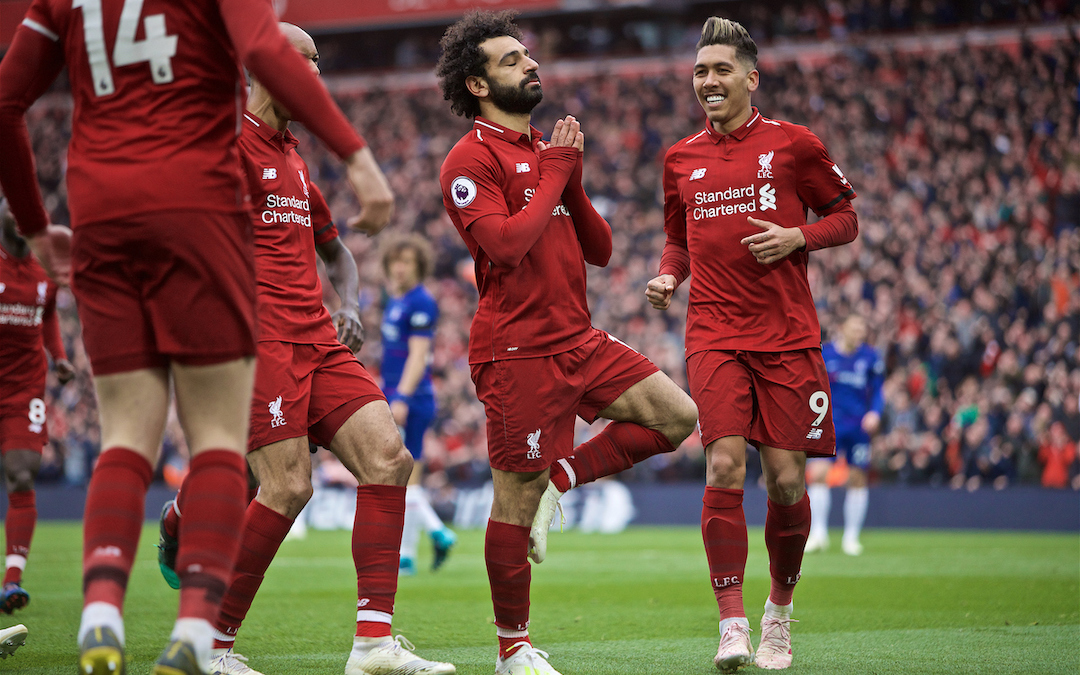 We trust these lads in a way we didn't in 2014. We loved them sure, but we didn't trust them. How can you trust a team in a title race that concedes 50 goals? This team have conceded 20 with just four games remaining, and even some of those were freak errors that ultimately didn't matter.
The comparisons to the Chelsea game in 2014 were inevitable, but as Sunday showed, much like the team's defence back then, they were without substance. The Andy Robertson slip in the second half was correctly used by Klopp to draw a line under the circus. Liverpool v Chelsea shall no longer be about that slip, but about The Reds proving they are a superior power to a side that were champions themselves less than two years ago.
Tiger Woods reclaiming his place atop the golfing world on Sunday stole the headlines from Klopp's lads, but a former sporting icon wearing red coming back to win a significant competition for the first time since 2005? Sound familiar? All he's got to do now is marry Ken Barlow and become The Pope (or something) and the title is basically a lock for Liverpool.
Just as with Game of Thrones, there are only a few episodes of this title race left, with plenty of drama guaranteed along the way. All eyes will be glued to it from now until the end of the season to see who ultimately comes out on top.
Godspeed to whoever Manchester City play next. To be honest, in all the excitement, I've completely lost track of who it is now.
Winterfell away?
Recent Posts:
[rpfc_recent_posts_from_category meta="true"]
Pics: David Rawcliffe-Propaganda Photo
Like The Anfield Wrap on Facebook