GOING away to follow your football club is always different and always special.
However, some trips are more special than others.
As Liverpool fans, we've been spoiled down the years, even during what we would regard as barren times.
So many supporters of other teams can only dream of the passport stamps the most dedicated of Reds can show.
This week, for those fortunate enough to be going, there will be another trip to turn those on the outside looking in a deep shade of green.
Barcelona. In the semi final of the Champions League. Sounds good, doesn't it?
It's been 12 years since the last trip to the Nou Camp, and what an adventure that was. This time, there is more at stake. A final – against Ajax or Spurs – in Madrid is the prize on the line. A big number six the dream.
Then, under Rafa Benítez, The Reds took to the field for a last 16 game after an explosive series of events at an Algarve training camp: Craig Bellamy swinging a golf club at John Arne Riise and Jerzy Dudek ending up in handcuffs among the highlights.
Hardly the ideal preparation.
Yet Liverpool batted on. After going to the Nou Camp in 2001 and defending for their lives to leave with a hard-earned 0-0 that prompted stylistic snobbery from Catalonia's finest, this was different. Liverpool had a proper go. And Liverpool won.
Going to a club like Barcelona and a ground like the Nou Camp is special in itself. It's one of those bucket-list experiences that many a football fan ticks off on a tourist trip.
But to go there as underdogs and see your team win? That's extra special.
As we should always proudly mention, Liverpool is the only English side to do it at the Nou Camp. Twice.
Alvaro Arbeloa superbly shackled Lionel Messi in that 2007 tie, switching sides on the order of the manager and carrying out Rafa's instructions to the letter.
Steve Finnan paid equally close attention to the brilliant Ronaldinho.
Then came the goals and then came the infamous celebration – an imaginary golf swing from Bellamy that won plenty of punters on Merseyside a few quid, as well as leaving the Nou Camp travellers grinning from ear to ear.
When we eventually filed out of the ground that night, it was clear the result was not so much to the locals' liking.
The police were pissy. Some bars were not welcoming. Others simply put down the shutters and called it a night. In one we eventually set up camp in, a man reminded us: "We do not lose there."
"You do now, mate."
To be fair, he bought us all a beer. But Barcelona fans generally expect a performance, expect a win, and expect a show. In the main, they get it. But when they don't…
At the weekend, Barca won a 10th La Liga title in 15 years. They are aiming for a treble this season.
But they aren't the only side with pedigree.
Liverpool's name became well ingrained in the hearts and minds of the big clubs in Europe under Benítez. And here we are again. In the final last year, in the semis this year. It won't have gone unnoticed.
The Nou Camp should hold no fear. Jürgen Klopp's Liverpool have already been to Bayern Munich and showed a big club who is boss. Venues and reputations will not lead to performance anxiety for this side.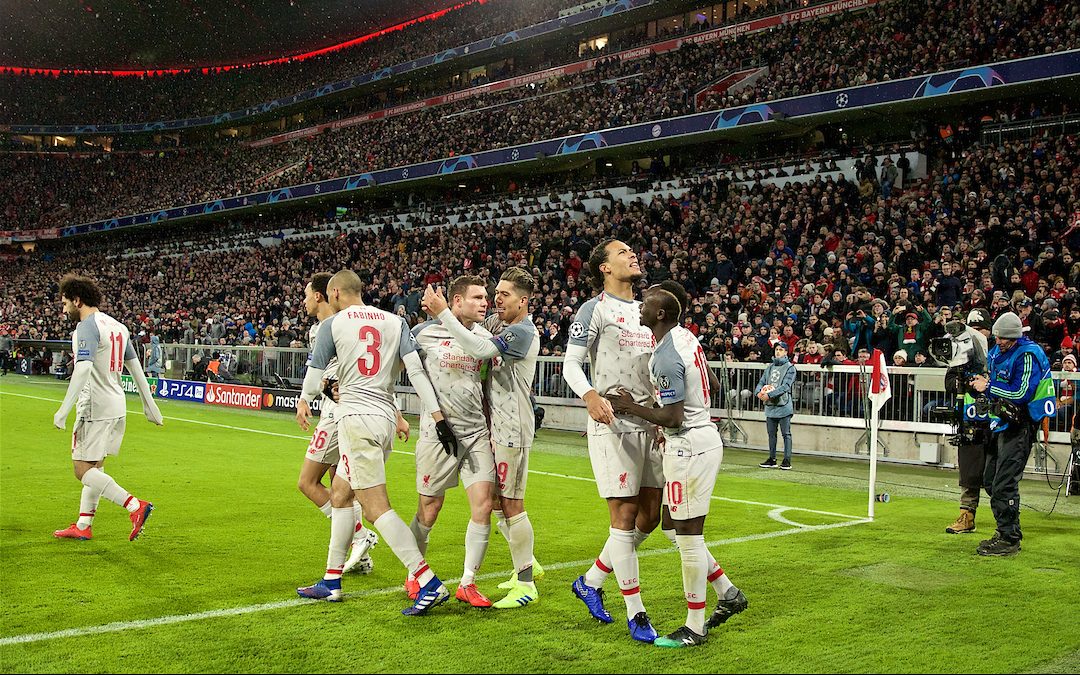 This side will back itself. And for all that Barca have stars, talent and match winners, so do The Reds. You can bet Liverpool wasn't the draw they wanted and, while the thought of some Messi magic may cause the odd cold sweat at our end, you can bet our counterparts worry too about something similar from Mo Salah or Sadio Mane.
And so we enter one of the world's iconic grounds once again. Looking to keep that proud unbeaten record there alive. Forty-two times Barca have faced English opposition at home. Only Liverpool have emerged victorious. Twice. It can't be said enough. It's a glorious two fingers to a giant of the game.
The travelling Kop that will stand high in the Nou Camp later this week will do its best to remind the locals of that. A flag or two inspired by the fact is a dead cert, a Scouse-Barca chat about the statistic nailed on.
Barca supporters, meanwhile, will watch and wait. Expecting the norm. Calling on the inspiration of the world's best player and his supporting cast, two of whom we know so well.
If Liverpool upset the Barca party again, the red flag will fly that little bit higher come late Wednesday night. Another scalp, another memory and another message to the rest of Europe.
This is a club to be reckoned with. This is a club that isn't going away.
Only one club has a chance of a Premier League-Champions League double this season.
Dare to fucking dream.
"It's a boss city. This is a world name in football."

"And Liverpool are here." ✊

🗣 Subscribe for all of our buildup and reaction to Liverpool's European Cup semi-final clash with Barcelona 👉 🗣 https://t.co/sAYhSu6Qag pic.twitter.com/olS7VEPhi1

— The Anfield Wrap (@TheAnfieldWrap) April 30, 2019
Recent Posts:
[rpfc_recent_posts_from_category meta="true"]
Pics: David Rawcliffe-Propaganda Photo
Like The Anfield Wrap on Facebook