GULFS. Rivers. Oceans between these sides.
But what matters is this: everyone gave the best of themselves, broadly speaking. Whatever happened in the end of kicking the ball in the goal.
There is a thing we do where we forget this fact – Huddersfield's worst player is almost certainly better than any player at your school, and almost certainly more driven than almost anyone you know. He must be. Because if that wasn't the case he wouldn't be a top-flight professional.
Many of Huddersfield's lads won't be top flight for much longer, but top flight they have been. So what are we? What of are lads? They are astronomic. They are the toppermost of the poppermost. They are among the very best to play the game in this country.
They are a joy and a delight to behold. Liverpool are magic. By comparison, almost everybody else is tragic.
When you are up close in person with the footballers, you get to appreciate their brilliance and their humanity. You don't get to almost have them be fictional characters, be comic book heroes. Instead you realise their trials and tribulations even when they are the better side by a mile.
You have to work for this, you have to find the bounce of the ball. For Liverpool today that bounce took seconds and it was Huddersfield's worst nightmare. To come to Anfield and be 1-0 down effectively at kick off is the worst possible start.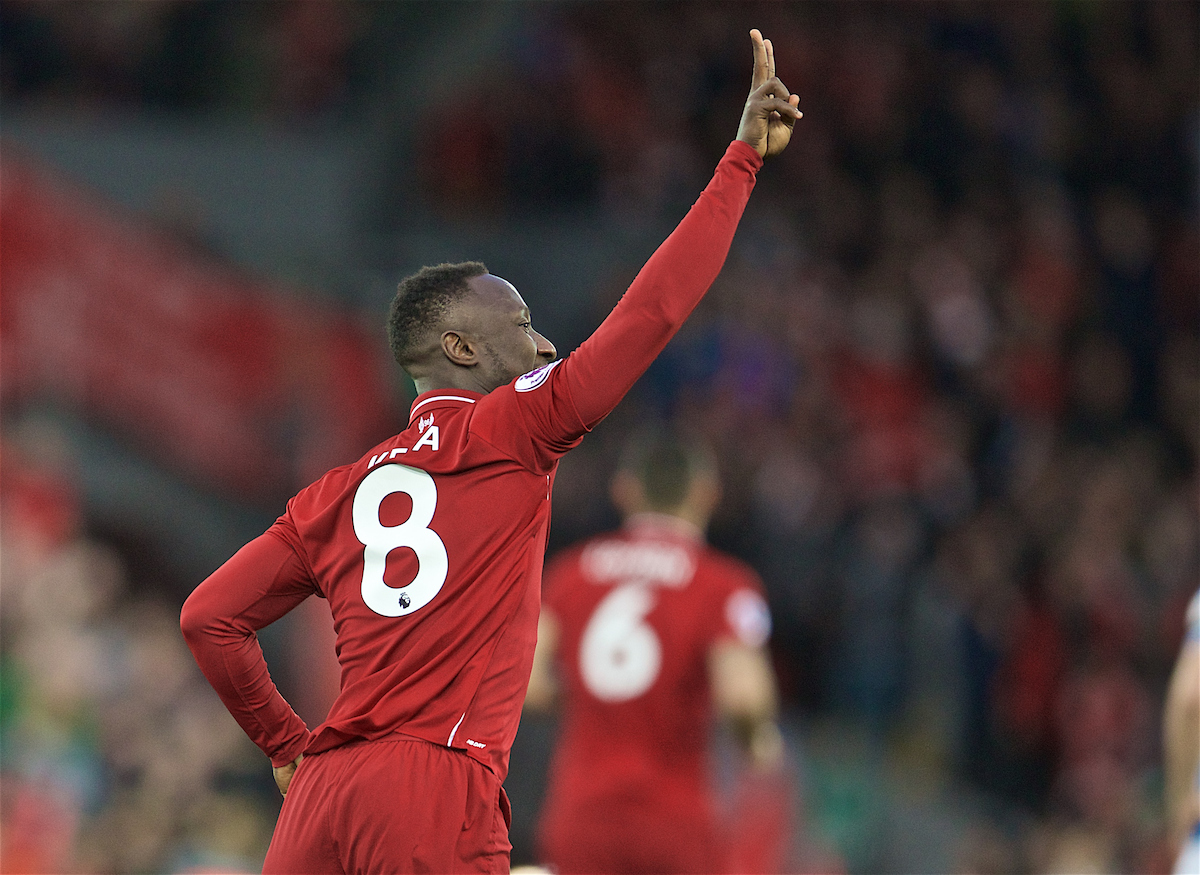 I mean, imagine. Liverpool are playing Huddersfield in the third to last game of the season and they score after seventeen (17) seconds. Seventeen seconds of anticipation before we see how this is going to go. Seventeen seconds of stress. Eighty-nine minutes and 43 seconds of joy.
Goddamn. This team are good. From the 17th second to the 93rd minute, they show us how much they love this game, this team, how much they love to play at Anfield, how much fun this is. Ninety-one points with two games to go. Rain, wind, baking sun. None of this mad April weather gets in their way, as Liverpool's quickest goal in Premier League history is scored.
For the first half, Huddersfield showed some graft. They make some good interceptions and the score does not demonstrate the times they won the ball and tried to play. But they were no match for The Reds tonight. No match.
Their attempts to play out count against them, as their passing just lets Liverpool back in. They are smart lads and well organised. But they can't magic themselves any better.
The only other scary minute comes just after half time as the patron saint of solid defences, Virgil van Dijk lands awkwardly on his left foot, falls to the ground and doesn't get up immediately. For 30 seconds, Anfield holds its breath, but van Dijk rises and looks unshaken.
In truth, the substitutions tonight told us all we need to know about this Liverpool team. In the 72nd minute of this game between Liverpool and Huddersfield, Jürgen Klopp made a double substitution. He brings on two players whose entry into the game signals much about this game, because of the lack of how much the pair are needed.
Shaqiri and Oxlade-Chamberlain are admired by Liverpool fans for very different reasons. But they were both brought on to rest the legs of others and stretch their legs.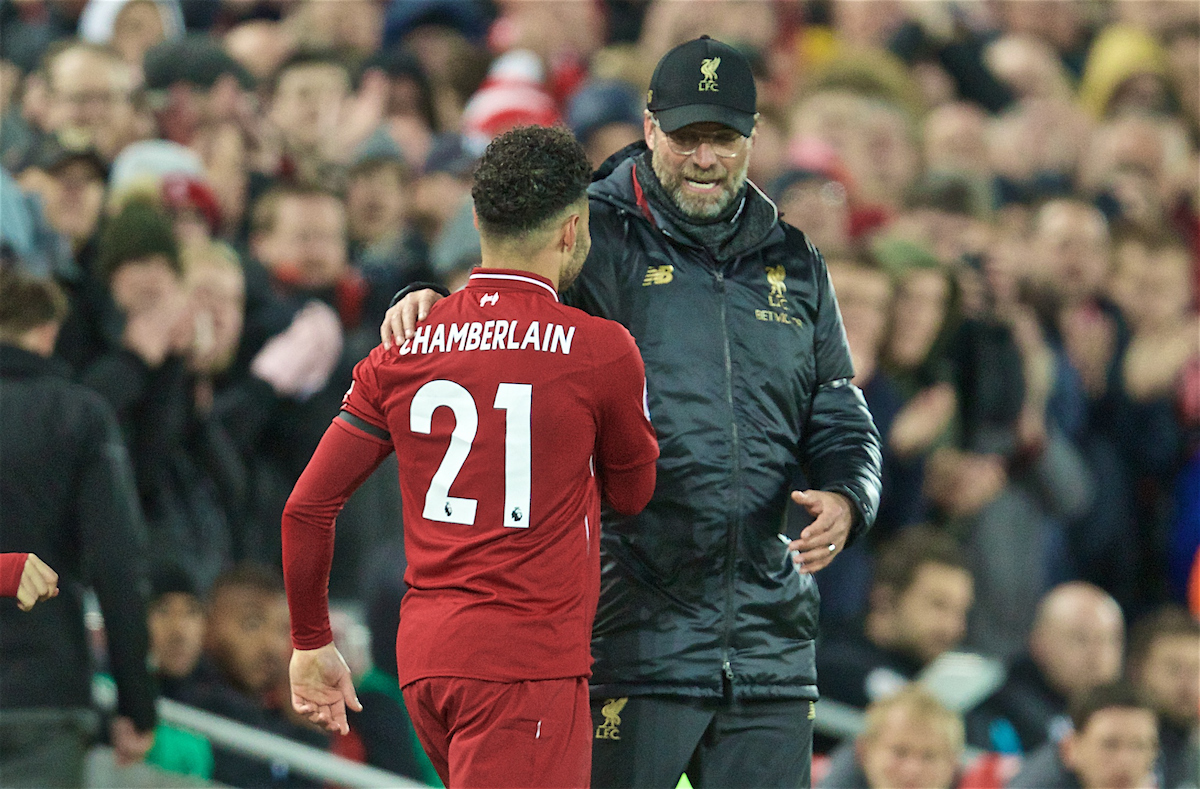 It is great to have both of them on the pitch, but not because of tactical concerns, just because seeing Oxlade-Chamberlain back where he belongs is just lovely. And because Shaqiri, well, he just brings happiness for many.
Four minutes after, Oxlade-Chamberlain even nearly scores. Even that is a laugh. He half hits well, half mishits the ball and laughs at himself at how mad an end to his emotional marathon it would be to come on and score.
Then Shaqiri crosses it to Mane who only just misses with his head. This is the mad fun of Liverpool versus Huddersfield on April 26 in the year of our Lord 2019. This all matters, of course it does. Three important and crucial points. But my god it's a great laugh.
The whole game tonight was a joy. Just joy. Getting to witness magicians; the best of the best. Keita. Mané twice. Salah twice. Five times we hit the back of the net. None of them soft goals, or giveaways, well bar the first.
Mane's headers are classics of the genre and he shows why he should never be overshadowed by Time Magazine's favourite. He is just as much the star of this show.
Trent and Andy Robbo are competing for assists. Salah and Mane are competing for the golden boot. They are all so bloody good this feels like the wonderful joyful game that football truly is.
Many in our family of Liverpool fans are tense and stressed out. But even among all of that, you have to admit it, this is the most fun. This is the best fun we have had for 30 years, and we are determined to enjoy it.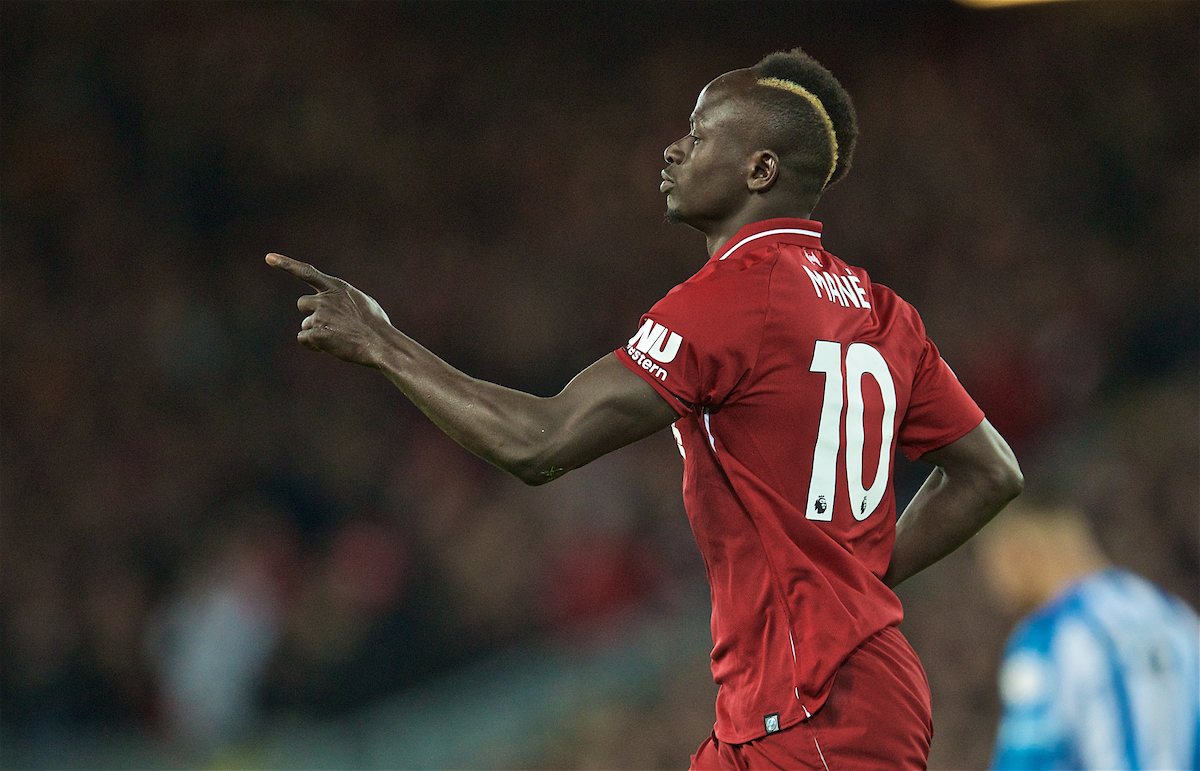 As if to confirm the fact, on the 83rd, Shaqiri, Robertson and Salah form up in a perfect isosceles triangle and slide the fifth goal in for fun. Huddersfield look irrelevant now. Marking time before their descent, looking pleased to be at Anfield one last time.
I mean, watch City versus Burnley on Sunday if you want. No doubt Burnley will attempt to be Burnley and make two very clear rows of four footballers to deflect every challenge. They will try to defend like Burnley. If that gives you hope, well OK.
But the truth is that every Liverpool supporter has one job: joy. This is life. This is what it is to support the greatest Liverpool team that ever kicked a ball. They are objectively faster. They have a points total the competes with the best. The goals they score. Goddamn. They are so joyful. We have just one job now. Lie back. Enjoy it.
Magic. Tragic.
Liverpool have cleared 36 hurdles. Two to go. Just look at the points. Look at the excellence.
"We're all taking this team for granted.

"What they're doing is remarkable." 🏆

🗣 Subscribe and listen to our immediate post-match reaction show after Liverpool 5 Huddersfield 0 👉 https://t.co/XZAK9veWt7 pic.twitter.com/FSmXxPGxAD

— The Anfield Wrap (@TheAnfieldWrap) April 26, 2019
Recent Posts:
[rpfc_recent_posts_from_category meta="true"]
Pics: David Rawcliffe-Propaganda Photo
Like The Anfield Wrap on Facebook