ALRIGHT.
A bastard of a word. But that was the most alright, wasn't it? Good alright, I mean.
It was, however, almost much better than alright. However, Liverpool have a big game at the weekend. However, Porto are a tidy side. However, sometimes it just doesn't take flight, not for 90. However is a bastard of a word, too.
Liverpool looked at it from the first minute of the first half; the same couldn't be said of the second. But on the first, it wasn't as simple as winning every ball, more being first to every half space.
It was a side who were so often where they expected one another to be. They found one another without looking, anticipated runs, played first-time passes. They were too much for Porto to cope with in and out of possession, and it told for both goals.
In the first half the oft-discussed midfield appeared as balanced as it has all season. Naby Keita scored, albeit deflected. Jordan Henderson played the quintessential pass before the pass for the second. Later Henderson played a delightful half volley to Roberto Firmino but nothing came of it. Keita's through ball to Sadio Mane was unlucky not to elicit a chance.
What's fascinating given the nature of each of this pair's Liverpool career is how much each appeared to be enjoying their evening. Henderson alternated between barking at Trent Arnold and Fabinho and praising the pair. He seemed unleashed, dare we say it 10 years on: the shackles were off. His ball for Mane's disallowed goal a belter.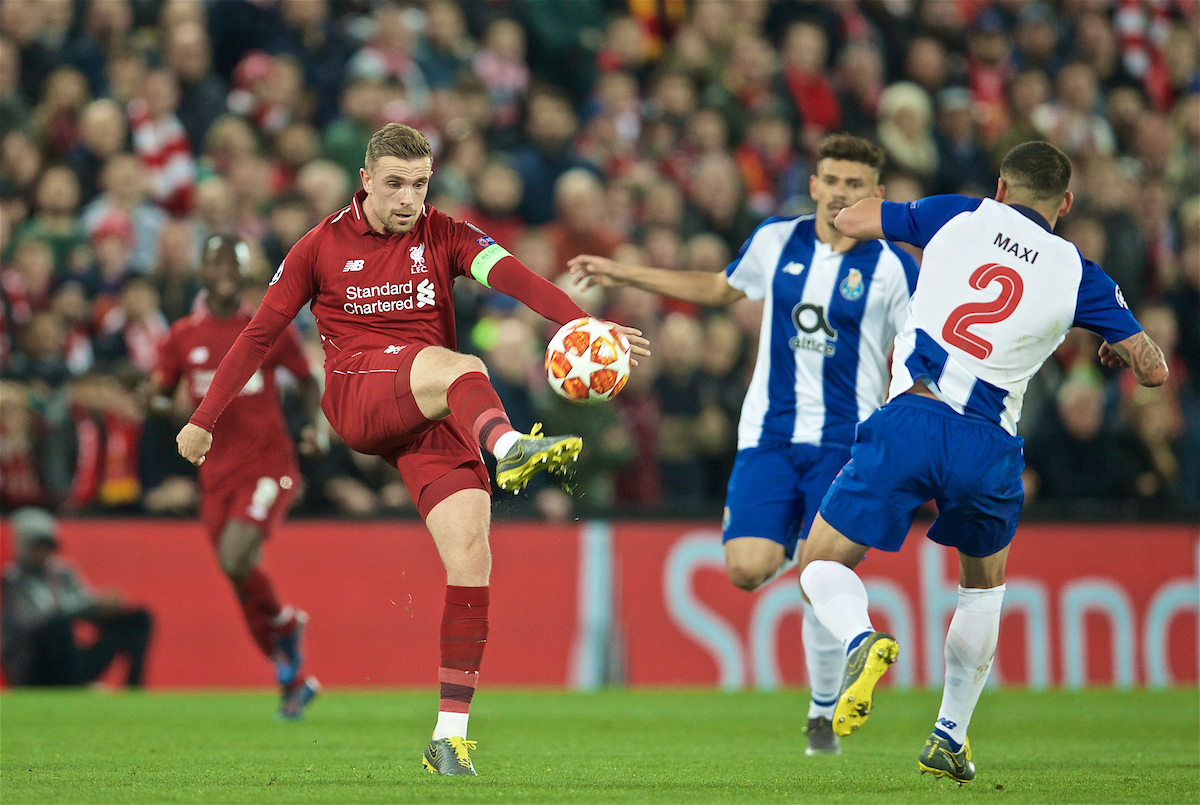 Keita revelled in the occasion after the goal. The yellow card cheap but pleasing, a man in the thick of battle. Neither was perfect: Keita too easily ran away from, Henderson at times has a brain too quick for his footwork, but both delighted in the opening period.
The second was different. Neither was anywhere near as influential but then neither were Liverpool, full stop. The two things will be linked to some degree but it isn't the whole story. The game never really came alive in the second period but some credit for that has to go to Porto. They played better and neutralised Liverpool.
James Milner showed willingness and stability throughout. Given dogs of balls by both Divock Origi and Naby Keita in the second half, he found his way out with the latter and into the penalty area with the former, oddly running away from Porto players left prone but doing so slowly.
Milner offers certainty to his teammates, he offers one more all the time. One more option, one more heave. It's the least any player can do, it's the thing very few actually do.
From the replays post match it appears Mo Salah may be lucky to have remained on the pitch. He was ever willing though and a nightmare to face, squirming around the box like live squid in a restaurant about to be cooked. Every angle is unlikely until he coils himself. He will be a massive threat to Porto in the second leg but he should score tonight and kill the tie.
That Porto carry a threat is undeniable. We saw it from set pieces and passages of play that led to set pieces. They couldn't open Liverpool up tonight but it isn't impossible to imagine them opening the scoring at home.
Marega got little encouragement from the evening, no change from either van Dijk or Dejan Lovren. The Big Dog came back and reminded everyone of the best version of himself. He loves the front foot and Liverpool seemed higher than we have seen recently – a feeling more than a fact, perhaps. He will be an asset for this run in.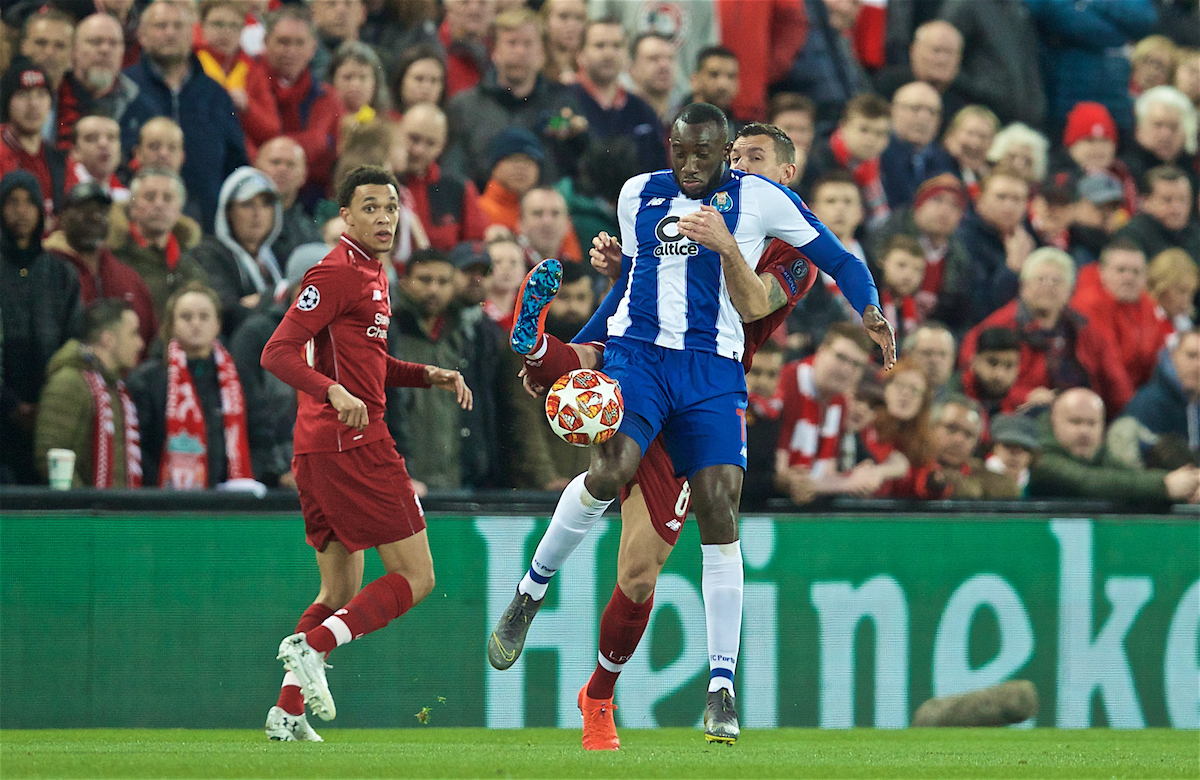 The point there is that this game is part of a piece. Not just a two-legged affair but one of what Liverpool hope will be 10 games for the rest of the season. Tonight has to have an eye on Sunday given how the game played out, Sunday an eye on Wednesday if at all possible.
Last season Liverpool's European adventure was able to be deemed the thing and the whole of the thing. This season it is one side of the same coin. We see that in the odd last half an hour and in the substitutions. While Lovren and Keita put themselves forward as options, the front three are necessities.
Liverpool have a foot in the last four. Think about that – today was our second Champions League quarter final this decade. Our second in two years. Our second with the first leg won to nil. While some games play out with you eventually only shrugging about results that you would have been made up with before a ball was kicked, well that sometimes is what mature football is made of.
The strangest thing about where this European season finds itself is that the side in the last eight for only the second time this decade are suddenly also the most mature – last season's finalists and top of the most hotly contested big league on the continent. How did that happen?
However, it can all go wrong from here. And the closer to the finish line the more profoundly wrong it can go. But yet again a match finishes and you can ask no more than where this Liverpool finds itself. Liverpool are fit and firing. They may be improving. They are in control of this tie.
Liverpool are that very best of things. On the march. And game by game it becomes clearer they can really, really shake it up.
They may be the greatest football team. And that's alright by me.
"A European Cup quarter final and Liverpool were in absolute cruise control.

"I'll take 2-0 all day." ✊

🗣 Subscribe and listen to our immediate post-match reaction show after The Reds' 2-0 win over Porto 👉 https://t.co/XZAK9veWt7 pic.twitter.com/1pSSsgvnwD

— The Anfield Wrap (@TheAnfieldWrap) April 9, 2019
Recent Posts:
[rpfc_recent_posts_from_category meta="true"]
Pics: David Rawcliffe-Propaganda Photo
Like The Anfield Wrap on Facebook