AT Anfield we only get to watch them three more times maximum. Only four more league games.
Acclaim them. Love them. Commune with them. Be prepared to bleed with them. But be part of their brilliance and have them be part of our need. Time has accelerated around us.
You don't need to be Einstein to understand that time is relative. You don't need to be Einstein to know that the first half of Liverpool's game against Chelsea this afternoon goes slow. There is a level of control from The Reds that is welcome, but tense.
Forty-five minutes with no goals goes slowly. We breathe in and out as Chelsea and Liverpool fight over possession, fight over where the line is, test each other's courage. While Liverpool are precise and effective, 45 minutes without a goal is a drag.
The shape of Chelsea is deeply impressive. They are like a sponge, stretching and flexing to soak up the fluid Liverpool attack. The breadth provided by Cesar Azpilicueta and N'Golo Kante is hard to manage.
Liverpool at times look a bit weak and too hollow in the midfield. We can't get enough buildup, and while Naby Keita makes lightning runs and Mo Salah is everywhere (just everywhere), Chelsea are able to balance our pace with their distribution.
Fabinho is good in the middle but you sense how hard Liverpool are having to work to get the ball from front to back, when Chelsea are managing their shape so effectively.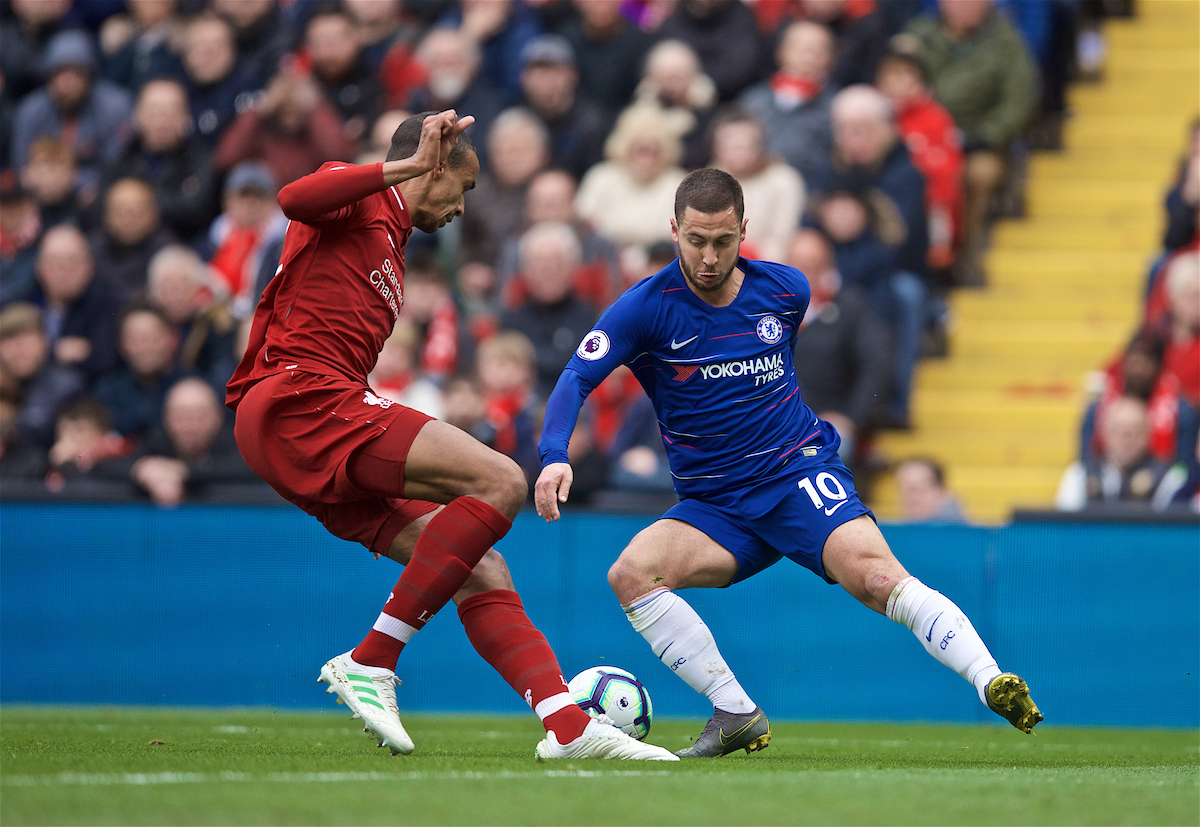 Alisson is tested from time to time. Hazard is no mug and nor is Willian. These are lively players. Good players. Chelsea get to be good. It makes what happens to them all the more impressive.
Half time comes; 15 minutes passes quickly and we are all impatient. We know that this is it. We know that this is the final act in a league battle that at times has seemed to stretch impossibly long ahead of us, with countless hours, countless potential losses or mistakes, countless opportunities.
Here we are in the final moments of the season. Having fallen in love with this football team and wanting so calmly simply for them to win. Time to win the league. It's time. We've waited long enough.
The second half kicks off.
Out of nowhere time speeds up. The ball shifts around the box, Jordan Henderson hangs it up and it is a cross you can celebrate. The ball being where it is makes it a goal. Sadio Mane converts and everyone explodes, Henderson wheels away ecstatic, these are the biggest games of his life, this is his whole life, these are the days that define him.
A second passes. Barely a second. A blink of an eye. And then Mo Salah turns and picks up the ball lifting it with power and purpose, and sends it with fire into the top left corner.
Grown men who have watched The Reds for 60 years stand dumbfounded at the clarity of the thing. Little kids at the match for the first time have their hearts won forever by this beautiful smiling man who came from Egypt via Rome, Switzerland and Chelsea to win us the league.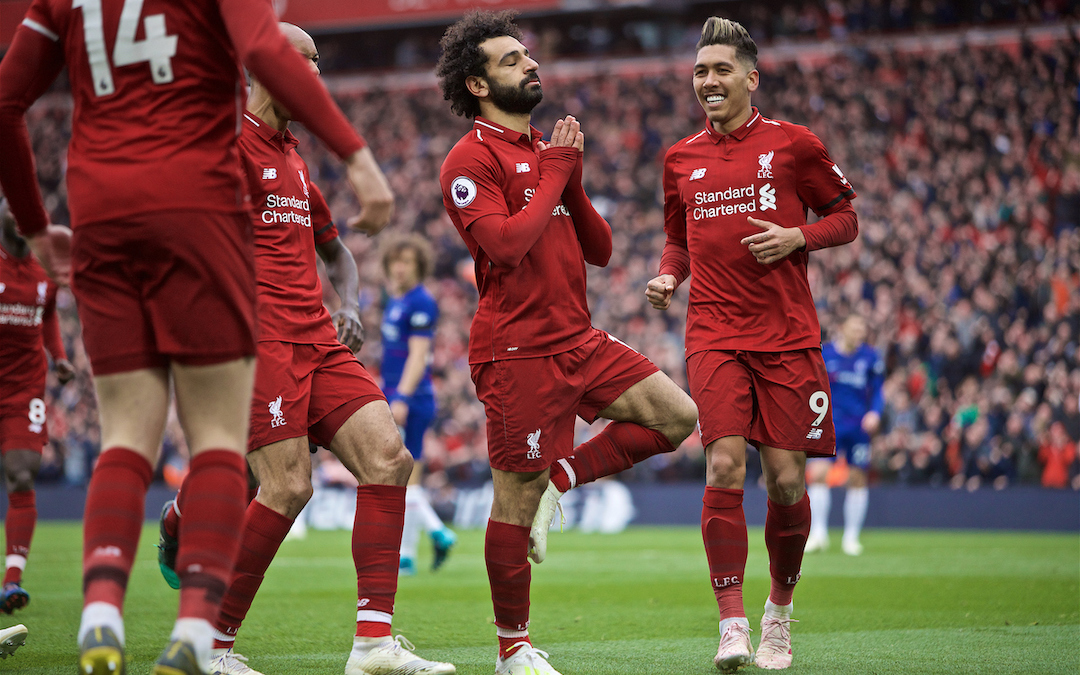 He celebrates. We go bananas. But he celebrates and all the racists who dare shout obscenities at the man are silenced. All the racists can fuck off, frankly. This complicated 20-something man full of a jumble of identities is acclaimed as an idol. He is globalisation. He is a muslim, and an Egyptian, and a footballer, and a dad, and a friend. And he is a fucking Liverpudlian.
Those that use his identity against him fail on every level to understand that, wilfully fail to understand the complexities of identity. People who reduce others to one thing are at root wrong, offensive and the problem.
Sadio Mane wants to win the league more than you. His pace helps this afternoon and though Chelsea are solid in the back, he tests them. He is uncontrollable bursting from left to right.
Firmino, relatively speaking is the quietest of the three, but he finds moments of fine form. Backheels and flicks not quite finding their way to the goal but nonetheless testing for those playing in blue, making their legs work, making their brains work harder.
I love the subs. Both the decisions but what they do. That mad five minutes after 2-0 where Chelsea get in 63 times needed something from the bench. Gini and James delivered. Immediately Wijnaldum holds it up marvellously in the middle of the pitch and everything feels better.
Chelsea were good. They were. Liverpool were better. They are. Twenty points better. Imagine that.
Until this season that has felt improbable; last season we went to Stamford Bridge with them breathing down our necks. This season we grabbed a late equaliser. But now there is a gulf between Chelsea's good and Liverpool's great. Time has changed an awful lot. It moves and shifts and now we are almost done.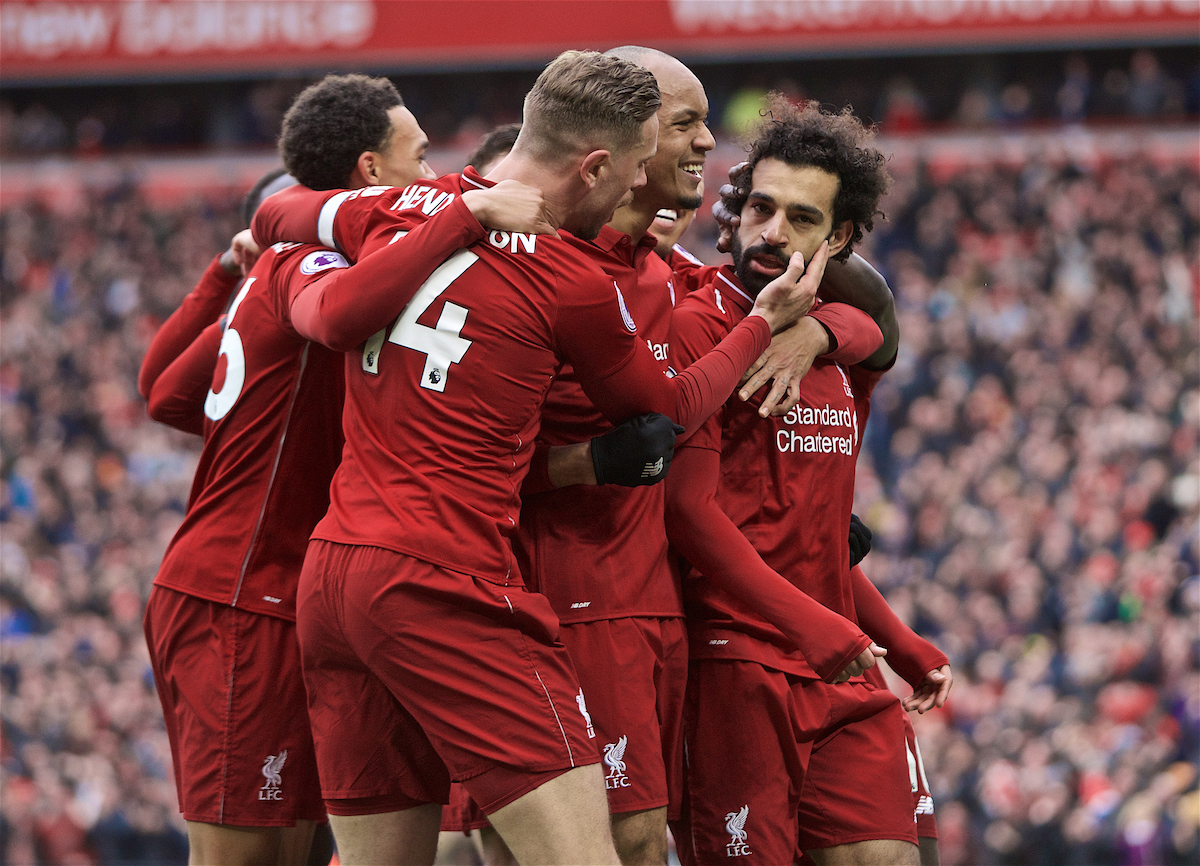 They deserve to lift something up.
Make no mistake. This is a great side. Whatever happens from here we are talking and deal with greatness. It is distressing we only get to watch them at Anfield three more times at most. Not because I believe they will separate but because seasons are distinct things.
What they have done for us and with us is just splendid. We really are in this together. That's all of us, each of us. Each of you. Part of you pours out of me in these lines from time to time.
Thirty-four down. Four to go. What a thing. We get to watch them four more times in this season. We get to love them four more times. We get to see their box of paints. I could drink a case of them, a case of you and still be on my feet.
Time to lift something up, Reds.
"We should be so proud of this team. What they're doing is incredible.

"These are the glory days." ❤️

🗣 Subscribe and listen to our immediate post-match reaction show after Liverpool 2 Chelsea 0 👉 https://t.co/XZAK9veWt7 pic.twitter.com/2hRDRwQSUI

— The Anfield Wrap (@TheAnfieldWrap) April 14, 2019
Recent Posts:
[rpfc_recent_posts_from_category meta="true"]
Pics: David Rawcliffe-Propaganda Photo
Like The Anfield Wrap on Facebook