IT happened for the first time on Wednesday night.
Not Manchester United being predictably devoid of the physical or mental sturdiness to compete at the levels they once set.
Not Manchester City showing a glimmer of their fragility before becoming an overpowering swarm of a football team it seems nobody in a domestic fixture can live with.
It was me, for the first time I very nearly gave up. Bereft of any glimmer of hope, chimpanzee on my shoulder telling me this is the end, your oldest friend, the end. There I was, walk nowhere near me, the absolute state of me.
This lasted until yesterday afternoon. I spent the day engulfed in self entitlement, scouring social media in the hope and desperation of some form of truth around the falsities I knew I was telling myself.
I have managed to realign the balance and return to where I was, looking at what is possible, looking at our boys at Anfield tonight, looking at Huddersfield Town.
A couple of things helped. The first was a particular quote from Jürgen Klopp's press conference yesterday afternoon: "However the season ends up, it is only the first step. We are not finished, not the finished article. We will carry on, and we will see."
That was all I needed to hear, that it came from the Liverpool manager was merely reinforcing a collective belief of what we all already know, regardless of how 2018-19 ends.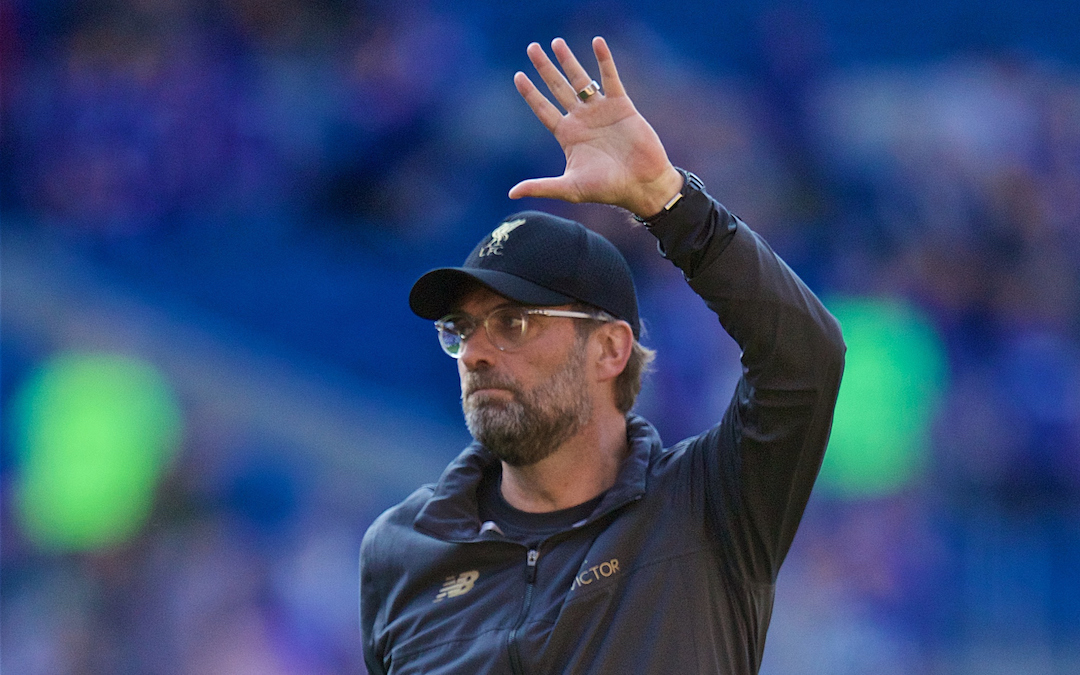 Perhaps it's wise to delve a little deeper into the notion of this being only the first step. And to explore the fact that for many fans, myself included, such a statement has never really held any truth during our Liverpool-supporting lives until now.
There are examples from my own lifetime that I can draw comparisons with. The closest probably being Gerard Houllier's treble winning team of 2000-1.
Yet everything else feels tinged. Rafael Benitez's time as Liverpool manager will always be surrounded with the chaos and warfare that erupted at boardroom level, which ultimately ended any opportunity for unification and prosperity.
The other comparative is Brendan Rodgers' 2013-14 Liverpool that caressed us all into its sweet spot and took us on a nine-month ride that we increasingly knew was unsustainable beyond its end due to the inevitable departure of Luis Suarez and waning effect of an ageing Steven Gerrard.
The concept of this only being the beginning is something I've not truly felt before. Yet the evidence is present for all of us to suggest this is the case.
Klopp has already addressed some of the issues that have hindered previous Liverpool teams from progressing or sustaining an elite status at the top of world football.
The manager has lost big influences on and off the pitch. Philippe Coutinho was seen as The Reds' playmaker supreme when the manager arrived. The new break glass should things not be going according to plan for the team, yet Klopp did not see this as a positive, it didn't fit with the mentality and style he was clearly building.
Off the pitch, he lost his truest confidante, Zeljko Buvac. "The Brain" as he was known, left Liverpool suddenly in a manner that left fans pondering the true effect of managers losing those around them, with the names Patrice Bergues and Pako Ayestaran ringing loud in their ears.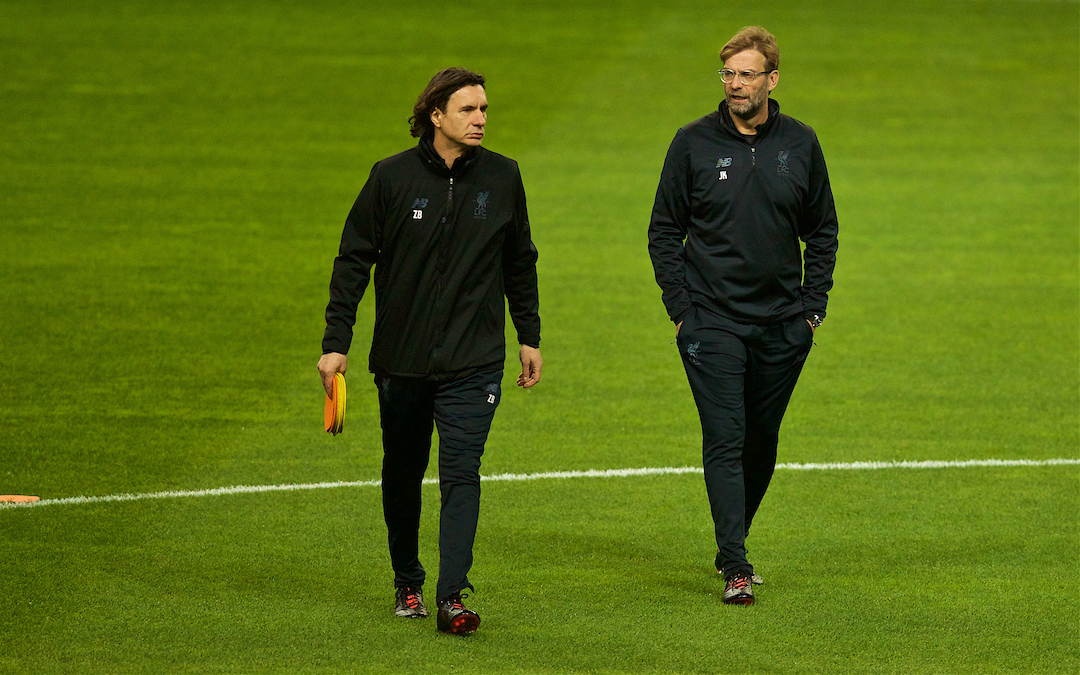 Liverpool is undoubtedly better off without both. Pep Lijnders has developed into one of Europe's top assistant managers, while on the pitch there is a balance, understanding and unity to the team this season that wasn't there with Coutinho present.
What is now in place at Liverpool is an environment where everybody is striving for success. The club has implemented the very best in every aspect, from recruitment to nutrition, to ensure they are ahead of the curve for the foreseeable future and possibly beyond.
Next year, the first team will move their training base to The Academy in Kirkby where there will be more of a sense of integration and togetherness to build the future on.
When watching Manchester United on Wednesday night, it is clear they are years behind both Liverpool and Manchester City. United is seeking solace in the nostalgia of yesteryear, of the "United Way" that once made them great. They will continue to look back as more distance emerges between them and those who choose instead to prosper now and plan for the future.
The true challenge for Klopp and Liverpool may come when he decides he needs to build another side. This will be inevitable, yet it may not be as dramatic we have previously perceived.
The odd key change to players and staff can shape a new era of a team and obviously improve it. Yet it may be that the players who leave and how they leave will show us how much this club has returned as a staying power.
There is no longer a feeling that Liverpool are a bridge to somewhere else. This is a club that have made themselves the best place for a player to be. What will be fascinating is whether the manager decides that a player needs to move on for the good of himself and the club which could result in one or two unsurprising exits in future. Trust it.
This is all part of the process, one truly at the very beginning of things. Two summer months of rest and revision will not change a thing for this Liverpool team or their rivals.
Manchester City will return in August having never won a Champions League and being fully determined to do so. The same will apply to Liverpool in the Premier League should they not end up champions after the final game against Wolves at Anfield in May.
Liverpool are that good, almost so good you feel it impossible to repeat. But they are far from their summit. Dare I say it, they can improve.
The other thing which helped me after Wednesday was a memory, and one I've not recollected since it happened. It was after the final whistle in Kyiv following Liverpool's defeat to Real Madrid in the Champions League final last season.
I was stood with two friends from The Anfield Wrap you will know, one slumped head in hands, the other crying on my shoulder. I wasn't in their place, I didn't know why.
I consoled them in between standing on my chair, chest out, beaming with defiance as the manager and team led a procession around the pitch. I couldn't have been prouder.
Now I realise why. It was because I knew, beyond every fallacy I had previously known or told myself, that this was only the fucking start.
"What we've done this season is virtually unprecedented.

"Whatever happens this team should be celebrated." 👏

🗣 Subscribe to #TAWPlayer for all of our buildup and reaction to The Reds' title run in 👉 https://t.co/lmNtBz4ADz pic.twitter.com/NDXawpFs0F

— The Anfield Wrap (@TheAnfieldWrap) April 26, 2019
Recent Posts:
[rpfc_recent_posts_from_category meta="true"]
Pics: David Rawcliffe-Propaganda Photo
Like The Anfield Wrap on Facebook