ROBERTO Firmino's goal last night took him to 15 for the season in all competitions.
He'll have to go some way from now on to match the 27 he got last season, but it is still his second highest total since joining Liverpool, his third highest in his career, and the fourth consecutive time he has broken double figures in the Premier League since he joined the club.
Not bad for a fella who we weren't sure what to do with at first so stuck at right wing back at Old Trafford.
He is, though, lagging behind both Mo Salah and Sadio Mane in terms of goals. That might be a surprise in terms of the position he plays but less of one when you analyse what he is doing. Mo Salah averages 3.4 shots per game, Sadio Mane 2.4, Roberto Firmino 2.2. It tallies that he will score less.
Maybe he should be shooting more. Maybe if he is going to be a striker, even if he is along the "false nine" route that was all the rage a while back, he needs to be more greedy. But it should be noted that his average expected goals per shot is high at 0.16. Meaning you would expect him to score one in six of his shots by the quality of the chance. The league average for forwards is 0.11.
Basically, if it's not a good chance Bobby will more likely try and set up someone in a better position – his xG assist per game is 0.2. Meaning he should set up a goal every five games based on the quality of his passes. The league average for a forward is 0.13. Put in real terms, Firmino has six assists in the league this season, while Lukaku has zero.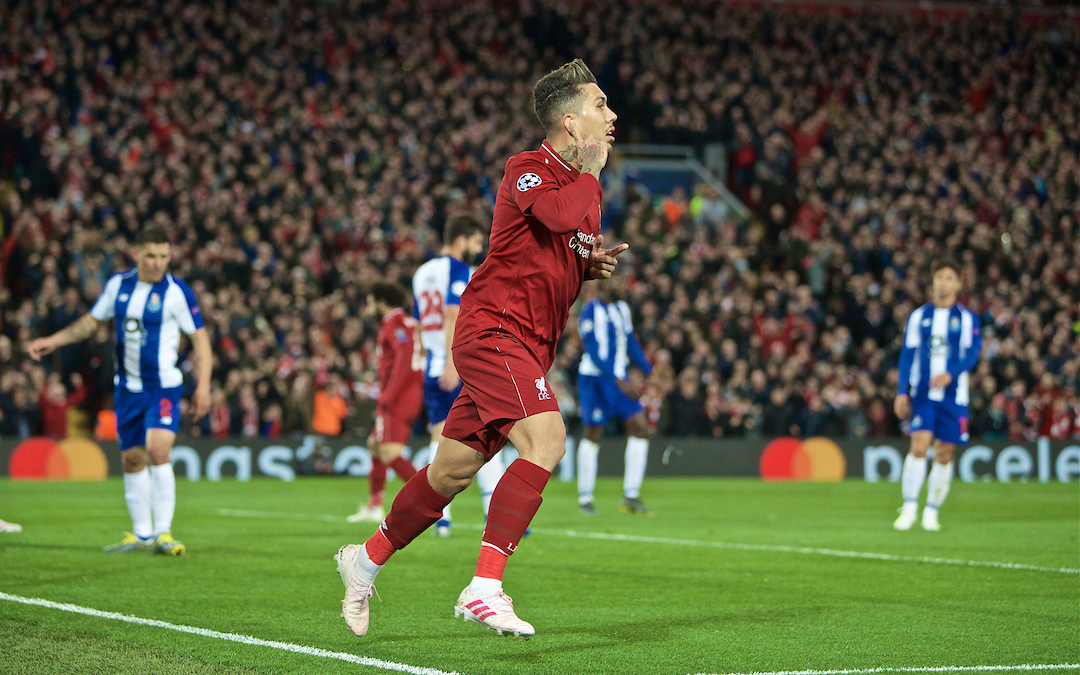 He's not just a strike partner's dream but a coach's too. Everyone knows about his work rate, but it is fun to see it in numbers. His pressure leads to winning the ball an average of 4.3 times a game, compared with a league average of 3.2.
This is largely because he simply pressures the ball more. An average of 23.54 times per match, compared with a 20.05 average for forwards in the league. So once every four minutes Firmino tries to take the ball off someone. Which, considering how much time Liverpool spend with the ball, is a lot.
I am sorry to pick on Lukaku again – truly, I am – but he is on 13.81 pressures per game. Even Sergio Aguero is down at 16.81. Harry Kane is 12.41. The lazy get.
He sets the tone for the team, he's as happy to set goals up as to score them, as he demonstrated with his brilliant assist celebration at Southampton, and he scores big goals in big games. Yes, he should probably get a few more, but I'm sure he knows that.
It is no wonder players and coaches love him, though. It's also wonder the sound of the season in Liverpool has been an adaption of an Argentinian song in praise of Bobby.
There's something that The Kop wants you to know…
(Nice one to our partners StatsBomb for providing the figures.)
"We shall not, we shall not be moved…" 🎶

✅ The Post-Match Show
✅ The Post-Match Pint
✅ The Review
✅ The Second Look

🗣 Subscribe to #TAWPlayer for all of our reaction as The Reds put one foot in the semi final 👉 https://t.co/lmNtBz4ADz pic.twitter.com/pwmRgr5Fvc

— The Anfield Wrap (@TheAnfieldWrap) April 10, 2019
Recent Posts:
[rpfc_recent_posts_from_category meta="true"]
Pics: David Rawcliffe-Propaganda Photo
Like The Anfield Wrap on Facebook