I RECENTLY relistened to the interview we did with Trent Alexander-Arnold back in April 2018.
It was partly sad. It was just before the Champions League quarter final against Manchester City and we were all full of hope and a touch of expectation that we could go on and lift number six. Spoiler: We didn't.
But I also forgot how impressive he was. In the company of Ian Byrne from North Liverpool Foodbanks and Tony Evans, who has written extensively on the links between football and society as a whole, Trent moved effortlessly between discussing Liverpool's form, the pressures of being a footballer and being aware of the socio-economic issues facing many in Liverpool growing up.
Aged just 19, he seemed acutely aware of what was expected of a Liverpool football player on and off the field and, instead of being daunted by it, actually embraced it. He came across as a man who wanted responsibility, both as a footballer as a man. He took his position in the team and society seriously and wanted to have the maximum impact he could in both worlds.
Trent's leadership was evident from an early age. At academy level he didn't just play above his age, but captained the teams. By 19, when most are talking about cementing their place, he was already talking about wanting to captain Liverpool. He's always thought big and always been comfortable doing so.
While some worried about him in the Champions League final, he was actually one of Liverpool's better performers on the night. One of the few seemingly not fazed by the occasion or the opponent at all, which is good because we enter a crucial part of the season and need as much of all that as we can get.
Trent's hat trick of assists last week against Watford showed what a crucial part of Liverpool's attack, as well as defence, he has become. His delivery from dead balls and alive(?) balls is a real weapon against defences who try and sit deep and leave little space behind. On what could have been a nervy night he made the first two goals. Albeit with a bit of Mane messing.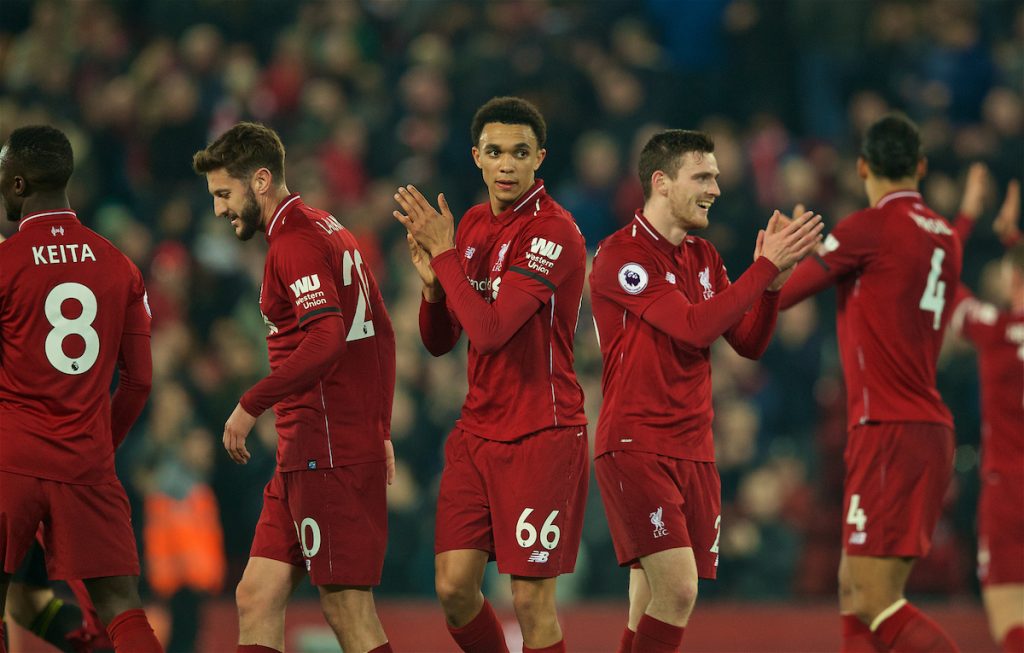 Now he has a song too. He's Alexander-Arnold, the Scouser in our team. In many ways that line actually diminishes him. He's not in the team because of where he was born, but what he can do. It doesn't matter if he is from West Derby or the West Indies, really. He's one of the best young footballers in the world regardless, and we are fortunate to have him.
Except it does matter. It matters to the young fans in the city who dream about playing for Liverpool and can see a chance, no matter how small, every time he takes the field. It matters to him; the sense of pride he talks with every time he pulls on the shirt and represents the city and everyone connected to it. He'd be a good player for anyone, but he's great for us.
As we discussed in the podcast, some of the best teams Liverpool have produced didn't have a Scouser in. The 1986 FA Cup final team didn't even have an Englishman. But you feel a bit more reassurance, a bit more warmness, when it does.
Soon Trent will be the one telling new players what to expect from the club and what is expected of them from the fans. He's been both, so who better?
Trent thought we were going to win the Champions League in 2018 and will think we are going to win the Premier League this year. He might be wrong again, but it won't be for lack of bottle.
He's the lad who defied all the odds and graduated from the streets outside Melwood to the training pitches in it. Partly because he always believed he would.
He's Alexander-Arnold, the Scouser in our team.
"It would make my day if a player would stop and sign an autograph for me. It's a special feeling knowing that I can do that for people now." 👏

🗣 Listen to our FREE interview with Trent Alexander-Arnold, in full, here 👉 https://t.co/WYnCI8m6Bf pic.twitter.com/EsQJnV2ZBL

— The Anfield Wrap (@TheAnfieldWrap) 19 January 2019
Recent Posts:
[rpfc_recent_posts_from_category meta="true"]
Pics: David Rawcliffe-Propaganda Photo
Like The Anfield Wrap on Facebook